Bruno and his crew of 13 smashed the Jules Verne Trophy record by seven days back in May 2002 lapping 26,000 miles of the planet in just 64 days 8 hrs 37 mins at sea.
In 1993 Bruno Peyron was the first to beat the 80-day mark, followed by Peter Blake in 1994.
In 1993, Peyron became the inaugural winner of the Jules Verne Trophy and the first to sail around the world in less than 80 days.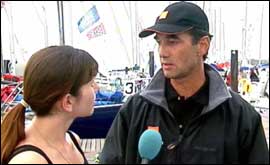 Indy Almroth-Wright and Bruno Peyron

BBC INTERVIEW :
This is your third race around the globe and you've beaten the record by seven days which really must have exceeded all your expectations?

Yes, because it is enough to beat it by one second, we have been lucky enough to do a good time, but the boat is able to do a better time. The reason why we were not much faster is because we started the boat late in March and I am pretty sure that this record will be beaten next year, next winter.

How do you go about preparing for a race like that?

It takes a long time to prepare, but the boat was already prepared for the race the year before, so we just had to make specific preparations for this particular attempt which we were able to do in a very short period of time, four or five weeks only.

How do go about picking a crew for a race like the Jules Verne?

I am very much attached to some values and the first thing for me was to get a crew who share the same spirit. The team spirit on Orange was absolutely fantastic especially because we broke the mast and we had to rebuild everything in three weeks for the second start, even later and all the team was very strong.

You must be very attached to Orange having spent so much time onboard her?

Yes I am very much attached to the boat and the team and now we are in England with this big catamaran and we're just preparing for the future.

Is there something you absolutely have to have with you on a journey like that?

No, I don't think you need luxuries, our mission is to go as fast as possible on the oceans and our focus is 100% on the speed, on the safety, on the race to do our best all the time day and night - and luxury is not something we aim for especially as luxuries are sometimes heavy and weight is our enemy.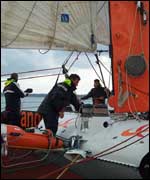 The 13 crew hope to break Round Britain & Ireland records

When you're faced with horrendous weather conditions and you've not had much sleep, how did you keep the team's morale up?

If you make no mistakes in training the team you don't have to do anything. We just focus on the race all the time to do our best.

When you're away for such a long period of time, is there anything that you really miss?

Just the family, there's nothing about the food or the social life I miss, once again we are focused on just one target .

What was the best part of the race for you?

It is very difficult to choose one particular time because it's so intense and we spend so much time in special conditions, in the Southern Ocean especially with the icebergs. Having 35knots of speed with a sunset and the moon on the other side - that is something that is very difficult to describe, so I hope that technology will help us to bring you some images in the future especially on the race in 2004.

You must see sights that people like myself would never even dream of seeing?

That's true, and that's why I do think we have to improve the way we'll be bring back images of a better quality. It's something that's very difficult to achieve but each year we are improving a little bit so I hope that next year and the year after will be better than last year.

Was there a point during the trip that you realised that you really were going to break the record by so many days?

No, we are very much conscious that anything can happen at anytime and we were right to do so because just one week before arrival we broke a little titanium bolt supporting the mast. We had to get anther bolt and slow down and keep safe. I don't don't trust anything, I asked everybody to keep their concentration and it was very beautiful to see how this concentration of the group was so intense.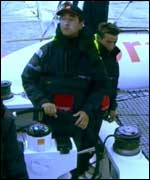 Bruno sails Orange into Cowes
What's next for you and Orange?

Next week we are going to do this Around Ireland and UK record attempt if the weather will allow us which is not too easy because we do not have too much time to wait. Then, if we are lucky enough we will try the Around the Isle of Wight and the Channel record and then it's back to our base in Marseilles.

Then the boat is going to change and will be back in England with Ellen MacArthur, this period will also allow us to pass the boat and the knowledge to the new team. Of course we have to plan for the future and we're trying to build a new boat able to win the race 2004.
Ellen MacArthur failed in an attempt to break the Jules Verne record in February 2003 when her mast snapped into three pieces in the Atlantic Ocean.
Peyron, from the French Atlantic coast city of La Baule, has spent a lifetime perfecting his racing skills. Bruno Peyron built his first maxi-catamaran over 20 years ago in 1979. In 1993/94 he was the first to circumnavigate the globe in less that 80 days, completing the journey in just over 79 days.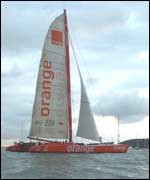 Orange sailing off Cowes
---

More on Cowes Week from BBC Sport Online's Sailing pages

Orange maxi-catamaran

Skandia Life Cowes Week

17-03-05 : Orange 2 largue les amarres pour Lorient


17-03-05 : Pieds à terre


16-03-05 : Un chantier derrière le record


16-03-05 : Concert de salutations


16-03-05 : 50 jours, 16 heures, 20 minutes et 4 secondes