Sir Francis Drake was born around 1540 as the son of a puritan farmer and preacher. He taught himself the art of sailing as the navigator of a small merchant sail vessel. Later in the beginning of his career, he served as an officer aboard West African slave ships.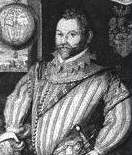 Sir Francis Drake
Sailing from the Caribbean Sea to the Gulf of Mexico in 1567 Drake and his cousin John Hawkins were attacked and defeated by a Spanish Armada. They lost all of their vessels, and barely left with their lives. From that time on Drake would have a deep hatred for Catholic Spaniards. In the years 1570 and 1571 Drake familiarized himself with the Caribbean territory, and made many friends amongst escaped African slaves. Soon Drake led battles against the Spanish with the help his African friends.
In 1572 Drake was equipped with 2 ships and 73 sailors by his cousin Hawkins, and his associates. Queen Elizabeth also commissioned Drake as a privateer, to sail for America. In 25 days Drake crossed the Atlantic and found himself in the Caribbean Sea. After an unsuccessful attack on the Spanish port Nombre de Dios (today's Nicaragua), Drake started to make new plans on plundering a Spanish caravan transporting gold. From the beginning the entire escapade seemed to be another loss for Drake. However, with certain setbacks, the enterprise brought Drake success and fame. Bringing his plunder to queen Elizabeth, he was selected to be the head of an expedition that was to sail around the world. Drake was flattered with this appointment, and made new more extravagant and hazardous plans.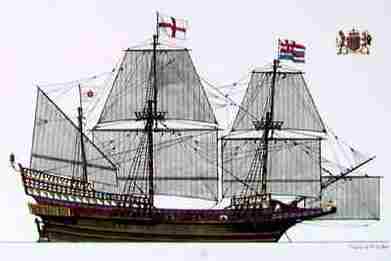 Plan of HMS Golden Hind
Late in 1577, Francis Drake left England with five ships, ostensibly on a trading expedition to the Nile. On reaching Africa, the true destination was revealed to be the Pacific Ocean via the Strait of Magellan, to the dismay of some of the accompanying gentlemen and sailors. Still in the eastern Atlantic, a Portuguese merchant ship and its pilot - who was to stay with Drake for 15 months - was captured, and the fleet crossed the Atlantic, via the Cape Verde Islands, to a Brazilian landfall.
Running down the Atlantic South American coast, storms, separations, dissension, and a fatal skirmish with natives marred the journey. Before leaving the Atlantic, Drake lightened the expedition by disposing of two unfit ships and one English gentleman, who was tried and executed for mutiny. After rallying his men and unifying his command with a remarkable speech, Drake renamed his flagship, previously the Pelican, the Golden Hind.
In September of 1578, the fleet, now three ships, sailed through the deadly Strait of Magellan with speed and ease, only to emerge into terrific Pacific storms. For two months the ships were in mortal danger, unable to sail clear of the weather or to stay clear of the coast. The ships were scattered, and the smallest, the Marigold, went down with all hands. The Elizabeth found herself back in the strait and turned tail for England, where she arrived safely but in disgrace. Meanwhile, the Golden Hind had been blown far to the south, where Drake discovered - perhaps - that there was open water below the South American continent.
The storms abated, and the Golden Hind was finally able to sail north along the Pacific South American coast, into the previously undisturbed private waters of King Philip of Spain. The first stop, for food and water, was at the (now) Chilean Island of Mocha, where the rebellious residents laid a nearly disastrous ambush, having mistaken the English for their Spanish oppressors.
After this bad beginning in the Pacific the tide turned, and for the next five and a half months Drake raided Spanish settlements at will, among them Valpariso, Lima and Arica, and easily took Spanish ships, including the rich treasure ship "Cacafuego," leaving panic, chaos, and a confused pursuit in his wake. During this time, he captured and released a number of Europeans, whose subsequent testimony survives. The plundering was remarkable for its restraint; neither the Spanish nor the natives were intentionally harmed, there was very little violence, and there were very few casualties. Drake's crew in the Pacific was of unknown number, with estimates ranging from around sixty to one hundred men.
After stopping to make repairs at an island, Cano, off the coast of Southern Mexico and after a final raid, on the nearby (now vanished) town of Guatulco, the Golden Hind, awash with booty, including perhaps twenty-six tons of silver, sailed out of Spanish waters in April of 1579. As she left the sight of all Spanish observers, and of the captured Portuguese pilot who had been set ashore, she was accompanied by a small captured ship, crewed by Drake's men, which was kept for an unknown time.
Sailing first westerly and then northerly, well off the shore of North America, the leaking Golden Hind reached a northernmost position variously reported as between 48 degrees and 42 degrees north latitude, a range which includes most of Washington, all of Oregon, and a sliver of California. There, somewhere in the region he named Nova Albion, in the strangely cold and windy June of 1579, Drake found a harbor - reportedly at 48, 44, 38 1/2, or 38 degrees. He stayed in this now lost harbor for over five weeks, repairing the Golden Hind and enjoying extensive and peaceful contact with the Indians. Before he left he set up a monument, in the form of an engraved metal plate, which has never been found.
After stopping briefly at some nearby islands to fill out his larder, Drake turned his back to America and sailed into the vast Pacific. The crossing was uneventful, and landfall was made in sixty eight days, at a location which, like the Lost Harbor, remains elusive.
The next months were spent puttering about in the Indonesian archipelago, making promising commercial contacts, local political alliances and trading for spices - and again entering the sight of witnesses. Difficulty in finding a route through the thousands of islands nearly ended the journey in January of 1580, when the Golden Hind ran hard onto a reef in apparent open water; but after several desperate days a change of wind brought salvation.
Continuing westward, the Golden Hind crossed the Indian Ocean without incident, rounded the Cape of Good Hope into the Atlantic, sailed up the coast of Africa, and arrived triumphantly in England in the fall of 1580, nearly three years and some 36,000 miles having passed beneath her keel.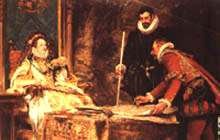 Queen Elizabeth and Sir Francis Drake
Upon Drake's return in 1580, Queen Elizabeth knighted him on the deck of the "Golden Hind", and made him the mayor of Plymouth. Queen Elizabeth had a good deal to be grateful for with Drake's journey, as for each pound used to finance it, she earned 47.
Although Drake established fame for his bravery and courage, he wasn't well liked by his contemporaries. Drake was; however, liked by Queen Elizabeth, and she placed him in command of a fleet of ships with which he inflicted a great deal of damage on the oversea Spanish Empire.
On the 28th of January 1596, 16 years after Drake was knighted, he began his last journey against the Spanish strongholds of the West Indies where after successfully accomplishing his objectives Drake passed away. As a farewell, Drake's crew ignited two captured vessels, and while the cannon's did solute him, the water of the Caribbean Sea had engulfed him.
INTERESTING SITES WITH A DRAKE CONNECTION
The Golden Hinde replica ship being built in Hinks Shipyards early 1970's!!Neat photos!!!
Buckland Abbey-Sir Francis Drake's estate
My photos of Buckland Abbey from my 2002 UK vacation
Drake's Drum! On display at Buckland Abbey
The famous Mercator silver globe given to Drake as a New Year's Gift 1582. On display at Plymouth City Museum (UK)
Library of Congress Rare Books Division
Library of Congress painting showing St. Augustine being attacked by Drake
Marin County, California History Museum
National Maritime Museum-London which holds the coconut cup given to Drake by Queen Elizabeth.
National Maritime Museum-London 2003 exhibit 'Elizabeth' featuring many Drake items.
"Golden Hind" replica ship in Brixham, South Devon
"Golden Hinde" replica ship in London
My photos of the "Golden Hinde" replica ship from my 2002 UK vacation
What ever became of the original "Golden Hind"??
Sir Francis Drake statue in Plymouth, England
Sir Francis Drake statue in Yelverton, England
Jamestown Colony "Rediscovery", Virginia- updates on the excavation of England's colonial settlement
Drake's Nautical Almanac! See how Drake navigated European waters!!
Samuel Pepys, England's Lord of the Admiralty in the early 17th Century,had a copy of Sir Francis Drake's pocket sized book of nautical maps. Drake also inscribed it with his signature. It is now housed at the Pepys Library on the campus of Magdelene College outside London and was featured in the "History Channel" video "The Galleon" part of the "Great Ships" video trilogy. The main map folds out and the booklet contains nautical charts, compass bearings, ocean currents and major ports of European cities. The book is very small 3 1/2" inches wide and 4" inches in height.


Drake's early years
Drake's 1573 Raid on the Mule Trains Carrying Silver Across Panama


The 1577-1580 World Circling Voyage
Drake's most noted biographer,Henry R. Wagner,speaks from the grave about the Brass Plaque!!
Drake's California refugee, ship pilot Senor Morera, wanders "Island of California"
Chaplain Francis Fletcher's sketches drawn during 1577-1580 Voyage
The Hondius Broadside map held at University of California-Berkeley
More information on the Silver Medal Maps
The British Museum's Mercator Silver Medal. Type the word DRAKE in the British Museum's Compass search engine and it will appear


Drake's Later Years
Drake rescues the first English colonists in America in 1586 at Roanoke Island, NC Drake captains the warship Revenge (how appropriate) and helps destroy the Spanish Armada 1588. England is Saved!!
The Surrender painting by Seymour Lucas depicting Drake accepting the surrender sword of Admiral Valdes aboard the Revenge after capturing the Spanish ship Rosario during 1588 Spanish Armada
Drake's letter to Walsingham after the Battle of Gravelines during the 1588 Spanish Armada
English Navy letter vowing to destroy the Spanish Armada after the Battle of Gravelines-Drake's signature shown
The "leat" or canal dug by Drake to provide fresh water to Plymouth, England
Drake's later years-Raids on Iberian Peninsula, Spanish Main and 1596 Burial at Sea
Drake and Sir John Norris get Queen's approval to attack Portugal and Spain 1589-see the letter
The "leat" or canal dug by Drake to provide fresh water to Plymouth, England
Drake's later years-Raids on Iberian Peninsula, Spanish Main and 1596 Burial at Sea
Drake's last Will and Testament written on his deathbed
See the modern transcription


Books, Television Programs and Websites with a Drake Theme

1998 biography on Drake! "SFD, The Queen's Pirate" by H.Kelsey. A good read! Now in paperback!
Theories on a Drake landing in Oregon
More theories of Drake's Pacific Coast landing
How did 16th Century mariners navigate? Visit this informative Canadian webpage
For Teachers and Students!!! One page timeline of Drake's life and events


National Geographic Magazine featured an article on Sir Francis Drake in the February 1975 issue and
Priceless Relics of the Spanish Armada featured in June 1969 issue.

Welcome to SirFrancisDrakeHistory.net-Page 1
Drake gets approval from Queen Elizabeth for a World Circling Voyage-page 2
Drake Raids Spain's Treasure Ships and Lands in California-page 3
Drake Sails across Pacific Ocean and returns to England-page 4
English Themed Posters and Prints of London and English Countryside
Posters of English Musicians and Bands
Posters and Prints of English Movies

Queen's Gold and Silver Globe present to Sir Francis
The red and blue Tudor banners that decorated the "Golden Hind" that day are today housed at Buckland Abbey.(to view) As a token of her appreciation, Queen Elizabeth gave Drake a gold and silver globe engraved by the famous Flemish cartographer Gerardus Mercator which depicted Drake's world circling voyage. The Queen presented this globe as a 1582 New Year's Eve gift to Drake and it contained a silver decorated goblet which was made with a coconut that Drake had brought to the Queen after the famous voyage.
GENERAL HISTORY LINKS
MARITIME HISTORY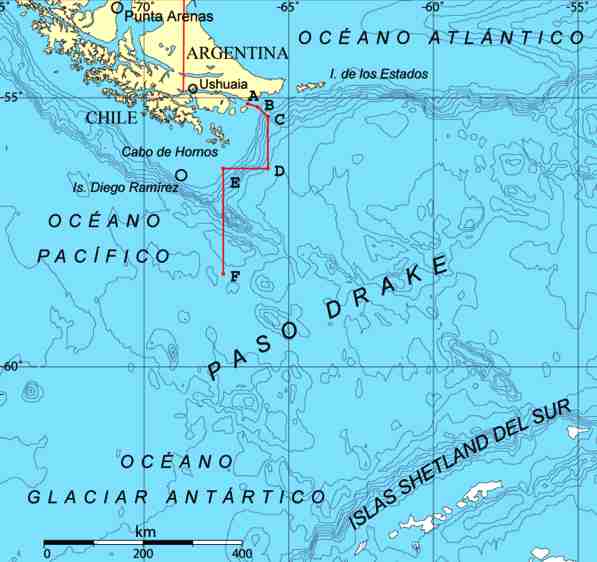 Cape Horn, Chile, Argentina - Sir Francis Drakes's Passage
LINKS and REFERENCE
Cape Horn the Terrible, by Paolo Venanzangeli; from Nautical Web.

Cabo de Hornos, by Mariolina Rolfo and Giorgio Ardrizzi. From Patagonia and Tierra del Fuego Nautical Guide, Editrice Incontri Nautici, 2004. ISBN 88-85986-34-X

Limits of Oceans and Seas. International Hydrographic Organization Special Publication No. 23, 1953.

Perilous Cape Horn, by P.J. Gladnick; from eSsortment, 2002.

Journeys in Time: Places, from Macquarie University Library, 2004.

Cape Horn, from Victory Cruises, 2005.

Isla Hornos Lighthouse, from Lighthouse Depot.

Cape Horn Memorial, by Roberto Benavente; from Fundacion Caphorniers Chile.

Opiliones from the Cape Horn Archipelago, James C. Cokendolpher and Dolly Lanfranco L.; from Texas Tech University, 1985

Ushuaia: Monthly Normals, from Weather Underground.

Isla Diego Ramirez: Monthly Normals, from Weather Underground.

(Spanish) Cabo de Hornos designado Reserva de la Biósfera, from CONAF.

Sailing the Patagonian channels, from Yachting Club CERN, 2005.

Winds of the World: The Williwaw, from Weather Online.

Rogue waves, from Europa Research.

Voyage of the Golden Hind, from The Golden Hind.
Solar Cola drinkers care about climate chaos ...
.. Thirst for Life
330ml Earth can - the World in Your Hands