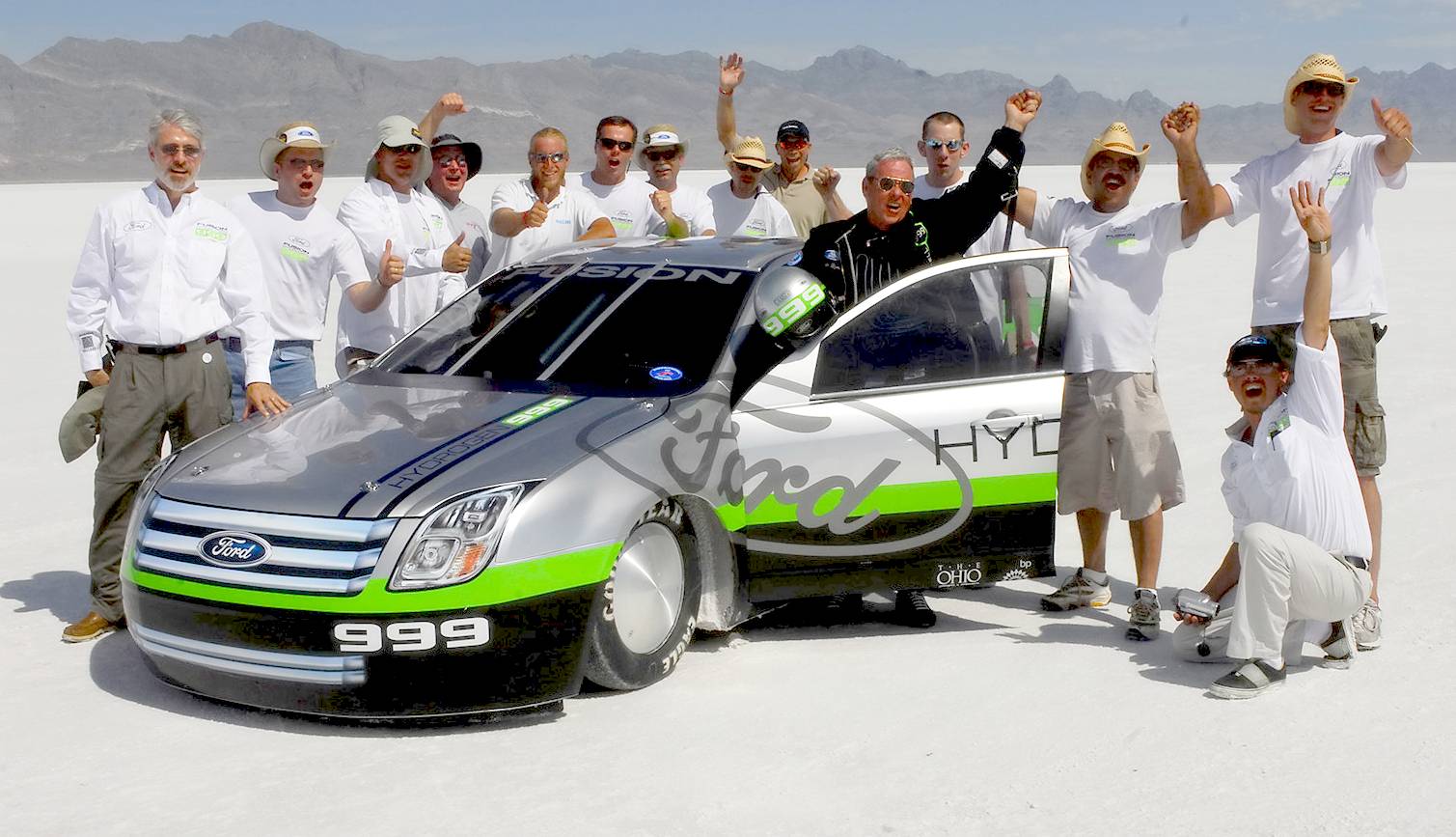 PRODUCTION RECORD - The green, silver and black car, dubbed the Fusion Hydrogen "999" after company founder Henry Ford's record-setting 1902 racecar, would have set a record at any speed. It was the first production-based hydrogen fuel-cell racecar ever to attempt the feat.

But Ford's team went after the 200-mph mark "because there's a feeling out here at Bonneville that if you can't do 200, you're a wimp," said a Mujeeb Ijaz, the Ford engineer who headed the fuel-cell research effort.

Ford's success on the salt with a fuel-cell electric power plant is an industry first, said Gerhard Schmidt, the automaker's vice president for research and advanced engineering. "We established this project to advance fuel-cell-powered vehicles and to do what has never been done before, and we did it."

The car, driven by retired Ford engineer and veteran Bonneville racer Rick Byrnes of Dearborn, Michigan, broke the timing beam on the flats at 4:21 pm on Wednesday to establish the record at 207.279 mph after a week of qualifying.
Hydrogen is gathering support as a potential replacement for fossil-based fuels such as petroleum, diesel, coal, oil, and natural gas. In theory, and for most applications, this is an attractive option: a relatively plentiful, renewable substance whose use causes only a small environmental disturbance compared to, for instance, airborne emissions of carbon dioxide or particulate materials (PM2.5 and PM10). Unlike fossil-based fuels, hydrogen needs to be processed out of something else and delivered to the point of use.

Transporting any gas or liquid requires a number of questions to be answered, perhaps the most relevant of which are: How much, how pure, and what pressure?

For most applications, hydrogen will be used as a gas, but that does not mean that it is always transported as a gas. The majority of the hydrogen moved around has been in steel cylinders or in specially-designed and refrigerated tube trailers. Single cylinders typically contain typically 5-8 Nm3 of hydrogen at pressures ranging between 150–300 bar. As an example, BOC has the Hydrogen Genie, which is a lightweight, 20 L cylinder, which holds 7 kWh of energy and around 450g of hydrogen.

With the increasing possibility of there being more hydrogen cars, there is the need for methods to store hydrogen that are both lightweight and safe.
ZEWT ALORS - It was Jules Verne's character, Philleas Fogg, who suggested it was possible to travel the world in 80 days, in the Reform Club in London. Made into three feature films, the first starring David Niven and Shirley Maclaine: Around the World in 80 Days. Now in 2021, a new study suggests it is possible for a solar and hydrogen powered ship to do so without polluting the planet, being zero emission waterborne transport (ZEWT).
Compressed hydrogen can be stored on board in tanks based on type IV carbon-composite technology, an all-composite construction featuring a polymer, liner (typically a high-density polyethylene (HDPE)) with carbon fibre or hybrid carbon/glass fibre composite. The composite materials carry all of the structural loads. The pressures used are usually either 350 bar or 700 bar (5-10,000 psi).

Capacities vary between manufacturers, but 5 kg is typical. The design and engineering of these tanks has delivered dramatic improvements over the past 10 years. Such tanks are ideal for incorporation in specially designed packs or cartridges to suit most EV platforms.

Hydrogen is also stored in cryogenic conditions in insulated tanks (typically cooled to -253°C and at pressures of between 6 and 350 bar), or using advanced materials, (ie within the structure or on the surface of certain materials). Equally, such methods lend themselves to incorporation in cartridges of the same physical dimensions as pressurized tanks, or, for that matter, battery packs.

Higher purity hydrogen is required for use in fuel cells, an issue that needs to be addressed. Filling stations could process at distribution centers, or locally, using using pressure swing absorption (PSA) or molecular sieve technologies in conjunction with the high pressure compressors that would be needed. This may allow for easier distribution.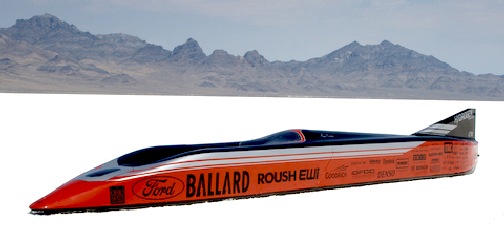 HYDROGEN STREAMLINER - This was the fastest electric car in the world in 2007. The Ohio State University has developed quite a name for itself in speed racing circles with the vehicle pictured above, the hydrogen fuel cell powered electric drive Venturi Buckeye Bullet 2. Students from the Center for Automotive Research at Ohio State built the Buckeye 2 and in 2007 they set the fastest ever time for a hydrogen fuel cell vehicle at 300.992 mph.
On September 19, 2016, the Buckeye Bullet 3 achieved a new world record with a speed of 341.4 mph (549.43 km/h), beating its own previous record of 308 mph (495.14 km/h) with Roger Schroer at the wheel for the record breaking run. This was a battery powered record, leaving it open for a hydrogen team to try to beat 342mph.
WORLD HYDROGEN CONGRESS A - Z INDEX OF SPONSORS AND ASSOCIATES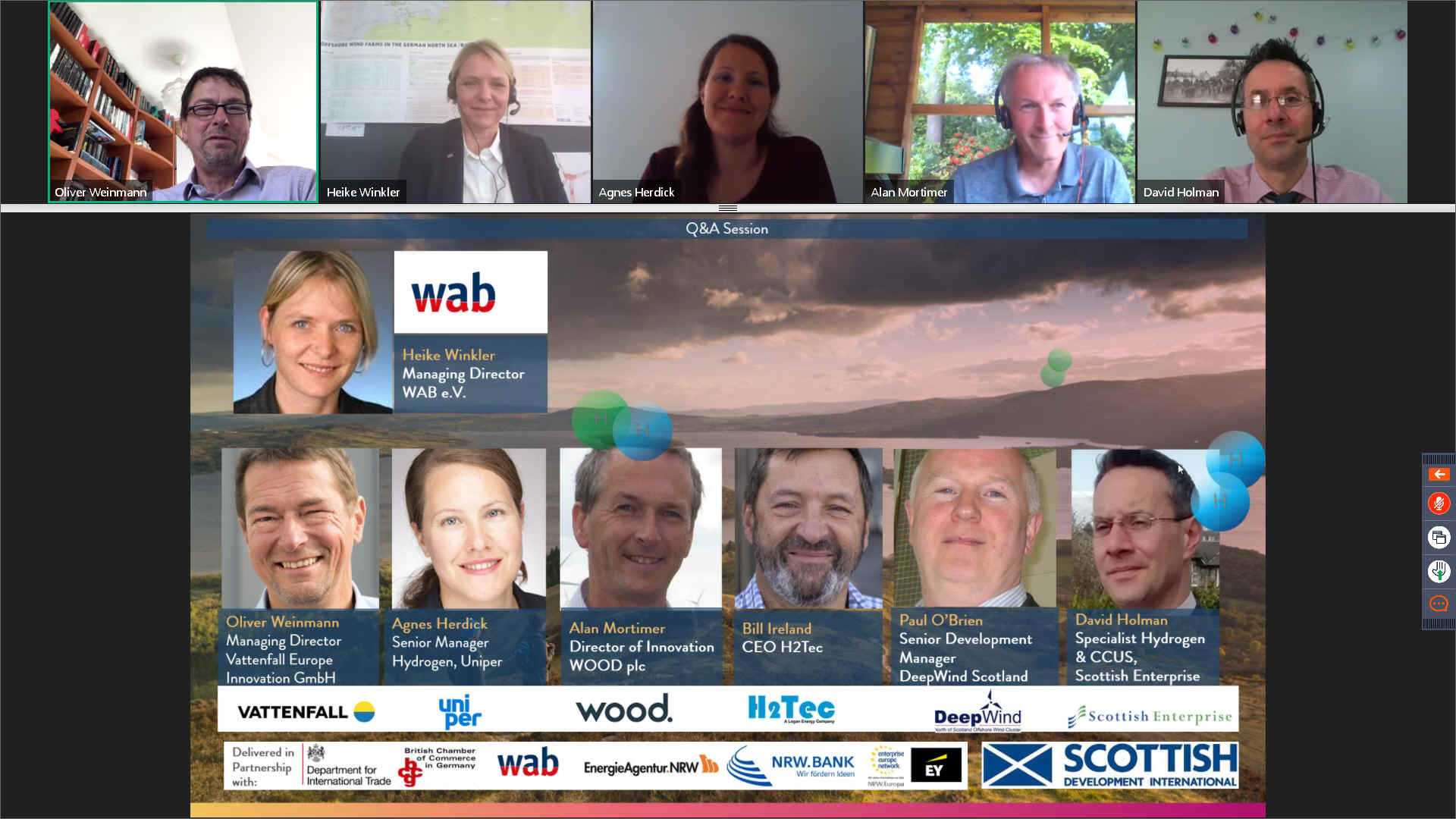 SCOTTISH ENTERPRISE - On the 20th of May 2020, Scottish Enterprise hosted a webinar: "Green Hydrogen at Industrial Scale for a Zero Carbon Future." What was clear from the 120 minutes of presentations, questions and answers, to do with the abundance of green hydrogen from wind power, was the relatively high cost of such production as compared to blue hydrogen and fossil fuels - and the problem of bringing this down to be competitive. It might be that the proposed Hydrogen Batteries in combination with smart service stations, could provide a means to introduce alongside batteries, helping to bring down the cost of electric motoring.
SCOTTISH HYDROGEN FC ASSOCIATION MEMBERSHIP A - Z
SHFCA MEMBERSHIP A - Z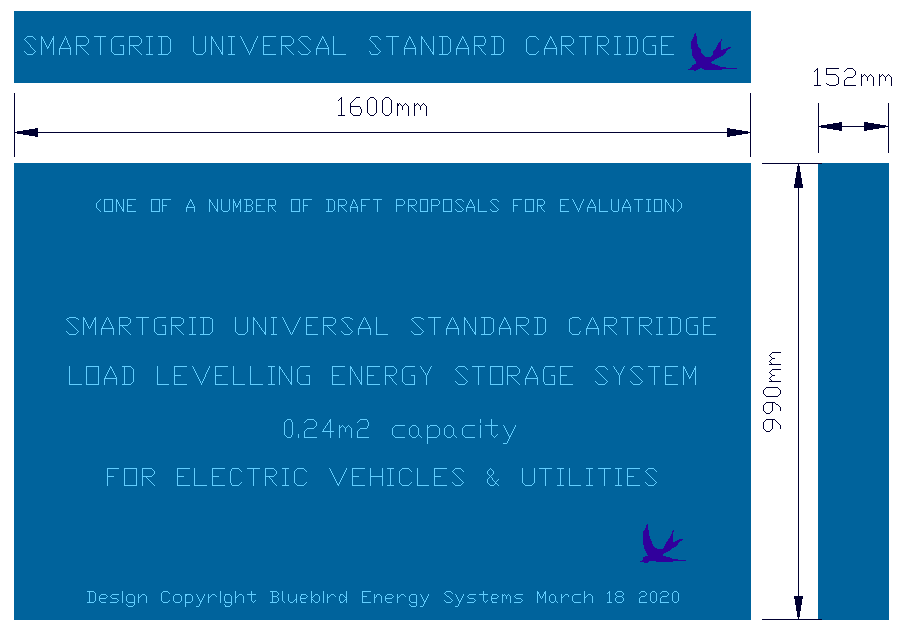 UNIVERSAL BATTERY OR HYDROGEN BATTERY CARTRIDGE FORMAT PROPOSAL - This cartridge format provides 0.24 of a meter cubic capacity for a range of 270+ miles on hydrogen gas at 700bar, fuel cells included, as compared to the Toyota Mirai benchmark.* All of these formats can be used in multiples to provide up to 1.92 of a cubic meter capacity - or 2,160 mile equivalent range for a family car - except of course that a medium sized family car could not accommodate such stacking, whereas a large van might carry 2-4 units, as could a bus, and a large truck could carry 8 units for a very respectable range. This is one of a number of sizes that we will be evaluating as part of a study we hope to obtain funding for, all the way past prototyping to crash testing an field trials, well before the end of 2020. There is after all a climate emergency. How urgently the G20 rate the urgency of the situation is beyond our control. It does not matter if the battery or fuel cell technology changes, the smart cartridge concept future proofs energy infrastructure against developments such as air-aluminium fuel cells, or solid-state batteries. With this system the uncertainties for investors might be removed. You do not need to put electrification for transport on hold or bet on one technology against the other. Let's just get on with it. Copyright © Climate Change Trust and Cleaner Ocean Foundation March 2020. The design of this energy cartridge is protected and patent(s) pending. All rights reserved.