Lightning Strike! is an electrically driven hydroplane designed to set a new world electric water speed record. The standing Union Internationale Motornautique (UIM) record belongs to Fiona, Countess of Arran, whose 1989 mark in An Stradag stands at 50.825mph (81.793kph).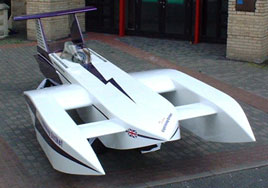 The team was formed in January 2001 consisting of: Malcolm Pittwood, Phil Evans, Paul Hannaford and Novie Dzinora. Phil Evans is responsible for the design concept. Lightning Strike is 20-feet (6.1metres) in length and is 7feet 6 inches (2.29metres) wide across the sponsons. Boat builders Farrow and Chambers Ltd. of Grimsby built the craft.
MOTORS
Lightning Strike is to be powered by electric motors driving through a surface-piercing prop. As with any electric vehicle, it is the balance of the weight of stored energy to duration and power that matters. The long foredeck in front of the cockpit could house up to a ton of batteries. The batteries may be moved fore and aft within the foredeck to help adjust trim.
FUNDING
The project still needs a cash budget of £25,000 and ways of raising this capital are currently being sought. Whilst there will be no Supporters Club ideas are being expanded on so that dedicated followers can have a close attachment and make an important contribution. A website is to be uploaded to www.lightningstrike-wsr.com ready for a full press launch. Please visit this site for updates. Alternatively, enquiries regarding sponsorship can be made by email to LStrikeWSR@aol.com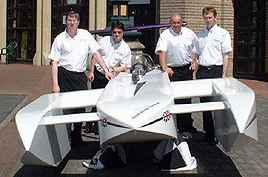 TRIALS
Once the team are satisfied that all is well with the hydroplane then testing will transfer to Coniston Water in the Lake District where their is an agreement in principle to run for the project's ultimate goal of exceeding 100mph (161kph) and capture the coveted World Water Speed Record for Britain.
The Royal Yachting Association will oversee any record attempts for UIM ratification. UIM rules allow for only 20 minutes between runs for a two-way record for electric craft, unlike piston or jet power, which gets the full 60 minutes. While these limitations are considered to penalise electric vehicles, until such time as a review to remove the disadvantage, the project is bound to comply. It is not yet decided who will pilot the boat, but each of the team members believe they could do the job if it comes their way.
The team aim to continue the long tradition of British water speed record breaking, with an environmentally sound fuel source and prove that water and electricity do mix. Good luck from all the Solar Navigator team.
---
A taste for adventure capitalists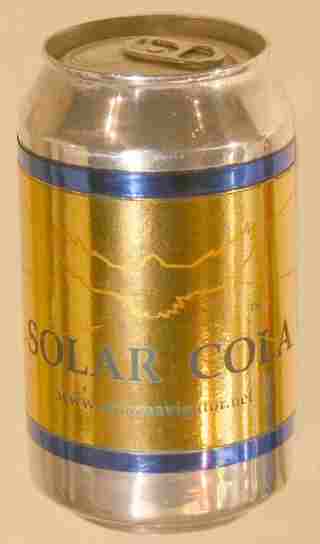 Solar Cola - a healthier alternative