Tuesday, April 4, 2006
LONDON, England - A British singer has signed up by a major record label after broadcasting live performances from her living room on the Internet.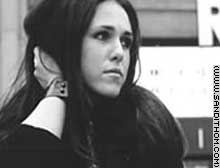 Sandi Thom, 24, is now on the books of RCA/SonyBMG after signing with the label at her flat on Monday night.
She built up a daily audience of more than 100,000 people around the world.
Speaking on British television, Sandi said she could not believe what had happened and that her life had "changed dramatically."
"I don't think I have quite realized it just yet," she told GMTV.
"It has obviously changed for the better. "I have managed to get massive amounts of exposure through using the Internet and that is something that people have struggled to do for years."
Several record labels had approached the aspiring star following her Webcasts, which were broadcast on 21 consecutive nights.
RCA label director Craig Logan said: "Sandi is a very talented artist with an already unique story.
"We're very excited that we're now going to be a part of that story as she develops into a major artist."
Sony/BMG Distribution: Sony Music Group BMG
Sony (Japanese Owned)
550 Madison Avenue
New York NY 10022
Phone: (212) 833-8000
Fax: (212) 833-4818
Licensing Department: (212) 833-8640
---
WARNER MUSIC GROUP (AOL TIME WARNER)
New energy drinks for adventure capitalists
Solar Red | Solar Crush | Solar Cola | Solar Citrus | Solar Spice