Petrol hits £1.19 a litre -
24 April 2006
PETROL prices are predicted to reach their highest-ever levels in Britain this week as the cost of oil continues to climb.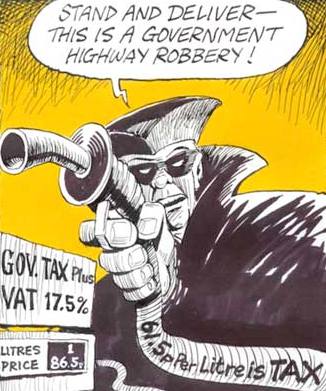 FINANCIAL SQUEEZE: Filling up is costing more than ever
WANT TO KNOW MORE?
DEAL FINDER: Cut your domestic fuel bills
OTHER STORIES
HAVE YOUR SAY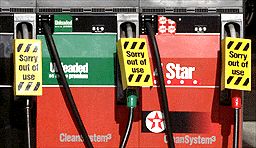 Empty forecourts
by Becky Barrow, Daily Mail
The soaring bill for filling up a car could affect family life, warn motoring experts, as drivers cut back on treats to buy essential fuel. Their grim prediction comes as one London garage was exposed yesterday for charging an astonishing £1.19 a litre for premium unleaded petrol, or nearly £5.50 per gallon. The sky-high price is being charged at a Texaco service station on London's exclusive Sloane Avenue in Chelsea.
However, across the country experts say the average price of unleaded petrol will reach a record high of nearly 97p a litre for the first time this week. This will force motorists to pay nearly £50 just to fill their tanks. In September last year, the average price set a new record of 96.06p a litre as the devastating impact of Hurricane Katrina took its toll.
But industry analysts predict that a fresh record will be set today when the new weekly average figures are published this morning. They say it will be 'no surprise' if the price goes above 96p as the price of petrol continues its march towards the staggering £1-a-litre mark.
At this level, a typical motorist would have to fork out nearly £1,500 - around a month's takehome pay for an average earner - to buy a year's petrol.
The AA Motoring Trust said the soaring fuel prices could have a major effect on family life as household finances struggle to cope. A spokesman said: 'Families have got to find the money from somewhere. You've got to get to work. You've got to get the children to school.' He said they are likely to cut back on other costs, such as the amount of money spent on a child's birthday presents or Sunday family lunches at a local pub. 'For example, families will still go on a summer holiday but they will try to spend less money while they're away,' he added.
The cost of petrol has been going up for some time. In January 2005, the average price was just under 80p a litre. Just over a year later, it is now nearly 20p higher. The latest average price was 95.25p a litre but dozens of garages around the country are charging more than £1.
British motorists are already paying more to fill their tanks than any other major economy in the world, a report revealed last week. The shocking findings, from the highly-respected International Monetary Fund, said that petrol prices could keep on rising because oil prices are 'high and volatile'. The crisis has been caused by the surge in oil prices which broke through $75 a barrel for the first time in New York on Friday. The cost of oil has shot up more than 40% over the past year - and is likely to keep on rising.
Fears of a US strike on Iranian power stations to prevent them creating nuclear weapons has helped propel prices to a new high as Iran is the world's fourth-largest oil producer.
Disruption of oil production by rebels in Nigeria, another big oil producer, is also posing a worrying risk to the world's crucial supplies. Tom Bentz, an analyst from the banking giant BNP Paribas, said: 'Everyone's asking, 'What's the high? What's the high? In a runaway bull market, you can't say'.'
Meanwhile a survey published yesterday found that soaring petrol prices could make nearly a third of motorists choose a smaller car. Young drivers and motorists approaching retirement are the most likely to think about switching to a smaller car to save money at the pump, according to the research by Ebaymotors.co.uk.
Other stories:

Fuel bill rise to continue
New fuel price blow for millions
Fuel bills could rise by another £200
Britons 'fuelling budget flights boom'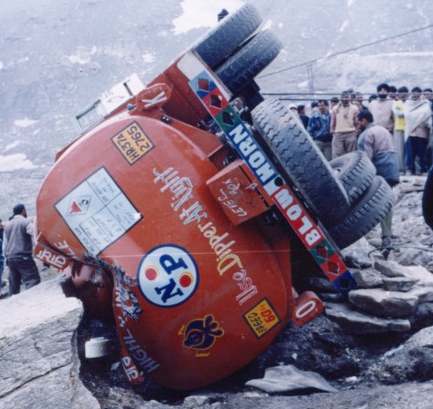 Civil unrest is sure to follow
---
Bush wants a drive on hydrogen-powered cars - April 25, 2006


By Patricia Wilson - West Sacramento, California
US president George Bush marked Earth Day on Saturday by promoting technology that could reduce US dependence on oil. The price of petrol risen to more than $3 a gallon (R4.80/litre) in some places and Bush predicted a "tough" summer driving season.

"When the price of petrol goes up," he said, "it's a serious problem. We're watching very carefully to make sure people are being treated fairly." Democrats hoping to take control of the US Congress in November elections have seized on the issue to make a populist argument against big oil companies and Republican ties to them .

Florida senator Bill Nelson said: "Americans are sick and tired of billion-dollar giveaways to the oil companies while the price of petrol goes through the roof." Bush, a former Texas oilman, has called for the US to kick its "addiction" to oil; while in Sacramento he visited the California Fuel Cell Partnership, a consortium of auto makers, energy companies and government agencies that supports the commercialisation of vehicles running on hydrogen fuel cells. "I strongly believe hydrogen is the fuel of the future," Bush said, "not a foolish dream."

Experts say it is unlikely that fuel-cell vehicles will be ready for widespread use for two or three decades but Bush pledged to make hydrogen vehicles "a reality for American drivers". The administration is also funding research into a new generation of plug-in hybrid vehicles that could be recharged from household electrical power and allow people to commute without using petrol.

Nelson supported alternative fuels but said Bush needed to take "more dramatic steps". He said: "The crisis is coming and America must act now before soaring prices and dependence on foreign oil puts a chokehold on our economy and military." New York representative Louise Slaughter asked for immediate hearings into legislation to reduce fuel prices. - Reuters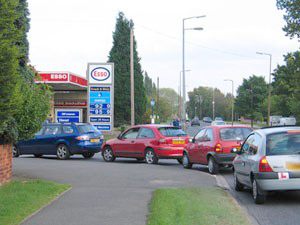 Remember this panic buying
---

/ /
Bush accused of doing too little, too late on energy - April 25 2006

By Carola Hoyos and Kevin Morrison in London

Oil prices fell slightly on Tuesday after George W. Bush attempted to cool consumer concerns about petrol prices hovering near six-year highs. But the proposals he unveiled are being seen by many industry-watchers as too little, too late and, finally, too temporary.
"It is like giving aspirin for prostate cancer," said Philip Verleger, an independent energy consultant and visiting fellow at the Institute for International Economics. Mr Verleger said the president did not address the fundamental fact that the US is the world's largest oil consumer, while its own oil production is in long-term decline. Traders focused on Tuesday on the president's comments about relaxing some of the rules governing tighter environmental standards for petrol and diesel, sending prices lower.
The US benchmark oil price for June delivery dropped 93 cents to $72.40 a barrel, and US gasoline futures fell more than 2 per cent to 4.4 cents. But one trader said the drop in gasoline futures prices could last as little as 24 hours if today's data on US gasoline stockpiles showed another drop. Mr Bush has requested that the Environmental Protection Agency consider granting waivers that would temporarily allow suppliers to sell cheaper, lower-grade fuels to ease prices.
This could affect new rules, starting in May, that bar refiners from making petrol using an additive MTBE, a water pollutant, and require that they instead mix in ethanol. The US oil industry has spent an estimated $16bn (€12.9bn, £9bn) in recent years to upgrade refineries for the new rules. But the waiver power Mr Bush has requested would allow suspension of rules for only 20 days at a time.
Joseph Stanislaw, head of the JAS Stanislaw Group, an energy consulting company, and Deloitte and Touche's independent senior energy adviser, points out that during the energy crisis of 1973, then-president Richard Nixon extended daylight savings time, won approval for the trans-Alaskan oil pipeline and even banned petrol sales on Sundays.
President George W. Bush, in contrast, is concentrating on the short term. "Not filling the SPR [Strategic Petroleum Reserve] and removing environmental restrictions are steps to try and reduce the current high gasoline prices," says Mr Stanislaw. "The long-term key – not given in the speech – is to find a new supply source: And that source is not more oil supply, it is improved efficiencies in our car fleets and a more general look at the demand side of the equation."
Addressing demand may be even more important today than in the 1970s, sincemany in the industry believe the last major oil field has already been found. Nauman Barakat, trader and senior vice-president of Australian bank Macquarie, said he did not expect a fundamental reduction of prices anytime soon. "The question is: what is going to break demand? I see it as three things: a recession, a major terrorist attack or a mutation of bird flu into humans, which would dramatically reduce travel."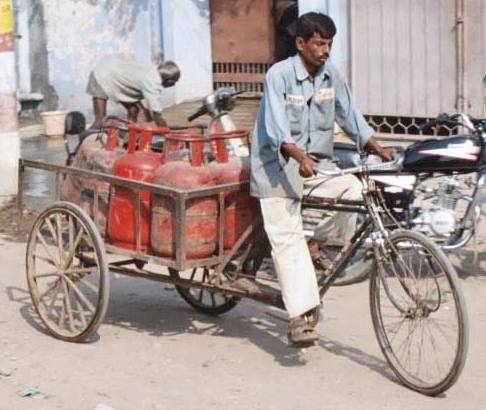 A petrol tanker
---
DERIVATION
Republicans target petrol rip-offs to appease voters
Geoff Elliott, Washington correspondent - April 26, 2006
REPUBLICAN party leaders, fearing a rout in the November mid-term congressional elections over soaring petrol prices, have taken a leaf out of John Howard's political book, urging George W. Bush to investigate price gouging by petrol stations.
Republican House Speaker Dennis Hastert and the party's Senate leader, Bill Frist, want the US Attorney-General and the chairman of the Federal Trade Commission to look into whether petrol retailers and speculators are taking advantage of US consumers. "Anyone who is trying to take advantage of this situation while American families are forced into making tough choices over whether to fill up their cars or severely cut back their budgets should be investigated and prosecuted," Mr Hastert and Mr Frist wrote in a letter to the President.
Earlier this month, Mr Howard called on the Australian Competition and Consumer Commission to also investigate allegations of price fixing among petrol retailers in Australia.
Even more so than in Australia, the politics of petrol in the US are at the centre of opinion polling against an incumbent government. There has been a strong correlation between Mr Bush's disapproval ratings and the rise of petrol prices throughout his term, save for his ratings boost in the aftermath of the September 11, 2001, terrorist attacks.
Yesterday a CNN opinion poll put Mr Bush's approval rating at a low of 32 per cent. His polling, and that of Congress, is worse than polling for Bill Clinton and the Democrat-controlled Congress in 1994 when Republicans seized control in mid-term elections.
Congress returned this week from a two-week break and the price at the pump is dominating discussion. "I don't see panic setting in yet, but there's certainly increasing concern when the President is in the 30s (in approval polls) and we're in the 20s," said Republican Peter King from New York, referring to opinion ratings of Congress overall.
Mr Bush warned at the weekend there was more pain to come for vehicle owners and acknowledged the possibility of price gouging. Democrats are warning of an oil crisis and have renewed calls for a windfall tax on oil companies, a move that has even some Republicans mouthing support.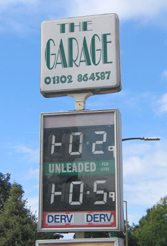 UK £1 per liter price barrier broken
---
Home > National > Oil crisis: Mass layoffs feared
Oil crisis: Mass layoffs feared
Crewmembers of fishing trawlers and petrol-station attendants will likely take the brunt of a wave of layoffs coming soon, as high oil prices slam fuel-sensitive sectors, a seminar was told yesterday.


Up to Bt100 million has been reserved for severance pay, said Sathaphorn Jarupha, a senior official at the Labour Protection and Welfare Department.
The department will encourage employers to avoid layoffs and opt for other measures instead, such as reducing overtime or shortening working hours, he said.
Employment Department director-general Juthathawas Intharasuksri said his department had found 70,000 jobs for workers who are laid off. He said the layoffs would likely start early next month at a worrying rate, without giving an estimate.
The seminar, held at the Labour Ministry, gathered ministry officials and members of the Labour Tripartite Board as well as leaders from unions and other labour bodies.
Chaiyaphorn Janthana, a member of the Labour Tripartite Board representing workers, said the minimum daily wage could be raised twice this year by as much as Bt6 a day each time.
Jamras Chailangkarn, another member representing workers, said he would soon submit a request to the Social Security Office to include therapy for stress caused by economic constraints in its medical coverage for workers and low-income earners.
44 Moo 10 Bang Na-Trat KM 4.5, Bang Na district, Bangkok 10260 Thailand
Tel 66-2-325-5555, 66-2-317-0420 and 66-2-316-5900 Fax 66-2-751-4446
Contact us: Nation Internet
---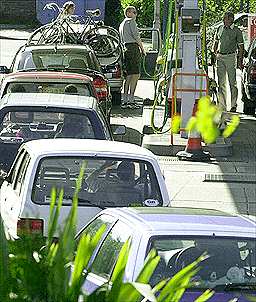 Irony: burning petrol while waiting for petrol
Arctic oil fuels row in Senate

Duncan Campbell in Los Angeles - December 4, 2001
The battle over the Bush administration's controversial plans to allow drilling for oil in the Arctic national wildlife refuge returned yesterday. Republicans are arguing that the events of September 11 have made drilling in the refuge a necessity, while Democrats respond that the future of one of the world's greatest "environmental treasures" is at stake.
The debate returned to the floor of the Democrat-controlled Senate with the Democrats arguing that a final vote should be delayed until next year. But the administration is pushing hard for drilling approval, claiming that the war makes it imperative.
"Our nation's energy concerns are too vital to be delayed until next year," said Frank Murkowski of Alaska, the senior Republican on the Senate energy committee, in whose state the drilling would take place. He said senators would have to decide whether to look to the environmental lobby or to "what's right for America at a time when we are not only at war, but when there is a recession".
The Senate minority leader, the Republican Trent Lott, warned against not allowing the drilling: "Those chickens will come home to roost."
The majority leader, Tom Daschle, the South Dakota Democrat, argues that the debate on the energy bill should wait until the end of January when senators have returned from the Christmas recess. He strongly opposes the drilling and supports greater concentration on conservation as a way of reducing America's dependence on foreign oil.
"This doesn't make sense for us to wait 10 years for six months of supply, which is what [the refuge area] represents, and destroy one of the most pristine parts of our environment in the process," he said at the weekend.
Senator Joe Lieberman, last year's unsuccessful Democratic vice-presidential candidate, said drilling would mean "an environmental treasure permanently lost, hundreds of species threatened, international agreements jeopardised, oil spills further endangering the Alaskan landscape."
Earlier this year, the House of Representatives voted heavily for an energy bill that would open the wildlife refuge to drilling, but it was felt that the bill would probably fail in the Senate. In the wake of September 11, however, the Bush administration has stepped up its pressure for the bill, arguing that it would help reduce the US reliance on oil from a volatile part of the world. Trade unions also back drilling, claiming that it could create 700,000 jobs. Environmental groups hotly dispute this.
Environmentalists say that the drilling would put at risk one of the few remaining such refuges, which is a home for polar bears and caribou.
Last month, a report by the general accounting office concluded that drilling would represent a break with government practice over the past 35 years. Edward Markey, a Democratic congressman who requested the report, said: "If the Alaska refuge was made an exception it would become a Trojan horse that could be used to permit drilling in the 297 other refuges."
Foreign imports account for 60% of US oil supplies, with a quarter of that coming from the Middle East. Republicans argue that the US will need the 16bn barrels of oil that drilling in the refuge might yield.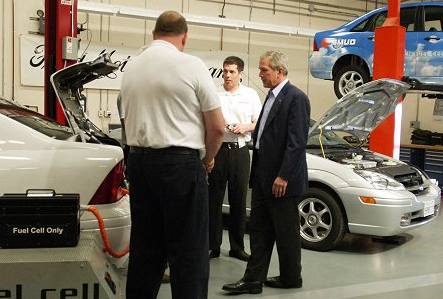 Bush playing along thinking: "Thank god this will never work"
---
FILMS ABOUT OIL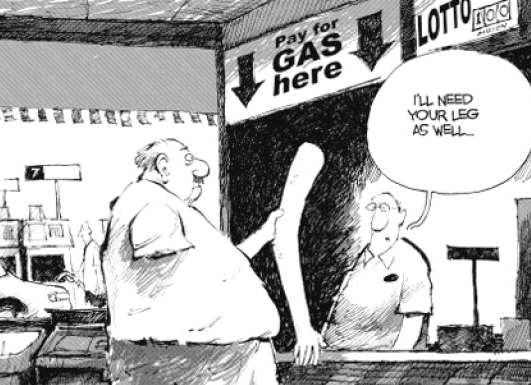 An arm and a leg for fuel
LINKS
ARTICLES
DATA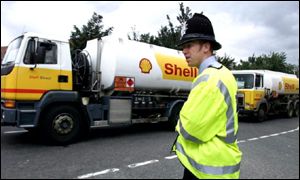 Guards for petrol deliveries
---

Special reports
Waste and pollution
Oil and petrol
Spain

In pictures
Prestige oil tanker disaster

Map
Where the Prestige oil slick happened

From the Guardian archive
25.03.1989: Giant oil spill imperils Alaska
08.09.1989: Aftermath to the Valdez oil spill
23.01.2001: Galapagos oil catastrophe
27.01.2001: Focus shifts to future of Galapagos Islands

World news guide
Spain
20.12.2001: Portugal

Useful links
WWF International: Spanish oil spill
Interactive guide to the spill - El Mundo (in Spanish)
Smit international news (salvage company)
World environment news - Reuters
Exxon Valdez oil spill trustee council
---
A taste for adventure capitalists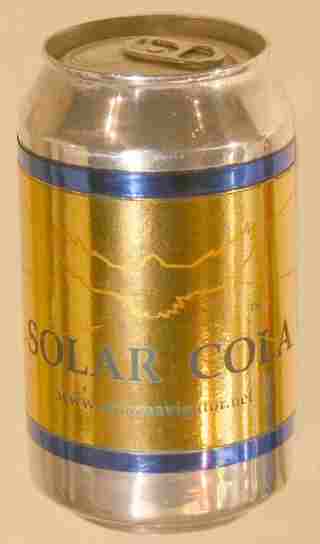 Solar Cola - a healthier alternative