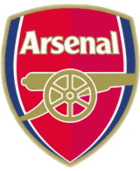 Arsenal Football Club (also known as Arsenal, The Arsenal or The Gunners) are an English professional football club based in north London. They play in the FA Premier League and are one of the most successful clubs in English football. Arsenal have won thirteen First Division and Premier League titles, ten FA Cups and in 2005-06 reached the UEFA Champions League final. Arsenal are also members of the G-14 group of leading European football clubs.
Arsenal were founded in Woolwich, south-east London, in 1886, but in 1913 they moved north across the city to Arsenal Stadium, Highbury, which was their home until May 2006. In July 2006 the club will move to the new 60,000-seat Emirates Stadium in nearby Ashburton Grove. Arsenal have a long-standing and fierce rivalry with neighbours Tottenham Hotspur, located four miles away in Tottenham, whom they play in the North London derby.
HISTORY
Arsenal were founded as Dial Square in 1886 by workers at the Royal Arsenal in Woolwich, but were renamed Royal Arsenal shortly afterwards. They renamed themselves again to Woolwich Arsenal after turning professional in 1891. The club joined the Football League in 1893, starting out in the Second Division, and won promotion to the First Division in 1904. However, the club's geographic isolation resulted in lower attendances than those of other clubs, which led to the club becoming mired in financial problems. In 1913, soon after relegation back to the Second Division, they moved across the Thames to the new Arsenal Stadium in Highbury, north London. They dropped "Woolwich" from their name the following year. Arsenal only finished in fifth place in 1919, but nevertheless were elected to rejoin the First Division at the expense of local rivals Tottenham Hotspur, by reportedly dubious means.
In 1925, Arsenal appointed the highly successful Herbert Chapman as manager. Chapman had won the league with Huddersfield Town in 1924 and 1925, and he brought Arsenal their first period of major success. His revolutionary tactics and training, along with star players such as Alex James and Cliff Bastin, laid the foundations of the club's domination of English football in the 1930s. Between 1930 and 1938, Arsenal won the First Division five times and the FA Cup twice, although Chapman did not live to see all of these achievements, as he died of pneumonia in 1934. In addition, Chapman was reportedly behind the 1932 renaming of the local London Underground station from "Gillespie Road" to "Arsenal", making it the only Tube station to be named specifically after a football club.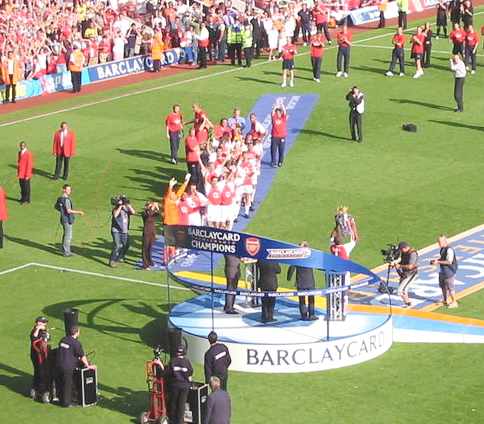 Following the suspension of English professional football during World War II, Arsenal won the league in 1948 and 1953 and the FA Cup in 1950. However, their fortunes began to wane; unable to attract players of the same calibre as they had in the '30s, the club spent most of the 1950s and 1960s in trophyless mediocrity. Even former England captain Billy Wright could not bring the club any success as manager.
Arsenal's second successful era began with the surprise appointment of club physiotherapist Bertie Mee as manager in 1966. After losing two League Cup finals, they won the Inter-Cities Fairs Cup, their first European trophy, in 1970. This was followed by an even greater triumph: their first League and FA Cup double in 1971. However, the following decade was characterised by a series of near misses. Arsenal finished as First Division runners-up in 1973, lost three FA Cup finals (1972, 1978 and 1980) and lost the 1980 Cup Winners' Cup final on penalties. The club's only success during this time was an FA Cup win in 1979, with a last-minute 3–2 victory over Manchester United that is widely regarded as a classic.
The return of former player George Graham as manager in 1986 brought a third period of glory. Arsenal won the League Cup in 1987, Graham's first season in charge. This was followed by a League title win in 1989, won with a last-minute goal in the final game of the season against fellow title challengers Liverpool. Graham's Arsenal won another title in 1991, losing only one match, the FA Cup and League Cup double in 1993 and a second European trophy, the Cup Winners' Cup, in 1994. However, Graham's reputation was tarnished when it was revealed that he had taken kickbacks from agent Rune Hauge for signing certain players, and he was sacked in 1995. His replacement, Bruce Rioch, lasted for only one season, leaving the club after a dispute over transfer funds.
The club's success in the late 1990s and 2000s owes a great deal to the appointment of manager Arsène Wenger in 1996. Wenger brought new tactics, a new training regime and several foreign players who complemented the existing English talent. Arsenal won a second league and cup double in 1998 and a third in 2002. In addition, the club reached the final of the 2000 UEFA Cup (losing on penalties to Galatasaray), were victorious in the 2003 and 2005 FA Cups, and won the Premier League in 2004 without losing a single match, which earned the side the nickname "The Invincibles"; in all, the club went 49 league matches unbeaten, a national record.
Arsenal have finished in either first or second place in the league in eight of Wenger's ten seasons at the club, and they are one of only four teams (along with Manchester United, Blackburn Rovers and Chelsea) to have won the Premier League since its formation in 1993. Until recently, Arsenal had never progressed beyond the Champions League quarter-finals; in 2005-06 however, they reached the competition's final, becoming the first club from London to do so in the competition's fifty year history. Arsenal lost the final 2-1 to FC Barcelona; having gone down to ten men early on, with goalkeeper Jens Lehmann sent off for a professional foul, they went 1-0 up through Sol Campbell. However, Barcelona came back with late goals from Eto'o and Belletti to win.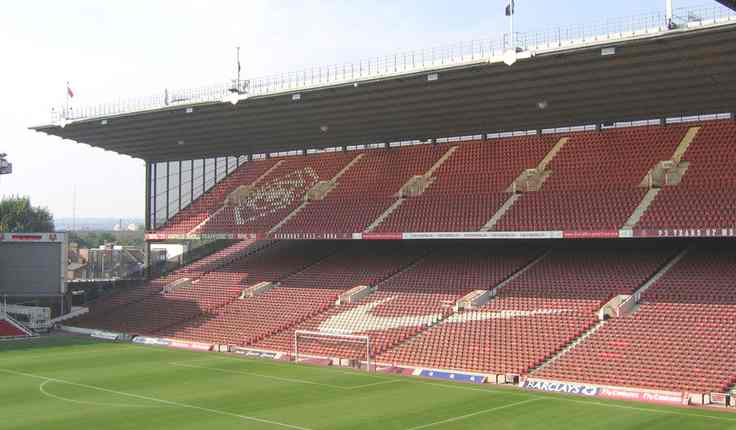 STADIUM
Arsenal Stadium, widely referred to as Highbury, was Arsenal's home from September 1913 until 7th May 2006. The original stadium was built by the renowned football architect Archibald Leitch, and had a design common to many football grounds in the UK at the time, with a single covered stand and three open-air banks of terracing. In the 1930s, the entire stadium was given a massive overhaul, with new Art Deco East and West stands constructed, and roofs added to the North Bank and Clock End terraces. At its peak, Highbury could hold over 60,000 spectators, and had a capacity of 57,000 until the early 1990s. The Taylor Report and Premier League regulations forced Arsenal to convert Highbury into an all-seater in 1992, reducing its capacity to 38,500; this capacity had to be reduced further during Champions League matches to accommodate additional advertising hoardings. Expansion was restricted because the East Stand had been designated as a Grade II listed building and the other three stands were close to residential properties whose owners objected to expansion.
These limitations in Highbury's capacity have prevented the club from maximising the revenue that their domestic form could have brought in recent seasons. Although the club remains highly profitable, Arsenal are currently in the process of building the Emirates Stadium, a new 60,000-seater stadium at Ashburton Grove, about 500 metres south-west of Highbury. While this project was delayed by red tape (including final approval of the necessary compulsory purchase orders by Deputy Prime Minister John Prescott) and rising costs, construction is now nearly complete and the stadium is ready for the start of the 2006–07 season. The stadium is named after its sponsors, the airline company Emirates, with whom the club signed the largest sponsorship deal in English football history, worth approximately £100 million over the term of the deal. As a part of the deal the stadium will be known as Emirates Stadium for at least until 2021, and the airline will be the club's shirt sponsor from 2006 until the end of the 2013–14 season, having previously been Chelsea's shirt sponsors. The first game to be played there will be Arsenal legend Dennis Bergkamp's testimonial game against his former club, Ajax, on July 22, 2006.
CLUB OWNERSHIP
Arsenal's parent company, Arsenal Holdings, operates as a public limited company. However, Arsenal's ownership is considerably different from that of other football clubs. Only 62,000 shares in Arsenal have been issued, and they are not traded on a public exchange such as the FTSE or AIM; instead, they are traded infrequently on OFEX, a specialist market. As of December 2005, Arsenal's market capitalization value is £290m, and the club made a pre-tax profit of £19.3m in the 2004-05 financial year.
Currently, the club's largest shareholders are Danny Fiszman (a London diamond dealer) and Nina Bracewell-Smith (a descendant by marriage of former chairman Sir Bracewell Smith), who hold 25.2% and 15.9% respectively. Vice-chairman David Dein holds 14.6% while club chairman Peter Hill-Wood owns less than 1%.
Arsenal's board of directors hold the majority of the club's shares, but in recent years, with Arsenal becoming a significant media asset, outside organisations have bought into the club. These include entertainment firm Granada Ventures (a subsidiary of ITV plc) (9.9%) and hedge fund Lansdowne Partners (2.7%); Lansdowne used to have a stake in Manchester United before selling it to Malcolm Glazer.
TOP UK FOOTBALL CLUBS
---
LINKS: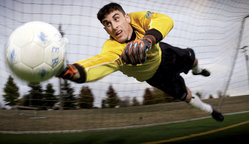 Goalkeeper
---
A heartwarming adventure: Pirate whalers V Conservationists,
with an environmental message.
For release as an e-book in 2013 with hopes for a film in 2015 TBA
(graphic design: Martin House)