Update on the 2008 Beijing Olympics Marketing Frenzy -
November 01, 2006
Visa, Coke, Lenovo get Head Start to Cash in on Sizzling Economy



The 2008 Summer Olympics, officially known as the Games of the XXIX Olympiad, will be held in Beijing, China from August 8, 2008 through August 24, 2008, with the opening ceremony to take place at 8 p.m. on August 8th. The number 8 is associated with prosperity in Chinese culture. Some events, like beach volleyball, sailing, and swimming's new marathon 10km events, will be held in the coastal city of Qingdao.
On July 8, 2005, the International Olympic Committee announced that Hong Kong will hold the equestrian events at the site of the Hong Kong Sports Institute in Fo Tan, Sha Tin. The facilities of the Sports Institute may be moved to Wu Kai Sha. This will be the second time the same edition of Olympic Games has been hosted by two National Olympic Committees. (A similar arrangement was in place between Melbourne, Australia, and Stockholm, Sweden, for the 1956 Summer Olympics.)
BEIJING, China - As the 2008 Olympic Games approach, sponsors are figuring out how to capitalize on the event's location in one of the world's hottest markets. "It is the most critical commercial sporting event in our lifetime, any lifetime," said Greg Paull, principal of marketing consultancy R3 in Beijing.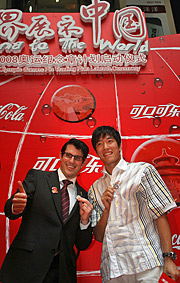 Chinese track-and-field superstar Liu Xiang (right) is signed on
to promote Coca-Cola and Visa at the Beijing Olympics
Race for endorsers

Marketers are already in a tug-of-war over China's top athletes. With multiple sponsors to please, Chinese track-and-field champion Liu Xiang is designing pins for Coca-Cola's Olympic promotion and racing a kangaroo in Australia in a Visa International spot by BBDO Shanghai, the first Olympic efforts by both those marketers. Mr. Liu also has deals with Nike, China Mobile and China's top dairy producer, Yili.

Lenovo, probably the most aggressive Olympic marketer to date in China, views "the Games as a crucial symbol of national pride that shows they are truly China's global company," Mr. Paull said. Lenovo got an early start on its estimated $80 million investment, hosting internet lounges and sponsoring 11 athletes at the Olympic Winter Games in Turin, Italy, earlier this year.


Adidas: fast mover

Another fast-mover is Adidas, the only brand-licensee partner for the Games, which means other sponsors can give away products co-branded with the Olympic logo, but only Adidas can sell them. Adidas introduced its first co-branded retail products, such as clothes and caps, at its Chinese stores earlier this year. The company is paying more than $80 million in cash and services, and it's investing millions more in Games-related marketing and business-development activities led by Erica Kerner, director of its Beijing 2008 Olympics Program. Adidas has to make sure it stands out from global rival Nike and local rival Li Ning, who aren't official Olympics sponsors but back some of China's top athletes and Olympic teams.
Last Sunday, as part of the ongoing warmup for the Olympics, 5,300 volunteers lined part of the Great Wall for an international promotional photo op.

"Being a sportswear sponsor of a sporting event makes it easier and more difficult for us compared to other sponsors," Ms. Kerner said. "We have to be smarter and more strategic in how we do it, so consumers remember our message and that we are the official partner."


Coke vs. Pepsi

Coca-Cola's Olympic sponsorship will help it take on PepsiCo in China, where Pepsi connects with Chinese youth through hip marketing and deals with Asian pop stars such as Jay Chou. The Coca-Cola 2008 Olympic pin program, started in August, lets consumers design and trade Olympic-theme pins, including a design contest called "Show China to the World" in which Chinese nominate local landmarks that capture the spirit and traditions of their hometowns for pins. Mr. Liu has designed three pins.

For Visa, the Olympics are "a once-in-a-lifetime opportunity to lead the card market as it opens in China," Mr. Paull said. Awareness about how credit cards work is low in China. But that's likely to change.

Burgeoning travel market
"As the Chinese economy grows rapidly, overseas travel has become increasingly popular with consumers," said Richard Chang, Visa's exec VP-general manager, Greater China.

Not all marketers are planning ahead. Haier, one of the largest white-goods producers in China, has national-sponsor status -- one step below partner. Although an aspiring global brand and one of China's most experienced overseas manufacturers, Haier's success so far has depended more on low prices and widespread distribution through retailers such as Wal-Mart than on marketing.

"In theory, Haier is going to use the games as leverage for branding, marketing and communication," said an executive at one of Haier's ad agencies in China. "We are not sure if there is a marketing platform for using the Games. The marketing function is weak, if not nil, in Haier."
Bidding process
Beijing was elected host city on July 13, 2001, during the 112th IOC Session in Moscow, beating out Toronto, Paris, Istanbul, and Osaka. Prior to the session, five other cities submitted bids to the IOC but failed to make the shortlist in 2000: Bangkok, Cairo, Havana, Kuala Lumpur, and Seville. Beijing previously bid to host the 2000 Summer Olympics but lost out to Sydney in 1993.
2008 Summer Olympics bidding results

City

NOC

Round 1

Round 2

Beijing

China

44

56

Toronto

Canada

20

22

Paris

France

15

18

Istanbul

Turkey

17

9

Osaka

Japan

6

-
Venues
The Chinese government intends to invest in the renovation and construction of thirty-six gymnasiums and stadiums as well as fifty-nine training centers. Over 300,000 houses have been demolished and residents relocated thus far in Beijing due to construction in preparation for the 2008 Olympics. Police in Beijing placed many people under arrest for protesting the evictions.
Its largest architectural pieces will be the Beijing National Stadium, National Gymnasium, Olympic Aquatic Park, Convention Center, Olympic Village, and Wukesong Cultural and Sports Center. US $2.1 billion (RMB¥17.4 billion) in corporate bids and tenders are expected to fund almost 85 percent of the construction budget for the six main venues. Investments are expected from corporations seeking ownership rights after the 2008 Summer Olympics. Some venues will be owned and governed by the State General Administration of Sports, which will use them after the Olympics as facilities for all future national sports teams and events.
It was announced on July 8, 2005, that the equestrian events are to be held in Hong Kong because of "uncertainties of equine diseases and major difficulties in establishing a disease-free zone." The five other venues outside of Beijing will be located in Qingdao, Hong Kong, Tianjin, Shanghai, and Qinhuangdao.
Beijing
List of venues
New venues
Beijing National Stadium - Athletics, Football

Beijing National Aquatics Center - Swimming, Diving, Water Polo, and Synchronized Swimming

National Indoor Stadium - Artistic Gymnastics, Trampolines, Handball

Beijing Shooting Range Hall - Qualifications and finals 10-, 25-, and 50-meter range shooting events

Wukesong Indoor Stadium - Basketball

Laoshan Velodrome - Cycling (track)

Shunyi Olympic Rowing-Canoeing Park - Rowing, Canoe/Kayak (flat-water racing and Slalom Racing)

China Agricultural University Gymnasium - Wrestling

Peking University Gymnasium - Table tennis

Beijing Science and Technology University Gymnasium - Judo and Taekwondo

Beijing University of Technology Gymnasium - Badminton and Rhythmic Gymnastics
Existing venues
Olympic Sports Center Stadium - Football, Modern Pentathlon (running and equestrian)

Olympic Sports Center Gymnasium - Handball

Workers' Stadium - Football

Workers' Indoor Arena - Boxing

Capital Indoor Stadium - Volleyball

Fengtai Softball Field - Softball

Ying Tung Natatorium - Water Polo, Modern Pentathlon (swimming)

Laoshan Mountain Bike Course - Cycling (Mountain Bike)

Beijing Shooting Range Clay Target Field - Shooting

Beijing Institute of Technology Gymnasium - Volleyball

Beihang University Gymnasium - Weightlifting
Temporary venues
Olympic Green Convention Centre - Fencing preliminaries and finals, and Modern Pentathlon (fencing and shooting)

Hockey Field, Olympic Green - Hockey

Archery Field, Olympic Green - Archery

Tennis Center, Olympic Green - Tennis

Wukesong Baseball Field - Baseball

BMX Field - Cycling (BMX)

Triathlon Venue - Triathlon

Urban Road Cycling Course - Cycling (road race)
Beijing National Stadium
The centerpiece of the 2008 Summer Olympics is the construction of the Beijing National Stadium, which began on December 24, 2003. Government officials engaged architects worldwide in a design competition. A Swiss firm, Herzog & de Meuron Architekten AG, collaborated with China Architecture Design & Research Group to win the competition. The National Stadium will feature lattice-like concrete skeleton forming the stadium bowl, which will seat 80,000 people. Architects originally described the overall design as resembling a bird's nest with an immense ocular — an opening with retractable roof over the stadium. However, in 2004 the roof part of the design was abandoned for cost and safety reasons. The Beijing National Stadium will be the site of the Opening Ceremony and Closing Ceremony as well as track and field events and soccer finals.
Guangdong Stadium
Built 100 miles north of Hong Kong in the city of Guangzhou, the Guangdong Stadium was opened to the public for the ninth National Games of the People's Republic of China in 2001. It was originally planned to be the centerpiece of the 2008 Summer Olympics until a decision was made to construct the National Stadium in Beijing. The original design for the Guangdong Stadium was announced in 1999. The stadium seats 80,000 people. Taking from Guangzhou's nickname as the Flower City, the American architectural firm of Ellerbe Becket designed Guangdong Stadium to resemble a flower. The design firm stated in its press release, "The stadium bowl grows out of the ground to a sculpted upper edge, like the petals of a flower. Floating above the bowl is a shimmering ribbon of roof flowing like a wave over the seats. It parts at the ends and holds the Olympic flame, suspended between the two ribbons. A hotel surrounds a circular opening in the roof that forms a vertical tower of light, which at night is visible for a great distance. The roof form undulates, making it different from any other stadium in China or the world."
Other locations
Qingdao International Sailing Centre - Sailing, Beach Volleyball

Shanghai Stadium - Football Preliminary

Qinhuangdao Olympic Sports Centre Stadium - Football Preliminary

Hong Kong Sports Institute - Equestrian

Tianjin Olympic Centre Stadium - Football Preliminary
Sports
The events programme for the Beijing 2008 Games is quite similar to that of the Athens Games held in 2004. The 2008 Olympics will see the return of 28 sports, and will hold 302 events, one more than in Athens.
Nine new events will be held, including the new cycling discipline of BMX (composed of individual events for men and women). Women will compete in the 3000m steeplechase. Marathon swimming events for men and women, over the distance of 10 kilometers, will be added to the swimming discipline. Team events (men and women) in table tennis will replace the doubles events. In fencing, women's team foil and women's team sabre will replace men's team foil and women's team epee.
In addition to the recognized Olympic sports, some video gamers have recently talked to the Chinese government in hopes of their allowing video games to be a demonstration sport at these games. Demonstration events have not been held at any Olympic Games (Summer or Winter) since 1992. As of June 2006, no further developments in this have occurred.
On August 7, 2006, the day before the 2-year countdown to the Beijing Games, the Beijing Organizing Committee released the pictograms of the 35 Olympic disciplines. Each pictogram is designed so that people of nations around the world will be able to recognize the different sports played at that Olympic Games. This set of sport icons is names the beauty of seal characters, so called because of each pictogram's likeness to Chinese seal script.
List of sports
(The number of events contested in each sport is indicated in parentheses.)
Baseball (1)

Basketball (2)

Boxing (11)

Canoeing (16)

Cycling (18)

Equestrian (6)

Fencing (10)

Football (soccer) (2)
Gymnastics (18)

Handball (2)

Hockey (field) (2)

Judo (14)

Modern pentathlon (2)

Rowing (14)

Sailing (11)

Shooting (15)
Softball (1)

Table tennis (4)

Taekwondo (8)

Tennis (4)

Triathlon (2)

Volleyball (4)

Weightlifting (15)

Wrestling (18)
Marketing
Emblem
The 2008 Summer Olympics emblem entitled "Dancing Beijing" was unveiled in August 2003 in a ceremony attended by 2,008 people at Qin Nian Dian (祈年殿) — the Hall of Prayer for Good Harvests in Beijing's Temple of Heaven (天壇 or 天坛). The emblem combines elements of traditional Chinese society — a red seal and a calligraphic word for jing (京) ("national capital") with athletic features. The open arms of the calligraphic word symbolizes the invitation of China to the world to share in its culture. According to the International Olympic Committee, the emblem is the first of the modern Olympics to use red as the dominant colour, an important colour for the Chinese people throughout its history. However, the emblems for the 1980 Moscow Olympics and 1964 Tokyo Olympics both feature red very prominently, so it is unclear how this claim is justified.
IOC president Jacques Rogge delivered an address at the unveiling ceremony saying, "Your new emblem immediately conveys the awesome beauty and power of China which are embodied in your heritage and your people." Rogge continued, "In this emblem, I saw the promise and potential of a New Beijing and a Great Olympics. This is a milestone in the history of your Olympic quest. As this new emblem becomes known around the world — and as it takes its place at the center of your Games — we are confident that it will achieve the stature of one of the best and most meaningful symbols in Olympic history."
Mascots
The Fuwa (Chinese: 福娃; pinyin: Fúwá) were unveiled as the mascots of the games by the National Society of Chinese Classic Literature Studies on November 11, 2005, at an event marking the 1000th day before the opening of the games.
Fuwa consists of five members: Beibei, Jingjing, Huanhuan, Yingying, and Nini. The five mascots incorporate fish, giant panda, fire, Tibetan antelope, and swallow designs respectively, and each also represents one of the five Olympic Rings. When the five names are put together, they form a pun on the phrase 北京欢迎你 (Běijīng huānyíng nǐ) which means "Beijing welcomes you".
Slogan
On June 26, 2005, The Beijing Olympic Committee announced that the slogan for the 2008 Olympics will be "One World, One Dream." (Simplified Chinese: 同一个世界 同一个梦想, Traditional Chinese: 同一個世界 同一個夢想)
Tickets
The Beijing Olympic Organizing Committee publicized in early August 2006 that it will sell over 7 million tickets for various sporting events and ceremonies to the general public. The chief of the committee said that she hopes that all the Chinese have a chance to come to the games. The committee has, therefore, set the admission prices for events "very, very cheap" to encourage the Chinese to become involved in the Olympics.
In addition to the public, other tickets are set aside for sponsors, officials, and members of the IOC. Tickets to contracted corporate clients will be sold in September 2006, while tickets for the general public will not go on sale until early 2007.
Torch relay
Twenty-eight cities around the world will be chosen to receive the global phase—the torch's tour around the globe - of the Olympic Flame's relay. In addition, 78 cities will receive the torch on the domestic phase through China.
Presented to the IOC in Moscow was the plan for a torch relay route that will take the Olympic flame through the sites of the great ancient civilizations—Greece, Italy, Egypt, Iraq, Iran, India and finally, China - although the route through the Middle East may not be guaranteed due to the political climate in the region. The 2008 Summer Olympics torch relay will achieve a world record as eighty specially trained mountaineers carry the Olympic flame to the top of Mount Everest (known to the Tibetans as Chomolangma; Simplified Chinese: 珠穆朗玛峰, Traditional Chinese: 珠穆朗瑪峰), making it the highest altitude achieved in the history of Olympic torch relays. It will be carried up the southern slope from Nepal before carried down the northern slope into the Tibet Autonomous Region.
Liu Qi, president of the 2008 Olympics organizing committee, has also expressed the wish that the torch relay be carried through Taiwan. Although the organizing committee has the relay mostly planned out, the IOC states that the torch relay route will not be decided until early 2007. The overall course of the torch relay, though, should take the Olympic flame from Athens in March 2008 through the Himalayas to Beijing and will be sponsored by soft drink giant, The Coca-Cola Company alongside South Korean electronic giant Samsung.
Participating National Olympic Committees (NOCs)
It is expected that the vast majority of the 202 competing nations in Athens 2004 will return, plus the recently accepted NOC of Marshall Islands should be expected at the Olympic Games increasing the number to 204.
The nations of Serbia and Montenegro will compete separately. The citizens of Montenegro voted in a referendum to sever their political union with Serbia in May 2006.
In July 2007, the Netherlands Antilles will be dissolved, Curaçao and St. Maarten will receive a Status Aparte, the same political status that Aruba has had since 1986. Bonaire, Saba, and St. Eustatius will have direct relations with the Netherlands as Kingdom Islands. BBC There is a possibility that Curaçao will be competing at the 2008 Olympics after inheriting the Netherlands Antilles NOC.
Concerns surround the participation of the Republic of China on Taiwan, represented as Chinese Taipei in Olympic functions. ROC president Chen Shui-bian's term does not expire until May 2008, and strained relations between the Republic of China and the People's Republic of China governments have led to fears that a Taiwan boycott may occur in 2008.
The National Olympic Committee of Macao, China has not been accepted by the IOC as a member, although already a member of the Olympic Council of Asia. It is unlikely that Macao will participate at the 2008 Summer Olympics.
It seems very unlikely (close to impossible) that the Vatican City will enter. However, the entrance of Tuvalu (the remaining nation besides Marshall Islands that were not present at the 2004 Summer Olympics) is an open possibility provided that the country establishes a National Olympic Committee prior to IOC deadlines. Tuvalu has met with IOC president Jacques Rogge, and he seems happy enough that in 2007 at the IOC meeting Tuvalu will be voted into becoming a full Olympic member.
A South Korea news agency has announced that South Korea and North Korea will discuss sending a united team to the 2008 Olympics. The two NOCs met with IOC president Jacques Rogge on September 5, 2006, to discuss the possibility of doing so.
Preparations
Olympic House
The Sports House, the administration centre of the Sports Federation and Olympic Committee of Hong Kong, was renamed Hong Kong Olympic House on July 11, 2005. The Chairman of the International Olympic Committee and Timothy Fok, the chairman of the National Olympic Committee of Hong Kong, held the Olympic House Opening Ceremony and the IOC permitted the use of the emblem of the 2008 Beijing Olympic Games.
Olympic lawmaking
The Beijing municipal authority declared on April 10, 2006, that more than 70 local laws and decrees would be made before the 2008 summer Olympics. These laws and decrees include banishing local people who don't have Hukou of Beijing; banishing vagrants, beggars, and people with mental illness from the city; strengthening border control; forcible "special holiday", or forcible shutout, to make Beijing citizens stay at home during the Olympics; strengthening controls over Chinese and foreign NGOs; and forbidding any protests. The government has also strengthened laws relating to prosecution of those deemed to be disseminating material not beneficial to the state.
Broadcasting
Beijing 2008 will be broadcast worldwide by a number of television broadcasters. Confirmed broadcasters include:
Mainland Chinese state-owned CCTV, predominantly CCTV-5 will have exclusive coverage rights.

China will also be streaming all the events over the internet showcasing the China Next Generation Internet.

Channel Seven in Australia

CBC and Radio-Canada and its properties, along with TSN and RDS, in Canada.

NBC Universal, with NBC and its cable properties, in the United States.

BBC in the United Kingdom.
Public transport
In preparation for the games, Beijing's subway system is currently undergoing a major expansion that will more than double its existing size. The system currently is composed of four lines and 64 stations. An additional seven lines and more than eighty new stations are being constructed - including a direct link to Beijing Capital International Airport - most of which are set to open on July 30, 2008, just over one week prior to the beginning of the games.
Potential boycotts
Boycotts occur at many Olympic Games by groups of protestors, activists, or political groups who have grievances against the hosting country. Sometimes these boycotts are sanctioned by member states, such as in the 1980 and 1984. While no state has indicated a willingness to boycott the 2008 games, some groups are initiating independent campaigns to do so.
Students for a Free Tibet (SFT) and affiliated pro-Tibetan independence groups have initiated a campaign to boycott the 2008 Summer Olympics. Among its other complaints concerning China's policies in Tibet, SFT is protesting the Chinese government's use of the Tibetan antelope (chiru) as one of its five mascots. SFT claims that this is propaganda to legitimize Chinese rule of Tibet and that this goes against the Olympic spirit. Similarly, disputes over the political status of the Republic of China on Taiwan have caused many to speculate the extent of participation of Taiwan's national team, represented in IOC events as Chinese Taipei.
Some environmental groups have called for a boycott of the 2008 Summer Olympics after it was reported that the Chinese government placed an order for US$1 billion on 800,000 cubic meters of Merbau hardwood from the endangered rainforests of Indonesia's Papua province to be used in the construction of the games. Rainforest activist groups claim that this is against Olympic ideals of respecting universal moral principles.
Controversy
Some athletes, especially swimmers, have voiced dissatisfaction with the International Olympic Committee's (IOC) decision to schedule some events to meet the needs of NBC, which paid US $3.5 billion for exclusive U.S. broadcasting rights to the winter and summer games from 2000 through 2008. NBC requested that popular events, such as swimming, athletics, basketball, and gymnastics, be broadcast live and during television primetime in the U.S. (i.e., 6 to 9 p.m.) for maximum advertising revenue. This would require events to be held in the early morning, Beijing time. The IOC granted the request concerning swimming and gymnastics but denied it for athletics and basketball. There is precedent for the IOC's decision. At the 1988 Seoul games, some swimming, gymnastics, and athletics finals were held in the morning. Some athletes, however, believe that their training schedules allow them to perform more effectively in the early evening. [1]
References
6th Coordination Commission Visit To Begin Tomorrow, International Olympic Committee.

Olympic Venues, Beijing 2008.

2006 General Assembly of the FIEThe fencing programe will again include all six individual events and four team events, though the team events will be a different set than were held in 2004. The International Fencing Federation's rules call for events not held in the previous Games to receive automatic selection and for at least one team event in each weapon to be held. Voting is conducted to determine the fourth event. In 2004, the three men's team events and the women's épée were held. Thus, in 2008, the women's foil and sabre events and men's épée were automatically selected. Men's sabre was chosen over foil by a 45–20 vote.

"Beijing 2008: Games Programme Finalised", International Olympic Committee.

Programme of the Games of the XXIX Olympiad, Beijing 2008, International Olympic Committee.

Morris, Chris. "Competitive gaming trying to earn a berth in the Olympics", Game Over, Cable News Network, 2006-05-31.

The Beijing 2008 Olympic Bid, Coyne & Blanchard, Inc.

IOC commends preparation for 2008 Games, Beijing 2008.

Koreas 'to unify Olympics teams', BBC News.

"Two Koreas Make Progress in Creation of Unified Team", International Olympic Committee.

法制晚报 (Fazhi Wanbao, or Evening Paper of Legal System), April 10 2006, A05

Students for a Free Tibet blog, blog.studentsforafreetibet.org. Retrieved on May 15, 2006.

Destroying Papua's Ancient Rainforests to Raise the Olympic Torch, Rainforest Portal. Retrieved on May 15, 2006.
---
A - Z SPORTS INDEX
---
A taste for adventure capitalists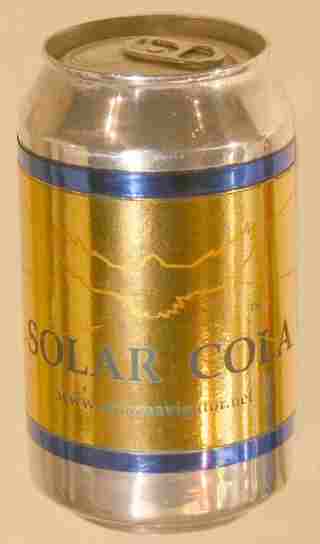 Solar Cola - a healthier alternative