Now in its thirteenth year, Race For Life is the largest women only fundraising event in the UK. This year, for the first time ever, 4th June 2006 will see the launch of One Big Day, with 25 races taking place simultaneously across the country (see list below).

Each Race For Life event covers a distance of 5k, encouraging women of all ages and levels of fitness to participate. Race For Life 2006 looks set to break all records with in excess of 750,000 women expected to join forces to raise £46 million for Cancer Research UK.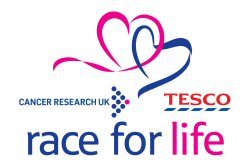 HISTORY
Cancer Research UK's 'Race for Life 'began in 1994, with one race in Battersea Park: 680 women came together and raised £36,000 in sponsorship.
Twelve years on, Race for Life has grown to become the UK's biggest women only fundraising event. We have raised over a £100 million for Cancer Research UK and welcomed over 2 million women to our events.
This year we hope to raise £46 million by bringing 750,000 women together, all raising sponsorship to support the life-saving work of Cancer Research UK. Please enter today and help us to reach our fundraising target!
Fundraising events like Race for Life are vitally important to Cancer Research UK as they enable us to continue our life-saving work.
Cancer Research UK is the world's leading independent organisation dedicated to cancer research, with a team of over 3,000 scientists, doctors and nurses.
We are committed to curing cancer faster by understanding its causes and investigating how best to prevent, diagnose and treat the disease. We also fund research aimed at improving the quality of life for cancer patients and providing the best possible support to patients and their families.
Cancer Research UK is the major supporter of breast cancer research in the UK, with an annual spend of over £20 million. The charity also funds research into many other types of cancer that touch women's lives.
Cancer Research UK relies overwhelmingly on donations from people like you.
For free information about cancer and its treatment, please visit our patient information website, CancerHelp UK.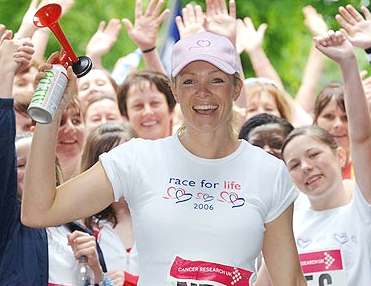 Race for life - Nell McAndrew
ABERYSTWYTH
On Sunday 7 May 2006, a total of 1,200 women took part in the fifth Race for Life to be held on Aberystwyth promenade. The event raised £86,000 for Cancer Research UK in 2005. From the pre-race warm-up to the final finish line, we've got dozens of photos featuring runners, walks, groups and individuals. We'll be publishing more images over the coming days but if you'd like to add a picture of your own, please email us at wales.mid@bbc.co.uk.
STAFFORDSHIRE
Race For Life 2006 took place in Trentham Gardens, with 5000 women and children taking part. Five thousand women and children gathered together at Trentham Gardens in Stoke on Trent to raise money for charity.
The races that took place as part of One Big Day:
| | |
| --- | --- |
| Bath University, Bath | Stormont Estate, Belfast |
| Lister Park, Bradford | Bute Park, Cardiff |
| City of London, London | Holyrood Park, Edinburgh |
| Harlow Town Park, Harlow | Costello Stadium, Hull |
| Pennington Flash, Leigh | Mote Park, Maidstone |
| Heaton Park, Manchester | Campbell Park, Milton Keynes |
| Newcastle Racecourse, Newcastle | Victoria Embankment, Nottingham |
| University Parks, Oxford | The Hoe, Plymouth |
| Canford Park Arena, Poole | Southsea Common, Portsmouth |
| Prospect Park, Reading | The Arena, Rhyl |
| Old Deer Park, Richmond (Middlesex) | Sandwell Valley Country Park, Sandwell |
| Don Valley Bowl, Sheffield | Trentham Gardens, Stoke-On-Trent |
| Birkenhead Park, Wirral | |
Race for Life Training Guide
Congratulations, if you're one of 750,000 women who'll be walking, jogging or running in a Race for Life event in any year to help raise £ millions for Cancer Research UK.
How should I start?
Whether you walk or run or plan to do a bit of both, a training programme - even a very basic one - makes a huge difference. If you don't have one, there's a tried and trusted selection for walkers and runners of every speed. Unless you have serious health issues, we'll assume that you'll want to build up to jogging at least some of the way on race day.
Training help
See Runner Wolrd links here for training help: Best Beginners' Index, Best Weight Loss Index, and Best Women's Index
FAQs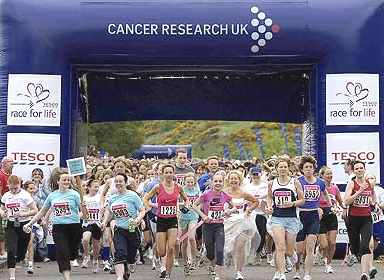 Race for life - Edinburgh start line
Follow a programme!
Even a very simple training schedule will work wonders. Why? Two reasons. One is that you'll never have to wonder whether you're overdoing it or under-doing it. You'll be right on target. The other is that you'll never have to think about what to do on a particular day. You get up, your session is there; you do it. Perfect.
You may have seen these Runner's World programmes on the Race for Life website already:
If you already run regularly, you might prefer a slightly more advanced plan:
Race-day help
Don't go it alone!
Need advice? Want to share a story? Or just fancy eavesdropping on hundreds of messages of running chat every day? Why not sign up as a free website member and drop into our friendly forums? They're easy to get the hang of.
I feel self-conscious
Whatever shape or size you are, the very fact that you are out there, getting fitter and raising money for Cancer Research UK means you have plenty to be proud of. More likely than not, anyone who looks at you when you're training is envious of your get-up-and-go. Whether you're in the gym or in the park, hold your head up high.
I'm behind with my schdule
Don't panic! Hardly anyone gets through a whole six weeks without missing or trimming a single session. If you only have time to run for half the time scheduled, do that half. If you fall behind, don't try to accelerate through the programme: instead, repeat the earlier, easier sessions and gradually increase the time on your feet. If time is really short, you could switch to the 3-week blitz schedule,
LINKS
RACE FOR LIFE 2006 CORPORATE SPONSORS
It is only through the generous support of these partners that Cancer Research UK is able to run cost-effective events and ensure that every penny raised by participants goes directly to fund the work of Cancer Research UK.
If you would like more information about Race for Life sponsorship opportunities, please email raceforlifesponsorship@cancer.org.uk

National Media partner - The National Magazine Company

Official Training Partner - Runner's World

Official Drinks Partner - Ocean Spray
Media enquiries
If you are a member of the media and would like to receive a copy of the Race for Life media pack, please email press@cancer.org.uk with your contact details.
---
References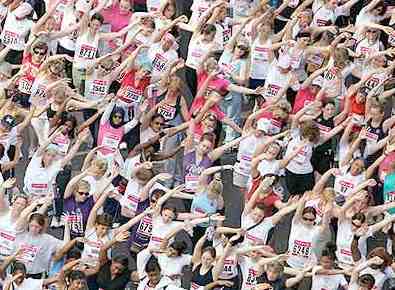 Race for life - stretch Ludgate
A - Z SPORTS INDEX
---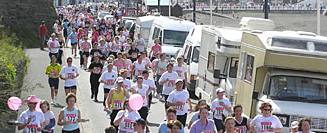 Race for life - Aberystwyth 2006
A taste for adventure capitalists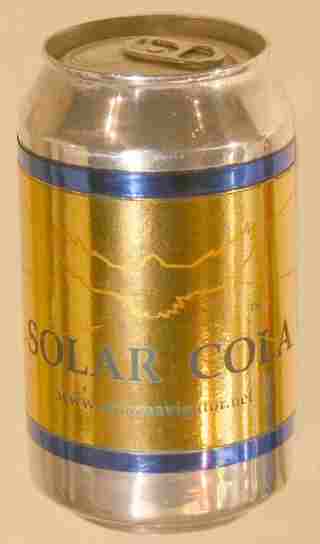 Solar Cola - a healthier alternative