WARNING SIGNS
Those that heard the rumble of water rang the radio stations in panic. They had lived all their lives in the area, but they knew this earthquake was a bad one. The ground shook for a long time but few people realised what was to come and how the aftermath of an earthquake in the Indian Ocean would affect their lives. This was the only warning. As the sun began to climb into a cloudless sky over Indonesia. It was early morning when the first gigantic wall of water hit.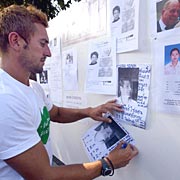 Missing person messages being posted
Many of you have written to us to try to get information about your family or friends in the countries affected by the Asian tidal waves.
TSUNAMI LINKS:
DESCRIPTION & HISTORY | AFTERMATH AID & MESSAGES | DECEMBER 30 2004 | DECEMBER 27 2004
TSUNAMI MESSAGES
Sky will publish your name, phone number or other details on the site. If you do not want them included please let them know and they will be removed.

Because of the large number of emails they're receiving, individual cases cannot be followed up. Always check the identity of anyone who contacts you saying they have information about a missing person. We do not endorse or authorise emails you may receive soliciting money in connection with the emergency appeal.
We recommend you treat all emails with caution
One email which you may receive claims to be from the Disasters Emergency Committee. It asks for donations and gives Lloyds TSB and Bank Of Greece in Cyprus bank details. Ignore this email or any email purporting to be from Sky News asking for money.
The Foreign Office is publishing daily figures of dead and missing Britons on its website.

Click here to send Sky your messages Please keep your emails short; we reserve the right to edit them.

Here is the list of foreigners found in Sri Lanka: http://www.contactsrilanka.org/
and Phuket: http://www.phuketpc.com/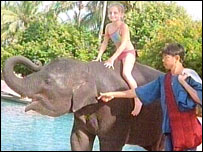 Elephant Ningnong saves tsunami girl
An eight-year-old survivor of the Asian disaster has tells how her life was saved by a four-year-old elephant.
Amber Mason, of Milton Keynes, Bucks, was riding Ningnong in the Thai resort of Phuket when the devastating waves struck the beach. As the wave swept in and with water up to his shoulders, Ningnong dashed out of the waves to the top of the beach, carrying Amber to safety.
Back home, Amber said she felt very lucky that Ningnong had saved her. She said: "I think Ningnong thought something was wrong and was trying to get off the beach. "Everyone was running out of the sea and my mum began crying because she thought she'd lost me." Ningnong's owner, realising that seconds were precious, said he had ordered the elephant to run.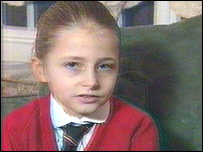 Amber Mason
Amber's mother, Sam, believes Ningnong had been crucial in saving her daughter. "If she had been on the beach on her own or with us on the beach, she would never have lived. The elephant took the pounding of the wave," she said. Ningnong is back on the beach and playing in the waves and as a thank you for saving Amber's life, her family have said they will pay to Ningnong's owner £30 a month.
LATEST NEWS

Aceh attempts to protect orphans from traffickers
EYEWITNESS
Waves sweep Aceh

BACKGROUND AND ANALYSIS

The human impact of the tsunami disaster in sound and pictures

Television reports

HAVE YOUR SAY
CONTACT: nelson@solarnavigator.net +44 (0) 7905 147709 (UK)