CLICK BELOW TO FIND OUT ABOUT THE UK'S GOVERNMENT FROM THEIR OWN POSTED WEBSITES
United Kingdom Central Government
HAPPY BIRTHDAY
Without any doubt HRH Queen Elizabeth II is one of the most popular British monarchs and deservedly so. Queen Elizabeth II has steadfastly gone about her business since before her coronation day in June of 1953. The public adore her so, they would not like to see her go. She is a pillar or society and a rock in terms of keeping her family pointed in the right direction.
Perhaps more importantly, the Queen plays an important role as the head of state and as an ambassador for the United Kingdom and colonies. Who wouldn't want such representation and balanced opinion in their public relations. But the Queen is ore than that, she is the genuine article. A good wife, mother and a stupendous grandmother to boot.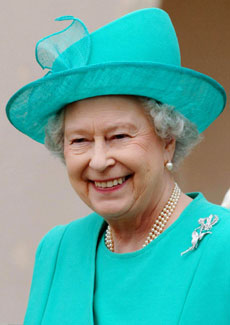 All of us here at Solar Navigator HQ offer our most humble and heartfelt congratulations on this very special occasion - Happy Birthday your Majesty
The Queen's Golden Jubilee in 2002 saw an unprecedented outpouring of affection for the royal family, with hugely successful celebrations to commemorate this anniversary of Elizabeth the II accession to the throne. Doubts about the public's enthusiasm for the Monarchy were soon crushed by the crowds who greeted her wherever she went. In 2006, her eightieth birthday will be celebrated across the nation, and once again the Queen's personal popularity will be confirmed.
QUEEN TO START 80th CELEBRATIONS
The Queen is to begin her birthday celebrations with a lunch for 99 people who turn 80 on the same day as her. The guests, who can bring one guest, will gather at Buckingham Palace before enjoying a three course meal in the grand Palace Ballroom. Those attending were picked in a ballot earlier this year, after applying through their local Lords Lieutenant. The Queen and her guests were all born on 21 April, 1926. Invitations were issued on a pro-rata basis to Lords Lieutenant offices throughout Britain.
The birthday men and women will dine around 20 tables inside the royal home, with some seated next to the Queen or Duke of Edinburgh. Guests will also be invited to a drink in the palace's Picture Gallery before lunch, where priceless portraits adorn the walls. Betty Kay, of Doncaster, South Yorkshire, who is due to attend after her neice put her name forward as a surprise said she was "dumbfounded" at the invitation. "It has always been a standing joke in the family that I've never been invited to the Queen's birthday party, what with us being born on the same day, never thinking it would actually come true," she said. "Even when I was a youngster I would say, well you'd think she would invite me to her party."
A 'marvel'
Another guest, Edna Richards, will travel from Wolverhampton with her husband John.
"I am very proud I was chosen as I am a royalist. "I think she is a marvel. I don't know how she does it all. Being the same age I know how she must feel." She added: "I am not really nervous at the moment but I don't know how I will feel when I get there. It feels quite unreal." The Queen will spend her 80th birthday at Windsor Castle, where Prince Charles will host a family dinner. Other events are planned including a service of thanksgiving at St George's Chapel, Windsor on 23 April, and a service at St Paul's Cathedral on 15 June. The monarch will also host a birthday Garden Party at Buckingham Palace for children from all over the UK. On 17 June, the Queen will mark her official birthday with the Trooping the Colour.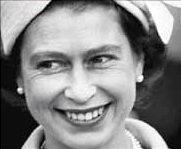 QUEEN ELIZABETH STILL GOING STRONG AT 80 - 2006-04-17
Britain's Queen Elizabeth II leaves after attending the traditional Easter Sunday Service at St George's Chapel in Windsor Castle, April 16, 2006
LONDON - Britain's Queen Elizabeth turns 80 on Friday with her popularity intact, abdication firmly ruled out and her eldest son Charles facing yet another decade as heir in waiting.


The queen, crowned nearly 53 years ago, has made clear that she regards her position as "a job for life", and even ardent Republicans concede that abolition of the monarchy is a lost cause while a robustly healthy Elizabeth is on the throne.

The Dutch royals' abdication model does not appeal to the British queen, who also has vivid memories of her father being pushed onto the throne in an abdication crisis that shook the House of Windsor to the core.

Her popularity has revived after a tumultuous decade of scandals, divorce and tragedy for Britain's most famous dysfunctional family. Polls show that only one in 10 of her subjects want Elizabeth to step down, and courtiers dismiss all talk of Charles, 57, acting as a "shadow king".

"There is no plan for the prince to take over more duties from the queen. Abdication is absolutely not an option," a senior royal adviser told Reuters.

Republicans accept defeat for now. "We will not have a republic while the queen is still alive," said Professor Stephen Haseler, chairman of Republic, the campaign for an elected head of state.

"Enough people in Britain feel the queen has done quite a good job. The debate about the monarchy doesn't get serious until the queen goes," he told Reuters.

While keeping up a busy programme of official visits across Britain, the queen is also firmly committed to the Commonwealth of former British colonies, and has travelled more widely than any previous monarch to promote friendly ties with them.

The monarchy's popularity plummeted in 1997 after the death in a Paris car crash of Charles's ex-wife Princess Diana, which provoked an outpouring of public grief that many Britons felt the royal family should openly share.

Royal biographer Robert Lacey said Elizabeth was quite right to keep Diana's grieving sons, William and Harry, away from the public gaze for the first few days after Diana's death.

"Staying with her grandsons, protecting them from the world, brought her popularity to a record low. That now seems to have been vindicated as the correct human priority to pursue," he said.
TENSION WITH CHARLES

Tension between Elizabeth and Charles over his tortuous love life has also eased since he finally married Camilla, the love of his life, last year after a 35-year affair. Diana always blamed Camilla for the breakup of her marriage.

The queen, recalling the 1936 abdication crisis that brought heartache to her parents, gave an intriguing glimpse in a 1990s television documentary into how she sees her role.

"It's a question of maturing into something one's got used to doing and accepting the fact that it's your fate, because I think continuity is very important. It is a job for life," she said.

Her frail and unprepared father had to take over the throne as George VI when his elder brother, Edward VIII, abdicated to marry American divorcee Wallis Simpson.
Elizabeth is also said to be no fan of the Dutch system under which queens have abdicated in favour of their daughters.

"The Queen is contemptuous of monarchies that do pick and choose and do retire," said royal biographer Penny Junor. "One inherits after the other dies -- that's it."

Elizabeth's widowed mother died at the age of 101 and Junor concluded "The queen is fit as a flea, totally in command of her senses. She enjoys it and this is what she signed up for."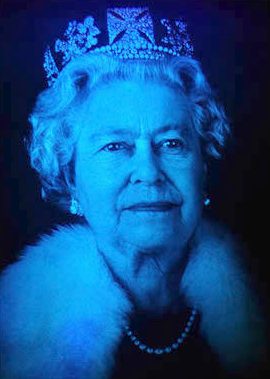 The Queen goes holographic
HAPPY BIRTHDAY, HAPPY BIRTHDAY
She has launched 23 ships. She's sat for 139 official portraits, including one hologram. She's given out more than 78,000 Christmas puddings. And she's a patron to more than 620 charities and organizations.

She is, of course, Queen Elizabeth, who will mark her 80th birthday on Friday, a day sure to be a momentous day in Great Britain. Her birthday week will be celebrated by a variety of events, including a reception and lunch Wednesday for others who celebrate their 80th birthdays the same day as the Queen.

On Friday, Pince Charles will pay a televised tribute to his mother; he will also host a special birthday dinner for her and about 25 members of the Royal Family that evening. And on Sunday, family members will attend a special Service of Thanksgiving at St. George's Chapel in Windsor to celebrate the Queen's birthday.

To mark the event, Buckingham Palace has released 80 facts celebrating the Queen's 80 years. While some of the facts are quite snoozy (she has conferred more than 387,700 honors and awards), others are pretty fascinating (she learned to drive in 1945 when she joined the army). Here are some of the more interesting facts from the long life of the long-serving monarch:
The Queen will be celebrating two birthdays this year. That's because she actually has two recognized birth dates: her actual birthday (April 21) and her "official" birthday (marked either the first or second Saturday in June; this year's will be celebrated on June 17). Why two birthdays? The tradition of having an "official" birthday for the sovereign began for practical reasons when monarchs born in winter months were prevented from having parades and outdoor celebrations due to cold and wet weather. King Edward VII, born on Nov. 9, was the first sovereign to mark his official birthday on a day that wasn't his actual birthday. The Queen continues this tradition. She celebrates her real birthday privately with friends and family; her official birthday is marked by ceremonies at Buckingham Palace.
---
BIRTHDAY POLL April 18, 2006

London, England - Britain's Queen Elizabeth is the most popular member of the royal family and more than half her subjects want her to reign for the rest of her life, a poll ahead of her 80th birthday suggested today.
The survey showed strong support for the Queen to stay on the throne until she dies (57 percent) while 16 percent thought she should step aside to make way for William.
Some 26 percent of respondents plumped for the monarch - who turns 80 on Saturday - as their favorite royal compared to just one per cent for Camilla, the second wife of Prince Charles, the Queen's eldest son.
Prince William, Charles' elder son, was second in line with 21 percent followed by the Queen's only daughter, Princess Anne, on 11 percent, the poll of 1,500 people for ITV News television found.
Charles and his younger son Prince Harry, 21, polled four percent each. Only 12 percent wanted the Queen to abdicate in favor of Charles.
It also found increased support for the idea of a monarchy: more than two-thirds (68 percent) still supported the concept while 13 percent were opposed to having a successor and want the country to become a republic.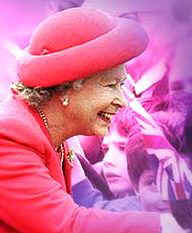 St Edward's Crown, 1661
Thereafter her official duties increased, particularly in connection with young people: she was President of the Queen Elizabeth Hospital for Children in Hackney and the National Society for the Prevention of Cruelty to Children. From March 1944 onwards, she also began to accompany the King and Queen on many of their tours within Britain.

Shortly after her eighteenth birthday in 1944, Princess Elizabeth was appointed a Counsellor of State during the King's absence on a tour of the Italian battlefields and, for the first time, carried out some of the duties of Head of State. In August that year, with Queen Elizabeth, the Princess received an address from the House of Commons, and replied on behalf of the Throne.

In September 1944, the Princess carried out her first official tour of Scotland with her parents, including her first opening ceremony in October when she opened the recently reconstructed Aberdeen Sailors' Home. The Princess's first flight by air was in July 1945, when she accompanied the King and Queen on a two-day visit to Northern Ireland.
In early 1945 the Princess was made a Subaltern in the Auxiliary Territorial Service (ATS). By the end of the war she had reached the rank of Junior Commander, having completed her course at No. 1 Mechanical training Centre of ATS and passed out as a fully qualified driver.
After the end of the war, Princess Elizabeth's public engagements continued to grow, and she travelled extensively to attend public functions throughout the British Isles. These included the launching of a new aircraft carrier in Belfast and a tour of Ulster in March 1946, and attending the National Eisteddfod of Wales in August 1946.
Her first official overseas visit took place in 1947, when she accompanied her parents and sister on a tour of South Africa. During this tour she celebrated her twenty-first birthday, and gave a broadcast address dedicating herself to the service of the Commonwealth - a dedication she repeated five years later on her accession to the throne.
On her return from the South Africa tour, Princess Elizabeth received the freedom of the City of London in June 1947; in July, she received the freedom of the city of Edinburgh. In November 1947, Princess Elizabeth was created a Lady of the Garter at a private investiture by the King.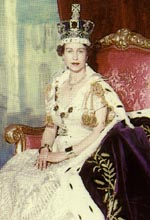 HM Queen Elizabeth II coronation day 2 June 1953
ACCESSION AND CORONATION

After her marriage Princess Elizabeth paid formal visits with The Duke of Edinburgh to France and Greece; in autumn 1951 they toured Canada. She also visited Malta four times while The Duke was stationed there on naval duties. In 1952, King George VI's illness forced him to abandon his proposed visit to Australia and New Zealand. The Princess, accompanied by Prince Philip, took his place. On 6 February, during the first stage of this journey, in Kenya, she received the news of her father's death and her own accession to the throne.
Her Majesty's coronation took place in Westminster Abbey on 2 June 1953.
Representatives of the peers, the Commons and all the great public interests in Britain, the Prime Ministers and leading citizens of the other Commonwealth countries, and representatives of foreign states were present. The ceremony was broadcast on radio around the world and, at The Queen's request, on television. It was television, then in its relative infancy, that brought home the splendour and the deep significance of the coronation to many hundreds of thousands of people in a way never before possible. The coronation was followed by drives through every part of London, a review of the fleet at Spithead, and visits to Scotland, Northern Ireland and Wales.
In 1660-1, the regalia was entirely remade for King Charles II and it is these objects, among them the crown, orb and sceptres with which Queen Elizabeth II was invested at her coronation, which form the heart of the collection in the Tower of London today.
ROLE AS MONARCH

In winter 1953 Her Majesty set out to accomplish, as Queen, the Commonwealth tour she had begun before the death of her father. With The Duke of Edinburgh she visited Bermuda, Jamaica, Fiji, Tonga, New Zealand, Australia, Ceylon, Uganda, Malta and Gibraltar. This was the first of innumerable tours of the Commonwealth they have undertaken at the invitation of the host governments. During the past fifty years The Queen and Prince Philip have also made frequent visits to other countries outside the Commonwealth at the invitation of foreign Heads of State.
Since her Coronation, The Queen has also visited nearly every county in Britain, seeing new developments and achievements in industry, agriculture, education, the arts, medicine and sport and many other aspects of national life.
As Head of State, The Queen maintains close contact with the Prime Minister, with whom she has a weekly audience when she is in London, and with other Ministers of the Crown. She sees all Cabinet papers and the records of Cabinet and Cabinet Committee meetings. She receives important Foreign Office telegrams and a daily summary of events in Parliament.
Her Majesty acts as host to the Heads of State of Commonwealth and other countries when they visit Britain, and receives other notable visitors from overseas. She holds Investitures in Britain and during her visits to other Commonwealth countries, at which she presents honours to people who have distinguished themselves in public life.
As Sovereign, Her Majesty is head of the Navy, Army and Air Force of Britain. On becoming Queen she succeeded her father as Colonel-in-Chief of all the Guards Regiments and the Corps of Royal Engineers and as Captain-General of the Royal Regiment of Artillery and the Honourable Artillery Company. At her Coronation she assumed similar positions with a number of other units in Britain and elsewhere in the Commonwealth. (A full list appears in Whitaker's Almanack.)
Every year, Her Majesty entertains some 48,000 people from all sections of the community (including visitors from overseas) at Royal Garden Parties and other occasions. At least three garden parties take place at Buckingham Palace and a fourth at the Palace of Holyroodhouse, in Edinburgh. Additional 'special' parties are occasionally arranged, for example to mark a significant anniversary for a charity. In 1997, there was a special Royal Garden Party attended by those sharing The Queen and The Duke of Edinburgh's golden wedding anniversary. In the summer of 2002 there was a special Golden Jubilee Garden Party for individuals born on Accession Day, 6 February 1952.
Her Majesty also gives regular receptions and lunches for people who have made a contribution in different areas of national and international life. She also appears on many public occasions such as the services of the Orders of the Garter and the Thistle; Trooping the Colour; the Remembrance Day ceremony; and national services at St Paul's Cathedral and Westminster Abbey.
The Queen is Patron or President of over 700 organisations. Each year, she undertakes a large number of engagements: some 478 in the UK and overseas in 2003.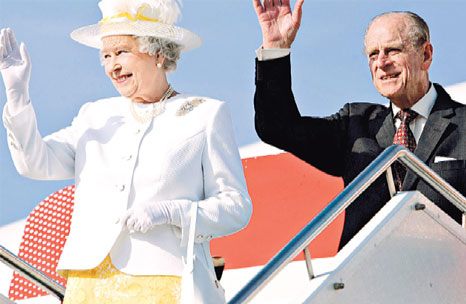 HRH Queen Elizabeth and Duke - Commonwealth games Australia
LINKS:
Website reveals 80 Queen facts
CELEBRATORY EVENTS
Fifties portrait tops Queen poll
Home movies reveal Queen's life
Rolf shows off Queen's portrait
Exhibition to chart Queen's life
Queen's birthday events unveiled
BBC COVERAGE
2 June 1953: Queen Elizabeth takes coronation oath
British Monarchy web site
This web site provides information on the work of The Queen today, biographies of the Royal Family, a history of kings and queens through the ages, background on Royal residences and art collections, and coverage of recent Royal events.
Royal Insight
The online news magazine of the British Monarchy website, featuring news, stories and pictures from all the latest Royal visits and events.
The Prince of Wales's web site
The official web site for The Prince of Wales, The Duchess of Cornwall, Prince William and Prince Harry.
The Royal Collection
The Royal Collection is responsible for the management of works of art and Royal residences held in trust by The Queen as Sovereign. This web site features information about visiting Royal residences and an e-gallery of selected items from the collection.
Balmoral Castle
Information about The Queen's summer residence, including how to visit the estate.
Sandringham Estate
Web site featuring information about the history of the house and estate and public access to The Queen's Christmas residence.
Crown Estate
The Crown Estate manages property owned by The Queen "in right of the Crown" with origins dating back almost 1000 years. This official web site provides detailed information on the estates and their history.
Royal Ascot
Information about the annual race meet which is opened and attended by The Queen and other members of the Royal Family.
The Royal Windsor Horse Show
Information about the annual international horse show held at Windsor and patronised by The Queen.
Help the Aged
Information about the charity behind the living legends award ceremony at Windsor Castle.
St George's Chapel
Includes an extensive history of the chapel as well as information about contemporary worship.
How to contact The Queen

There are various ways to contact The Queen:
You can write to Her Majesty at the following address:
Her Majesty The Queen
Buckingham Palace
London SW1A 1AA
You can also email The Queen through this web site. Send an email to Her Majesty (opens in new window). Please note that, due to the volume of messages received by e-mail, it is impossible to provide individual replies. If you would like to receive a reply, you should write a letter to The Queen at the above address.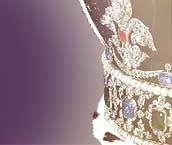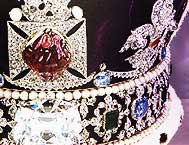 Further information about the Crown Jewels can be found in the Official Crown Jewels Guidebook.
NEWS HOW DO I ? CHILDREN MAGAZINE FAQS LINKS SITE MAP VISITORS BOOK
---
BIRTHDAY LINKS:
Poll: Queen Elizabeth "Most Popular Royal"
All Headline News - 18 April 2006

London, England - Britain's Queen Elizabeth is the most popular ... showed strong support for the Queen to stay on ... for the monarch - who turns 80 on Saturday ...
The Queen at 80: Reserved yet revered International Herald Tribune
Queen's birthday celebrations begin CNN International
Queen Elizabeth still going strong at 80 China Daily
Angus Reid Global Scan - all 58 related »
The Queen and I
Scotsman, United Kingdom - 3 hours ago
TODAY a hundred 80-year-olds from across Britain will gather at Buckingham Palace for an 80th birthday lunch with ... 1926 - on the same day as Queen Elizabeth II. ...

IN FOCUS: 80 great royal memories
Peterborough Evening Telegraph, UK - 15 hours ago
Here, we publish 80 facts about the Queen – with a ... 1 There are 332,016 people called Elizabeth in the UK – and 841 of them live in the Peterborough ...

A birthday fit for a queen
Hartford Courant, United States - 14 hours ago
... She is, of course, Queen Elizabeth, who will mark her ... Chapel in Windsor to celebrate the Queen's birthday. ... Buckingham Palace has released 80 facts celebrating ...
Queen to start 80th celebrations BBC News
all 7 related » BBC News
Elizabeth: 80 Glorious Years
50 Connect, UK - Apr 15, 2006
... In 2006, her eightieth birthday will be celebrated ... BBC Royal Correspondent Jennie Bond, Elizabeth: 80 Glorious Years looks back over the Queen's incredible ...

Queen Elizabeth II: If the crown fits
Independent, UK - Apr 15, 2006
... At the age of 80 she will still be inspecting ... The Queen's day then begins and, like every other day, she ... In 1947, when Princess Elizabeth came of age, in a ...

Two Canadian couples invited to dine with Queen
CTV.ca, Canada - Apr 17, 2006
... addition to the luncheon, Buckingham Palace also released 80 little-known facts about the Queen to mark her 80th birthday. They include: Elizabeth learned to ...
"Vibrant" photo marks Queen Elizabeth's 80 years
Reuters - Apr 3, 2006
LONDON (Reuters) - A new photographic portrait of Queen Elizabeth went on show at Windsor Castle on Monday to celebrate her ... The queen turns 80 on April ...
HM at 80. Simply majestic
Times Online, UK - Apr 17, 2006
... on to the heir, but the longer Queen Elizabeth II reigns ... and offer advice and perspective — as the Queen does in ... Your monarch is 80 and still smiling at the ...
Four faces of 80
Sunday Herald, UK - Apr 15, 2006
... As the Queen celebrates a landmark birthday, we compare her experiences with those ... Sixty years ago Princess Elizabeth Windsor's life seemed a very different ...
In search of Elizabeth
The Age, Australia - Apr 14, 2006
... 130 official portraits, it was painted to mark her 80th birthday. ... Mortimore of pollsters Ipsos MORI says that when Queen Elizabeth II turns 80 on Friday she ...

Queen Elizabeth II to distribute 'Maundy Money' in traditional ...
Hindu, India - Apr 13, 2006
13 (AP): Queen Elizabeth II distributed specially minted silver coins known ... four-penny coins to 80 men and 80 women _ in honor of her 80th birthday on April ...

Palace releases Queen Elizabeth trivia
The Age, Australia - Apr 10, 2006
As Britain's monarch approaches her 80th birthday, Buckingham Palace has released 80 little known facts about Queen Elizabeth II. ...

Queen Elizabeth sent her first e-mail in 1976
Express Outlook, Mauritius - Apr 11, 2006
Queen Elizabeth sent her first e-mail as long as 40 years ago, according to a list of 80 facts about ... by Buckingham Palace to mark her 80th birthday on April ...
Queen Elizabeth to watch Prince Harry join Army
Zee News, India - Apr 12, 2006
Camberley, Apr 12: With her 80th birthday less than a fortnight away, Queen Elizabeth II was travelling to ... For Queen Elizabeth, who turns 80 on April 21 ...
God save the Queen
The Statesman, India - Apr 17, 2006
... are about to roll out the bunting and crack open the beer crates to celebrate 80 years of ... Her name is Elizabeth Windsor ... Her tormentors call her "The Queen". ...

Website releases facts about queen's 80 years
People's Daily Online, China - Apr 11, 2006
... you have paid a recent visit to the Buckingham Palace website, where 80 facts about Queen Elizabeth have been posted in honour of her imminent 80th birthday. ...
The Queen's 80th Birthday Celebrated in Stamps
Gibbons Stamp Monthly, UK - Apr 13, 2006
... Corgi, Dookie, to his two young Princesses, Elizabeth and Margaret ... 80th Birthday of Her Majesty The Queen is an ... of Her Majesty during the past 80 years.' Tim ...

80 Royal facts fit for a Queen
Manchester Evening News, UK - Apr 11, 2006
HERE are 80 facts about the Queen released by Buckingham Palace to mark her 80th birthday. 1. Queen Elizabeth II is the fortieth monarch since William the ...
What Does the Queen Do?
TIME - Apr 14, 2006
... What can a constitutional monarch like Elizabeth II, prohibited from exercising any real power, actually do to justify her ... The Queen is 80 on April 21, and ...
Here's to our birthday Queen
Toronto Star, Canada - Apr 16, 2006
... That she was born 80 years ago this week in a house that no longer ... 29) Queen Mary — whose stern Hanoverian facial features Elizabeth inherited and ...

80 THINGS YOU DIDN'T KNOW ABOUT ONE
Mirror.co.uk, UK - Apr 10, 2006
ON April 21 the Queen will be 80 - and to ... the event, Buckingham Palace yesterday released 80 amazing facts ... being HMS Vanguard, in 1944 as Princess Elizabeth. ...

Red, white and blue, happy birthday to you
Gulf Times, Qatar - Apr 15, 2006
LONDON: Queen Elizabeth II is not the only one celebrating a landmark birthday this month. As she turns 80, the flag-waving crowds will have in their hands a ...

80 Things You (Probably) Didn't Know About Queen Elizabeth
TIME - Apr 10, 2006
... her first State Visit as Princess Elizabeth , to South ... mother and father, then King and Queen, from February ... The Princess celebrated her 21st birthday in Cape ...

"Vibrant" photo marks Queen Elizabeth's 80 years
Khaleej Times, United Arab Emirates - Apr 3, 2006
LONDON - A new photographic portrait of Queen Elizabeth went on show at ... It is a vibrant portrait and the queen certainly doesn't look her 80 years.".
The Queen: 80 facts
The Sun, UK - Apr 11, 2006
... 47. The Queen went on her first state visit as Princess Elizabeth to South Africa in ... In 2005, The Queen claimed ownership of 88 cygnets on the river Thames ... 80. ...
Queen Elizabeth's fact list
Monsters and Critics.com, UK - Apr 10, 2006
Britain's Queen Elizabeth once sent a message to the moon and has been given eggs for her birthday. These are just two of 80 facts about the monarch Buckingham ...
She could have been washing feet...
Independent Online, South Africa - Apr 14, 2006
... Britain's Queen Elizabeth 2 takes her public appearances very ... as she prepares for her 80th birthday next Friday ... commemorative coins worth all of 80 pence (about ...
Jockstrip: The world as we know it
DailyIndia.com, NY - Apr 11, 2006
... Buckingham Palace has listed 80 items of interest about Queen Elizabeth II, who's owned more than 30 corgis, as Britain prepares to mark her 80th birthday. ...
Queen gives 'Maundy Money' as Easter nears
People's Daily Online, China - Apr 13, 2006
British Queen Elizabeth II distributed specially minted silver coins known as ... penny coins to 80 men and 80 women in honour of her 80th birthday on April 21. ...
---