JANE'S DEFENCE WEEKLY - MARCH 03, 2004

CHARC attack concept boat is armed to the teeth, but marine architects familiar with high speed craft would tell you that this concept could be made to perform far better. The concept is okay, but some of the design features are not consistent with its proposed function. The design is though attractive and reminiscent of the SolarNavigator MKII SWATH vessel.

CHARC, pronounced 'shark' stands for: Covert High-speed Attack and Reconnaissance Craft, according to Lockheed Martin.

The CHARC features a Small Waterplane Area Twin Hull or 'SWATH' design that Lockheed Martin says gives the craft extreme stability, even in high sea states.

Lockheed Martin says the folding-hull design of the CHARC would allow for several of them to be carried on the Littoral Combat Ship or other large surface ships.

The CHARC features a rear-access hatch to allow a SEAL team to enter and exit the craft easily.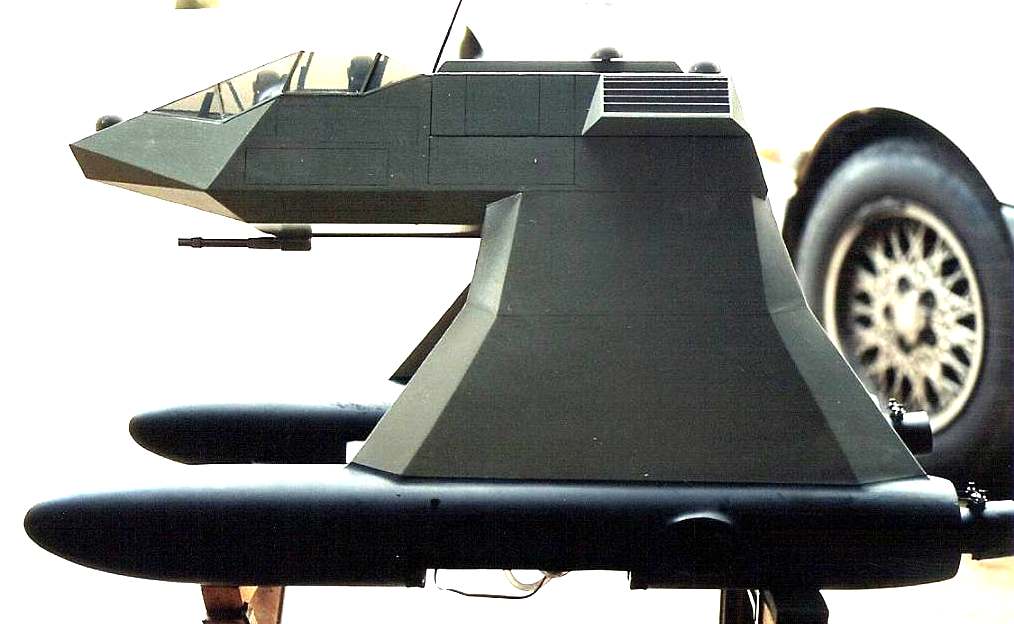 WASHINGTON DC

Lockheed Martin's new stealthy, fast attack craft concept for the US Navy will carry a powerful array of weapons and perform missions ranging from countering small, swarming boats to shallow-water anti-submarine warfare, mineclearing and inserting special operation forces into hot spots, say company officials.

JDW was the first publication to report on the Covert High-speed Attack and Reconnaissance Craft (CHARC - pronounced 'shark'), which the company unveiled last year (JDW 25 June 2003). In February, company officials discussed the concept in more detail.

CHARC features a Small Waterplane Area Twin Hull (SWATH) design. It carries a crew of two in a forward cockpit that borrows much from the layout and technologies used in modern attack helicopters, said company spokesman Tom Greer. Later configurations could be unmanned.

At the nose of the fuselage is a slewable 20mm rapid-fire gun. On each side of the forward fuselage are four internal weapons bays, each of which could hold one canisterised AGM-114 Hellfire missile or Joint Common Missile for line-of-sight engagements. The company says its nascent NetFires system could be incorporated for a beyond-line-of-sight attack capability. It could also mount 40mm grenade launchers.

The company is marketing an 11m-long variant and a 12m-long version of the CHARC to the navy and US Special Operations Command, said George Root, director of advanced programmes at the company's Maritime Systems & Sensors division. Although the craft could operate from a number of larger surface vessels, the company says its design is geared with the nascent Littoral Combat Ship (LCS) in mind. Several CHARCs could fit on the latter, according to the company.

The navy declined to address the CHARC specifically. However, navy spokeswoman Lt Amy Gilliland said the service is "very interested in exploring any new technologies and concepts that will enhance our force-protection capabilities". Focal areas include countering small boats and aircraft and swimmers as well as improving situational awareness and command and control, she noted.

Lockheed Martin would like to build, with funding support, a 1/4-scale model to validate the CHARC's stability in water. To date the company says it has invested about $2 million of its own funds. Root said the company believes that a prototype unit could be available in 2008 for experiments with LCS.

The SWATH configuration gives the craft extreme stability even in high sea states, said Root. The diesel-powered vessel is fast and agile, even in unfavourable conditions, and has a top speed approaching 60kt. Its directional waterjets make it "extremely manoeuvrable", he noted.

The vessel's design gives off only low infra-red, radar and visual signatures, said Greer. It can operate at varying heights above the water line, and has a retractable sensor mast. In addition to internal weapons carriage, its engine exhaust empties below the water line. The craft has a minimum draft of 1.5m to allow for operations in shallow water.

The mast will provide a "great field of view" to locate, identify and track targets, says the company. The vessel's sensor suite, located both in the mast and its nose, is to be determined, but will probably include a targeting forward-looking infra-red system, said the officials.

Both variants of the CHARC incorporate a folding SWATH design, for which a patent is pending. This allows the vessels to collapse into a box 3.6m wide by 3.6m high for storage - a footprint only slightly larger than that of the existing 11m rigid hull inflatable boat (RHIB) used by Sea, Air and Land (SEAL) commando teams, said the officials. The craft has steerable wheels to manoeuvre when in compressed mode on the host ship.

The fuselage's modular midsection and aft can be configured for various missions. There are modules that house additional crew to monitor anti-submarine sensors or control unmanned air, surface or underwater vehicles. Other modules hold auxiliary crew-served guns or carry additional missiles.

They could also accommodate a SEAL team. The 11m variant could carry six SEALS, while the 12m model could accommodate eight - half a SEAL platoon - with an access door at the rear of the craft. The vessel could also carry a RHIB underneath the fuselage for the team, said Greer.

There are also two modules in the forward section of each hull, each of which could carry one Mk 50 or Mk 54 torpedo. They could also house sonobuoys or hold equipment for the SEALs, said Root.

The CHARC's maintainers could install and exchange the modules in a matter of hours while the vessel is aboard its host platform, he noted.

SISTEMAS De ARMAS
Translated from the Portuguese from an article in Sistemas De Armas).
Lockheed Martin is developing a protype for a naval Covert High-speed Attack and Reconnaissance Craft (CHARC - pronounced Shark in English). The CHARC uses a Small Waterplane Area Twin Hull (SWATH) design, has a crew of two in an attack helicopter-type cabin and will also be offered in unmanned versions. It is armed with a 20mm cannon in the nose and four internal weapons compartments for AGM-114 Hellfire missiles or long-range NetFires, and possibly a grenade launcher.
There will be two variants, 11 meters and 12 meters for use in special operations command missions. It will carry out missions of defense against light boats, anti-submarine warfare in flat waters, mine hunting and insertion of special forces. It will operate from existing surface ships and the new Littoral Combat Ship (LCS). The SWATH configuration will it give great stability, with diesel propulsion and a maximum speed of about 60km/h.
The use of water jets increases the agility. It will have a minimum draft of 1.5 meters to operate in shallow water. It will have a low IR, radar and visual signature. The exhaust will be underwater. It will have a mast of sensors with a large field of vision. The struts can fold to fit in an area 3.6 meters wide and 3.6 meters high for storage, about the same the space necessary for an 11 meter RHIB boat. The struts will have wheels to maneuver it inside the ship. A 1/4 scale model will be constructed initially. The prototype should be available in 2008.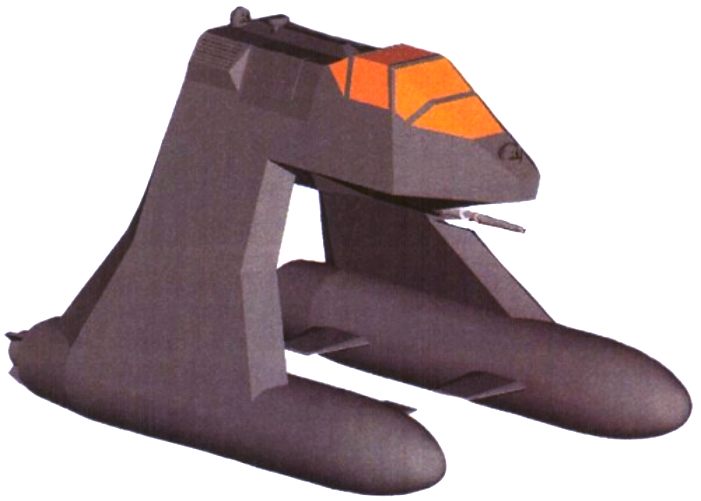 MILITARY PHOTOS
On October 12, 2000 an explosive-laden craft approached the destroyer USS Cole (DDG 67), while the Cole was docked in Yemen and taking on fuel, and detonated. The resulting explosion tore a hole in the destroyer's hull, killing 17 crewmembers and injuring 39 more, and laid up the Cole until April 19, 2002. It was a tragedy that the Navy understandably wants to avoid in the future -- and Lockheed-Martin is doing its part to insure it.

Lockheed-Martin's proposal for a deterrent to the threat of small-boat, shallow-water threats is an innovative cross between an attack helicopter and a stealth boat. The proposal has been dubbed the Covert High-speed Attack and Reconnaissance Craft (CHARC).

L-M's proposal would pair the lethality of an attack helicopter with the endurance, stealth, and lower operational costs of a small boat. With a crew of two, the CHARC is capable of patrolling or loitering for hours at a time, far longer than could a conventional attack helicopter. Note: While the initial CHARCs will be manned, L-M is building remote/autonomous capabilities into the units so that they may be operated remotely should the Navy choose to do so (in high threat environments, poor weather, etc.)

Because the CHARC is relatively small, and rides very low in the water while on patrol, it is less "intrusive" when compared with a covering attack helicopter, and is less likely to draw attention to itself while operating in and around foreign ports and facilities.

Once a threat is identified, however, the CHARC reveals it's hard side. Armed with a turret mounting either a 20mm rapid fire cannon or a 40mm automatic grenade launcher and four AGM-114 Hellfire missiles, the CHARC is more than a match for any small craft likely to threaten nearby naval vessels. In addition to being heavily armed, the CHARC is also very fast once a threat is detected. The CHARC rises up out of the water on high performance hydroplanes, giving it the ability to run down just about anything else on the water.

Another advantage the CHARC will have over helicopters is portability. Not a stand-alone sea-going platform, CHARCs will need to be transported, just as helicopters would, to their operational areas. However, whereas a Helicopter would require a large, hanger-like enclosure for storage and maintenance, the 12-meter long CHARC can be collapsed to fit into a 3.6x3.6x12 meter box and transported on deck or in a cargo hold. While the Navy remains undecided about the CHARC (none have been purchased, nor is the Navy contributing to its development), L-M is so confident in its capabilities that it is currently funding the entire program out of its own pocket.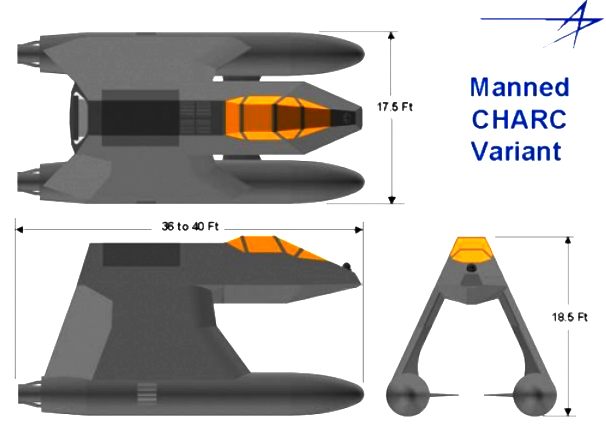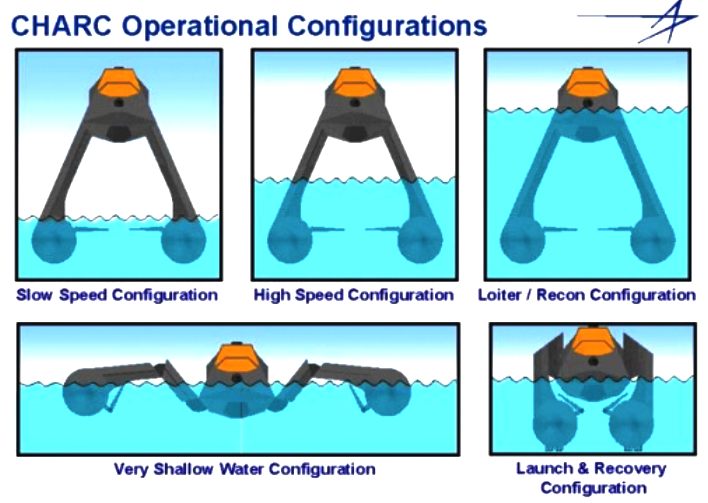 REALITY ATTACK

The attack on the Cole represents a new dimension in naval warfare. For the last 40 years the primary threats to naval vessels have been anti-ship missiles and torpedoes. Given the range of modern shipboard sensors, not to mention the range on anti-ship missiles and torpedoes the idea of ships getting involved in direct fire surface action engagements has become less and less of an influence on ship design and weapons load out.

The CG47 Ticonderoga guided missile cruisers, for example, are purpose built to defend themselves -- and their attendant fleet - from air attack, specifically aircraft and anti-ship missiles. Armed with two Mk41 Vertical Launch System missile cells (each carrying 61 missiles) and utilizing the 4 megawatt Aegis AN/SPY-1D radar, the Ticonderoga cruisers can lethally engage any aerial threat that comes within 100 miles of them, yet to deal with close-in surface threats, the CG47s carry just 2 automatic 5"/54 cannons.

The Des Moines class cruisers, on the other hand, were strict surface action platforms; armed with nine (3x3) 8"/55 cannons, twelve (6x2) 5"/38 dual purpose cannons, 24 (12x2) 3"/55 anti-aircraft guns, and 24 (12x2) 20mm anti-aircraft guns, the Des Moines class heavy cruisers were true surface action heavyweights and used extensively as costal patrol and gunfire interdiction platforms during the Korean and Vietnam wars.
LINKS:
http://www.militaryphotos.net/Covert-High-speed-Attack-and-Reconnaissance-Craft
http://www.lockheedmartin.co.uk/us/news/press-releases/2012.html
The Solar Navigator - SWASSH (Small Waterplane Area Stabilized Single Hull) test model 2012
The latest Solarnavigator is designed to be capable of an autonomous world navigation set for an attempt
in 2015 if all goes according to schedule.