This film is quite simply a masterpiece. The musical score and opening sequences set the mood immediately. The cast could not have been better chosen - each carries off their part with absolute believability. The first action scene is brilliant, also telling the audience that they're in for a good ride. Russell Crowe is Maximus, his adversary Joaquin Phoenix, Commodus. A great goodie and a great baddie. Stunning locations and scenery add to the occasion, a recreation of the Roman Empire at time of change. The direction and acting is flawless, from the main characters and supporting cast. For this reason the epic film is my favorite* and is bound to become an all time classic. NK
PLOT SUMMARY
In the final days of Marcus Aurelius' reign, the aging emperor angers his son Commodus by making it known that he wants Maximus, a fearsome and respected Roman general, to be his successor. Maximus is a powerful Roman general, loved by the people and the aging Emperor, Marcus Aurelius. Before his death, the Emperor chooses Maximus to be his heir over his own son, Commodus, and a power struggle leaves Maximus and his family condemned to death.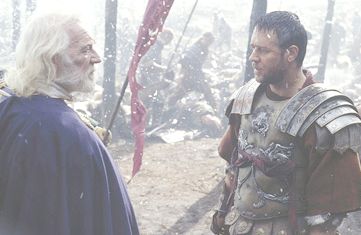 Power-hungry Commodus kills his father and orders the death of Maximus. But the latter flees, only to discover that his wife and child have been murdered by Commodus. The powerful general is unable to save his family, and his loss of will allows him to get captured and put into the Gladiator games until he dies.
Captured, Maximus is forced into slavery, where he is sold to Proximo, a former gladiator who serves as both mentor and slavemaster. Maximus trains as a gladiator in the arena, where his fame grows. He goes to Rome, intent on avenging the murder of his wife and son by killing the new emperor Commodus.
Maximus has learned that the one power stronger than that of the emperor is the will of the people, and he knows he can only attain his revenge by becoming the greatest hero in all the empire. The greatest champion of Rome is brought out of retirement in an attempt to kill Maximus. Tigers held in position with rope and a great fighter await Maximus in the great Colliseum of Rome. Maximus ultimately continues on his quest to fulfill the wishes the previous emperer has asked of him.
The only desire that fuels him now is the chance to rise to the top so that he will be able to look into the eyes of the man who will feel his revenge. The movie ends with Maximus taking a new name, "General." The Emperer Commodus then attempts to take Maximus out of the picture. The Emperer meets Maximus in the arena and meets him with sword himself. The future of Rome is determined.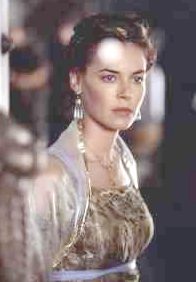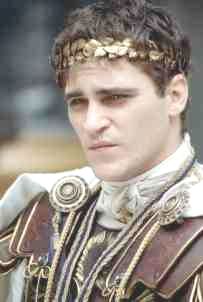 Tagline: What We Do In Life Echoes In Eternity.
Also Known As:

Gladiators

Production Status:
Released
Logline:
When a Roman general is betrayed and his family murdered by a corrupt prince, he comes to Rome as a gladiator to seek revenge.
Genres:
Action/Adventure and Drama
Running Time:
2 hrs. 30 min.
Release Date:
May 5, 2000 Nationwide
MPAA Rating:
R for intense graphic combat.
Distributors:

DreamWorks SKG

Production Co.:

Red Wagon Entertainment, Scott Free Productions

Studios:

DreamWorks SKG, Universal Pictures

U.S. Box Office:
$187,670,866
Filming Locations:

Ouarzazate, Morocco, Malta, Shepperton Studios, England, United Kingdom Farnham, England, Italy

Produced in:
United States
Gladiator is the product of the carefully choreographed sword fights (by Nicholas Powell, who also choreographed Braveheart's sword fight scenes); of magnificent set design, especially the reconstruction of the Coliseum (by production designer Arthur Max); accurate costume designs (by Janty Yates); and weaponry design (by supervising armorer Simon Atherton). Gladiator captures most of its glory in the heroism of its main character Maximus, the General/Gladiator. The character's strength and appeal derives from a well-developed role and from Crowe's accurate personification and skillful performance.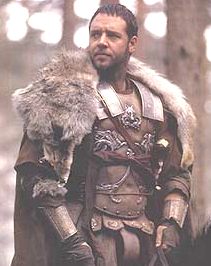 Once again, Director Ridley Scott proves to be as professional as one can be. The recreation of ancient Rome is splendid, with all its magnificent buildings and atmosphere and he is able to show with all brightness the greatness of the Roman Empire, with its political problems and military discipline, and love and treason, of hate and jealousy, that still have a place in our world today. But the story has a glow of its own, to which all the beautiful scenery (believe me, it's awesome!!!) and great cinematography are just balancing factors. The plot is a rich one, that is as dynamic as it is present. He once again, after Blade Runner, 1492, and others helps us visit the depths of the human soul, which remains the same over all our historical and social experience. Even the fights, are displayed in such a way that all the blood is quite discrete, but still, making us feel like screaming and jumping out of our seats. I would also like to point out the performances of the cast, that is surprisingly good. We have some actors and actresses, who are not Hollywood icons, but are are greatly able to move the audience among screams and tears. All in all, we have guys like Russel Crowe, who are coming out to be part of a new and extremely promising harvest of people who are making each time more fans around the world. Well, you should see for yourself!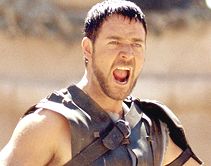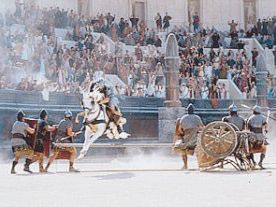 GLADIATOR TRIVIA: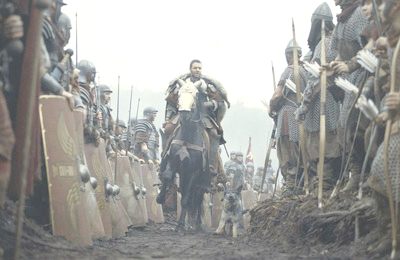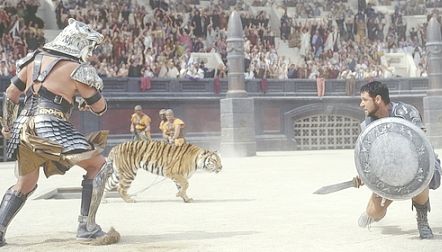 ---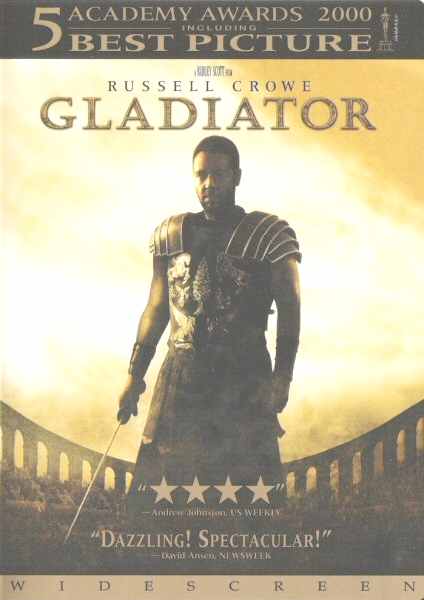 [DVD - Widescreen, Dolby, With Book]

Starring:

Russell Crowe, Joaquin Phoenix, Connie Nielsen, Oliver Reed, Derek ...

Director:

Ridley Scott

Rating: ****

List Price:

$39.98

Our Price:

$31.98
Rated:
R
Genre:
Drama,Epic
Studio:
DREAMWORKS VIDEO
Release Date:
08/23/2005
Running Time:
154 minutes.
Original Language:
English
Subtitled:
Spanish, French, English
Dubbed:
French
Also in DVD
Widescreen, Dolby $15.98 Add to Cart
In this epic of a movie. a man robbed of his family, name and dignity strives to win them back and gain revenge on the evil Emperor of Rome.
An epic historical drama from director Ridley Scott, set in the year 180, begins with the death of emperor Marcus Aurelius (Richard Harris) which throws the Roman Empire into chaos.
Maximus (Russell Crowe) is one of the Roman army's most capable and trusted generals and a key advisor to the emperor. As Marcus' devious son Commodus (Joaquin Phoenix) ascends to the throne, Maximus is condemned to be executed to perfect the deception.
But Maximus escapes from his executioners in a brilliant frosty morning wood scenario, is subsequently captured by slave traders, renamed Spaniard and forced to become a gladiator by Proximo (Oliver Reed - who died of a heart attack midway through production).
Maximus battles to the death with other men for the amusement of paying audiences. His battle skills serving him well. He becomes one of the most famous and admired men to fight in the Coliseum. Determined to avenge himself against the evil Emperor Commodus, who took away his freedom and laid waste to his family. Maximus learns that he can use his fame and skill in the ring to avenge the loss of his family and former glory.
As the gladiator begins to challenge his rule, Commodus decides to put his own fighting mettle to the test by squaring off with Maximus in a battle to the death, having first fatally wounding Maximus while he is helplessly bound.
Gladiator also features Derek Jacobi, Connie Nielsen, Djimon Hounsou.
* Please note: The listing order of films is subject to review and comparrisson with other films, and is the personal opinion of Nelson Kruschandl, not the opinion of any film company or broadcasting organisation.
A - Z FILMS INDEX
A - Z ACTORS INDEX
---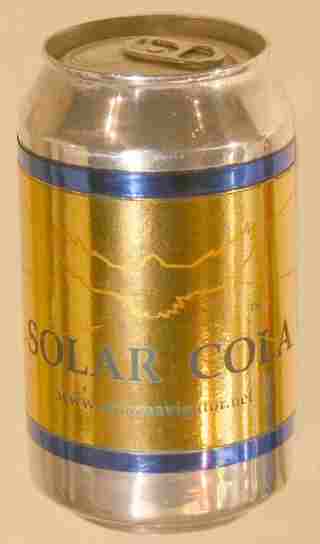 Solar Cola - the healthier alternative