John Travolta, a high-school dropout - nice one John - was a formidable Hollywood star of the late 1970s and early '80s whose tempestuous career decisively discredits the old adage that there are no third acts in American life, since he is as big today as before, it's just that his roles are more heavyweight and mature - naturally, since so is John, and an actor must move with the times.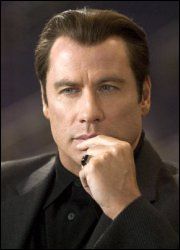 John Travolta
For all that he is still bright-eyed and boyish. John first gained fame as Vinnie Barbarino, head "Sweathog" on the popular high school sitcom Welcome Back, Kotter (ABC, 1975-79). The character began as a dim-witted, swaggering bully but soon evolved into sweet-natured, vulnerable, and sexy teen idol. Travolta even recorded the requisite pop album during this period and found himself mobbed by teenyboppers at suburban malls. He first registered in features as a teen cad who plots against Carrie (1976) in the rousing Brian De Palma thriller.
He truly graduated from TV and "hustled" his way to stardom in one of the signature films of the late '70s, Saturday Night Fever (1977) where he parlayed his teeny-bopper fame into a big-screen career with the disco blockbuster Saturday Night Fever. Travolta's convincing urban Italian-American posturing, combined with a bruised sensitivity and several fiery disco routines helped make the film a resonant hit and earned the actor an Oscar nomination. The film benefited from and contributed to the growing popularity of disco with mainstream America.
He languished in light dramas and TV movies in the 1980s, but started a comeback in 1989 with Look Who's Talking (1989). He further resuscitated his career with an Oscar nomination for his role as a heavyset sympathetic hitman in Pulp Fiction in 1994.
After the critical and commercial fiasco of Moment By Moment (1978), a laughable romantic drama co-starring Lily Tomlin, Travolta cemented his popularity and proved himself a capable light romantic lead opposite Olivia Newton-John in Grease (1978). Buoyed by the immense popularity of TV's Happy Days this faux 1950s song-and-dance fest became one of Hollywood's highest grossing film musicals.
Mini Biography
One of six children born to Helen Travolta and Salvatore Travolta, John Travolta grew up in Englewood, New Jersey. His father owned a tire repair shop in Englewood. John appeared in a local production of "Who'll Save the Plowboy?". His mother enrolled him in a drama school in New York, where he studied voice, dancing, and acting. He decided to combine all three of these skills and become a musical comedy performer. At 16, John landed his first professional job in a summer stock production of the musical "Bye Bye Birdie". John Travolta quit school at 16 and moved to New York. He worked regularly in summer stock and on TV commercials. When work was scarce in New York, he went to Hollywood and appeared in minor roles in several series. A role in the national touring company of the hit fifties musical "Grease" brought him back to New York.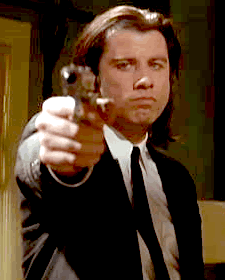 John Travolta in Pulp Fiction
An opening in the New York production of "Grease" gave John his first Broadway role at age 18. After "Grease", John became a member of the company of the Broadway show "Over Here", which starred the famed Andrews Sisters. After 10 months in "Over Here", John decided to try Hollywood once again. Once in Hollywood, John had no trouble getting roles in numerous TV shows. He was seen on "The Rookies" (1972), "Emergency!" (1972) and "Medical Center" (1969) and also made a movie, The Devil's Rain (1975). The Devil's Rain (1975) was made in New Mexico. The day he returned to Hollywood from New Mexico, John was called to an audition for a new situation comedy series ABC was planning to produce called "Welcome Back, Kotter" (1975). John got the part of Vinnie Barbarino and the series went on the air during the 1975 fall season.
John Travolta is undoubtedly one of the most prolific actors of our time -- or any time for that matter. In a career that spans three decades, Travolta has distinguished himself in film, stage and television performances -- as well as recording a number of successful record albums. John has successfully managed to avoid being typecast -- the bane of many other successful actors. First coming to national prominence in the TV sitcom "Welcome Back, Kotter", John could have easily become trapped in the role of Vinnie Barbarino -- the leader of the "Sweathogs." That didn't happen -- primarily because John Travolta vaulted to Super-Stardom in the film "Saturday Night Fever." It would have been all-too-easy for Travolta to become locked into this role, as well. But Travolta wasn't about to let himself become enmeshed in any role or genre. His fans have watched him emerge as a wise-talking angel, a psychotic air-force pilot, a telekinetic individual, a senator chasing the presidency, a slow-witted museum guard, a white man trying to survive in a black dominated world. He has been a spy, an evil space alien and a hit-man. Travolta's versatility is demonstrated by a string of successful comedy, drama, action and musical roles.
John has been honored twice with Academy Award nominations, most recently for his riveting portrayal of a philosophical hit-man in Quentin Tarantino's PULP FICTION. He also received BAFTA and Golden Globe nominations for this highly acclaimed role and was named Best Actor by the Los Angeles Film Critics Association, among other distinguished awards.
He was equally praised as a Mafioso-turned-movie producer in the comedy sensation GET SHORTY, garnering a Golden Globe Award for Best Actor in a Motion Picture, Musical or Comedy. In 1997 Travolta was honored with the American Cinematheque Award for his extraordinary career and his significant contribution to the art of film and television. In 1998 he was honored by the British Academy of Film and Television Arts with the Britannia Award. Also in 1998 Travolta received the Lifetime Achievement Award at the Chicago Film Festival. Travolta won the prestigious Alan J. Pakula Award from the US Broadcast Critics Association for his performance in A CIVIL ACTION, based on the best-selling book and directed by Steve Zaillian. He was nominated again for a Golden Globe for his performance in PRIMARY COLORS, directed by Mike Nichols and co-starring Emma Thompson and Billy Bob Thornton.
On the subject of Scientology, John says:
"In January of 1975 I was working on my first film in Durango, Mexico. There I met an actress who gave me the book Dianetics. During the five weeks we were filming she gave me some auditing sessions and applied some basic principles. That was when I became involved in Dianetics – because it worked."
"When I returned to the United States I began Scientology training and auditing. My career immediately took off and I landed a leading role on the TV show "Welcome Back Kotter" and had a string of successful films. I have been a successful actor for more than twenty years and Scientology has played a major role in that success."
"I have a wonderful child and a great marriage because I apply L. Ron Hubbard's technology to this area of my life. As a Scientologist, I have the technology to handle life's problems and I have used this to help others in life as well. I would say that Scientology put me into the big time."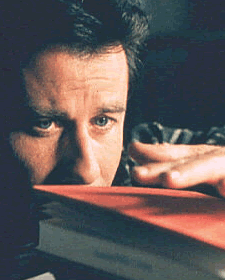 John Travolta in Phenomenon
He previously starred in some of the most monumental films of our generation. He earned his first Oscar and Golden Globe nominations for his role in the blockbuster SATURDAY NIGHT FEVER, which launched the disco phenomenon of the late 1970's. He went on to star in the big screen version of the long-running musical GREASE and the wildly successful URBAN COWBOY, which also influenced trends in popular culture. Additional film credits include the Brian DePalma thrillers CARRIE and BLOW OUT, as well as Amy Heckerling's hit comedy LOOK WHO'S TALKING.
Travolta starred in PHENOMENON and took an equally diverse turn as an action star in John Woo's top-grossing action thriller BROKEN ARROW. He also starred in the classic FACE/ OFF opposite Nicolas Cage and THE GENERAL'S DAUGHTER co-starring Madeleine Stowe. Most recently Travolta starred in the John McTiernan directed military thriller BASIC, in which he played a fast-talking, wild-living, ex-Army Ranger brought in to help solve the mystery behind the disappearance of a legendary drill sergeant and some of his recruits. He also starred in DOMESTIC DISTURBANCE, directed by Harold Becker, SWORDFISH, directed by Dominic Sena, BATTLEFIELD EARTH, based upon the best selling novel by L. Ron Hubbard, and he starred in the hit comedy MICHAEL, directed and co-written by Nora Ephron. Travolta will next be seen starring opposite Joaquin Phoenix in LADDER 49. Also upcoming will be the highly anticipated THE PUNISHER, co-starring Thomas Jane and the drama A LOVE SONG FOR BOBBY LONG, co-starring Scarlett Johansson
Audiences may know that John Travolta played an Air Force major piloting a Stealth Bomber in BROKEN ARROW , that he narrated a 50th Anniversary documentary on The Blue Angels and named his son Jett. But many may not know that he is a licensed jet pilot with a life long passion for aviation. Since earning his wings in 1974, John has logged close to an astounding 5,000 flying hours.

"Every cent of my first paychecks went to flying lessons," recalls Travolta, who has trained in cockpits as diverse as his acting roles. They include qualifying as a captain in the Gulfstream II, Lear 24, hawker 1A, Citation 1 and 2, Tebuan and Vampire Jet. He has qualified as first officer in the Boeing 707. Travolta keeps his skill up-to-date through continual refresher courses, training at American Airlines, Pan Am, SimuFlite an other institutions.
Travolta first became enamored of aviation as a child, at the same time he developed a love of acting. His mother and sisters were stage performers and he regularly saw them off at the airport. He observed the flight paths of the nearest airports, read books on aviation, and took special interest in Constellations, DC-6s and DC-7s. Attesting to his early charisma, he persuaded the girls in his neighborhood to don their Brownie uniforms to play flight attendants as he "captained" his backyard airliner.
"I find flying extroverting -- it puts your attention outside yourself -- you're responsible for a machine that is going through the air at 600mph. The sensation is thrilling and there is a beauty and an art to it." says Travolta.
The actor is accompanied by two other captains, flight attendants and an engineer on his own transoceanic flights.
While John Travolta doesn't appear to be limiting his film career in any way, he has often said he would like become involved with a major airline in some way. That goal was realized in 2002, when he participated in the Qantas "Spirit of Friendship" tour, piloting his own Boeing 707 on a thirteen city, 35,000 mile tour. He continues as Ambassador-at-Large for the Australia based Qantas.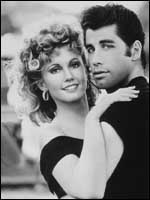 John Travolta and Olivia Newton-John in Grease
Travolta was born in Englewood, New Jersey, the son of Salvatore Travolta (an Italian American semi-professional football player turned tire salesman) and Helen Cecilia Burke (an Irish American actress and singer who had appeared in radio vocal group The Sunshine Sisters, and acted and directed before becoming a high school drama teacher).
Travolta then moved to New York City to get a job as a performer. He landed roles in the touring company of Grease and on Broadway in Over Here!. Travolta also cut singles for a local record company, but the songs were quickly forgotten. But eventually, he moved to Los Angeles, California to further his career in show business.
Travolta gained his first major movie role as Billy Nolan who taunted Sissy Spacek's Carrie White in the horror film Carrie (1976). Around the same time he landed his star-making role as Vinnie Barbarino in the TV sitcom Welcome Back, Kotter (1975 – 1979) in which his real-life sister Ellen Travolta also occasionally appeared (as Arnold Horshack's mother).
Around this time he also had a hit single called "Let Her In". His most memorable roles came as Tony Manero in Saturday Night Fever (1977) and as Danny Zuko in Grease (1978) at the height of the disco era. He performed several of the songs on the Grease soundtrack album, that eventually went on to sell more than 10 million copies. After the hit musical came a string of flops that sidelined his acting career into unforgettable fare. It wasn't until he played Vincent Vega in Quentin Tarantino's cult hit Pulp Fiction (1994), for which he received an Academy Award nomination, that his career was revived. The movie shifted him back onto the A-list, and he was inundated with offers. Ironically, before Travolta took the role, he had first visited Tarantino who was living in a ramshackle apartment in Los Angeles, the same apartment that Travolta had been living in when he got his start.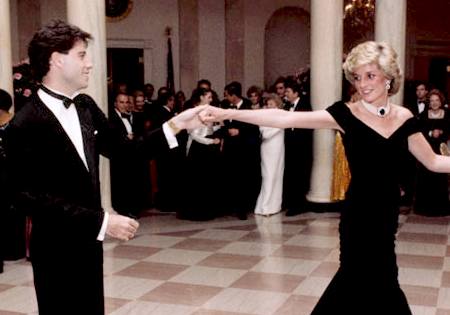 Travolta and Princess Diana at White House dinner 9 November 1985
Travolta also played a lead role in the panned Battlefield Earth (2000) (which is based on a work of pulp fiction by L. Ron Hubbard), in which he plays the leader of a group of aliens that enslave humanity on a bleak future Earth. The film received almost universally negative reviews and did poorly at the box office. Travolta, who is a Scientologist (converted 1975) and idolizes the late L. Ron Hubbard, had hoped that the film would be well-received and be the first in a series of Hubbard film adaptations. Contrary to these expectations the film was poorly received and won a Razzie Award for Worst Film of the Year at the 2000 awards.
His affiliation with Scientology has caused some controversy. In 1998 he was named in a lawsuit involving a former member who claimed that he was promised that his homosexuality could be cured. The lawsuit alleged that the organization frequently cited Travolta as proof that the organization could in fact change a person's sexual orientation. A lawyer for Travolta replied, "This looks like complete hogwash. Travolta is a happily married man, which proves he isn't gay." [1].
Questions have also been raised regarding what kind of agreements were made between Travolta and then President Bill Clinton, regarding how Travolta would portray Clinton in the movie Primary Colors and whether Clinton would pressure the German government to remove its ban on Scientology. Travolta was quoted about the issue in May 1998 issue of George magazine:
The next day, I met with Clinton. He told me: "Your program sounds great. More than that, I'd really love to help you with your issue over in Germany with Scientology." I was waiting for the seduction that I had heard so much about. I thought, "Well, how could he ever seduce me?" And after we talked, I thought, "Bingo!" He did it. Scientology is the one issue that really matters to me.
In another interview [2], Travolta admitted that his portrayal of Clinton was much more kind than that in the book Primary Colors. The next year, in November 1998, Clinton sent Secretary of State Madeleine Albright to urge German Foreign Minister Klaus Kinkel to grant Scientology the status of a registered religion. [3] [4]
Travolta is married to fellow Scientologist and actress Kelly Preston and is the father of two children, Jett and Ella Bleu. Previously he was involved with actress Diana Hyland, who died of breast cancer (reportedly in Travolta's arms) in 1977.
Travolta is a qualified pilot and owns five airplanes, including a former Qantas Boeing 707-138. The plane bears the name Jett Clipper Ella in honor of his son Jett and his daughter Ella. Pan Am was a large operator of the 707 and used Clipper in their names. His house in Ocala, Florida has its own runway and taxiway right to the door. In 1993, Travolta successfully performed an emergency landing of a plane with electric trouble at Washington National Airport, now known as Reagan Washington National Airport.
In 1992, he wrote and illustrated a short book entitled Propeller One-Way Night Coach about the fictional journey of an 8 year old boy named Jeff across the USA in the 1950s.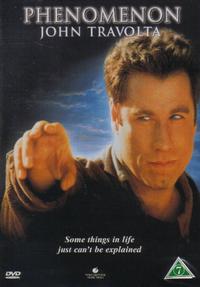 Phenomenon DVD cover
Trivia
Ranked #21 in Empire (UK) magazine's "The Top 100 Movie Stars of All Time" list. [October 1997]. He appeared on the cover of "Rolling Stone" magazine 4 times, the most for any actor (through 1994).
He was named Man of the Year by Harvard's Hasty Pudding Club in 1981.
Richard Gere practically owes his film career to Travolta. Travolta turned down the leads for Days of Heaven (1978), American Gigolo (1980) and An Officer and a Gentleman (1982), all of which went to Gere.
Travolta married Kelly Preston twice. Their first wedding on 5 September 1991, by a French Scientologist minister, was declared illegal. The couple met during the filming of The Experts (1989).
Travolta and Kelly Preston have a son, Jett (born 13 April 1992).
Jett was conceived during a weekend at the home of Demi Moore and Bruce Willis. (source: Premiere August 1996, p.60)
Brother of Joey Travolta, Ellen Travolta, Ann Travolta, Margaret Travolta and Sam Travolta.
Was the youngest of six siblings. Parents: Salvatore and Helen Travolta of Englewood, NJ.
During the filming of The Boy in the Plastic Bubble (1976) (TV) he fell in love with Diana Hyland, 18 years his senior. She died of cancer in his arms in 1977.
Pilots a multitude of jet aircraft. Most notable aviation feat is successful landing at Washington National of a Gulfstream IIB with complete electrical failure.
Conditions at the time were night, IMC, icing. December of 1993. Listed as one of twelve "Promising New Actors of 1976" in John Willis' Screen World, Vol. 28.
In July 1978 he became the very first male to make the cover of "McCall's" magazine. He pilots three Gulfstream jets and a Learjet. Also owns a Boeing 707.
His second child with Kelly Preston, daughter Ella Bleu was born, weighing in at 4.08 kilos (nine pounds). [3 April 2000]
Read for the Tom Hanks role in Splash (1984) but was discouraged by his agent from doing the film.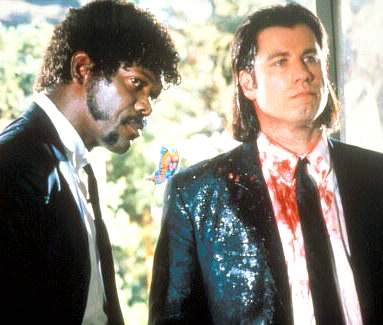 Samuel Jackson and John Travolta in Pulp Fiction - accidental shooting
Was signed on to play rock star Jim Morrison in an early 80s biopic about The Doors. Due to legal problems, the project was dropped.
Did yoga and boxing to cut his love handles for the film Swordfish (2001).
His favorite film is Yankee Doodle Dandy (1942).
Was told to gain thirty pounds for his role in the movie Primary Colors (1998).
Owns homes in Santa Barbara, California, Florida, Maine and in his wife's home state of Hawaii. Main residence is in Ocala, Florida where he owns a large home, complete with airstrip for his planes.
Hit #106 on the Billboard Singles Charts in 1977 with "Slow Dancing (Feels So Good)" (Midland Int. 10977)
According to the documentary "We Get To Win This Time" (2002), the producers of Rambo: First Blood Part II (1985) considered teaming up Sylvester Stallone with Travolta as Rambo's young partner in rescuing the American POWs. Stallone nixed this idea when he decided it would be better to make the film a solo project.
Spent nine months learning how to dance to disco music while filming Saturday Night Fever (1977).
Owns, and is qualified to fly, a Boeing 707-138, appropriately registered N707JT, first built in 1964 for QANTAS of Australia. Recently he had the aircraft painted in its original QANTAS paintjob and took it on a worldwide promotional tour for QANTAS, and in return was trained as a 747-400 first officer with Qantas.
He has also worked as a musician, and released several albums. He claims that he got all his inspiration from one song only; the instrumental song "Dreamstreet", a song by Patrick Rondat.
While filming the movie Blow Out (1981), he started to suffer from insomnia, which he had since he was a child waiting up for his mother to come home from late acting jobs. He learned to play the violin to calm his nerves.
In October 2004 he starred in a series of commercials for Sky TV (meant for Italian TV). Directed by Harald Zwart the commercials play as a sit-com, where Travolta - as himself - moves in with a working-class family because they have Sky.
He was voted the 64th Greatest Movie Star of all time by Entertainment Weekly.
Ranked #3 in TV Guide's list of "TV's 25 Greatest Teen Idols" (23 January 2005 issue).
Has published two books: John Travolta Staying Fit! (published by Simon and Schuster in 1984) Propeller One-Way Night Coach (A Fable for All Ages)(published by Warner Books in 1997)
His first released record came out in 1976 when he had a hit single, "Let Her In". When record producers saw him in "Welcome Back, Kotter" (1975) singing Barbara Anne (by the Beach Boys), they signed him.
After the Grease album was released he came out with a delux 2-record set called: Travolta Fever, which was released in 1978.
His favorite movie is Un homme et une femme (1966). His favorite movie as a child was Yankee Doodle Dandy (1942).
During the 70s he frequently watched foreign films, one of his favorites was Strada, La (1954). Is Oprah Winfrey's favorite movie star.
His best female friend is Kirstie Alley. He frequently eats at Denny's in the middle of the night. Which is where he ate through the movie Lucky Numbers (2000).
Was friends with James Cagney, Cary Grant, Barbara Stanwyck. His favorite actor growing up was James Cagney.
Turned down the roles: Splash (1984), Apollo 13 (1995), Forrest Gump (1994).
Owned a three-bedroom beach front oceanfront estate, on Oahu in Hawaii from 1986-2005. He and his wife Kelly Preston sold it to Kathy Ireland for $3 million U.S. and she plans to rent the private residence out as one of several Kathy Ireland Worldwide company vacation villas.
Turned down several offers from the producers of Chicago (2002) to play the role of Billy Flynn. Richard Gere accepted the role and won a Golden Globe for his performance.
Got the role of Vincent Vega in Pulp Fiction (1994) primarily because Michael Madsen, the actor whom the part was written for, was unavailable due to a prior film commitment. Vincent was the brother of Madsen's character Vic Vega, AKA: Mr. Blonde in Reservoir Dogs (1992) and the role jump-started his career after a long slump.
Is of Italian descent on his father's side and Irish descent on his mother's side.
Was considered for the role of Jim Morrison in The Doors (1991). The part went to Val Kilmer instead.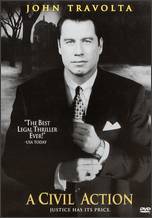 John Travolta in Civil Action - a great film
Birth name: John Joseph Travolta
Nickname: Bone (as a child)
Height: 6' 2" (1.88 m)
Spouse: Kelly Preston (12 September 1991 - present) 1 son, 1 daughter
Trade mark: Cleft Chin.
---
SALARY

| | |
| --- | --- |
| Basic (2003) | $20,000,000 |
| | $10,000,000 + Profit Points |
| The General's Daughter (1999) | $20,000,000 |
| A Civil Action (1998) | $20,000,000 |
| Primary Colors (1998) | $18,000,000 |
| Mad City (1997) | $20,000,000 |
| Face/Off (1997) | $15,000,000 |
| Michael (1996) | $10,000,000 |
| Phenomenon (1996) | $8,000,000 |
| Broken Arrow (1996) | $7,000,000 |
| Get Shorty (1995) | $3,500,000 |
| Pulp Fiction (1994) | $140,000 |
ABOUT THE COME BACK
After Blow Out stalled at the box office. A pumped-up Travolta made a strong commercial comeback in Staying Alive (1983), the Sylvester Stallone-directed sequel to Saturday Night Fever. Travolta subsequently languished for nearly a decade in forgettable and/or unpopular films. His most notable work during this phase was a 1987 ABC-TV special: Harold Pinter's The Dumb Waiter, a one-act two-character play directed by Robert Altman, in which Travolta played a Cockney hit man.
Travolta, who'd always been an engaging personality if not a particularly skillful actor, was positively ludicrous as an investigative reporter in Perfect (1985, written and directed by Urban Cowboy's James Bridges), and its indifferent reception sent him into a self-imposed exile for several years.

His first comeback effort, The Experts (1989), barely got released, but Look Who's Talking (also 1989), which cast him as a garrulous but good-hearted cabbie who helps Kirstie Alley raise her illegitimate child, surprised everyone and became one of the year's top hits. He returned to TV to appear in a Robert Altman production of "The Dumbwaiter" (1987), then appeared in Chains of Gold (also 1987, which went direct to video), Look Who's Talking Too, Shout (both 1991), and Look Who's Talking Now (1993).
Just when Hollywood had written Travolta off, he made a spectacular comeback as hit man Vincent Vega in Pulp Fiction (1994) and earned a Best Actor Oscar nomination. He followed with Get Shorty (1995). Travolta was once involved with actress Diana Hyland, with whom he appeared in the 1976 TV movie The Boy in the Plastic Bubble In 1989 he married Kelly Preston, his costar in The Experts.
It was not until the sleeper hit of 1989, Look Who's Talking however, that Travolta was associated with another major box office success-though, in this case, he was not the main attraction. This romantic comedy featured the unreasonably popular gimmick of presenting a baby's thoughts in voice over and generated two more jobs for the former superstar-Look Who's Talking Too (1990) and Look Who'sTalking Now (1993). Glowing reviews for his performance in Quentin Tarantino's Pulp Fiction (1994), though, restored Travolta to Hollywood's A-list.
Relatively heavy-set, long-haired, and wearing earrings, Travolta's Vincent Vega was a strangely sympathetic hitman with a heroin habit and a disconcertingly innocent view of the world. The resuscitated star found himself deluged with scripts and deals offering him the biggest paydays of his estimable career as well as an Oscar nomination for Best Actor.
Travolta capitalized on his success by starring in a trio of films. As Chili Palmer in Barry Sonnenfeld's popular Get Shorty he was acclaimed for his portrayal of a hitman entranced by Hollywood.
In White Man's Burden (both 1995), Travolta starred with Harry Belafonte in an ambitious film about reverse discrimination that won mixed critical notices and little audience support.
He followed with John Woo's action-adventure thriller Broken Arrow (1996) in which he played a pilot who masterminds an extortion plot against the US government. Travolta reportedly received an $8 million fee for Phenomenon (1996) in which he plays a man who is struck by a white light and develops superior abilities.
WHAT'S NEW
(February 2005) Currently writing his autobiography, which will be released in Fall/2006.
(February 2005) In pre-production for the film Lonely Hearts (2006) which will start shooting in March in Florida.
Pulp Fiction DVD cover
---
Actor - filmography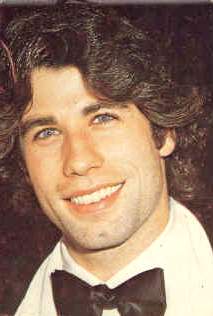 Miscellaneous Crew - filmography
Producer - filmography

Battlefield Earth: A Saga of the Year 3000 (2000) (producer)
... aka Battlefield Earth (USA: short title)

She's So Lovely (1997) (executive producer)
... aka Call It Love


Writer - filmography
Chains of Gold (1991) (TV) (written by)


Himself - filmography
A - Z FILMS INDEX
A - Z ACTORS INDEX
---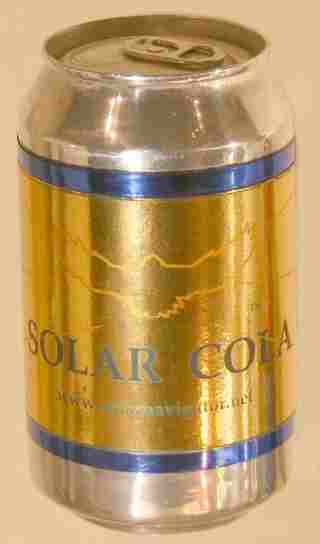 Solar Cola - a taste for advenure
LINKS: