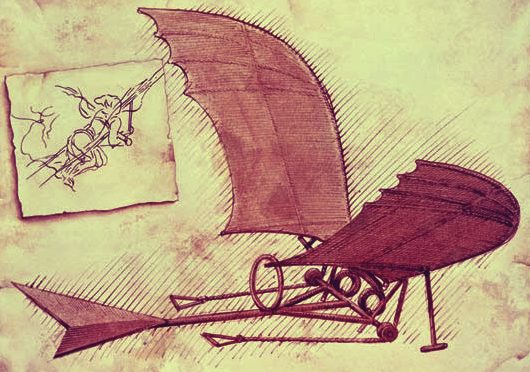 The term "Renaissance man" comes from fifteenth-century Italy and refers to the idea of a person with knowledge and skills in a number of different areas. Perhaps, no single individual defines the idea of a Renaissance man better than Leonardo da Vinci – an artist, scientist, architect, engineer and inventor.
What makes a genius? According to dictionary definition a genius is a person who displays exceptional intellectual ability, creativity, or originality, typically to a degree that is associated with the achievement of unprecedented insight. There is no scientifically precise definition of genius. The term is used in various ways: to refer to a particular aspect of an individual, or the individual in his or her entirety; to a scholar in many subjects (e.g. Gottfried Wilhelm Leibniz or Leonardo da Vinci) or a scholar in a single subject (e.g., Albert Einstein or Stephen Hawking).
Research into what causes genius and mastery is still in its early stages, and psychology offers relevant insights. Genius is expressed in a variety of forms (e.g., mathematical, literary, performance). Genius may show itself in early childhood, as a prodigy, or later in life. Geniuses are often deemed as such after demonstrating great originality. They tend to have strong intuitions about their domains, and they build on these insights with tremendous energy. After you have read the extract below of this man's achievements, refer back to this dictionary definition - when you may come to the same conclusion as ourselves.* Interestingly, our subject shares with Leonardo, the same ability to write in mirror form with his left hand.
20th CENTURY RENAISSANCE MAN
We shall now take a look at the work of Nelson Kruschandl, a designer presently living in England, seen below as a baby with his mother in South Africa and as a bachelor at Cowes, Isle of Wight. Nelson was born in Johannesburg the son of Frank and Gean Kruschandl, British subjects, who were at the time, colonials living at first in India, then Africa. When just one year old, Nelson was brought back to England, where he attended his first school (infants) in London.
Nelson's father, Frank Kruschandl, was a clever man in chemistry and problem solving in the building world, you can see evidence of that with Firmcrete, a cementitious building product. Gean Kruschandl was a gifted violinist, with some suggestion of mild psychosis in mid-life, which has been linked to genius. The family relocated many times, leading to disjointed schooling and instability.
During his formative years, the family business was manufacturing and building using, a then, revolutionary cement and timber based material known as Firmcrete. This was used mainly to insulate and protect the roofs of high rise blocks of flats and offices. Nelson's grandfather, Edward Victor Kruschandl, set up a factory in Seaford to produce slabs and blocks by a patent (1952 GB722003) method, which was later bought by Tate & Lyle to produce building materials from sugar cane waste. Thus it was that Nelson attended the Seaford Primary school, before moving to Eastbourne and Ratton Secondary School in the 1970's where he won the 5th Form Physics Prize. A keen sports-man, Nelson keeps fit by jogging, climbing and occasionally sport diving.
Frank Kruschandl (Nelson's father) bought back the Firmcrete business from Tate & Lyle, when they found it difficult to produce enough panels to fulfill contracts for the GLC (Greater London Council). The building company Wates, who had nobody reliable to fix their roofs, knew that Frank could run the operation in Seaford, East Sussex, which was where the factory was situated: 48 Brooklyn Road.
Frank got production back on track, the secret being how the product was mixed and when certain operations were carried out. With a revitalised fixing team, a new name (Insulcrete Installations), new trucks and vans, all was well for several years. Most of the business was flat roofing for high rise buildings in and around London. But, the product could be produced as hollow blocks and wall cassettes, with pre-fabricated floor joisting for quick-build homes. One house was built in 24 hours using this system.
| | | |
| --- | --- | --- |
| | | |
| Firmcrete delivery truck (Beacon Road, Seaford) | Firmcrete panels being stacked at the factory | House under construction at Ashford |
| | | |
| Fixing team vehicles (vans) at Newhaven | A diagram of the unit building system | A pre-fabricated Firmcrete wall cassette |
| | | |
When the flat roofing business was killed off without warning by the Conservative Prime Minister, Margaret Thatcher, Nelson's family moved into the jewellery business, opening a shop in Newhaven. This was where he worked designing gold earings, rings and necklaces and sometimes repairing watches. He had no formal training for this, but adapted his model making skills to good effect - becoming a member of the Guild of Master Craftsmen.
ROBOT PROJECT
Through 1980 to 1984, Nelson worked on designs for a large hexapod robot for film special effects, eventually placing the product, but then the film company went under. Even so, much of his theory was adapted by Hollywood, in such films as Honey I Shrunk the Kids. Nelson's robots were designed to work for real, unlike robots used in such movies as Terminator, that were hand operated with sticks. Nelson was fascinated by insects, in particular ants with their incredible power to weight ratio.
Frame patterns for the head of the hexapod, you may recognize the jaws as those of the Australian Bulldog Ant, an extremely dangerous Ponerine, here roughly 110 times the size of the natural insect - designed in 1980.
Later the inventor became a welder, did the odd truck driving job and finally became a planning consultant in 1997 after he was asked to run an appeal for a local animal sanctuary, which he won for them, and went on to chair a charity as a trustee, enabling stables demolished by heavy handed local authority, to be re-built. Nelson went on to set a precedent concerning mobile homes, winning another appeal against the same local authority in 2003, now the basis for a modular flatpack system and fresh patents in the future. An inventor's job in never done.
No doubt the variety of professions broadened his outlook on life, but he really wanted to make his vehicle designs a reality. As with most young men, Nelson had a love affair with motorbikes and then cars. His first bike was a Yamaha, on which he used to commute to college in Eastbourne. Later he bought a Yamaha RD 250 and a Suzuki TS 250 for some much loved off road dirt biking - a favourite afternoon pastime in summer.
1955 - 1973
1977 - 1980
Nelson with pram in London & his first Yamaha 125 AS3 motorcycle at Seaford Head in the 1970s
He loved that bike. Suited for his London pitch and keeping his eye in (active). His VW Baja conversion from 1987 to 2003 and his Kombi wagon camper van in 1995 at Filching Manor, E.Sx.
Nelson's first car was a Vauxhall Ventora, a 3 litre beast and not at all suitable for a learner driver, not least because of the horrendous insurance cost. Later he owned a Mini, a Volkswagen Baha, a VW Camper, a BMW 5 series and a Land Rover. He now uses a Jeep very occasionally, which is both practical everyday transport and lively off-road sport, while coping with logging, towing and other necessary country tasks.
Nelson finally embarked on his first car at workshops in Sussex in 1983, having purchased a derelict generating building in need of much restoration the year before. The first car was a sharp learning curve, where welding had to be mixed with blacksmithing and panel forming from sheet alloy and mild steel - all this in between urgent repairs to the historic remains of the generating building, which turned out to be a unique archaeological find according to English Heritage, also a time consuming labour of love. By 1992 Nelson was granted patent No. 2218187 for his joystick car which he named the Borzoi after the family pet hunting dog - and the similarity in shape of their noses.

Soldering iron overview: [left] Solder reel/spool [middle] drive mechanism [right] heat element and guide. In this photograph the tool is shown in the position it would be used. The pinch wheel and motor drive is underneath. The solder wire is pulled from the spool on the left, through the pinch wheel and then pushed through an aluminium tube, which guides the solder to the heated copper tip. It looks a bit like a Christopher Cockerell lash-up, and it is - but it worked.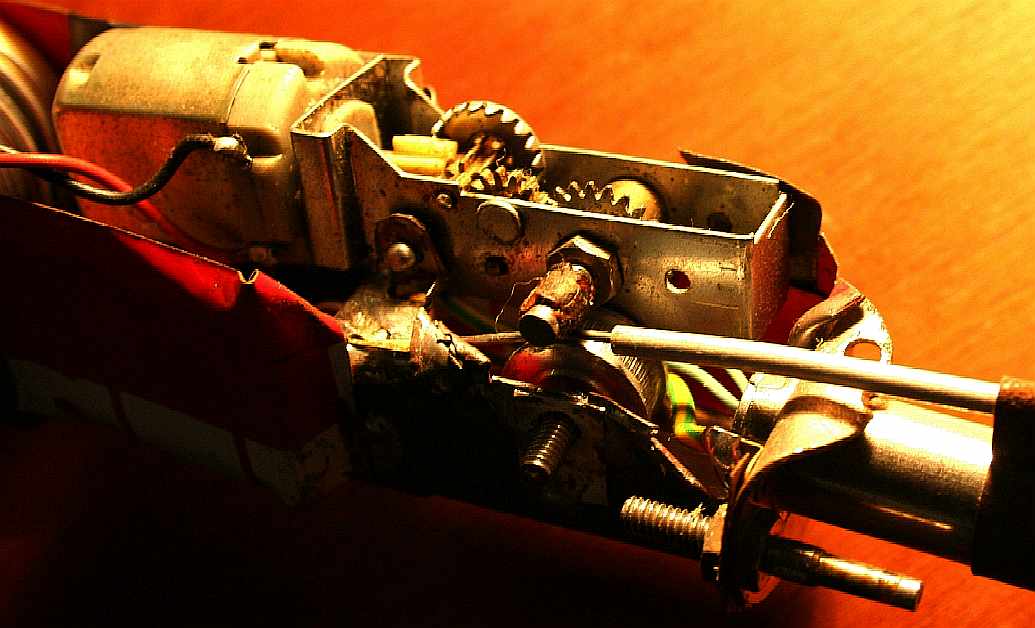 This is a view of the pinch wheel and geared motor drive-train. The setup is not that dissimilar from that in a MIG welder, save that tensioning is on demand of the user and the larger pinch wheel is serrated rather than 'V' grooved. The motor-drive mechanism is hinged to become part of the switch. The upper pinch wheel (soft plastic) is badly worn in this picture, indicating a lot of use.

This is a close up of the aluminium guide tube and copper tip. The heating element is a standard item. The copper tip is shaped to pool solder on the tip, such that the feed of solder melts at precisely the right area to effect a perfect solder joint. If you are doing a lot of soldering, such as making solar panels, this tool is a timesaver.

Another longitudinal picture of the "Wiredrive Autofeed" hand-held soldering iron from underneath. In this picture you can see all the moving parts. The prototype was made from tin cut from an ordinary gallon can of thinners. In a production model, almost all of the tool could be molded from plastics. The spool would be a clip in item.

A close up of the spool and motor drive. the motor is a Mabuchi as used in many contemporary models of the time. The three-stage reduction could have been a more geared down, with perhaps a variable speed control. Today that could be easily accomplished with off the shelf parts. The addition of a hand shaped grip, or body, would turn this prototype into a pleasing part of any engineers toolkit.
In between building cars, there was the odd unrelated invention, such as this soldering iron prototype above. This is a piece of equipment that is still not available commercially, but we are sure that electronic prototype board builders and other hobbyists would find it very useful - a must have gadget. We will try to find the patent application - if there was one, and publish the specification so that you can see the date of the invention. This tool is illustrative of Nelson's practical problem solving on ordinary everyday issues. It is the creative leap that is important. That leap requires imagination, thus, as Einstein was keen to point out, imagination is more important that knowledge.
In 1991 Nelson designed his first electric car which was put on display at Beaulieu in 1993, then featured in many newspapers, finally ending up as a show car for London Electricity. In 1995 he was granted patent No. 2253379 for an electric vehicle refueling system, subsequently successfully incorporated in a converted Rover Metro and now an electric land speed racer called Blueplanet Ecostar. You can see Nelson's designs below, or click on the links on this page for more details.
Rather more usefully, the instant recharging system has been further developed for the latest Formula E series. Electric cars might recharge during pit stops in under 10 seconds. We wonder if this might catch on?
Nelson (in mechanic mode) completing an engine rebuild on a Renault car in 1985. He was able to swap engines for his Baja in around 30 minutes, using just a trolley jack. Mind you, VW Beetle engines only have 4 bolts securing the engine to the gearbox bell-housing.
For many years Nelson strived to prove the old electricity generating building in Herstmonceux was of historic interest and should be preserved. While the battle raged in closed corridors, including tackling a ludicrous tree preservation order, he made many enemies at local level, many of which were thought to be masons, some known to be for sure. Then some 20 years later English Heritage and the County Archaeologist in Lewes finally came to the rescue fact wise with professional independent reports to confirm his contentions. Read more of this using the links above. Please note that although this issue was amicably resolved with a binding Court Order in 2004/5, that subsequently Wealden District Council have breached the terms of that order, despite the fact they know this building is without any reasonable, beneficial use. Thus, this fight is due to recommence, by way of publication of taped meetings of a corrupt council is action: The new 'Battle of Britain,' or perhaps the 'Best of British.' Sorry Maam, but corruption at any level must be exposed. They tried to sweep me under the carpet; a trick used against quite a few who bang the drum - a sort of modern day crucifixion. In days gone by they'd have burnt him at the stake, as they did with other outspoken people in Lewes High street in 1557, taking their lead from poor old Joan of Arc in 1431.
Nelson continues working to restore the building in co-operation with the Trust that own the site and surrounding land. What this chapter in the story demonstrates, is that you cannot trust local authority. A warning though, relationships rarely survive this kind of struggle and local authorities have close links with the police and the courts. He has not made many friends locally, some of which would have seen a historic building destroyed along with its restorer. That is the price one pays for standing up to be counted. As one of our finest British Bulldogs said:-
Sir Winston Leonard Spencer Churchill (1874-1965)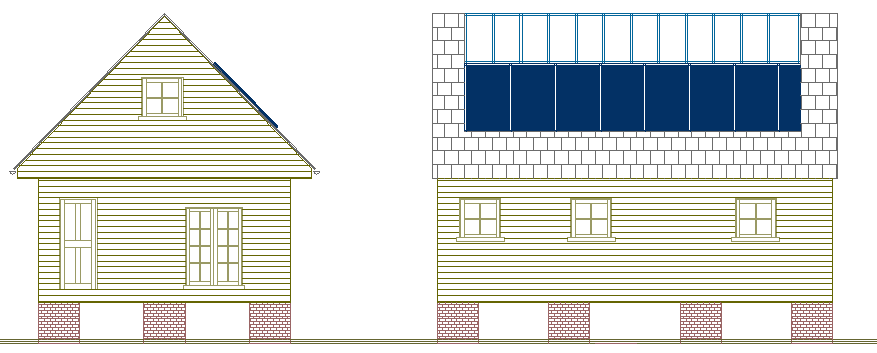 A prefabricated house incorporating a high-tech heating system (not visible).
Such a system could solve the housing crisis, if Council's made cheap building land available.
BUILDING DEVELOPMENTS
Taking the unit construction method developed for Firmcrete a stage further, Nelson has designed a system that captures heat and stores it economically. The vision is that whole villages might be built with this heat and energy harvesting system so that energy bills are virtually eliminated and electricity is sold into the grid for export. The rights to this system have been transferred to a development group.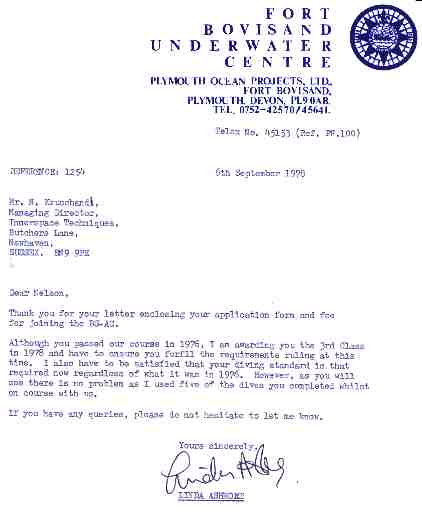 Nelson has always had a love of the sea, which is why he is so fond of Seaford and Newhaven, for the high winds and cliff views of Seaford [head] and the busy working harbour at Newhaven. He trained as a diver in Brighton and Plymouth, achieving a Class 2 BSAC qualification. He enjoys discovering wrecks and has dived on the site of the Mary Rose helping to survey, etc, as a volunteer. He liked wreck diving and at one point considered a career in salvage, commonly known as treasure hunting.
| | |
| --- | --- |
| | |
| Nelson building the 'Borzoi' - joystick controls 1986 | Nelson practicing archery - a favourite sport 1988 |
Nelson is an enthusiastic amateur yacht designer, and has enjoyed memberships of the Amateur Yacht Research Society, the Royal Yachting Association and the Speed Record Club. Nelson's first boat was a hybrid design not unlike a modern Jetski. He made this with plywood and fibreglass in his bedroom on the third floor at 8 Old Orchard Road, Eastbourne, and later in a garage at Beacon Road in Seaford, where he fitted it with a Briggs and Stratton lawn mower engine.
The Solar Navigator project began as a challenge to power a practical diving work boat or survey vessel with solar panels. There followed a series of hull-form evaluations in small scale, with the size gradually creeping from 1/50th to 1/10th and back to 1/20th. The idea for a solar powered ocean cruiser was conceived in 1993. The 'Solarnavigator' project is the culmination of years of practical experiment. The first of a series of development models went on display at the 1995 Earls Court Boat Show in London. Nelson was a member of the International Solar Energy Society (ISES), an organisation dedicated to the use of alternative energy and a keen amateur archaeologist. Strange bedfellows we'll grant you, but they all work together for a conservationist.
Where the Solarnavigator project started as a theoretical exercise, the models worked so well, other teams have then built solar powered catamarans, the first of which, the Sun21, crossed the Atlantic ocean. As a showcase for renewable energy the project would have been excellent PR for alternative energy in use as a practical level, perhaps something the G8 or G20 would have been proud to be associated with. Indeed, since Nelson published his world route, the French/Swiss team actually completed their world circumnavigation with PlanetSolar, which began life as a trimaran design, but finished up as a catamaran.
Nelson believes that increasingly quicker circumnavigations will provide a unique opportunity to collect data for scientific evaluation. Such projects will focus attention on natural sunlight and other renewable resources as a practical alternative to reliance on dwindling fossil reserves. As scientists predict worsening global weather shifts, pollution and warming continues, Nelson believes that research in this field is important conservation work for our ecology. That this is important, should be passed on to future generations at an early stage, and Nelson is pleased to note these subjects are covered in Schools around the world, which partly accounts for the hits on this site. Here are pictures of some of his car designs.
Borzoi joystick (patent) prototype car 1986

Electric Bluebird racing car BE1 1993 with patent recharging system

Electric Bluebird racing car BE2 1997 (not completed)

Blueplanet Ecostar racing car BE3 for 2014-16

Solar charged/assisted WLSR (under construction)
Nelson's vehicles 1986 to 2013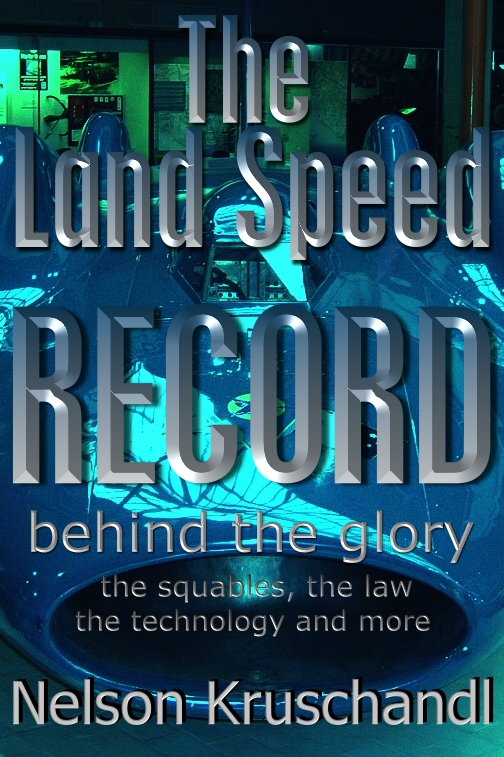 Work in progress. Nelson keeps meticulous records of all matters pertaining to his projects, right down to the last nut and bolt ordered, which is useful when it comes to telling the story - this one some 20 years in the making - covers his first car, all the way to the present vehicles under construction to his design.
This is to be a factual volume about the writers personal experiences, successes, struggles and vindication, fully illustrated with photographs and faithfully reproduced official documents. The refueling system that took 2 minutes to recharge, is now down to seconds and suitable for Formula E the right to which have now been acquired by Bluebird Marine Systems Ltd.
RELAXATION & INSPIRATION
On a lighter note, Nelson enjoys a good book and especially a good movie. See his top 100 films, but what is a good film? Nelson enjoys a mix of adventure (Pirates of the Caribbean, Master and Commander), romance (Titanic, Sound of Music, Just like Heaven) and thriller stories (James Bond) with a preference for true stories (Seabiscuit, Worlds Fastest Indian). Nelson also enjoys good music, interesting food and evenings out at his favourite haunts in Sussex. He actively encourages local musical talent, once offering free recording to bands on a tight budget and free web-space to publish their songs. No longer, so please don't ask.
If he'd had the time Nelson would have liked to pass on his accumulated knowledge and skills to generations to come via his genes traditionally, showing a son the ropes, etc. But in our modern society is that really necessary? The world is already overpopulated. We have sperm banks for those without the time for partners and should the population dwindle; which at the present is highly unlikely. Passing on knowledge may be done by preserving what was made and any notes as to the thinking behind the article. His achievements are for the most part there for all to see. Thus he feels that he has passed on his knowledge, without burdening the planet with another life. So many people are irresponsibly producing more then one child per family. Some, three children or more; a recipe for disaster. Many women of course don't feel accomplished unless they fulfill their biological function, ignoring the population issue. That may be their way of creating something. No problem, in moderation, but, there is no duty - especially with our growth, more a duty to educate others. There should be no pressure on women to produce a child - their biological function maybe - but as we say, we live in a modern world.
There is no guarantee of a child being born with the skills of its parents, where the mother's mitochondrial DNA determines so many factors. See the Boys From Brazil. It's a matter of luck. There is no sure thing. There will always be skilled people springing from the most unlikely parents. As to intelligence, selective breeding only works in numbers. It is also the environment one is brought up in and nourishment (food, vitamins). For an engineer or artist, it helps to have good eyesight and coordination. Other than that it is synaptic sequences in the brain that cause some people to be creative. Social advantage is a bonus, which might allow those with creative tendencies to be curious about their surroundings and indulge in experiments, to be able to advance their particular interests.
Cloning is one possible solution, and something Nelson has given serious thought to. Not cloning himself, but a machine that does it semi-automatically; simulating the safety of a womb and feeding the embryo nutrients, etc. He believes a design he has sketched is technically feasible and will one day make designer babies possible. There is not time to complete this invention - and the cloning of humans is at this time illegal. So that is that. Pity. Women need not go through all that pain, take time off work, etc, lose their figures, etc, and absolute monitoring of the child's health, gives the infant a head start. For example, defects will be spotted early on when it is possible to terminate, without taking a life or violating the unborn fetus' human rights. It is also possible to speed up the gestation period with such a machine. See: Barbarella (Jane Fonda).
Left: Nelson making his first closed loop MkI wind tunnel (in plywood), Wolverine model car testing and Right: his second all electronic MkII (in alloy) development with RS strain gauges to measure drag, lift and down-force, with a rotating turntable; the bluebird electric BE1 test model in the chamber. Apart from the Wright brothers, how many people do you know who have built their own wind tunnel?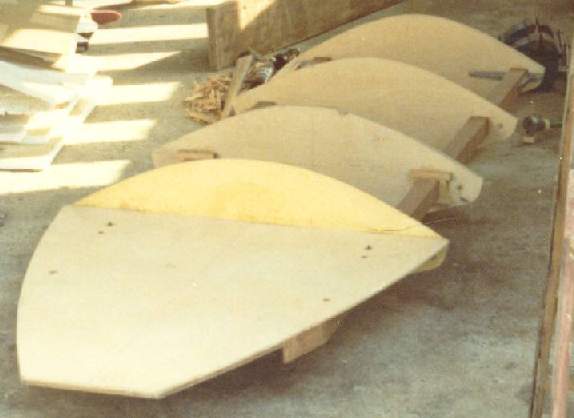 Nelson's first full size boat under construction (phase 2 Seaford workshop) - low two seat Jet Ski style hull made of plywood on two mahogany timbers (longerons) with plenty of epoxy resin. Unfortunately, the completed prototype was lost during relocation along with the design drawings. The build of this boat was begun while he was still at Ratton school in Eastbourne. Mr Henderson, his physics master was right to award him the Physics Prize, despite Nelson not working on homework assignments.
AROUND THE WORLD IN 80 DAYS MR FOGG
Okay, 80 days is cutting it a bit fine. On the 4th of May 2012 the Swiss PlanetSolar Turanor set the first record for a solar powered circumnavigation at 585 days in their solar powered boat, a notable effort. That is now the record to beat. The boat on the left is from the United Kingdom, called Solar Navigator. The development of this project has been mostly in the backyard and on local Sussex waters. The rights to the design have recently been licensed to a film production company.
EARLY BOAT DESIGNS
| | | |
| --- | --- | --- |
| Solar powered SWATH tank test model | Catamaran tank tests wind side on | Solar catamaran tank testing into wind |
| S | S | S |
| Tank testing trim pumps to extremes | SWATH control electronics | SWATH level running - tank simulation |
THE "LONDON TO BRIGHTON SOLAR CAR RUN" - L2B 2016 - Proposed event
This was an event that had all the permissions in place, but circumstances prevented the first run in the UK from taking place on 2008/9. Any School, College, University or other person or organisation interested in applying to compete in any future Run, may email us to register interest. Please note though, that we are looking for a professional event organiser to run the event for any sponsor(s) in the future.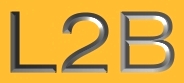 During 2007 we advertised the L2B on our sister site www.speedace.info. As a result we received contact from 9 possible international entries for 2008, with thanks to all teams expressing an interest. It occurred to us we would attract yet more entries, if we broadened the specification - which is something any new organizer (who are looking to appoint) should work on.
Back in August 2008, several UK Government departments (Transport, Environment and Sport) were contacted, including Westminster and Brighton & Hove City Councils and the Motor Sports Association (MSA). We received encouraging replies at that time and considerable international support for the proposal, subject to vehicle and road safety and route considerations.
Accordingly, we are advising those interested that we will maintain negotiations generally with a view to finally hosting events from 2016. We are in receipt of advice from the organizers of the World Solar Challenge in Australia which has been invaluable and thanks to the organizers of that forward thinking event for all the help given.
We will not be running this event, but would invite other professional event managers to make contact with a view to taking over the franchise for 2016. Please contact our Events Manager to discuss the possibilities.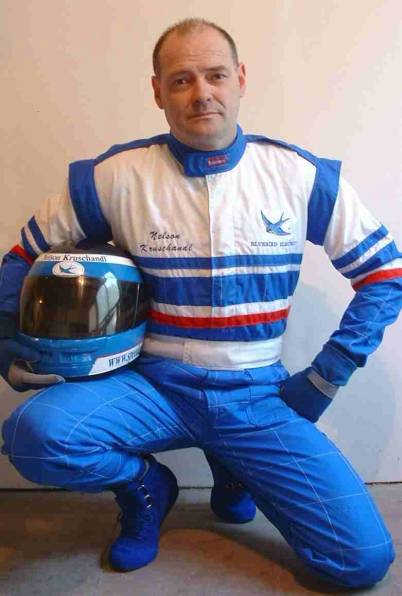 Nelson says: "The slings and arrows of outrageous fortune." Was Will ever right, and what a story to tell. Which as the bard scribes, will oust in God's good time - methinks. Nice suit Mr Creative 2004. This suit and helmet were stolen - it you ever see them, please report the location to us or the police.
OTHER SKILLS

WILDLIFE PAINTING:
A leopard reposed - Study: Acrylic on paper, canvas & oils next time.

An angry leopard snarling - Acrylic on paper

Field mice enjoying the wheat harvest - Acrylic/paper
WOOD CARVING & SCULPTURE: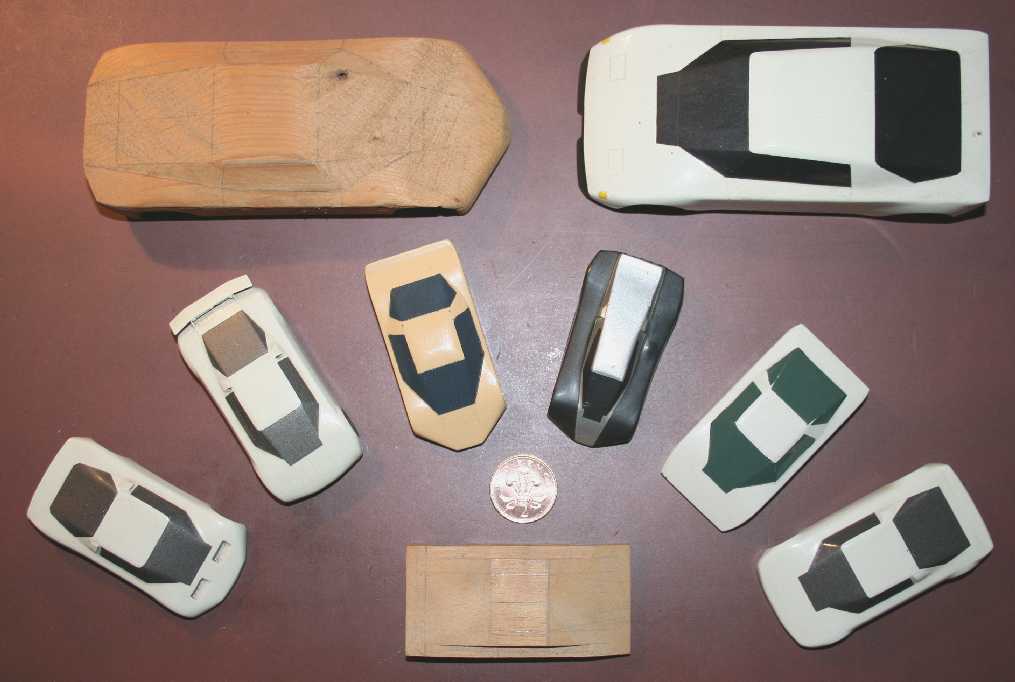 Nelson also carves in wood (which he is much better at), mostly to visualize his designs, in this case cars that he first designed on paper, then before even considering building the real thing, he carves a small scale model, which also serves for test purposes in a wind tunnel. The 4th model from left in the radial display above was constructed full size to test a joystick control system for his first patent GB221888187. Beech (lower carvings) gives better detail than pine (top carvings).
The figurehead below is carved from a resin/glass compound which feels to the sculptor like hardwood and is very strong - indeed the same chisels used for wood carving are used. This is a 1/20th scale piece for a 5.8 meter sculpture - to be finished in white or gold when fitted to the Solar Navigator ship. The gold show here works well.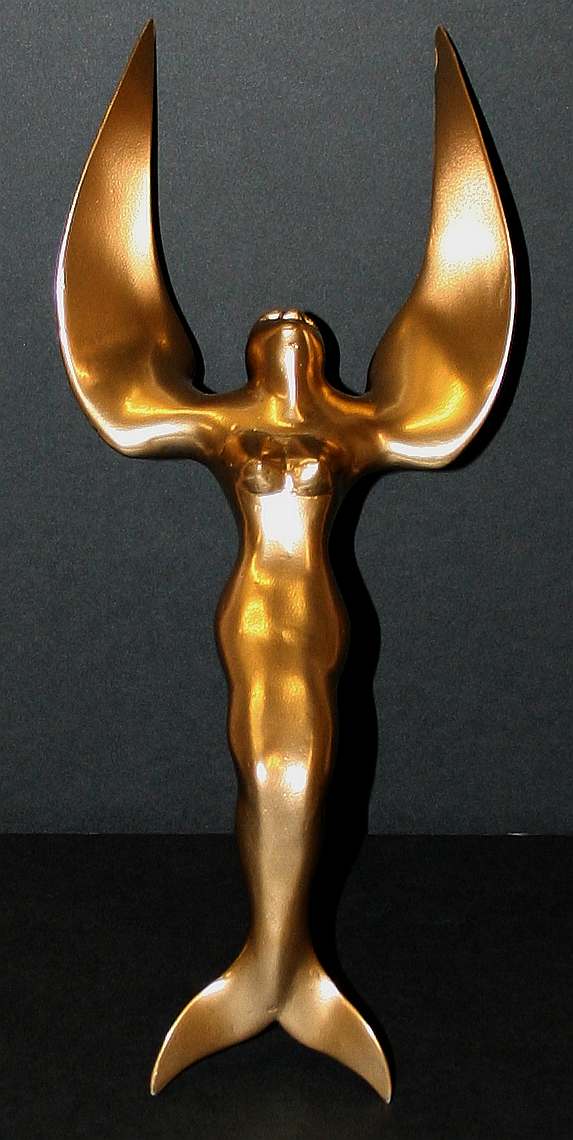 TRAVEL
Nelson has visited quite a number of countries in his lifetime. These include:
Austria (Vienna and road tour)
England (place of residence)
France (Paris, Gap and road tour)
Germany (Munich and road tour)
Italy (Sorrento and islands)
South Africa (place of birth)
Spain (Santander and road tour)
Switzerland (Alps)
USA (New York)
He would like to see (would pay to visit) Australia, China, Russia and South America (especially the Amazon rain forest, Aztec and Incan cities) before he gives in to father time. He told us that he'd pass on the Arctic and Antarctic poles, unless of course, he was paid to travel there.
OUTSTANDING ISSUES
Between 2003 and 2006 Nelson set traps for Wealden District Council officers who were routinely abusing landowner's rights. One trap in Tilley Lane in Sussex involved blocking in enforcement officers who were coming onto site without proper the written proofs from the authorizing committees (S196 T&CP), making such visits illegal. The point here is that any examination of the written authorisation would be evidence of how committees were being duped at committee level and under delegated powers. Because of this, they never carry anything with them that is incriminating.
As is usual in such cases, dog handlers and the local police were in evidence, oblivious to the fact that the council officers were acting illegally, and that they were patsies (unwilling accomplices) to the fraud. The council officers were challenged and asked for their authority while being filmed. The police were naturally confused and asked what was going on. A laminated extract of Section 196 was shown to the officers, who then realised that they had been lied to by this council. But there are good and bad officers. Good officers would have made mention of this on return to their station. Bad officers would have told them to ignore the incident.
A citizens arrest was threatened against Jeff Johnson and others. A citizens arrest is a lawful procedure where a member of the public who identifies a crime in progress, may apprehend the perpetrators - even with police officers present - and then hand the criminals over to the police, or call the police and explain the crime.
On this occasion Nelson allowed the council officers to leave without arrest on a promise that they would not seek to enter that farm again without the correct paperwork for examination. Those farmers were not bothered again while Nelson was available. But the council realised that they could not continue with their illegal activities while Nelson was on the scene as a dissident challenging their wrongdoing. They had to find a way to discredit him so that other victims of planning related crime would not employ him. In other words, so that councils could continue with their systematic malfeasance in public officer without consequence. Commonly known as selling planning favours - a kind of organised crime that at the moment the police appear to be supporting. Julian Assange is another dissident who is on the official hit list to be discredited. In reality, Europe is just as hard on anyone questioning their systems, as Asia. The only difference is that Asian countries are more honest about their human rights violations.
Nelson was wrongly accused in 2008, taking him out of circulation for about four years and still with his hands tied until 2015, after which, with evidence that was not available to his legal team in 2008, he will be able to set the record straight conclusively - and as is typical with this man, in the process aiding the acceleration of the medical sciences, so advancing law enforcement, and exposing judicial malpractices.
His faith in the European Court of Human Rights was shattered when they struck out a valid claim lodged in 2009, in 2012, simply because in 2012 he applied for a Judicial Review in the UK. He says that the ECHR should have kept his case live where they must have known a JR application to flush out yet more corrupt court officials would be refused by those Judges a part of the old boys network. Anything that challenges the sanctity of the English Courts and violations of Article 6 is strongly resisted by a network of senior judges. Usually, those close to retirement. You may notice that many of the battles that Nelson engages in take years for a result. You may also have noticed that David Cameron wants to wipe out any independent review of British human rights violations.
In 2013 Sussex Police raided offices taking other papers, smashing down 5 doors in the process, and finally not charging Nelson. But a number of papers went missing. The objective of this exercise was to prevent the innovator from resuming action against the council. This was a bogus claim that fortunately, the victim was able to disprove when a document that had been alleged was a forgery was demonstrably signed by the other party, to include the special delivery date and number and a covering letter, fortunately with copies kept safe elsewhere. The claimant was not prosecuted for wasting police time. Damaging property like this is all part of terror tactics designed to frighten targets to desist from their lawful civil objectives.
In 2014 Nelson was again subjected to a false allegation. Sussex Police did not investigate the matter fully, having been provided with keys to premises to prevent more criminal damage. In this case video evidence was edited to cut out the parts that proved he'd been set up, and a key witness was not interviewed even though she had been identified in a written statement as needing to be seen. The objective though of Wealden DC was to prevent Nelson resuming his claims against them by securing a criminal conviction. The public should know that agencies work together to manipulate vulnerable citizens in this fashion. In this case a jury were not fooled into ignoring the missing evidence, even though the judge directed them to do so. Nelson says that partial faith in the system was restored by this incident, not the legal system, but the sense of fair play of the ordinary man when faced with extraordinary circumstances. It helps to have a barrister who is not part of the ring. Once again, the claimant was not prosecuted for wasting police time.
Should you think that this is just ten years of malicious conduct, you should know that Wealden began persecuting Nelson soon after 1982 when he called them out on a tree matter. By 1998 he had become the subject of a vendetta with over 181 recorded enforcement visits - that were later proven to be based on misinformation (lies). Did the UK not agree to invade Iraq on misinformation, under the lead of Tony Blair? No matter how noble the cause, misinformation equals fraud in a society that should be based on honesty and transparency.
Most of the council officers involved in the original stitch up have gone, the present leaders though are suspect if they work to continue such efforts, and not cooperate to set the record straight.
BUSINESS
It is important to keep up to speed with the real world and learn new skills. There is though a conflict between creativity and commerce, which is why artists and inventors rarely become wealthy in their own lifetime.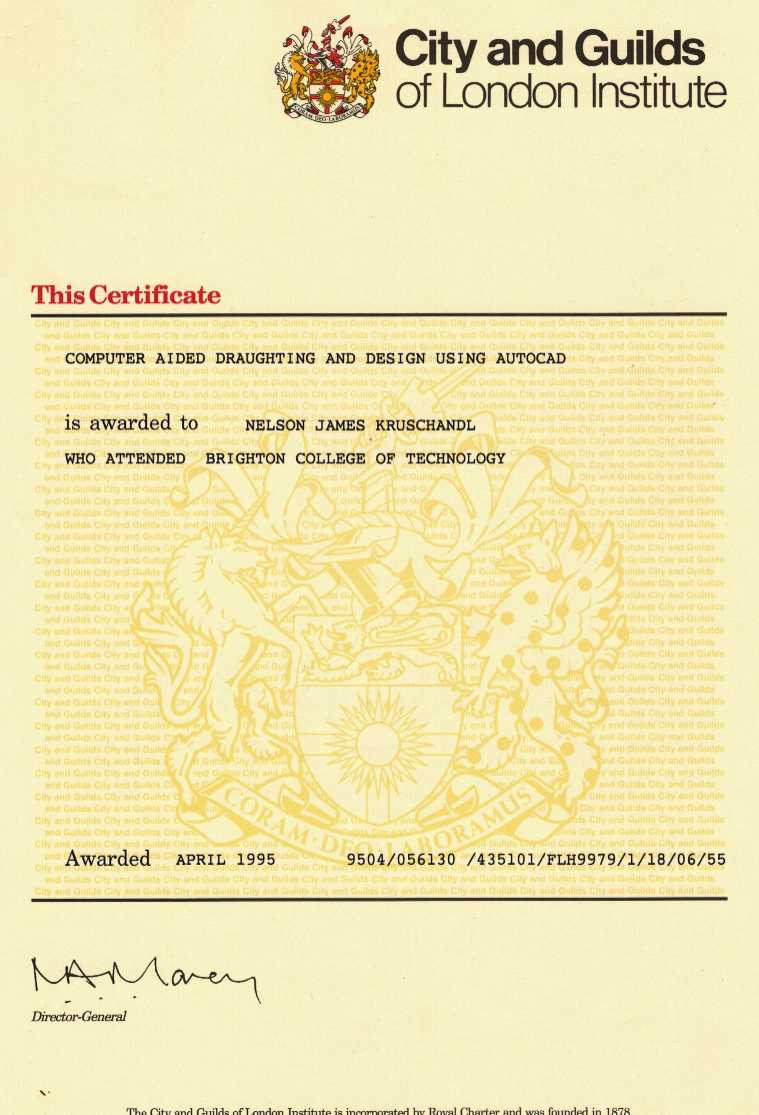 In the summer of 1995 Nelson undertook a 3-month crash course in computer aided design using the industry standard Autocad software. He recalls that not having any formal higher qualifications that he was required to sit an entrance exam to assess suitability for a 12 month course that had been condensed for advanced students. He passed, not once but twice. This was because an earlier course he wished to take turned out to be fully booked. Three months later when he again applied, he was told that he'd have to sit the exam again. A 90% pass rate was required.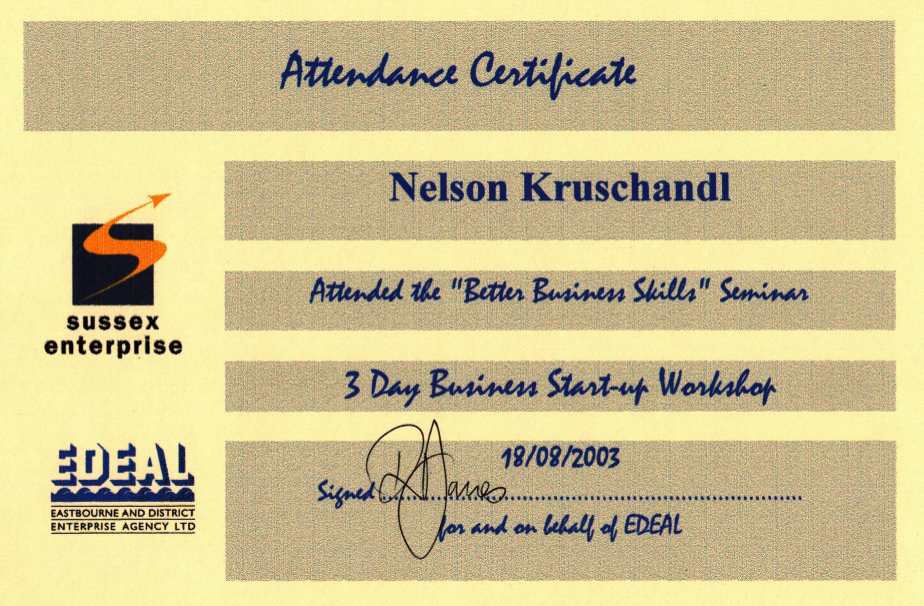 This was Nelson's first introduction to the business world. In 2003, EDEAL used to run a number of short courses to give people thinking about starting a business, a taste of what is required. Nelson told us that this course was a lot of fun: "It taught me only one thing really, dig where the gold is." And that is something he had difficulty with, because he took on a number of non-paying causes where people could not afford to pay for solicitors, etc. In a cut throat world, he still has difficulty being so hard. But that is what is required in business.
Building on his taster of what business life entails, in 2007 Nelson completed a business planning and preparation course. Having already attained two patents, and won two planning appeals for third parties, he was familiar with some aspects of commercial law. Here he came up against market research and marketing. Finally, in 2010 Nelson was tasked with producing a business plan, gaining a Level 2 Award in Business Enterprise.
2011 - Nelson had already filed patents aimed at sustainable transport, but decided that it might be interesting to see another side of such practices closer to home as taught. This was a general course looking at manufactured products and packaging, also energy usage in the home producing CO2 and waste coming from the food delivery chain.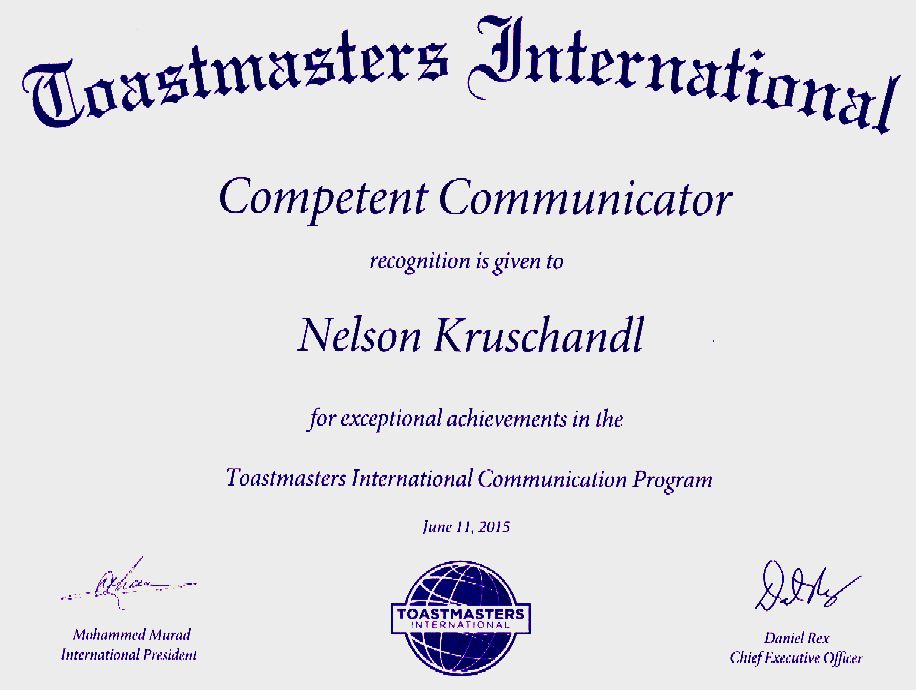 2015 - Nelson is available to speak about any of the above inventions - how to design and build vehicles and eco houses, the UK planning system and sustainability.
He is an accredited communicator delivering inspiring talks designed to help people to aspire to goals they only dreamed might be possible. In his talks he will show you how to overcome seemingly impossible hurdles, including institutionalized discrimination and even the financial slavery the rides on our backs, typically holding most ordinary persons back, so preventing creative artists and entrepreneurs from reaching your their potential. He can even explain to you how to approach writing a best selling novel. That is, how to increase your chances of success.
You can also book Nelson to speak about his other life experiences. Fees are dependent on the venue, if the organisation or institution would like an accompanying PowerPoint presentation and what exhibits might add to the experience.
GENIUS
* Returning then to the subject of genius. Considering the range of skills and sheer volume of items made and demonstrated by just this one man (on this page extracting from his works) and we say there can be no doubt about it. It is not just the range of skills (including wood carving, welding, electronics, metal forming, fine art painting), it is his insight and originality across a range of subjects. Consider then the consistent evolution of designs for various products, including robots, wind tunnels, cars, boats, submarines and eco houses. It is the range of skills and the variety of projects that we say qualifies this man as a Creative Genius and Renaissance Man - and there are many productive years still to come, where he has newly discovered a talent for writing. In history there have been many like him, the most obvious of which is Leonardo da Vinci. One person who had visited a museum in France dedicated to Leonardo da Vinci, and who also had been into Nelson's workshops, sent a postcard from that location, writing to say that the museum in France was like stepping into his workshops. With this in mind, we hope to preserve as many of Nelson's creations as possible - for eventual exhibition.
Leonardo's codices, include concepts of a car, bicycle, helicopter, glider, parachute, SCUBA, submarine, military tank and ideal city to name a few. That list is near identical to projects that Nelson Kruschandl has worked on and not just on paper. Is that just a coincidence? We don't believe it is, we believe there is some pattern in geniuses, and that maybe Nelson is more closely related to Da Vinci that he realizes. Coming back now to the ability to mirror write, an Australian newspaper (Mackay Daily Mercury) experiment identified 10 true mirror-writers in a readership of 65,000. There are more left-handed mirror writers than right-handed ones, because left-handed people tend to have atypical language centers in their brain. 15% of left-handed people have the language centres in both halves of their brain, but Nelson is right handed, making him one of the least likely to have this uncanny ability.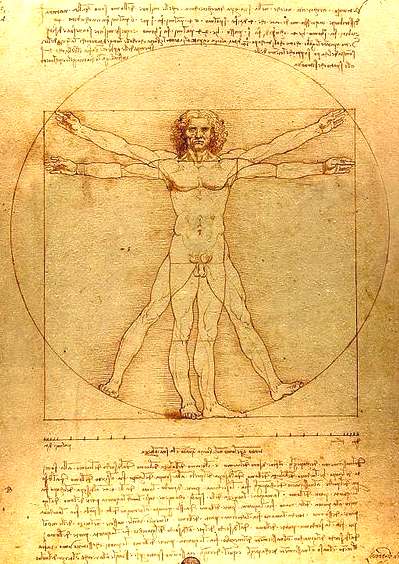 When Nelson was 15, he did a similar drawing while trying to work out the key mechanics of the human body, the aim of which was to build a robot. He found the hand to be one of the most difficult components to emulate. We are sure Leonardo would have come to the same conclusion.
LINKS:
Château du Clos Lucé - Parc Leonardo da Vinci
2, rue du Clos Lucé 37400 Amboise France
http://www.chateaux-france.com/closluce
https://www.toastmasters.org/
http://www.chateaux-france.com/closluce
http://www.telegraph.co.uk/news/uknews/5098814/Leonardo-Da-Vinci-theme-park-to-open-in-France.html
http://www.macchinedileonardo.com/index.php?links-eng
http://legacy.mos.org/leonardo/qtvr4.html
http://www.davincithegenius.com/
http://www.bbc.co.uk/science/leonardo/gallery/vitruvian.shtml
http://en.wikipedia.org/wiki/Genius
http://www.da-vinci-inventions.com/
From the above, it should be obvious that the generating buildings in Herstmonceux, where this genius of a design engineer lived and worked for so long, should be preserved, not so much for it's historical beginnings as a generating station, as for the work that poured out of this one man, much of which survives for display purposes. The building that is presently managed by the Lime Park Heritage Trust, should be a re-classified and access made available to the public.
New release: The Energy Age (illustrated) 1890 - 1936 should be available for Kindle and other readers from 2014. This is the first in a series of factual volumes about the writers personal experiences, successes, struggles and vindication. We are hoping to persuade the inventor to undertake a volume on his inventions.
The first volume was the revelation of archaeology undisturbed for 80 years being slowly dusted off over a 30 year timeframe, adorned with witness testimony; laced with archived artifacts. The second volume is a no holds barred exposé, exploring the depths of deviousness, fraud and corruption by un-elected officials of the Wealden District Council and complicit representatives of the people - a veritable WealdenGate of a story told in the style of a murder mystery - a cross between Agatha Christie's Hercule Poirot and the Midsummer Murders. The only difference is that this story is true. This volume will follow the publication of 'The Energy Age,' which is listed for publication in 2014.
Nelson is without doubt a non-conformist. Equally, he has progressed his ideas logically, many of which are now a reality. A solar powered boat has sailed around the world just as he predicted. Better Place was developing battery cartridge exchange until 2013. Tesla and BMS are still in the running as of 2015. The electric land speed record is now above 300 miles an hour. Each of these was an idea pursued and published by this inventor. He is what he thinks about and he puts his money where his mouth is - he actually builds cars and boats. He restored the historic building despite local authority complacency. On these matters alone the renaissance man is an unqualified success. Nelson thinks positively and does his best to inspire others to do the same. He is also an inspirational public speaker, where he will talk about his projects and tribulations if asked.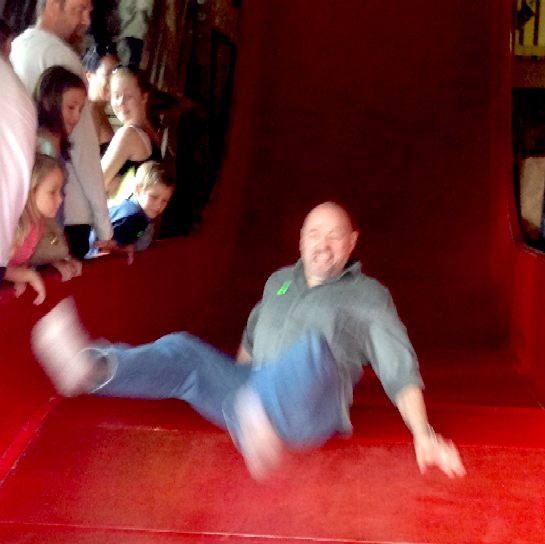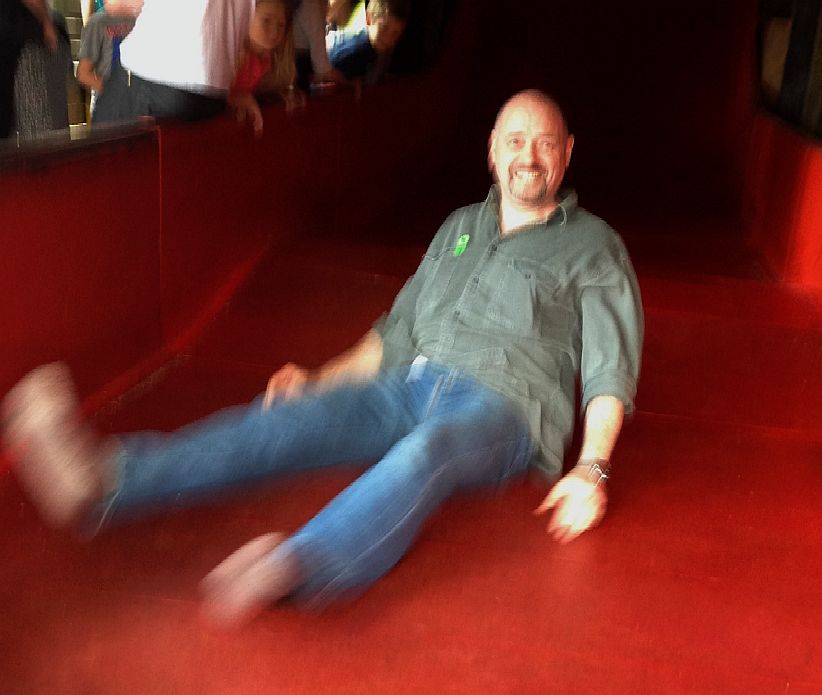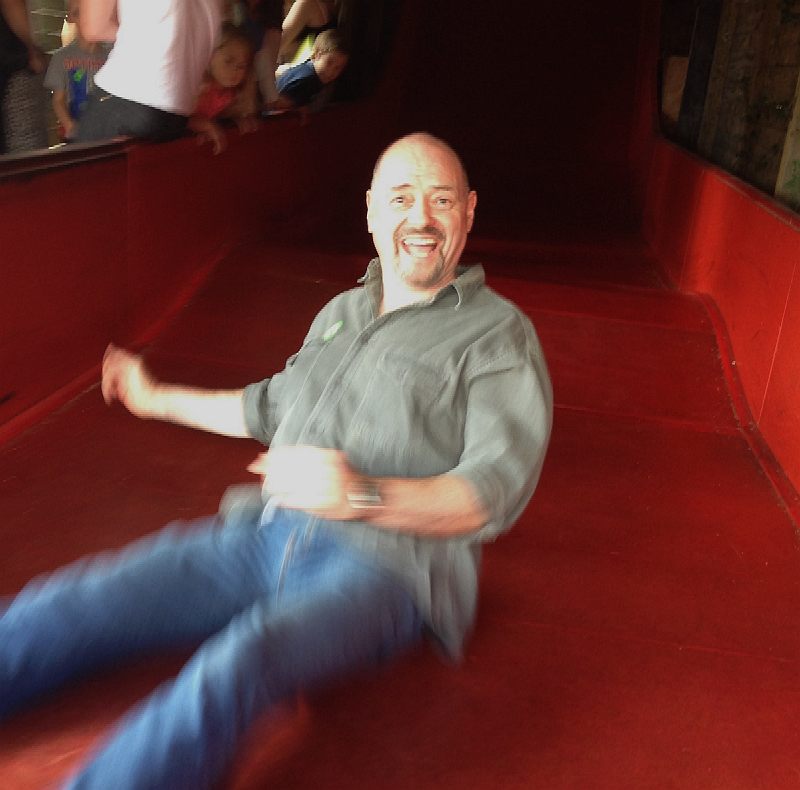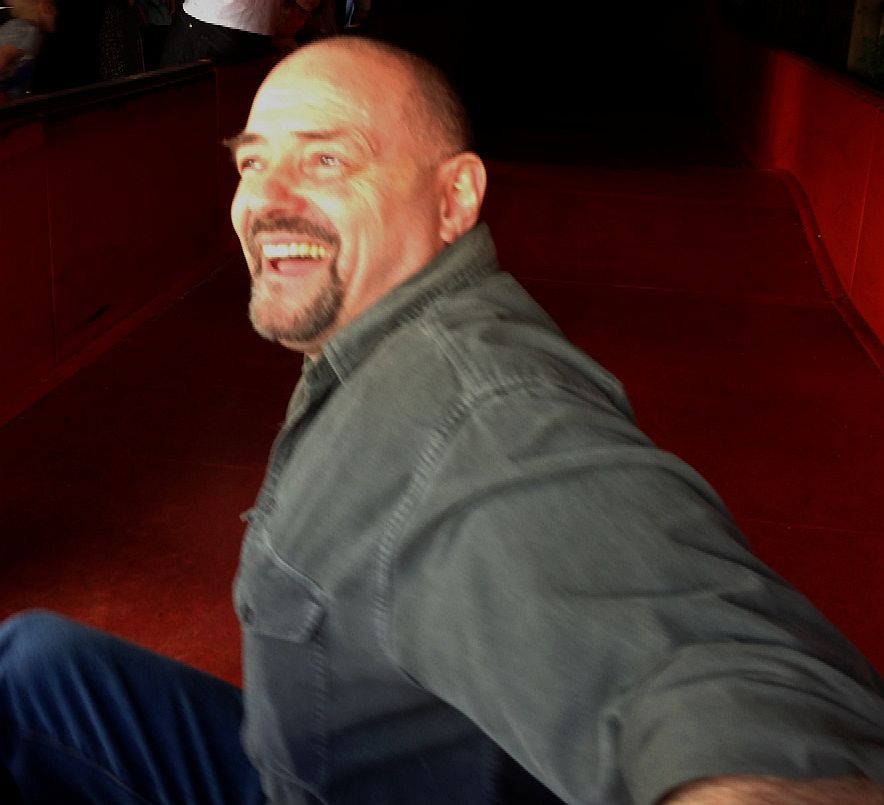 You are never too old to have fun. The 'Demon Drop' is a daring vertical slide at Knockhatch in East Sussex. It's an adrenaline-filled experience, especially the first time you let go and throw yourself over the edge (a leap of faith). This is a popular attraction (mainly for youngsters) despite also being called the Death Slide by some. The Demon Drop Slide is a daunting challenge to anyone who sits on the top for the very first time, but once you work up the nerve to face the sheer drop, you'll want another go for sure. The curved return at the foot of the drop, catapults you at ninety degrees over a hump, before the end wall brings the fun to an abrupt end. As you can see from the photo sequence above, it's a piece of cake and you will be laughing at the end.
Nelson in August 2014 - scaled all the faces of this tower in less than 12 minutes, with more time spent changing harness positions than climbing. There's nothing like a nice stretch of the arms to make you feel good. He loves climbing trees, holding a local record (unofficially) of 5 seconds to climb a small oak tree - with a later filmed attempt timed at 8 seconds. There's never a camera around when you need one.
Two secrets to coping with difficult situations, that Nelson wanted to share with us are: 1. Having a good sense of humor, and 2. Keeping fit. He explained that when he was just a lad at school in Eastbourne, he climbed Beachy Head three times in one month. Not one of his mates followed through (sensibly). The point here is that he likes a challenge, even where it can be foolhardy, provided that he thinks it can be done. In the pictures above he is using a safety harness - so no risk. When climbing Beachy Head, he used nothing at all by way of aids, grasping grass roots and shifting weight cautiously, he mastered the course, with just a few heart stopping moments. Looking back he says it was unwise and would say to anyone else not to even think about it - and he weighed a lot less in those days. That is because chalk is not particularly reliable. But then taking on the might of a local authority is even more foolhardy - and he eventually conquered that obstacle also.
Nelson still offers strategic planning advice using his trade name: Nelson Kay. He offers a completely confidential service to anyone battling unreasonable officials.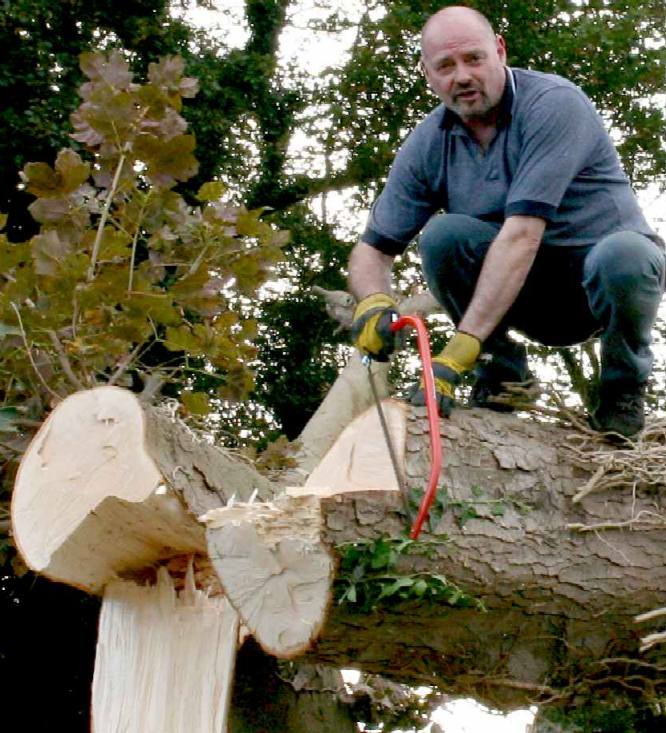 Nelson in September 2014 - He's a regular Tarzan, seen here in this photo having felled two trunks of a weed sycamore tree that was undermining the foundations of Herstmonceux Science Museum in Sussex. He climbs trees and cliffs without harnesses or aids of any kind - claiming it sharpens his focus if there is a real chance of coming a cropper. He reckons that somewhere in his family-tree there must have been a pioneer who built log cabins in the wilderness. His natural grandfather was an American, so this is quite likely - he knows of a great uncle (Albert) in Canada who built his own log cabin retreat. Do not try this yourself without at least some professional training or guidance.