Neighbours is a long-running Australian soap opera, which began airing in March 1985. It was created by Reg Watson and is produced by the Reg Grundy Organisation. Through its entire run in Australia it has screened as five 22-minute episodes a week, shown each weeknight in an early-evening slot. The 1985 season aired on the Seven Network, at 5.30 pm in Sydney and at 6.30 pm in Melbourne and other regions. From its second year the series switched to Network Ten. Between 1986 and 1991 the series was screened by Network Ten at 7.00 pm, and from 1992 they have aired the show at 6:30pm. Neighbours has a G classification, signifying that its content is suitable for viewers of any age.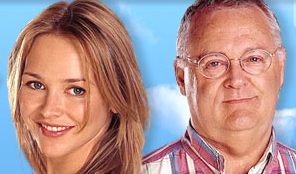 Stephanie Hoyland and Harold Bishop
The series follows the daily lives of several families who live in the six houses at the end of Ramsay Street, a quiet cul-de-sac in the fictional, middle class suburb of Erinsborough. Storylines explore the romances, family problems, domestic squabbles, and other key life events affecting the various residents. More than most serials, Neighbours features a large proportion of children and teenagers amongst its ever-rotating cast of characters.
Neighbours celebrated its twentieth anniversary in 2005 with a special episode which featured appearances from several former members of the cast.
Network history and popularity
The series originally aired on the Seven Network in Australia in 1985, but - unusually for an Australian-produced series - switched networks, moving to Network Ten in 1986.
In 1985, the Melbourne-produced program had underperformed in the crucial Sydney market leading to Seven cancelling the series at the end of that year. Neighbours was immediately picked up by the rival Network Ten. They began screening the series on that channel in early 1986. On Ten the series initially attracted low ratings. The Network worked hard to publicise the series; they revamped the show, adding several new, younger cast members including Kylie Minogue and Jason Donovan, while a concerted publicity drive largely focused on these new actors. This paid off for the series and by the end of 1987 the series attracted high ratings .
Australian ratings cooled considerably by the early 1990s. The serial saw a slight resurgence in popularity in Australia by 1998. The serial continues in Australia with adequate rating figures, frequently attracting almost a million viewers per episode.
The series is also popular in the UK where it screens on BBC One usually attracting between five and six million viewers.
Neighbours internationally
The show is also popular in the United Kingdom where it quickly gained a cult following after it began airing there in 1986. BBC One began by screening it at lunchtime, but it was soon given an early evening repeat slot by controller Michael Grade on the advice of his daughter. In the late 1980s it regularly had a UK audience of over eighteen million and was watched by more people than the population of Australia at that time. At this time, the UK were an astonishing eighteen months behind Australia's airings but has since caught up heavily due to the cast and crew's four week break from filming and airing.
In the UK episodes are generally shown three months after their original Australian broadcast. The BBC frequently removes the show from its schedule during major sports tournaments such as Wimbledon and bank holidays to accommodate the programme's four-week summer break in Australia.
Accounting for the duplication of viewers across its two UK showings a day, the show rates on average over five million viewers a day, making it the highest rated Commonwealth import on British television and one of the most popular international imports, rating higher than US programmes such as Desperate Housewives and Lost. Rumours are currently circulating that the BBC plans to give 'first-chance' Neighbours on the networks digital channel BBC Three in order to boost that channel's ratings. Most likely, the episode following BBC One's most recent broadcast will be shown after 7pm. However, the episode could even be up to date with the Australian episodes.
It also airs every evening on Irish TV station RTÉ Two at 5.30. These episodes are also about three months behind the Australian network.
The show has also been sold to networks in many other countries. Episodes from 1999 were aired for a six-week trial basis on the American channel Oxygen in March of 2004. At first, it was shown in the afternoon opposite higher-rated American soaps such as The Young and the Restless and All My Children, which gave the show anemic ratings from the first airing; the people who would be most interested in the show were watching other, more established serials. After a couple of weeks, the show moved to a late-night time slot and eventually left the air entirely. It was not the first Australian soap opera to be aired in the United States: The Sullivans, Prisoner, Home and Away, Paradise Beach, and Pacific Drive had also been previously shown.
It has been long aired by Television New Zealand and screens twice daily at 11:30am and 5:00pm. It was initially aired by TVNZ when Neighbours started showing in New Zealand in 1988, but by 1996 it had been removed from the schedule. Canwest's TV4 (now C4) picked it up and aired it from 1997 to 2000. They dropped it in 2000, and it returned to TV2 in 2002, where it has stayed since.
Neighbours is aired in Belgium on the VRT at 5:30pm, Monday to Saturday. The show has been broadcast in Belgium since 1988; they are three years behind Australia. In Kenya, Neighbours airs on the KTN network at 12.30pm, Monday to Friday with an omnibus on Sunday mornings. They are approximately three years behind Australia. Neighbours is also aired in Barbados on CBC8, Monday to Friday. They are approximately four years behind Australia.
SCREENED and UPCOMING EPISODES - example storylines: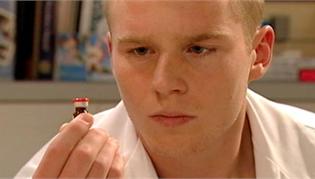 The Anne In The Lyin' Mask - Friday 1st December 2006

Boyd stumbles upon a secret at the hospital, putting his career in jeopardy. Lyn risks everything to save her home and the man she loves. Bree realises that Anne wants her life! Lou plays up his symptoms to win Janelle's sympathy. Susan discovers what Zeke's been up to in the roof.
Boyd escorts an intoxicated patron from the ScarletBar. Unfortunately, the disgruntled customer turns out to be his new lecturer, Dr Herbert, who gives him a hard time in class. Boyd confronts her, seeking a fresh start, but spots some morphine that she is hiding in her bag. He decides he can't report her without further proof but returns home to find the vials planted in his bag. Dr Herbert is setting him up!
Lyn uses feisty former mafiosa Carmella to try and bluff her way out of the massive patent lawsuit. While her show of strength is impressive, it fails. Lyn must accept the fact that she'll lose her house, and possibly Paul.
Bree lashes out at Anne and gets in serious trouble with Susan and Janelle. She regrets her behaviour until she sees how intimate Anne is with her family. She makes a scary realisation: Anne is trying to take over her life!

Taking The Izzy Way Out - Thu 30th November 2006

Reeling from the discovery of Elle's deception, Dylan tells Sky he wants her back. Wracked with guilt about her own lies, Sky pushes him away. When medical records go missing she panics and is sprung by Izzy, who's busy hunting for her own file. Izzy guesses that Sky is trying to hide the fact that Dylan is not the father of her baby but vows not to say a word to anyone. With a wealth of experience in the matter, she advises Sky to do the best thing for her baby, even if it means lying to the man she loves. Finally feeling justified, Sky gets back together with Dylan.

Wishful Shrinking - Wed 29th November 2006

Fulfilling his promise to Cameron, Paul begins his sessions with a psychiatrist. Forced to examine his past, Paul begins to understand the reasons behind his tumultuous relationship with Izzy. Barred from using his mobile phone during the session, Elle is unable to get through to warn him that Cameron's condition is deteriorating. Before he is rushed to surgery, Cam makes Carmella promise that she will look after Elle, and asks Elle to keep supporting their dad. However, the news of his son's death fills Paul with renewed anger at Max. Any promise he made to Cameron is rendered meaningless.
Steph and Max finally start talking about their marriage difficulties but when Cameron dies, Max is inconsolable. Despite Steph's insistence that he is not at fault, Max can't stop blaming himself.
Rat On A Hot Tin Roof - Tuesday 28th November 2006
Paul feels like a new man. After apologising for being such a terrible father figure, he has his children's love and support, Cam plans to join the family business, he makes amends with Max and even agrees to see a psychiatrist. Nothing can go wrong... except for the fact that Cam is nowhere near as well as he would have his father believe. Cam makes Elle vow to keep his condition secret to save Paul from falling off the wagon.
Susan is shocked to learn that Katya plans to leave because of Steph's threat. She speaks to Max and discovers he isn't opposed to the idea either, knowing it would benefit his marriage. Susan tells him he's being selfish and has another talk with Katya. Persuaded to ride out the trouble, Katya decides to stay in Ramsay Street much to Susan and Zeke's delight.
One Steph Beyond - Monday 27th November 2006
Steph and Max find their marriage on shaky ground in the aftermath of the accident and Toadie points out that Steph is using work to avoid her husband. Steph finally returns home to find Charlie unwell and panics. Max reassures her that he is fine but with all their current stress his relaxed attitude just winds Steph up. Their bickering still leaves the greater issues unresolved.
When Katya struggles to understand why everyone is upset with her, Toadie pulls no punches explaining how her selfish actions have affected others. Katya tries to apologise to Steph but is issued with a stark threat: get out of town!
Bridge Over The River Lie - Friday 24th November 2006
Having narrowly avoided the police at the checkpoint, Stingray faces questions the next day. He sticks to his story until Rachel confronts him. He admits that he drove a drunken woman home and ran because he's unlicensed, but leaves out the vital fact that he'd also been drinking himself. This is enough to pacify Rachel. Admitting they're lost without each other, they reunite as a couple.
Lou fears he may be suffering from early onset Alzheimer's. Karl explains that his symptoms don't match but that early signs are often impossible to diagnose. He's told to be on guard for any further indicators but Lou seems far more interested in how much more sympathy he can get from Janelle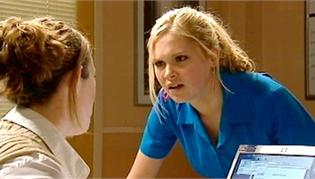 Faking Up Your Mind
Monday 4th December 2006

Janae urges Boyd to speak to the hospital authorities about Sally Herbert's inappropriate behaviour but he's apprehensive about taking on a senior doctor. Dr Herbert, hoping to discredit Boyd, digs out damaging information about his former abuse of growth hormones. Janae takes matters into her own hands leading to an altercation in which Katya witnesses Janae being physically aggressive. Katya gives evidence against Janae, adding further tension to Boyd and Katya's strained relationship after the rumours about her relationship with Max. When Boyd is at risk of being busted with the drugs before he's had a chance to return them, he places them in Katya's bag to save their skins.
Bree's feeling of isolation from her family and frustration with Anne increase. She tells Anne to back off. Anne runs to Zeke for comfort and Zeke is appalled by Bree's spoilt brat behaviour. When Bree attempts to make amends with Zeke he tells her he's taking Anne to the school formal instead of her!
Storylines
In the beginning, the show mainly focused on two families, the Robinsons and the Ramsays (after whom "Ramsay Street" is named) who were - as the name of the show suggests - neighbours. The show initially gained notoriety for its depiction of the teenage romance of Scott Robinson and Charlene Mitchell (Jason Donovan and Kylie Minogue). Their Romeo and Juliet style romance culminating in a wedding was keenly anticipated by viewers and is still fondly regarded by fans as being one of the high points of the series. Another popular couple in the show's early days was the pairing of Des Clarke (Paul Keane) and Daphne Lawrence (Elaine Smith), a couple who also lived on Ramsay Street alongside the Ramsays and the Robinsons. Daphne's death in 1988 is still considered as one of the most emotional moments on the show. It was the first death of a main character.
Until recently, both the Ramsays and the Robinsons had been written out of the series, with the sole exception of the Bishop family (who are related to the Ramsays through the marriage of Harold Bishop (Ian Smith) to the late Madge Ramsay (Anne Charleston)). However, one of the original characters, Paul Robinson (Stefan Dennis), made a return to the show as a regular character in the final episode of 2004. Today the show revolves around the Robinson, Scully, Hoyland, Timmins and Kinski clans, along with several other residents who live in Ramsay Street.
In the late 1990s, Neighbours gained the reputation as being a somewhat conservative soap with topics such as sex generally not being included in the storylines due to its early evening timeslot in Australia and the United Kingdom (Earlier storylines involving controversial topics such as incest and teenage sex were often censored by the BBC in the UK, which may account for the reluctance on the part of producers to depict controversial issues). In the past two years this has started to change, with the show now regularly featuring its teenage characters discussing issues such as sex and contraception in a manner which has not been seen on the show since the mid 1990s. Recently, the show has depicted a lesbian storyline involving Sky Mangel (Stephanie McIntosh) and Lana Crawford (Bridget Neval). An arguably illegal relationship has started between the 18-year-old character Stingray Timmins (Ben Nicholas) and 14-year-old Rachel Kinski (Caitlin Stasey), although the two did not actually sleep together. There was also not one, not two, but three incest storylines; the first saw Lucy Robinson in a relationship with her half brother Glen - whom her dad had fathered during the Vietnam War - despite both knowing that they were related. They ended things however, as they knew they should act like brother and sister. The second involved Serena Bishop (Lara Sacher) and Luka Dokich (Keelan O'Hehir), who embarked on an intimate relationship, blissfully ignorant of the fact that they were half-siblings, sharing a mother, Liljana Bishop (Marcella Russo). The third storyline to touch on this taboo subject was the plotline in which Harold Bishop became obsessed with a younger woman who bore an uncanny resemblance to his deceased daughter, Kerry (in fact, the character was played by Linda Hartley-Clark, who did indeed play Kerry Bishop years earlier.) The pair went as far as sharing a kiss, which ultimately made Harold 'snap out' of his obsession. The character of Sindi Watts (Marisa Warrington) has also been involved in storylines involving stripping and prostitution.
The break up of long time married couple Karl (Alan Fletcher) and Susan Kennedy (Jackie Woodburne) and soon after Joe (Shane Connor) and Lyn Scully (Janet Andrewartha) has also been a great source of interest to viewers, especially since it has led to a long running storyline in which Izzy Hoyland (Natalie Bassingthwaighte) duped Karl into believing that he was the father of her unborn child continuing the charade long after she tragically miscarried in November 2004. After over a year of manipulation, Izzy's lies came to light in a spectacular fashion, and despite a last ditch attempt by Izzy to gain Karl's sympathy by falsely claiming that she was raped, Karl finally dumped Izzy for good.
Late in the 2005 season came a highly dramatic storyline where a large contingent of Ramsay Street regulars went on a joyflight on a Douglas DC-3 aircraft over Bass Strait. A time bomb had also been planted in the plane's undercarriage. During the flight Izzy discovered a note in her seat pocket addressed 'To my one and only' which read 'Think about your life and everything you've done.'
The bomb soon went off, sending the plane crashing into the ocean below. David (Kevin Harrington), Liljana and Serena were presumably killed, although only David's body has been recovered. Paul, Elle (Pippa Black), Izzy, and Sky were quickly found and taken to hospital. Susan was missing for a few days but eventually rescued. Dylan (Damien Bodie) and Connor (Patrick Harvey), who believed Dylan was wanted for armed robbery, survived washed up on a desolate beach and decided to fake their own deaths by assuming new identities, but they eventually returned to Erinsborough. Through flashbacks and conversations with his comatose brother Cameron (Adam Hunter), Robert Robinson (also played by Hunter), Paul's son, has been revealed to have been the one who planted the bomb on the plane; a crime which Paul believed to have been committed by Cameron until Robert admitted it when he attempted to kill Paul. Paul was eventually rescued and he vows to get revenge on his son. Robert soon returned and kidnapped Katya, despite being in love with her. Paul and Gail attempted to lure Robert back by staging a fake wedding and he eventually returned. Paul told Robert to show himself and he eventually did and shot Paul. Paul was only wounded and then Robert was arrested.
In mid-2006 Sky became pregnant with what she believed was Dylan's baby, but was later told that the baby was a product of a one night stand with his brother, Stingray. Sky kept this a secret to have a family with Dylan, however, Elle Robinson who was dating Dylan at the time, faked a life-threatening disease so that Dylan would stay with her. Dylan later found out that Elle was faking it, and went back to Sky. Later on, Cameron was hit by Max's car after chasing Katya to give her her purse back (Max thought it was the escaped Robert). He died soon afterwards. Elle then made it her personal mission to drive Max insane, and succeeded. Max disappeared leaving behind only a family photo and jacket, distressing Steph and Boyd. Elle has since discovered it was wrong to do what she did and hired a P.I. to find him with no success, as Harold later informed Steph that Max did not want to be found.
Carmella Cammeniti's cousin Teresa Cammeniti threw a pot of boiling water on Carmella and set fire to Erinsborough Hospital just as Sky was giving birth to a baby girl. As they evacuated, the baby was stolen by Stingray Timmins, who later passed out in bushes with her because of intoxication. Dylan found the baby and kept her for the three days that followed, without contacting anybody. Kerry was later anonymously returned to Sky by Elle, and Carmella was left with permanent facial burns.
Dylan states that the baby is his, so the baby "Kerry", Stingray and Dylan got a blood test. It turned out that Dr Karl Kennedy had made a mistake. The real father of the baby is actually Dylan. Boyd has an affair with another girl while he is in Tasmania searching for his father.
Cast -
Current cast members
No 22
No 24
No 26
No 28
No 30
No 32
Notable celebrity guest appearances
Derek Nimmo as Lord Ledgerwood (1990)

Chris Lowe of The Pet Shop Boys (1995)

Clive James as a postman (1996)

Barry Sheene as himself (1997)

Human Nature as themselves (2000)

The Wiggles (2001)

Glenn Wheatley as himself (2002)

Shane Warne as himself (2006)

Rove McManus as himself (2006)

Brodie Holland as himself (2006)

Andrew G as himself (2007)

Emma Bunton as herself (2007)

Jo Whiley as a speaking extra (2007)

Michael Parkinson (2007)

Julian Clary (2007)

Neil Morrissey (2007)
Theme Music
The Neighbours theme music was written by Tony Hatch with lyrics by his then wife, Jackie Trent.
Since 1985 there have been five distinctly different renditions of the theme broadcast on television. They were sung by the following artists:
Version One: Barry Crocker (1985-1989)

Version Two: Barry Crocker (1989-1992)

Version Three: Greg Hind (1992-1998)

Version Four: Paul Norton & Wendy Stapleton (1999-2001)

Version Five: Janine Maunder (2002-present)
Each version has received during its stint some minor changes to keep it fresh. For example, version one received a few edits following the "day", "away", "blend" and "friends" climaxes during its run on Channel Seven in 1985. The following years on Network TEN used an unedited version.
The opening theme of version two changed frequently: for part of 1990 there was a full length song, however, mid-way through 1990 this changed to a 10-second instrumental piece for a few weeks, before being replaced by a vocal version of the same short piece until version three debuted in mid-1992.
Version three used a funky 23 second opening song until 1994 when a slightly longer piece was implemented. This piece was used as a closing theme for United Kingdom broadcasts from 1995 onwards, despite the original full version being retained elsewhere.
Version four debuted in 1999, again with a shortened theme for UK transmission. The only changes made to the full-length closing theme during this era was the removal of the backing line "that's when good" from mid-2000 onwards, although this remained outside of Australia.
Version five again used a shorter piece of closing music for the UK market, with the rest of the world using the same 76 second variant.
During 2005, producers of the programme suggested there would be a new theme tune the following year with new opening titles to match. New titles, and a slightly remixed theme tune debuted the following year. All markets began transmitting the same 45 second edited version of the closing theme (UK broadcasts retained the previous 35 second arrangement for a few weeks). However, by mid-2006, the UK had received a slightly edited version of the new closing bringing it back in line with the 35 seconds allowed by the BBC, whilst Australia had gone back to a near-full length track, albeit with minor edits at various sections to keep running time to a minimum. The opening theme has remained unchanged throughout this run.
Locations
Neighbours is taped in Melbourne. Interior scenes are taped at the Global Television studios in Nunawading, Victoria in the eastern suburbs of Melbourne. These studios were previously the Network Ten studios; Ten moved to South Yarra selling their previous studios but continued to tape some of their programs there, leasing the facilities from the new owners. Pin Oak Court in nearby Vermont South has been used for outdoor taping to represent the fictional Ramsay Street through the program's entire run, including the episodes produced by the Seven Network.
In the story Ramsay Street is situated in the fictional suburb of Erinsborough. Though it is not strongly emphasised so as to not alienate viewers in other Australian cities, Erinsborough (an anagram of 'Or Neighbours') is a suburb of Melbourne. Erinsborough is often contrasted with the neighbouring, and equally fictitious, suburb of Eden Hills. Other locations often mentioned (and sometimes seen) in the show include West Waratah, Waratah Heights and Anson's Corner.
Other recurring locations include:
Lassiter's Hotel Complex: Lassiter's Complex is the most common location used in Neighbours besides Ramsay Street, and it has been a regular occurrence since 1986. When Neighbours switched from the Seven Network to Network Ten, the producers decided to convert an old set on the Channel Ten backlot that had been built for the shortlived 1981 series Holiday Island into the Lassiter's Complex. It includes:

Lassiter's Hotel: Originally owned by Jack Lassiter, Rosemary Daniels and the Daniels/Robinson Corporation then bought the Erinsborough branch and took control of the entire chain of hotels worldwide. Lassiter's was sold to Lambert Industries in 2002 who owned the company until the destruction of the Erinsborough complex in 2004 when it was bought back by Paul Robinson. The Erinsborough hotel has had such employees as Felicity Scully, Paul Robinson, Toadfish Rebecchi, Melanie Pearson, Christina Alessi and Taj Coppin. Lassiter's other branches exist in Darwin, London, Montana and New York, to name but a few locations. Within the Erinsborough hotel is a shopping arcade, which among other concessions has a book store, chemists shop, clothing boutique and gift shop, whilst dining is provided at the hotel's restaurants including the recently opened "Lucinda's At Lassiter's". For the convenience of guests, a fitness suite, health spa and function facilities are also available at Lassiter's. Forming an attractive courtyard area within the hotel grounds are the following independently managed businesses:

The General Store: A café/Post Office/Basic Stationery store, that is owned by Lou Carpenter and Harold Bishop. It was originally owned by Daphne Lawrence under the name "Daphne's". Throughout its time it has had many other owners as well, including Madge Bishop and Isabelle Hoyland, and has also gone by the names "The Hungry Bite" when it was taken over by Stephen Gottlieb, "The Holy Roll" when it was taken over by Mark Gottlieb and "The Coffee Shop" when the Bishops got it. In the 2004 Season finale, Lou's Place was set alight and burned down, while "The Coffee Shop", although not being totally destroyed, needed major repairs and renovations. Harold and Isabelle ended their partnership, and he started a partnership with Lou. They got the Coffee Shop rebuilt, and renamed it "The General Store". During his midlife crisis, Lou Carpenter insisted upon calling it the "GS", much to Harold's disgust. The General Store was owned by Paul Robinson after Paul opened up a rival cafe within the Lassiter's complex which drove Lou and Harold broke, making them unable to pay the rent for their store. Lou managed to get the Store back by tricking Paul into thinking it needed major structural repairs.

Scarlet Bar: A Bar/Restaurant owned by Paul Robinson and leased to Max and Isabelle Hoyland. It had previously been "The Waterhole", during which time it was officially Lassiter's Hotel bar and run by hotel management. However, Cheryl Stark was forced to sell off her newly acquired shares in the complex in 1995 and decided to run the pub enterprise independently. Between 1994 and 1996, the bar was called "Chez Chez" in honour of its manageress but following Cheryl's death and a refit, Lou decided to make his own mark and "Lou's Place" was born. In 2004, it was set on fire and burnt to the ground along with the "Coffee Shop". Max Hoyland ended his partnership with Lou and started a partnership with his sister Izzy, and they built "Scarlet Bar" on the site that "Lou's Place" had previously stood. Max originally wanted to call it "Max-Iz", but Izzy decided to change the name to "Scarlet Bar" at the last minute without informing her brother.

Erinsborough Medical Centre: Erinsborough Medical Centre used to be Paul's office at Lassiter's Hotel and office of Helen Daniels' chauffeur business 'Home James', but was then bought by Karl Kennedy and converted into a medical centre. As of 2003 the legal firm "Tim Collins and Associates" has shared the building with the medical centre. It was extensively damaged in the fire of 2004, but has recently been rebuilt.

A Good Hair Day Salon: "A Good Hair Day" is a salon owned by Gino Esposito. It has had such employees as Felicity Scully, Lyn Scully and Janelle Timmins. The salon occupies a section of the north wing of the hotel building, which once housed "Lassiter's Brasserie".

Erinsborough High School: Erinsborough High School is Erinsborough and West Waratah's high school, which many teenage residents have attended, as well as teachers including Dorothy Burke, Lisa Elliott, Tess Bell, Evan Hancock, Libby Kennedy, Susan Kinski, Paul Robinson and Pepper Steiger. Karl Kennedy has often come in to talk to the children on various subjects, but his most recent "gig" with the school has been the school counsillor position which got him into some hot water, as many believed he was having a relationship with a minor, none other than Janae Timmins. The current principal is Candace Barkham, although V.C.E. co-ordinator Susan Kinski is acting principal whilst Candace is on leave. Previous principals have been Dorothy Burke and Susan Kennedy (as she was known when she was the permanent principal, before her amnesia-resulting accident). The school is also occasionally used for community events, such as the Serbian Youth Night.
Erinsborough Hospital: Erinsborough Hospital is where the residents of Erinsborough go to if they need major medical attention. Residents who have worked there include Pam Willis, Dee Bliss, Darcy Tyler, Karl Kennedy, Katya Kinski, Robert Robinson.
Grease Monkeys: Grease Monkeys is Erinsborough's fast food restaurant, in which many of the younger members of the cast dine regularly. It was originally owned by Madge and Harold Bishop and former employees include Felicity Scully, Tad Reeves and Sky Mangel.
Carpenter's Mechanics: Carpenter's Mechanics is a garage to which the residents take their cars if they need mechanical attention. It was originally owned by Lou Carpenter and Ben Atkins, since then Drew Kirk bought into the business. Lou gave his godson, Ben Kirk part of his share as a christening present, and Drew's wife Libby Kennedy inherited Drew's share upon his death. Stuart Parker and Steph Hoyland have both worked there. And most recently Janae Timmins.
Groups, Societies and Competitions
Erinsborough may only be a small suburb but it has housed many diverse organisations over the years, which all seem to have a healthy following. Some of these have included:
Theatrical society (Gino Esposito directed a production)

Erinsborough Chess Club (Karl Kennedy and Zeke Kinski reached the final of a contest in 2006)

Tibetan Society (Katya Kinski and Max Hoyland attended language classes)

Serbian Society (Svetlanka Ristic frequented one)

Russian Club (Lou Carpenter took his love interest Mishka to make her feel more at home)

Variety Club (Lou Carpenter and Mark Gottlieb attended and Mark subsequently went with his girlfriend Annalise Hartman on a roadtrip organised by the club)

Life Mechanics (Cult-esque life management group attended by Stuart Parker)

Grey Growlers (Senior citizens basketball team players included Madge Bishop)

Roleplaying Club (Lou Carpenter joined a Dungeons & Dragons-esque club)

Poetry contest

Advertising contest

Cake competition (Madge Bishop and Nell Mangel entered one)

Aussie BBQ competition (Many members of the street entered with Joe Scully wanting to win the most!)

Pie-eating contest (Toadfish Rebecchi skived work to attend one, Max Ramsay took part in one)

Ice-creaming eating contest

The 'Jog For Justice' Race

Table-tennis contest

Uni FM's Undiscovered Song Contest (Nina Tucker, entered with the song "Born to Try" (a real-life single by Delta Goodrem)

Grandchild of the Year/Cutest Grandchild Contest (Sam Kratz entered this, or rather was entered by his grandmother Marlene)

Beautiful baby contest (Des Clarke and Kerry Bishop entered their respective children Jamie and Sky in one)

Mr. Erinsborough competition (Both Stuart Parker and Ned Parker entered)

Beauty contest (numerous)

Swimming contest (several)

Talent contest (several)

Dancing contest (several)
Shane Connor's sacking
After being fired from the series in 2003, former cast member Shane Connor (who played character Joe Scully) filed for wrongful dismissal. Evidence presented in court in October 2005 described alleged on-set problems such as arguments with the cast and crew, lateness and absenteeism. This behaviour has been connected to the actor's period of drug use, after the death of his brother.[2] Connor admitted that he'd had problems in that period, prior to receiving a final warning in April 2003, but contested Grundy's claims that he had acted unprofessionally immediately before his dismissal in September 2003. He won the case and was awarded AUD $196,709 plus interest and costs.[3] Connor is now living in the UK, where he is appearing in commercials and makes appearances at university students unions.
Filming in the UK
Natalie Bassingthwaighte who plays Izzy Hoyland exclusively revealed on the 'Behind the scenes' show about the National Television Awards that certain cast members are in the UK filming special scenes for an upcoming episode, which will revolve around Izzy, Susan and Karl. She claimed the episode will be dramatic. On Jo Whiley's BBC Radio 1 programme (broadcast on 2nd November 2006), the actors stated in an interview that the events in the episode will surround Susan and Karl's holiday to the UK, and randomly meeting Izzy, who moves there after leaving Ramsay Street (her exit is to be shown in the UK on 14th December 2006).
LINKS
---
SOAPS:
CASUALTY | CORRIE | EASTENDERS | EMMERDALE | HOLBY | NEIGHBOURS | THE BILL
BRITISH ACADEMY TV AWARDS | BRITISH SOAP AWARDS | NATIONAL TV AWARDS
A - Z FILMS INDEX
A - Z ACTORS INDEX
---
A taste for adventure capitalists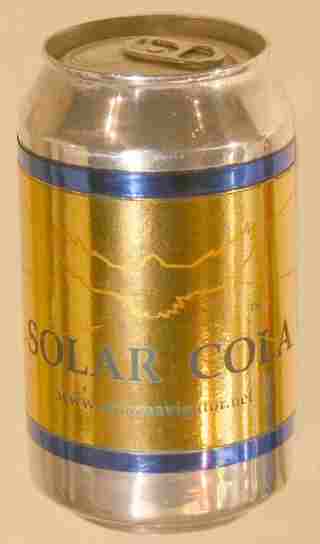 Solar Cola - a healthier alternative