Jolt Cola is a highly caffeinated cola made in the United States. Jolt was created in 1985 by C. J. Rapp and originally came in a red aluminum can with blue horizontal stripes encircling the can. The Jolt Cola logo has the word "JOLT" in jumbled white capitals with a colored outline and a yellow or gold lightning bolt going through the letter "O".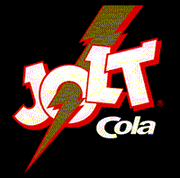 Jolt Cola in the US
Originally, Jolt Cola was fairly controversial, especially among parents. Its early advertisements tended to use a fair amount of sex appeal to attract a young male demographic. Jolt Cola has about the same amount of caffeine as regular coffee, and twice the amount of caffeine as Coca-Cola, with an early marketing slogan of "Real sugar, and twice the caffeine of a regular cola." (This slogan was dropped when they began using corn syrup as the sweetener instead of cane sugar.)
Because it provides energy to work throughout the night, Jolt Cola is a favorite energy drink among many gamers, computer programmers, hackers, and at LAN parties. In fact, Jolt Cola was even featured in Steven Spielberg's 1993 film Jurassic Park, in a scene which shows computer programmer Dennis Nedry's work station covered with Jolt cola cans & bottles. It was also shown in several scenes in the film Hackers; in one of the scenes, hackers Razor and Blade refer to it as "Jolt Cola: THE soft drink of the elite hacker."
Jolt Cola was originally made by The Jolt Cola Company of Rochester, New York which has since changed its name to Wet Planet Beverages, reflecting a more diverse product line. Glass Bottles of Jolt are now bottled in Los Angeles, California by the 7-UP Bottling Corporation, whereas cans are made at a Chicago area factory.
A "Diet Jolt" was briefly available in the mid-1990s, but was dropped due to poor sales. Diet Jolt removed the sugar from the cola, but did not replace it with any artificial sweetener. Jolt Cola has since diversified into additional flavors named Cherry Bomb, Citrus Climax, Orange Blast, White Lightning, Red Eye, and Electric Blue.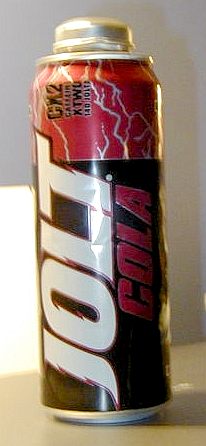 "battery bottle"
In 2003, the name was licensed to a Hackensack, N.J. company named Gumrunners, Inc., which manufactures a line of caffeinated gum bearing the distinctive Jolt label and the slogan "Chew More, Do More." The gum comes in two flavors: spearmint and icy mint.
In 2005, Jolt Cola revamped their product line. Jolt Cola is now found in "battery bottles" (a 23.5 oz / 700 mL resealable aluminum bottle), and there is a new logo; however the logo shown above is also depicted on the battery bottle. The flavors offered have also changed. The battery bottle flavors are Jolt Cola, Blue, Cherry Bomb, Red, Silver, and Ultra (which is a diet drink, utilizing Splenda as its artificial sweetener, also containing Guarana, Ginseng, Taurine, and Vitamin B complex). Many long-time Jolt Cola drinkers have complained, albeit mildly, that though the new image and format is admittedly more modern and stylish, that it lacks the distinctive Jolt "flavour", especially including the significant lack of the classic logo (which does appear, as mentioned, in miniature on the side of the can, and only as the corporate logo), for which the drink had become instantly recognisable.
Jolt Cola worldwide
Jolt Cola is also manufactured under license in Germany, Australia, Sweden and formerly (and briefly) in the United Kingdom (where it was a budget cola). The German and Swedish supplier uses the old logos, branding and formulation, and sells only the basic Cola flavor. Jolt Cola is also available in the Netherlands. However, Jolt Cola Netherlands is a subsidiary of Jolt Cola Germany.
In Australia Jolt has been available in the traditional cola flavor, as well as black cherry, root beer, cream soda, and orange flavors, and new flavors were announced for late 2005. Jolt Cola is available in Australia but hard to purchase in large supermarket chains which usually choose not to stock the product in any form.
Jolt remains available in Canada in standard 12-ounce (355 mL) cans, sporting the traditional logo and the new 23.5-ounce (700 mL) "battery bottles".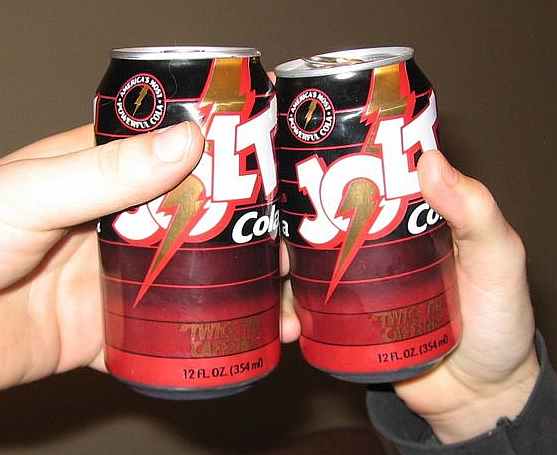 Two gamers with toast each others Jolt
Jolt Wakes Up to Keyed-Up Category - April 16, 2007
Sector's Sales Jumped Almost 50% Last Year, and the Original Energy Drink Wants a Taste of the Revenue
CHICAGO Remember Jolt? It was the original energy drink created in 1985 by C.J. Rapp, now CEO of Wet Planet Beverages.
Now 22 years in the market, Jolt is looking to regain the cultural cache it once held
and twice the caffeine" and was proud to be unhealthful. But it's since been asleep at the marketing wheel. The clever positioning that catapulted Jolt cola into the hands of nascent hackers, computer programmers, gamers and party people 20 years ago has faded even as energy drinks explode in popularity.
"We were the first to recognize that at the time the contemporary lifestyles were far more demanding than any generation prior, and the by-product was less sleep," Mr. Rapp said. "Therefore, we felt there was a genuine need for a stimulating beverage."
Within five years, Jolt had moved away from the cola wars to "position itself for longevity" as the high-octane beverage, a position it has quietly held ever since.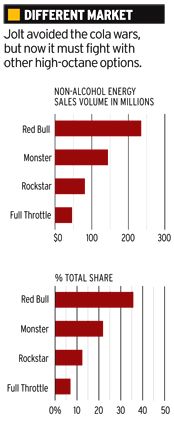 Source: Beverage Business Insights

An old hand

Now, at the mature age of 22, Jolt wants to compete at the highest levels of the energy-drink category. With the sector growth of 49% in 2006, according to a Beverage Digest report, and the energy-drink category holding an 0.8% share of the beverage market, Mr. Rapp thinks the time is right. "All boats go up with the rising tide," he said. "There's no doubt that we are encouraged by the growing and thriving of energy drinks as a whole."

With Connecticut advertising agency Colangelo by its side, Jolt is looking to play up its brand equity and overcome some misperceptions.

As a brand that lent authenticity to computer-nerd characters in '80s and '90s movies such as "Jurassic Park," "Hackers" and "Gremlins 2: The New Batch" (long before paid product placement was even a consideration), Jolt does have an older fan base with which to reacquaint itself, although its target audience is people between 16 and 30.

"We are fortunate the name has tremendous equity," Mr. Rapp said. "It's surprising even to me how many people have a Jolt story." He said he is also hoping to bank on a brand personality that is more playful and devilish, as opposed to what he perceives as the aggression of some of Jolt's competitors.

The real void Mr. Rapp said Jolt is filling in the energy-drink category is one of taste, with flavors such as "blue," "ultra" and cherry in addition to the original cola. The drink has at least as much caffeine as its competitors: A 16-ounce battery can of Jolt has the same amount of caffeine as two cups of coffee or two Mountain Dews.


Buzzing with anticipation

The privately held company does not break out sales figures, but with a distribution deal with Cadbury and Walgreens and a marketing campaign launching this summer, Mr. Rapp hopes Jolt's popularity and sales will hit new heights. He's putting seven-figure media spending into print, outdoor, digital, trade and distributor marketing to make sure that happens. The spending puts Jolt at the level of competitors such as Amp, Monster and Vault but still well behind category leader Red Bull, which spent $40 million on measured media in 2006, according to TNS Media Intelligence.

Gerry Khermouch, editor of Beverage Business Insights, said it isn't unreasonable for Jolt to hope to move to a higher level in the energy-drink category. "Maybe it won't quite get to the magnitude of a Red Bull or Monster or Rock Star, but it can still break out of that 0.5% share that is inhabited by a couple of dozen other brands," he said. "Their heritage is a help. It's paradoxical that if you undermarket your brand over the years, that actually can help when you are trying to reinvent yourself."
LINKS and REFERENCES
---
A taste for adventure capitalists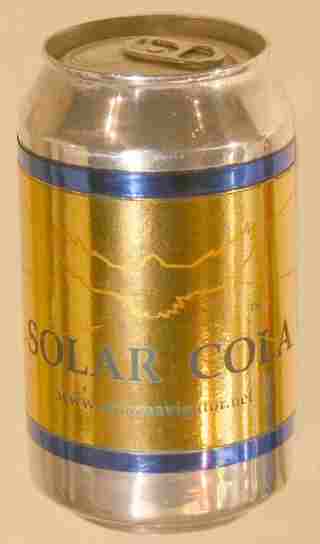 Solar Cola - a healthier alternative