Lucozade is an energy drink containing glucose syrup and is produced by GlaxoSmithKline plc in Gloucestershire. It was first manufactured in 1927 by a Newcastle chemist, who experimented for several years to provide a source of energy for those who are sick. It became available throughout the UK for use in hospitals under the name Glucozade. This was changed to the recognizable Lucozade in 1929.
The company then became part of the Beecham and after mergers, by SmithKline Beecham, then in 2000, GlaxoSmithKline. In 1953, a factory was opened in Brentford, which (until 2004) had an iconic sign seen next to the side of the M4 (now in Gunnersbury Park Museum). People in Brentford were apparently deeply upset when the sign was removed. Lucozade (with Ribena) is now made at the Royal Forest Factory at Coleford in the Forest of Dean.
The product was sold in a glass bottle with a Cellophane wrap until 1983, when the advertising agency Ogilvy & Mather set about rebranding Lucozade as an energy drink. The slogan "Lucozade aids recovery" was replaced by "Lucozade replaces lost energy", and the ad campaign featured the world and olympic champion decathlete Daley Thompson with a soundtrack of the Iron Maiden song Phantom of the Opera. The original packaging was changed to polyethylene terephthalate (PET) bottling. The effect of the re-branding was dramatic: between 1984 and 1989, the value of UK sales of the drink tripled to almost $150 million.
Lucozade is available in Original, Orange, Lemon, Tropical, Apple and Wild Berry flavours.[1]
Lucozade Sport
Lucozade Sport is a sports drink containing glucose, first produced in 1990. Since then, they have produced a number of other related products including Sport Carbo Gel, Energy Bars, and Hydro Active.
Lucozade Sport is a major sponsor of events, teams and athletes in the UK and Ireland including the Amateur Rowing Association (ARA), FA Premier League, England Rugby Football Union, The Irish Football Team, The London Marathon, Michael Owen, Steven Gerrard, Damien Duff, James Cracknell, and Jonny Wilkinson.
Lucozade Sport can now be purchased on-line at their sport science shop [2]. The powder is made on Stoke Poges Lane in Slough at the same factory that makes Horlicks.
Hypoglycaemia
Lucozade is a quick-acting carbohydrate that can be used to treat hypoglycaemia. To substantiate the new claims on bottles of Lucozade that it is 'brain and body' energy there are now significant levels of caffeine present in the Lucozade Solstis variety, making it unsuitable to persons sensitive to this ingredient. Lucozade Solstis is an analogue to Red Bull with taurine added.
Trivia
Lucozade drink was advertised in a computer game Superfrog (1993). In the game a main character, Superfrog, got its powers and extra energy by drinking Lucozade.

At one point, Lara Croft was a spokesperson for the brand and the name on bottles was temporarily changed to Larazade.[3]

Lucozade is also referred to as "Hospital Champagne", as mentioned in the Godley and Creme song "Get Well Soon".

Tl Darby player Scott Naylor keeps two bottles of lucozade in his car as a superstition.

The UK rapper Kyza released the song Lucozade Bottles in 2006.

Hijackers planned to smuggle liquid explosives onboard passenger aircraft in Lucozade bottles during the 2006 transatlantic aircraft plot

In the film Trainspotting, Renton procures a bottle of Lucozade (among other things) in his attempt to wean himself from heroin.

Lucozade contains 0.01% of Ethyl alcohol, which stopped Muslims from being allowed to drink it until in 2004, the Muslim Law Council decreed no-one would be be committing a religious crime if they drank it.
Contacts
GlaxoSmithKline UK Limited,
980 Great West Road,
Brentford,
Middlesex TW8 9GS

Registered in England and Wales no. 04310159
LINKS and REFERENCE
---
UK VEHICLE INSURANCE ONLINE A - Z
No matter what car, van or bike you drive, we're all looking for great value and quality in our UK motor insurance? But who is the best - who is the cheapest and who offers the great service in the event of a claim?
See the insurance companies below who claim to offer competitive cover at sensible prices, our guide to the jargon and tips for cutting your quote - Good Luck:-
---
Tastes for adventure capitalists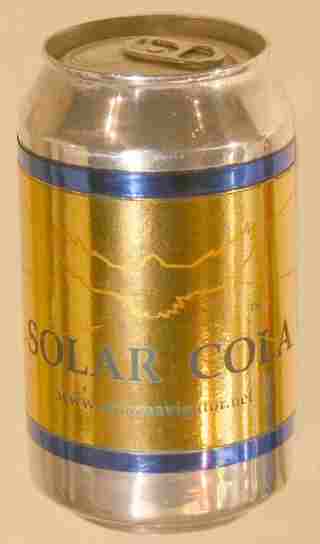 Solar Cola | Solar Citrus | Solar Crush | Solar Energy - the healthier alternatives