TURN KEY - Start up production units at affordable prices.
For an investment of around $45,000 USD it is possible to set up a production plant capable of producing up to 400 500ml PET bottles an hour, which equates to 16,000 for one 8 hour shift 5 days a week equal to 800,000 units for a 50 week year.
Two 8 hours shifts could double production and with the installation of a further $25,000 plant (not including the price of land or buildings) a second production line could take production to 3.2 million units a year, and so on.
This solution includes:-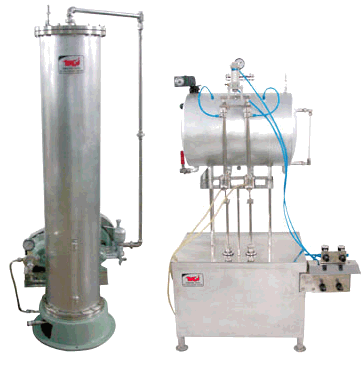 Example of a low cost carbonation unit
This production solution is manually operated and ideal for local production, with manual feed of bottles to multi-point rinser, carbonation heads, a motorised power capper and either gummed labels manually applied, or shrink wrap plastic sheath.
NOTE: You will need to independently source suitably sized syrup mixing tanks and pre-mix tanks.
Please contact Leslie Grant for details:
Solar Cola UK Ltd
The Old Steam House
Herstmonceux
BN27 1RF
United Kingdom
By Email:

Or leave a message: 0044 1323 831727
Should you be considering significantly higher volumes, we would recommend the automated machine solution TURNKEY canning plant.
500ml PET bottles
330ml Cola Earth Can and 250ml energy drink can