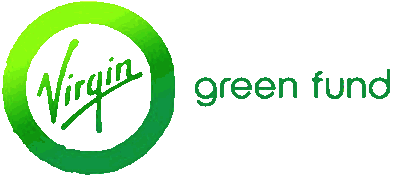 Virgin Energy was a joint venture between Virgin Group and London Energy formed in 2000. It has since been overtaken by EDF Energy. Branson has diversified with the Green Fund venture capital group - who frankly are no different to any other venture capital group in their requirements to funding.

VGF Advisers (UK) LLP
Kean House
6th Floor
6 Kean Street
London
WC2B 4AS

Phone:+44 20 7339 1500


PROPOSAL CRITERIA

Virgin Green Fund welcomes proposals to partner with superior management teams and companies seeking growth capital in the renewable energy and resource efficiency sectors. In particular, they seek companies that at a minimum meet their following key investment criteria:

* Proven technology

* Established revenues and EBITDA breakeven achievable with VGF investment

* Double digit sector growth

* Market leader with differentiated value proposition

* Strong operating team with proven track record

* Opportunity to increase value including through strategy improvements, strengthening of management and
corporate activity, including acquisitions


VGF review all submissions, but due to the large number of proposals, are only able to respond to those they believe have the strongest investment potential and fit with our focus.


VIRGIN GROUP
Virgin Group Ltd. is a British multinational branded venture capital conglomerate company founded by business tycoon Richard Branson.

Its core business areas are travel, entertainment and lifestyle and it consists of more than 400 companies worldwide.

Virgin Group's date of incorporation is listed as 1989 by Companies House, who class it as a holding company; however Virgin's business and trading activities date to the 1970s. The net worth of Virgin Group as of September 2008 was £5.01 billion.


The brand name "Virgin" arose when Branson and a partner were starting their first business, a record shop. They considered themselves virgins in business. The current Virgin logo was originally sketched on a paper napkin by graphic designer Trevor Key.


CORPORATE AFFAIRS

Virgin Group operates from its headquarters at The School House, 50 Brook Green in the London Borough of Hammersmith and Fulham.

Although Branson retains complete ownership and control of the Virgin Brand, the commercial set-up of companies using it is varied and complex. Each of the companies operating under the Virgin brand is a separate entity, with Branson completely owning some and holding minority or majority stakes in others. Occasionally, he simply licenses the brand to a company that has purchased a division from him, such as Virgin Mobile USA, Virgin Mobile Australia, Virgin Radio and Virgin Music (now part of EMI).

VIRGIN GREEN FUND

Virgin Green Fund is a sector-focused, multi-stage investment firm investing primarily in expansion/growth capital opportunities with an allocation to earlier stage venture capital opportunities. Virgin Green Fund is committed to helping companies at an inflection point of substantial growth and/or disruptive innovation. Diversification is a cornerstone of their strategy, investing across stage, geography and technology in their core sectors.


PORTFOLIO

As of April 2010 Virgin Green Fund's portfolio included:



Biofuels - Gevo


Solar - Solyndra, Odersun



Energy Efficiency - Metrolight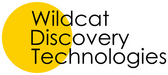 Energy Storage - Wildcat Discovery Technologies



Waste Management - DuraTherm




Water - Seven Seas, Quench USA


Transport - GreenRoad
Branson's next venture… Virgin Fuel! - Monday, July 31st, 2006
Richard Branson dominates the world with the Virgin Brand, with business ventures on 6 of our 7 continents. It's hardly surprising that Branson is now made an entrance into the alternative fuel sector. He is set to invest around $1billion into research and development of a new type of alternative fuel, along with opening ethanol plants and solar power stations.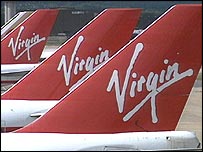 The Virgin air network uses over 700 million gallons of fuel each year, Branson stated:
"I hope that over the next 5 to 6 years we can replace some or all of that (with ethanol)."
Most people either love him or loathe him, and even if you feel that Virgin Fuel is another money grabbing venture for Virgin, you have to praise his efforts for tackling our global warming problem.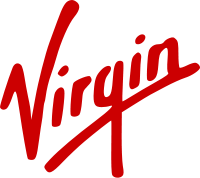 Jane Says - July 31st, 2006 at 11:48 am
I'm really pleased that such a big player is taking such a large step towards positive action. It's only through someone such as this taking the lead, someone who consumes so much fuel, that advances will be made, people will listen and costs will reduce. When that happens, the catch-22 situation will be positive, not negative - lower prices, more users, more development and on goes the loop.
We are waiting to see how this idea develops, or whether it was just a bit of spin for some free publicity. Come on Richard - we're all behind this one!
In an interview some years ago Sir Richard was asked: "did he ever let his heart rule head." He replied: "All the time - I think that unless you do, you're not going to be a very good business person. The only really good reason for doing things in business is based on what your heart tells you, not your head."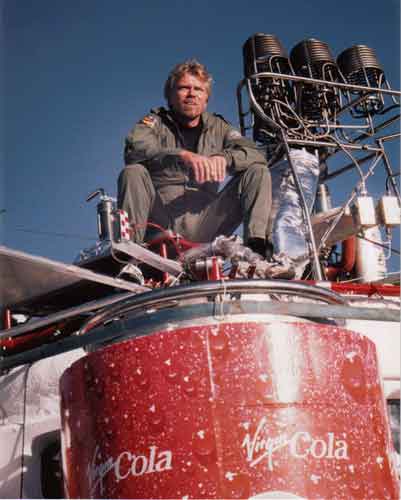 Richard sitting astride a giant Virgin Cola branded propane tank
part of the Virgin Global Flyer balloon in Marrakech, Morocco in 1997
Branson has been tagged as a 'transformational leader' by management lexicon, with his maverick strategies and his stress on the Virgin Group as an organization driven on informality and information, one that's bottom heavy rather than strangled by top-level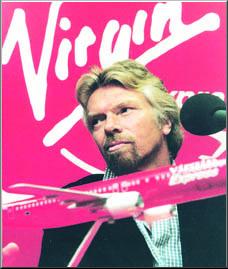 LINKS and REFERENCE
Portfolio: Biofuels Virgin Green Fund
Portfolio: Solar Virgin Green Fund
Portfolio: Energy Efficiency Virgin Green Fund
Portfolio: Energy Storage Virgin Green Fund
Portfolio: Waste Management Virgin Green Fund
Portfolio: Water Virgin Green Fund
Portfolio: Transport Virgin Green Fund
Virgin Green Fund leads Odersun funding round
Benchmark, Branson Keep Eyes on Cleantech Road
Gevo has received investments from Khosla Ventures and Virgin Green Fund
ENERGY GENERATING-DISTRIBUTION UTILITIES
The Solar Navigator - SWASSH (Small Waterplane Area Stabilized Single Hull) test model 2012
The latest artificially intelligent SolarNavigator is designed to be capable of an autonomous world navigation set for an attempt
in 2015 if all goes according to schedule - a step towards safe maritme automation.