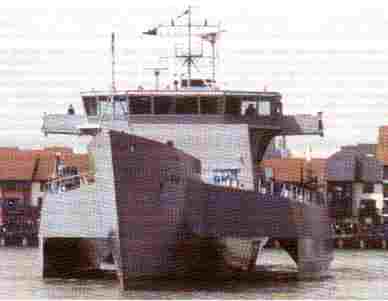 TRITON TRIMARAN
The Company has its roots in two shipbuilders, Vosper and Thornycroft, who both started out in the late 19th Century. The two companies merged in 1966, and twenty years later Vosper Thornycroft was floated on the London Stock Exchange.
Herbert E Vosper established Vosper & Co. in 1871 when he was 21, on Broad Street in old Portsmouth. He won a gold medal in 1904 at reliability trials with a paraffin engined launch. Sir John I Thornycroft Founded the company named after him, in 1864 established a shipbuilding yard at Chiswick, on the River Thames. He built his first steam launch when he was only 19 years old.
Warships

Thornycroft's main area of expertise was warships. By the start of the 20th century, the company was manufacturing large naval vessels – 29 destroyers and flotilla leaders were built during World War I, as well as 3 submarines. More on our shipbuilding history
Engineering / Manufacturing

Thornycroft also started applying its engineering skills to non-shipbuilding projects and vehicles at the beginning of the 20th century. This included manufacturing 5000 motor vehicles during World War II. Today the company produces state-of-the-art control systems for marine, offshore and aviation markets, as well as undertaking specialist engineering projects such as nuclear material handling systems, fire training facilities and aircraft docking systems.
Small Craft

Vosper started out making tugs and barges, but in the 1930's the company started building a reputation for high-speed craft, including Motor Torpedo Boats – the MTB102 had a maximum speed of 48 knots, whilst Malcolm Campbell's Bluebird II managed 141.7 mph in 1939. In 1998 the company acquired Halmatic – one of the world's leading manufacturers of small fast craft. More on Halmatic's pedigree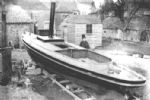 STEAM LAUNCH 1864
Tri-Service Support

In 1998 VT won two contracts to provide training to the British Army's Royal Electrical and Mechanical Engineers and support at SEME Bordon and REME Arborfield. This was followed in 2000 with the formation of VT Aerospace. This acquisition meant that the company was supporting the Royal Air Force as well as the British Army and Royal Navy.

In 2002 the company acquired US-based Griffin Services. This gave VT a significant position within the US support services market, again focused on the defence sector. The Company changed its name to become VT Group plc – a move driven by the Company's successful diversification programme, which has seen VT become a major player in the civil and defence support services markets.
For more information, why not visit Vosper Thornycroft's website.
VT Group Head Office
Click here to view interactive map
Click here to download map and directions as a pdf (103kb)

VT House
Grange Drive
Hedge End
Southampton
SO30 2DQ
T: (023) 8083 9001
F: (023) 8083 9002
E: vtgroup@vtplc.com

Click here to view maps of VT's worldwide locations Click here for Head Office contact details.
Click here for Support Services contact details Click here for Shipbuilding contact details.
VT Shipbuilding's renowned experience combined with leading edge technology has ensured that a wide range of our naval vessels have been selected by Navies of the World for over a century. Indeed in the last thirty years alone, we have designed and built nearly three hundred ships for over thirty navies, including the Royal Navy.

Today, VT Shipbuilding can offer a wide range of solutions, including:

Military Products such as Corvettes, Fast Strike Craft, Patrol Vessels and Mine Counter Measures Vessels


EEZ Management Products specifically designed to undertake the roles required for a Nation to fulfill its obligations under UNCLOS III.
Specialist Products: We have increased the breadth of our expertise through diversifying into commercial markets such as Fast Ferries and Superyachts.


Transfer of Technology: VT also offers flexibility to our overseas customers through transfer of technology and Local Industry Participation.


Technical Capabilities: VT can provide bespoke technical solutions through utilising our engineering, design and system integration capabilities to suite our customers individual needs.


Commercial Capabilities: VT Shipbuilding can also offer customers flexibility through innovative financing solutions, including PFI's and leasing options as well as our ability to operate at all levels from Prime Contractor to forming Joint Ventures.

VT Shipbuilding continues to expand its range of products, services and support capabilities in order to provide the total capability that the marine sector requires.

Shareholder Enquiries
For general enquiries about shareholdings, please contact our registrars:
Capita Registrars
The Registry
34 Beckenham Road
Beckenham
Kent BR3 4TU
T: 0870 162 3100
F: 020 8639 2342
E: ssd@capitaregistrars.com

Alternatively, please contact the General Counsel, Matthew Jowett at:
VT Group plc
Grange Drive
Hedge End
Southampton SO30 2DQ
T: 023 8083 9001
F: 023 8083 9002
E: shareholders@vtplc.com

Corporate Enquiries
For corporate enquiries, please contact the Finance Director, Chris Rickard at:
VT Group plc
Grange Drive
Hedge End
Southampton SO30 2DQ
T: 023 8083 9001
F: 023 8083 9002
E: investors@vtplc.com
New energy drinks for adventure capitalists
Solar Red | Solar Crush | Solar Cola | Solar Citrus | Solar Spice