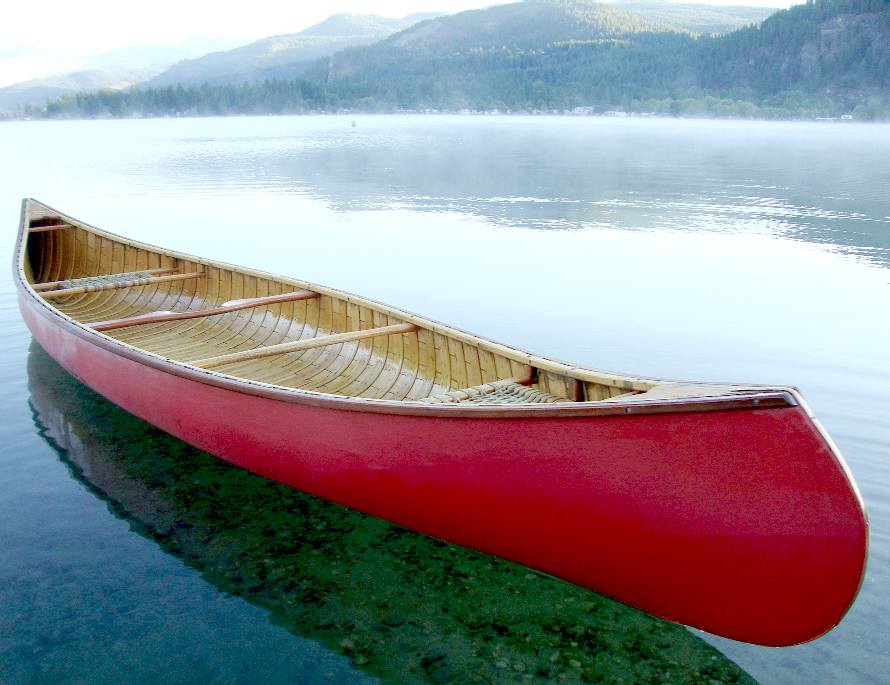 TRADITIONAL - Wood and canvas canoes are a product of a by-gone era; a time before planned obsolescence, when things were built with the long term interests of the consumer in mind. The whole idea of building a canoe with wood and canvas was to have a vessel that lives and breathes. These canoes work in the natural environment and are part of it. They are held together with tacks and screws – no glue. The wood flexes and moves with the water around it. When part of the canoe breaks or rots, it can be repaired or replaced with comparative ease because it is designed to be taken apart.

Many people admire the great fiberglass job on some traditional canoes, to be shocked when they learn that the canoes are covered with painted canvas. Wooden canoes and fiberglass just don't mix. Since the ribs and planking are held together with tacks, they flex and move naturally. Over the years, the tacks tend to work loose and eventually have to be either re-clinched or replaced. Conversely, fiberglass resin is rigid. Once applied, it tends to resist any movement. The combination of a flexible hull and a rigid outside layer results in cracked or delaminated resin. The tacks can also wear against the resin from the inside to the point where they come right through the resin.
Canoeing is the activity of paddling a canoe or kayak for the purpose of recreation, sport, or transportation. It usually refers exclusively to using a paddle to propel a canoe or kayak with only human muscle power. A kayak is propelled using a paddle with two blades where the paddler sits with their legs infront of them, whereas canoes are propelled using single- or double-bladed paddles where the paddler is kneeling or sitting on a raised seat. Kayaks are usually closed-decked boats with a spraydeck, while canoes are usually open boats. There are also open kayaks and closed canoes. Although somewhat confusing, the term canoeing is generally used as a generic term for both forms, though the term "paddle sports" is also used. In the United States and Canada, however, 'canoeing' usually refers only to canoes, as opposed to both canoes and kayaks. Paddling a kayak is also referred to as kayaking.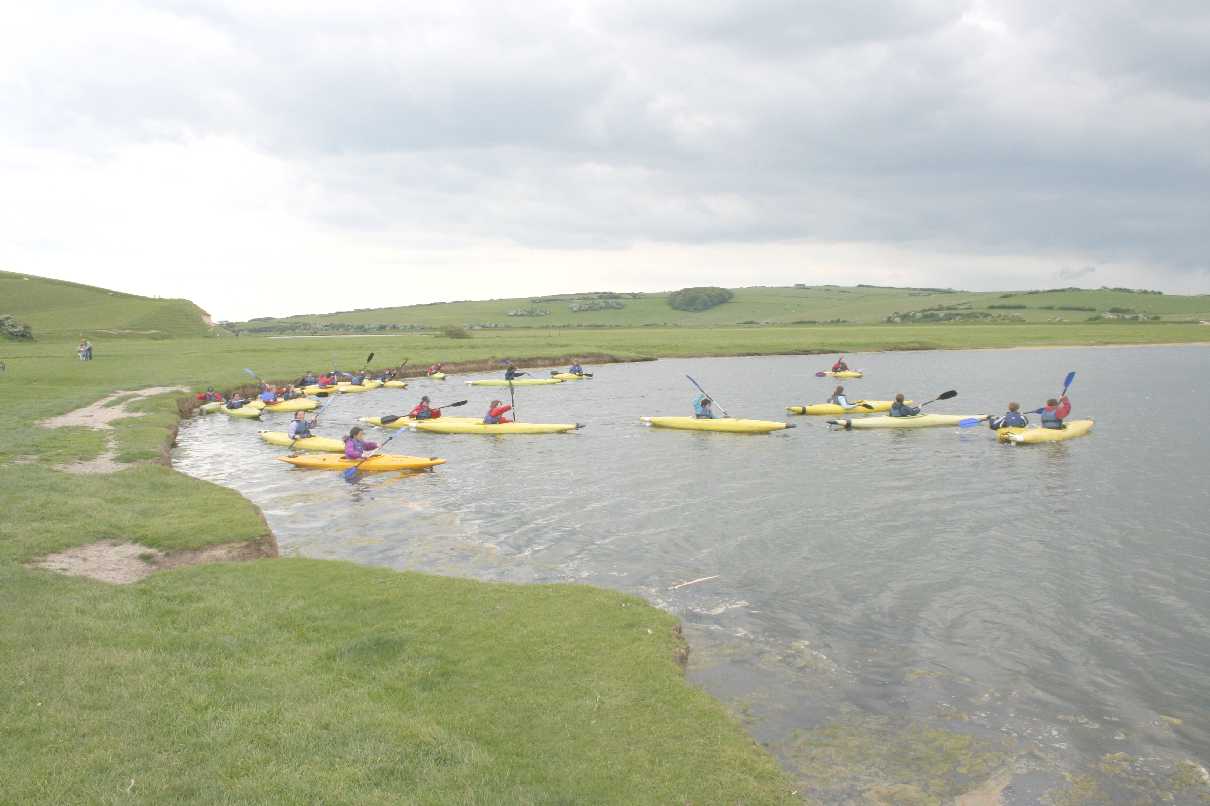 School outing Cuckmere Haven, Sussex
Open canoes may be 'poled' (punted), sailed, 'lined and tracked' (using ropes)or even 'gunnel-bobbed'.
In modern canoe sport, both canoes and kayaks may be closed-decked. Other than by the minimum competition specifications (typically length and width (beam))and seating arrangement it is difficult to differentiate most competition canoes from the equivalent competition kayaks. The most common difference is that competition kayaks are always seated, and competition canoes are generally kneeling. Exceptions include Canoe Marathon (in both European and American competitive forms) and sprint (high kneeling position). The most traditional and early canoes did not have seats, the padlers merely kneeled on the bottom of the boat. Recreational or 'Canadian' canoes employ seats and whitewater rodeo and surf variants increasingly employ the use of 'saddles' to give greater boat control under extreme conditions.
Sport
The International Canoe Federation is the world wide canoeing organisation and creates the standard rules for the different disciplines of canoe competition. The ICF recognises several competitive and non-competitive disciplines of canoeing, of which Sprint and Slalom are the only two competing in the Olympic games. The United States Canoe Association is widely considered the American authority in sport and recreational canoeing, and recognizes many ICF classes. Other national competition rules are usually based on the rules of the ICF.
Sprint - the oldest discipline of ICF canoeing, sometimes referred to as "Racing". It involves kayak (K1, K2, K4) and canoe (C1, C2, C4) classes.. Flatwater races are over 200 m, 500m and 1000 m.
Slalom - Competitors are timed in completing a descent down the rapids of a whitewater course, in the process steering their canoes or kayaks through "gates" (a pair of suspended poles about 1m apart), including going up against the flow, across the flow, and surfing the standing waves of the rapids. Again, there are both kayak and canoe classes.
Marathon - Longer distance races over mostly flatwater courses, possibly including one or more portages. Course lengths typically vary from about 2 miles to the epic 125 mile Devizes to Westminster International Canoe Marathon on the Thames, and the 260 mile "World's Toughest Boat Race", the Texas Water Safari. USCA rules specify that a Marathon course may not have rapids over class II on the International Scale of River Difficulty.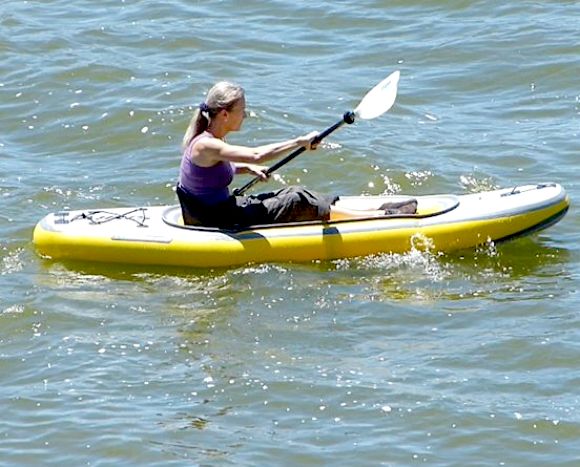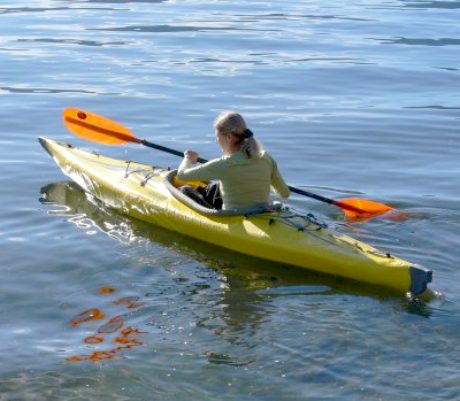 CANOE OR KAYAK - In general, kayaks are considered to be a type of canoe. The recreational activity of "canoeing" can often refer to paddling either a canoe or a kayak. Kayak enthusiasts, though, will usually refer to paddling a kayak as "kayaking."

Both canoes and kayaks are lightweight boats that can be used on lakes and rivers. They are also both powered by humans using paddles. They can both be used for various recreational activities, such as fishing, and they can both travel in shallow water.

Exactly when a canoe should be called a kayak is not always clear, although there are some basic differences in design and how they're usually used. For example, paddlers usually sit on a seat or kneel in a canoe, whereas kayakers are usually seated on the bottom of the boat with their legs stretched out in front of them.

The paddles used in canoes and kayaks are usually different, too. Paddlers tend to use single-bladed paddles in canoes and double-bladed paddles in kayaks.

Canoes also tend to have an open deck. This means that the inside of the boat is open and uncovered. Kayaks, on the other hand, are usually closed-decked. This means that the inside of the kayak is enclosed and surrounds the paddler.

Canoes and kayaks have different purposes, too. Canoes tend to be like the sport-utility vehicles of the recreational boating world. They can carry more people and supplies, making them ideal for families to use for leisurely paddles around calm lakes.

Kayaks, on the other hand, are more like sports cars. They can carry fewer passengers and supplies. Their sleek designs tend to make them faster and better for use in competitive water sports, such as racing and slipping through whitewater rapids.

In general, kayaks are designed to be faster and more agile than canoes. In the hands of a professional paddler, most canoes can be made to travel as fast as comparable kayaks. Overall, though, kayaks are known for faster speeds, while canoes are known for greater stability and roominess.
Unclassified Styles
Dragon Boat Racing - Since the 1970s racing of the traditional Chinese Dragon Boats has been organized. In general there are about 18-20 paddlers per boat, plus a drummer and a helmsman. The IDBF is the international governing body for Dragon Boats, discussions with the ICF about co-operation are taking place.
Playboating (or Rodeo) - a form of canoeing or kayaking where the competitor performs tricks and stunts in standing waves such as front and back surfing, flatspins, cartwheels, and blunts, and receives points for the variety of moves performed within a fixed time. Points are also awarded for style.
Outrigger Canoe Racing - racing of traditional Pacific Ocean outrigger canoes. Very popular in Hawaii (it's the state sport), Tahiti, and other Pacific nations including Australia and New Zealand; well established in western North America and the eastern US, also catching on in Asia and Europe. International ruling body is the IVF. Outrigger canoes are traditionally referred to as wa'a, va'a, or waka ama. Standard racing canoes carry six paddlers; one and two person canoes are also widely raced.
Canoe Surfing - The canoeing equivalent of surfing, but in a specialised surf kayak. Points are scored for the variety and quality of moves performed on a wave. Also whitewater kayakers and playboaters often surf non-competitively.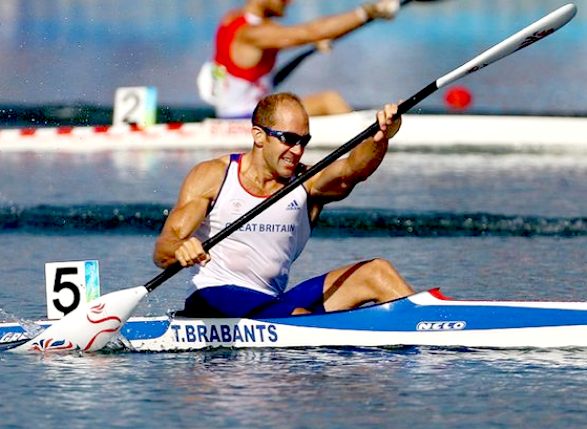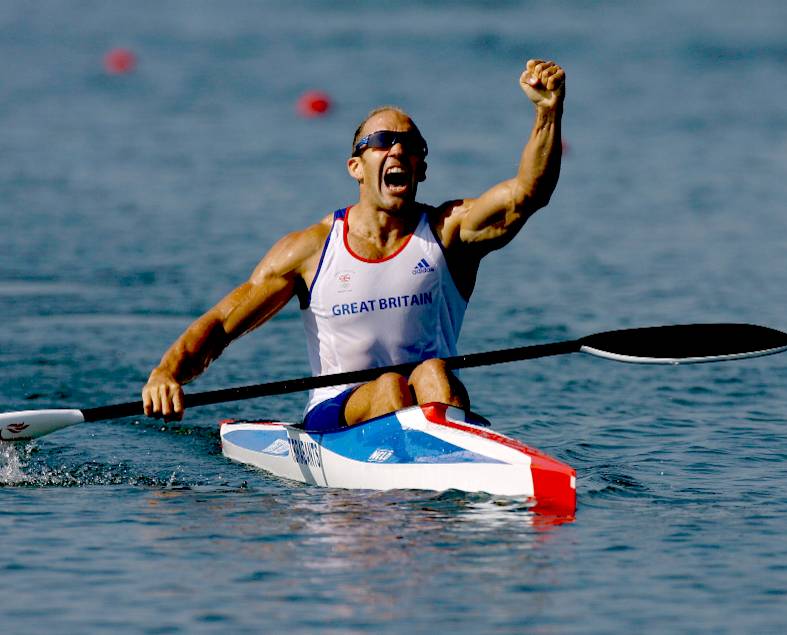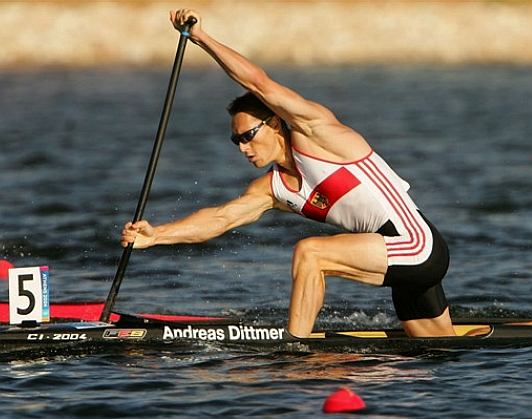 EXTREME CANOES - Boat that are designed to be competitive in the Olympics are far removed from either the traditional wooden, or modern composite leisure craft. Athletes in this sport develop very strong shoulders. Any kind of sport is healthy and youngsters should be encouraged to take up such activities.
Recreational
Other recreational aspects of canoeing are not strictly defined, and distinctions are rather artificial and growing increasingly blurred as new hybrid canoes, kayaks, and similar craft boob are developed. Some of these forms may be nominally organised at national levels, but are largely individual, group, or club activities. For many groups there is no emphasis on training, the goal is simply to use boats to have fun on the water.
Whitewater - paddling down whitewater rivers for fun, recreation, or getting away from it all. Can vary from short local trips on easy grade rivers, to extreme expeditions on raging torrents in remote locations for many days carrying all equipment. Whitewater Kayaking is probably the most popular form of canoeing.
Sea Kayaking - recreational kayaking on the sea. Includes everything from short day trips to year-long expeditions, may include paddling on heavy seas, in surf, or in tidal currents, and usually requires navigational skills.
Canoe camping, Touring, Tripping, or Cruising - combines canoeing/kayaking with camping.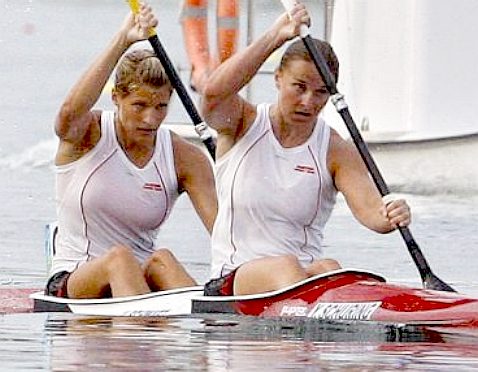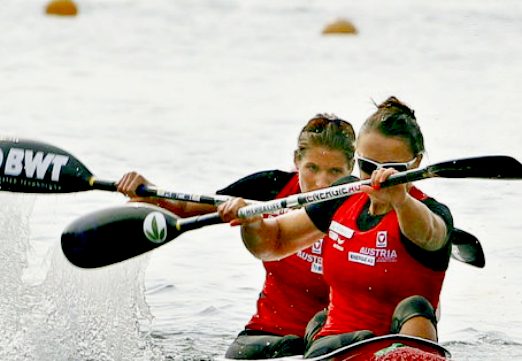 OLYMPICS 2016 - Adding five women's canoe events to the Olympic program will have far-reaching benefits for developing women and girls not just in the sport of Canoeing, but in all sports. And it will send a message to the world that the ICF and IOC respect the principle of the Olympic Charter and equal opportunity in sport. The added benefit: growing the canoe discipline world-wide
Other Forms
In some countries, these forms of paddling may come under the national canoeing organisations, but they are not universally accepted as canoeing, even though they involve propelling a small craft with a paddle.
Wave Skiing - paddling a small, manoueverable craft (surf ski) a little like a bigger surfboard, amongst the breaking waves of the sea or ocean, variously sliding down the face of the wave or performing tricks on the face of a breaking wave. Close affintiy to surfing. The paddler sits on top of the ski and can be strapped in. Competition is based on points for tricks and style.
Surf Skiing - paddling a long (about 22'), slim racing craft on the sea. Able to handle going in and out of breaking waves, but not for manouevering on breaking waves. The paddler sits in a bucket style seat and uses a kayak like paddle. Most common races are long distance in the open ocean where they can catch swells and get the feeling of skiing the ocean.
HISTORY
Canoeing began to meet the simple needs of transportation across and along waterways. Canoeing was the primary mode of long-distance transportation at one time throughout much of North America, the Amazon Basin, and Polynesia, among other locations. As a method of transportation, canoes have generally been replaced by motorized boats, airplanes, railroads and roads with increasing industrialisation, although they remain popular as recreational or sporting watercraft.
LINKS:
Playak - Kayak & Canoe News Online paddling community with headlines from around the world, event calendar, photo galleries and a large directory of paddling sites known as Kayahoo.
Northeast Paddler's Message Board, A site devoted to kayaking, canoeing and almost all things whitewater in the Northeastern United States.
International Canoe Federation http://www.canoeicf.com The international governing body for canoe and kayak sport
United States Canoe Association, Parent association for canoeing groups in the United States.
Canadian Canoe Association The Canadian Canoe association
British Canoe Union http://www.bcu.org.uk/
Scottish Canoe Association http://www.canoescotland.org.uk/
Texas Canoe Racing Association
IrishMarathonCanoeing.com, The website for marathon canoeing in Ireland and home to message board for canoe and kayak racing in Ireland.
Canoe guybc 2015 how to remove fiberglass from awooden canoe
Air Kayaks 3013 choosing an inflatable kayak what should you consider
https://canoeguybc.wordpress.com/2015/01/11/how-to-remove-fiberglass-from-a-wooden-canoe/
https://airkayaks.wordpress.com/2013/04/21/choosing-an-inflatable-kayak-what-should-you-consider/
https://www.youtube.com/watch?v=ecStrF15o-4
https://www.youtube.com/watch?v=UGqiwcIDOgQ
A - Z SPORTS INDEX

A taste for adventure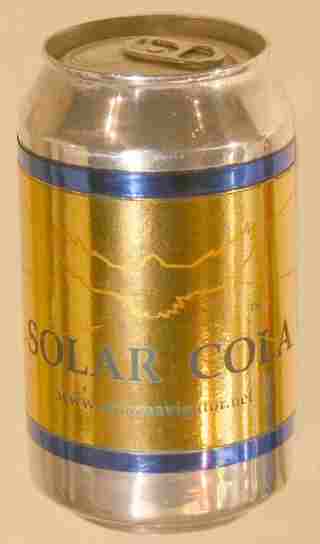 Solar Cola - a healthier alternative