The American Challenge for the World Water Speed Record
PROJECT OVERVIEW
American Challenge is a consortium of successful business leaders, innovative technical engineers, and motor-sport professionals focused on returning the World Water Speed Record to the United States.
International competition: American Challenge's announcement revives U.S. participation in a rivalry that dates back to the early 1900's. America has a long-standing history of participation in World Record Challenges. Currently, teams outside the United States hold both the World Water and Land Speed Records.
Patriotism: American Challenge will elevate American patriotism and showcase our country's leadership in aerospace and high technology. America's passion for its space program illustrates what can be done when our country unites behind a dream.
The American spirit is built on remarkable accomplishments such as our commitment to put the first man on the moon. An Extraordinary Endeavor: In a time when tens of millions of dollars are spent by many teams for the opportunity to challenge for a sailboat-racing trophy, The America's Cup, there are but a handful of people willing to pursue the challenge of being the fastest, ever.
Pilot: Russ Wicks has committed to bringing the World Water Speed Record back to the United States. Wicks, who will pilot the American Challenge Craft, is currently known as the "Fastest American on Water".
Management Team: All members of the executive management team have proven track records, each having built successful public and private enterprises.
Technology Team: Members of the American Challenge Technical Team were chosen from among the nations premier high-technology laboratories. They are leaders in the fields of: Fluid Dynamics, Structures, Stability and Control, Propulsion, Systems Simulation, Materials, Manufacturing, Test and Validation, Safety and Speed Record Operations. American Challenge has obtained the best aerospace, hydro/fluid-dynamics, boat racing design and manufacturing expertise available anywhere in the world.
Technology Partners: American Challenge has established the world's most innovative interactive business environment. This collaborative setting creates lasting and meaningful business opportunities for the Team's Technology Partners.
Craft: The American Challenge craft is being designed utilizing interactive 3D virtual prototypes in a CAD-neutral collaborative environment. Extensive fluid dynamic simulation, wind tunnel modeling, and water tank testing will also be employed. The craft will then be constructed much like a current military fighter jet, using the latest manufacturing processes.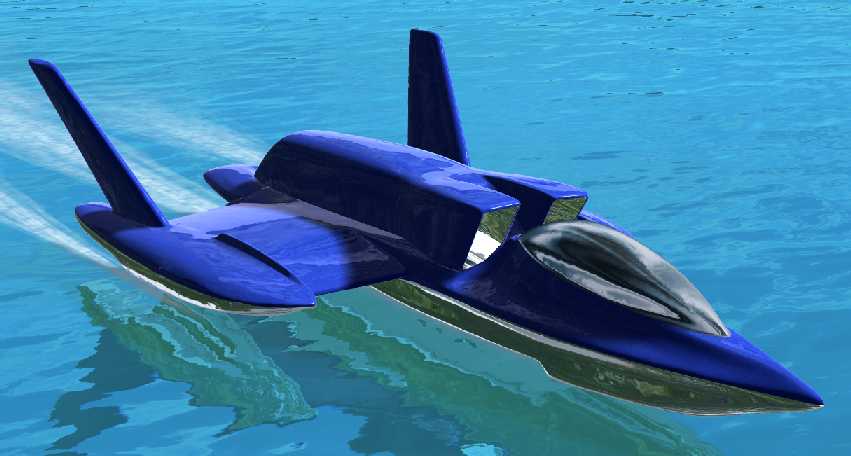 ABOUT RUSS WICK (PILOT)
What do others say about Russ Wicks?
Overview: On June 15, 2000, Russ Wicks carved his name in the record books by breaking the World's longest standing major speed record. Russ piloted the Miss Freei Unlimited Hydroplane across Lake Washington setting a new World Water Speed Record for Propeller-driven boats at 205.494 mph. For his accomplishment he is included in the 'Guinness World Records Book' and was featured on the cover of the March 2003 issue of WIRED Magazine.
Motocross: Russ has over 25 years of experience in the racing world, including competition in over 700 races. At the age of ten, Wicks started racing Motocross and became a fully sponsored professional at the age of 15. He raced 125cc National Motorcross and 250cc Stadium Supercross, and was chosen as a factory support rider for team Honda.
Formula Cars: Wicks headed to France for his first taste of auto racing, where he was one of the first Americans to attend the famous Winfield Racing School and compete in the Pilote Elf Championship in turbocharged Formula Renaults at Circuit Paul Ricard. Wicks then ran Formula 2000 in Canada and Formula Mazda in the United States, before driving for the Dave White Motorsports Team in Formula Super Vee. Niki Lauda, Kevin Cogan, Michael Andretti and Danny Sullivan all were former drivers for White.
Indy Cars: During 1996, Wicks participated in several Indy Car test programs including driving for Antonio Ferrari's Indy Car Team. Russ made history in 1997 when Tony George (owner of the Indianapolis Motor Speedway) re-opened the Speedway, after it had been closed for the month in preparation for the 500, to allow Russ to test for the PDM Indy Racing League Team. During 2003, Wicks tested the Sam Schmidt Motorsports Infiniti Pro Series car at the California Speedway.
Unlimited Hydroplanes: Only two weeks after testing an Unlimited Hydroplane for the first time, Russ broke the World Water Speed Record for propeller-driven boats. Wicks averaged 205.494 mph over the measured mile, while hitting a top speed of over 220 mph. During 2000, Russ also tested the Miss Freei at the Evansville, Tri-Cities, and Seafair events. Wicks ultimately qualified as an Unlimited driver while testing the legendary Miss Budweiser Unlimited Hydroplane in San Diego.
Business World: Russ has extensive experience in the business world specializing in strategic partnerships. He is very active in the digital community and resides on the board of the Society for Internet Advancement San Francisco. Wicks is an accomplished spokesperson and public speaker, and frequently receives invitations to speak at various industry events throughout the United States.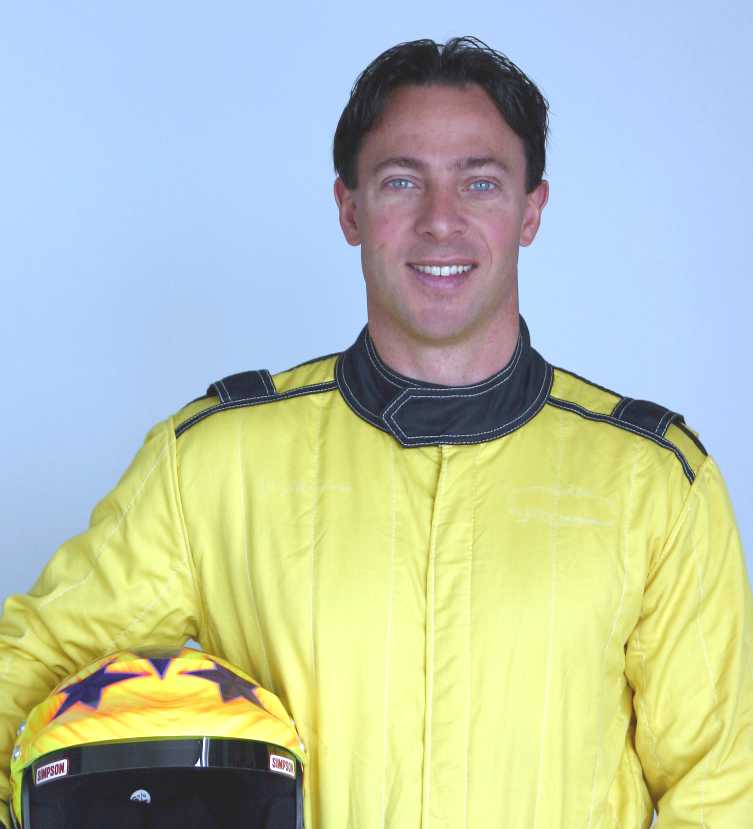 PRESS RELEASES
September 1, 2005 Featured on National Geographic Channel
July 30, 2005 Included In Museum of Flight Exhibit
March 9, 2005 Southern California Performance Boating Celebration
March 7, 2005 Intersport Announces American Speed King TV Series
February 14, 2005 American Challenge selects Impact Race Products
October 25, 2004 CreaTVworld to produce American Speedking
October 5, 2004 'Guinness World Records 2005'
August 21, 2004 Brian Towey wins Spec Miata Race
July 30, 2004 ACI Team Member Wins 24-Hour Race In Russia
June 20, 2004 Wicks visits B.A.R Formula 1 team at USGP
May 30, 2004 ACI Team Member Helps Win Indy 500
May 17, 2004 Guest Speaker at JT Open Management Review Board
March 2, 2004 Harbor Properties Sponsors Wicks
November 5, 2003 Times Square Billboards
October 1, 2003 Reality Television Series
September 25, 2003 'Guinness World Records 2004'
August 12, 2003 Rogers & Cowan joins PR Campaign
June 12, 2003 ACI's Brian Towey races Miata Cup
May 25, 2003 Ultimate Athlete Magazine Feature Story on Wicks
May 12, 2003 Evening Magazine Feature
May 7, 2003 American Challenge in the News
May 1, 2003 Keynote Speaker at PLM World Conference
February 5, 2003 WIRED Magazine Features Russ Wicks on Cover
February 3, 2003 Infiniti Pro Series Test at California Speedway
February 1, 2003 Indy Racing League's Infiniti Pro Series Test
January 13, 2003 Wicks returns on "The Motorsports Show"
October 22, 2002 Speed at Sea features Water Speed Record
October 1, 2002 Wicks Visits United States Grand Prix
September 25, 2002 'Guinness Book of Records 2003'
August 15, 2002 "The Bluebird Years"
July 25, 2002 Wicks is the Guest Speaker at the Seattle Yacht Club
June 13, 2002 Russ Wicks is a guest on "The Motorsports Show"
June 7, 2002 American Challenge in Professional BoatBuilder Magazine
June 1, 2002 Motor Boat Yachting features Water Speed Record
January 26, 2002 ACI Design and Technical Summit held in Seattle
January 15, 2002 400 MPH craft design to be unveiled at Miami Boat Show
January 2, 2002 Russ Wicks to fly with U.S. Navy Blue Angels
October 20, 2001 Wicks to speak to the Seafair Boat Club
October 10, 2001 American Challenge Promotional Tour
August 9, 2001 Wicks on NorthWest Cable News Morning Show
August 3, 2001 Quest for the World Water Speed Record
August 3, 2001 Analytical Methods, Inc. Partners American Challenge
August 3, 2001 SDRC to Partner American Challenge
August 3, 2001 Supergraphics to Partner Russ Wicks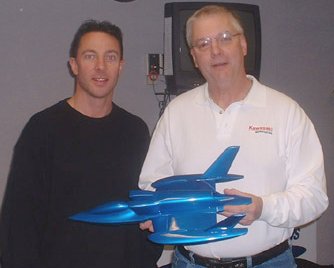 WATER SPEED RECORD HISTORY
On June 26, 1950, on Lake Washington near Sand Point, driver Stan Sayres and riding mechanic Ted Jones became the fastest men on water with a mile straightaway record of 160.323 mph in the Slo-mo-shun IV. In July of 1952, Stan Sayres raised his own straightaway record to 178.497 in Lake Washington's East Channel.
Donald Campbell in a non-propeller-driven craft obliterated Stan Sayres record on July 23, 1955. Campbell's jet-powered Bluebird II averaged 202.32 mph over a kilometer course on Lake Ullswater in England.
In 1967 American Lee Taylor reclaimed the record that Donald Campbell had taken from Sayres. Ten years later Ken Warby, an Australian made a successful attempt, which in 1978 he extended to 317.60 MPH. Warby still holds the record, which has withstood all challenges.
Water:

1930's Record broken 11 times by Segrave, Don, Wood and Campbell
1931 (USA) Gar Wood first to break 100mph
1937 to 1949 (GB) Malcolm Campbell, 126.320 mph to 141.74 mph
1950's Record broken 8 times by (USA) Sayres & (GB)Campbell
1950 to 1954 (USA) Stan Sayres 160.323 mph & 178.497 mph
1955 to 1966 (GB) Donald Campbell 202.32 mph to 276.33 mph (1955, first jet-powered)
1967 to 1976 (USA) Lee Taylor 285.213 mph (1967, last record broken by USA)
1977 (Australia) Ken Warby 288.60 mph
1978 (Australia) Ken Warby 317.60 mph


The Worlds Fastest Man on Water

The Record
317.60 mph / 511.11km/h
8th October 1978
"Spirit of Australia"
Blowering Dam
NSW Australia
Refer UIM certificate (Click Here)
Land:

1930's & 1940's (GB) Record broken 11 times by Campbell, Eyston & Cobb
1963 (USA) Craig Breedlove first to break 400 mph
1963 to 1982 (USA) Breedlove, Green, Arfons, Gabelich
1965 (USA) Craig Breedlove first to break 600 mph
1970 to 1982 (USA) Gary Gabelich 622.407 mph (1970, last record broken by USA)
1983 (GB) Richard Noble 633.468 mph
1997 (GB) Andy Green 714.144 mph & 763.035 mph

America's Cup:

1851-1983, Cup Held by Americans
1983 (Australia) Bertrand, Australia II
1987 (USA) Connors, Stars & Stripes
1988 (USA) Connors, Stars & Stripes
1992 (USA) Koch/Melges, America3
1995 (New Zealand) Coutts, Team New Zealand
2000 (New Zealand) Dickson, Team New Zealand
2003 (Switzerland) Coutts, Team Alinghi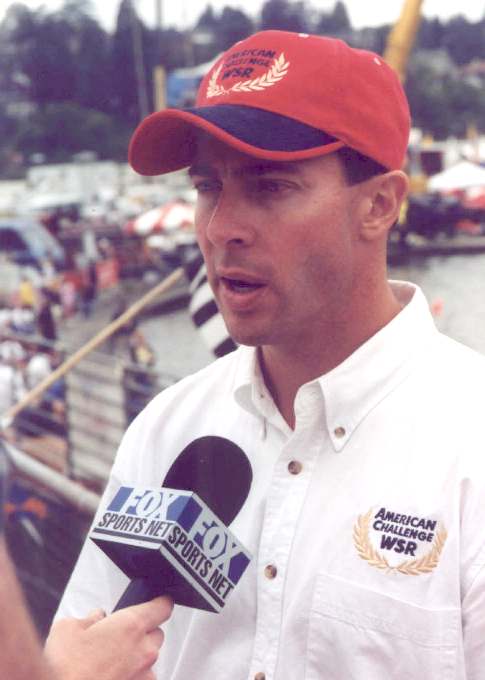 CONTACTS
American Challenge, Inc.
14150 NE 20th Street, Suite 102
Bellevue, WA 98007

For more information please call Brian Towey at (541) 490-6904
Email: btowey@americanchallengewsr.com
---
LINKS:
WSR Homepage | Pilot | Craft | Team | Partners | Photos | Video
Press Releases | News Coverage | News Media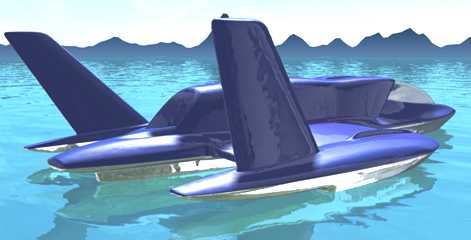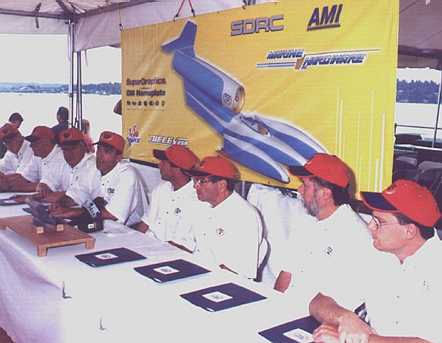 ---
A taste for adventure capitalists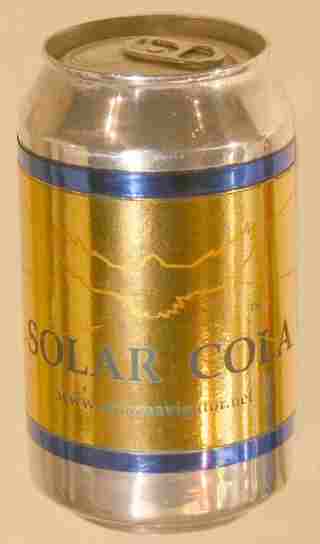 Solar Cola - a healthier alternative