Latrodectus is a genus of spider, in the family Theridiidae, which contains 32 recognized species. The common name widow spiders is sometimes applied to members of the genus due to a behaviour seen in some species in which the female eats the male after mating. The black widow spider is perhaps the best-known member of the genus. Its bite is dangerous because of the neurotoxin latrotoxin, which causes the condition latrodectism, both named for the genus. The female black widow has unusually large venom glands and its bite is particularly harmful to humans; however, Latrodectus bites rarely kill humans if proper medical treatment is provided.
Black Widow male (left) and female (right). The male is much smaller and often confused with the Brown Widow spider.

The prevalence of sexual cannibalism in some species of Latrodectus has inspired the common name "black widow spider". The female's venom is at least three times more potent than that of the males, making a male's self-defense bite ineffective. Research at the University of Hamburg in Germany suggests this ultimate sacrifice strategy has evolved to promote the survival odds of the offspring; however, contrary to popular belief, females of some species rarely eat their partners after mating and much of the documented evidence for mate cannibalism has taken place in laboratory cages where the males could not escape.
DESCRIPTION
Not all adult black widows exhibit the red hourglass on the ventrum underside or top of the abdomen — some may have a pair of red spots or have no marking at all. Female black widows often exhibit various red markings on the dorsal or top side of the abdomen, commonly two red spots. However, black widow young are believed to have at least some sort of marking on their abdomens. Adult male black widows are half the size of the females, and are usually gray or brown rather than black and red; while they may sometimes have an hourglass marking on their ventral abdomen, it is usually yellow or white, not red. Variation in specifics by species and by gender is great; any spider exhibiting a red hourglass or a pair of large red round spots on the ventral abdomen with an otherwise black shiny body is an adult female black widow. The bright red hourglass and spots are never located on the dorsum, which is the more visible aspect; the identifying features are on the underside, anatomically known as ventrum; i.e., the spider must be lying on its back to reveal the markings.

Spiders of the genus Steatoda (also of the Theridiidae family) are often mistaken for widow spiders, and are known as "false widow spiders"; they are significantly less harmful to humans.

In common with other members of the Theridiidae family, the widow spiders construct a web of irregular, tangled, sticky silken fibers. The spider very frequently hangs upside down near the center of its web and waits for insects to blunder in and get stuck. Then, before the insect can extricate itself, the spider rushes over to bite it and wrap it in silk. If the spider perceives a threat, it will quickly let itself down to the ground on a safety line of silk. As other web-weavers, these spiders have very poor eyesight and depend on vibrations reaching them through their webs to find trapped prey or warn them of larger threats. While some species are more aggressive, most are not; many injuries to humans are due to defensive bites delivered when a spider gets unintentionally squeezed or pinched. Some bites are thought to result from a spider mistaking a finger thrust into its web for its normal prey, or in cases where a female is protecting an egg sac, but ordinarily intrusion by any large creature will cause these spiders to flee.
SPECIES
The southern black widow, as well as the closely related western and northern species which were previously considered the same species, has a prominent red hourglass figure on the underside of its abdomen. Many of the other widow spiders have red patterns on a glossy black or dark background, which serve as a warning. Spiders found in multiple regions are listed in their predominant native habitat.

Widow spiders can be found on every continent of the world except Antarctica. In North America, the black widows commonly known as southern (Latrodectus mactans), western (Latrodectus hesperus), and northern (Latrodectus variolus) can be found in the United States, as can the "gray" or "brown widow spiders" (Latrodectus geometricus) and the "red widow spiders" (Latrodectus bishopi). The most prevalent species occurring in Australia is commonly called the redback (Latrodectus hasselti). African species of this genus are sometimes known as button spiders.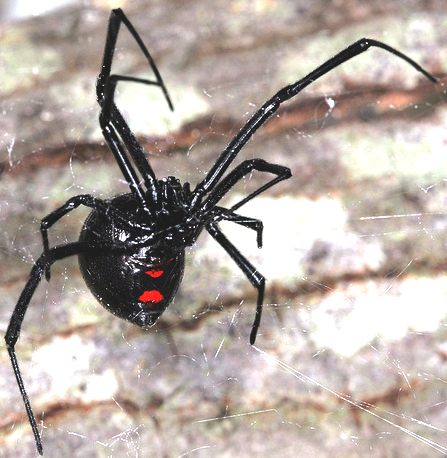 SEXUAL CANNIBALISM
Sexual cannibalism refers to a female's cannibalizing of her male mate prior to, during or after copulation. It is a phenomenon characterized primarily by members of arachnid orders as well as several insect orders. The adaptive foraging hypothesis, aggressive spillover hypothesis and mistaken Identity hypothesis are several hypotheses that have been proposed to explain how sexual cannibalism evolved. This behavior is believed to have evolved as a manifestation of sexual conflict, occurring when the reproductive interests of males and females differ. In many of the species that exhibit sexual cannibalism, the female will cannibalize the male upon detection. Females of cannibalistic species are generally hostile and unwilling to mate; thus many males of these species have developed adaptive behaviors to counteract female aggression.
Female humans exhibit similar symptoms, sacrificing a male when they have either got what they want (copulated and become pregnant) or if they don't get what they want (the male refuses to copulate or leaves the female). In some countries society is to blame for pandering to female lobby groups, who work toward gearing legal and social systems so that they can apply pressure to the male of the species, if they cannot persuade the male to their will in a normal relationship. This is more prevalent in dysfunctional females or families. The classic method is for the female to make an allegation of physical or sexual assault. In most civilised countries, once such an allegation is made (regardless of any truth), the male will be jailed. Thus, the female gets her way, either punishing or disposing of the male.
AVENGERS BLACK WIDOW
A Marvel comic character played by Scarlett Johansson.
Black Widow, Scarlett Johansson- Avengers, Youtube
LINKS:
General information for beginner tarantula keepers
Word of the Day: Tarantula and Tarantella
Listing of all currently named Theraphosidae
Care for commonly kept Tarantula Pets
American Tarantula Society Headquarters
Watch Tarantula BBC archive on Wildlife Finder
Tarantula at the Internet Movie Database
http://en.wikipedia.org/wiki/Sexual_cannibalism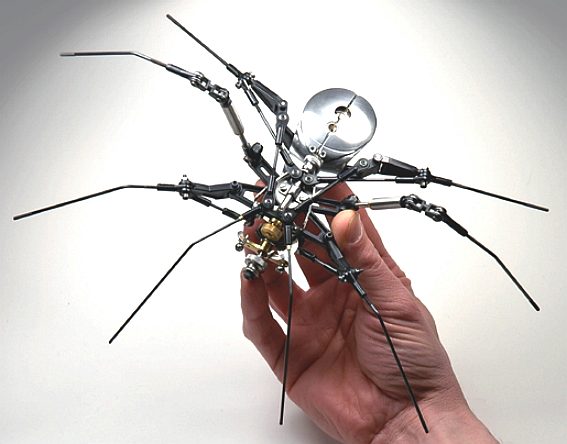 Index to navigate Animal Kingdom:-
| | |
| --- | --- |
| AMPHIBIANS | Such as frogs (class: Amphibia) |
| ANNELIDS | As in Earthworms (phyla: Annelida) |
| | Neanderthals, Homo Erectus (Extinct) |
| | Spiders (class: Arachnida) |
| BIRDS | Such as Eagles, Albatross (class: Aves) |
| | |
| CRUSTACEANS | such as crabs (subphyla: Crustacea) |
| | Tyranosaurus Rex, Brontosaurus (Extinct) |
| ECHINODERMS | As in Starfish (phyla: Echinodermata) |
| | Sharks, Tuna (group: Pisces) |
| HUMANS - MAN | Homo Sapiens THE BRAIN |
| INSECTS | Ants, (subphyla: Uniramia class: Insecta) |
| | Which includes PLANTS non- animal life |
| | Warm blooded animals (class: Mammalia) |
| MARSUPIALS | Such as Kangaroos (order: Marsupialia) |
| MOLLUSKS | Such as octopus (phyla: Mollusca) |
| | Trees - |
| PRIMATES | Gorillas, Chimpanzees (order: Primates) |
| | As in Crocodiles, Snakes (class: Reptilia) |
| RODENTS | such as Rats, Mice (order: Rodentia) |
| SIMPLE LIFE FORMS | As in Amoeba, plankton (phyla: protozoa) |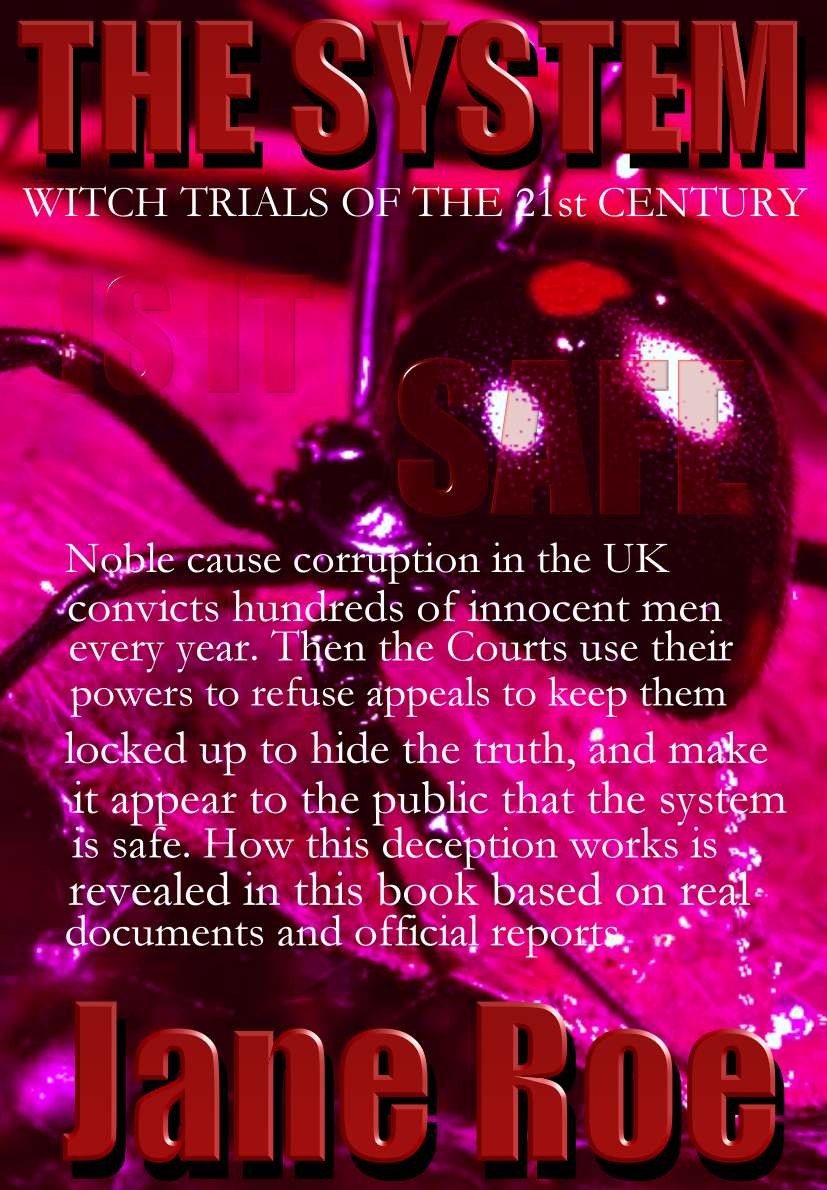 Sexual cannibalism in humans is commonplace where the (UK) state still pays bunny-boilers to fabricate allegations - despite the untenable ratio of false allegations. This is called Noble Cause Corruption, so named because the cause (more convictions of rapists and perverts) is noble, but the means (convicting significant numbers of innocent men) is corrupt. A decent justice system is one where convictions are safe; where an appeal is guaranteed and where the court system does not refuse appellants the evidence for their barristers to perfect grounds of appeal. This book is based on a real case study, that reveals the fatal flaws in the English justice system. No man is safe until these issues are dealt with - it could happen to anyone.