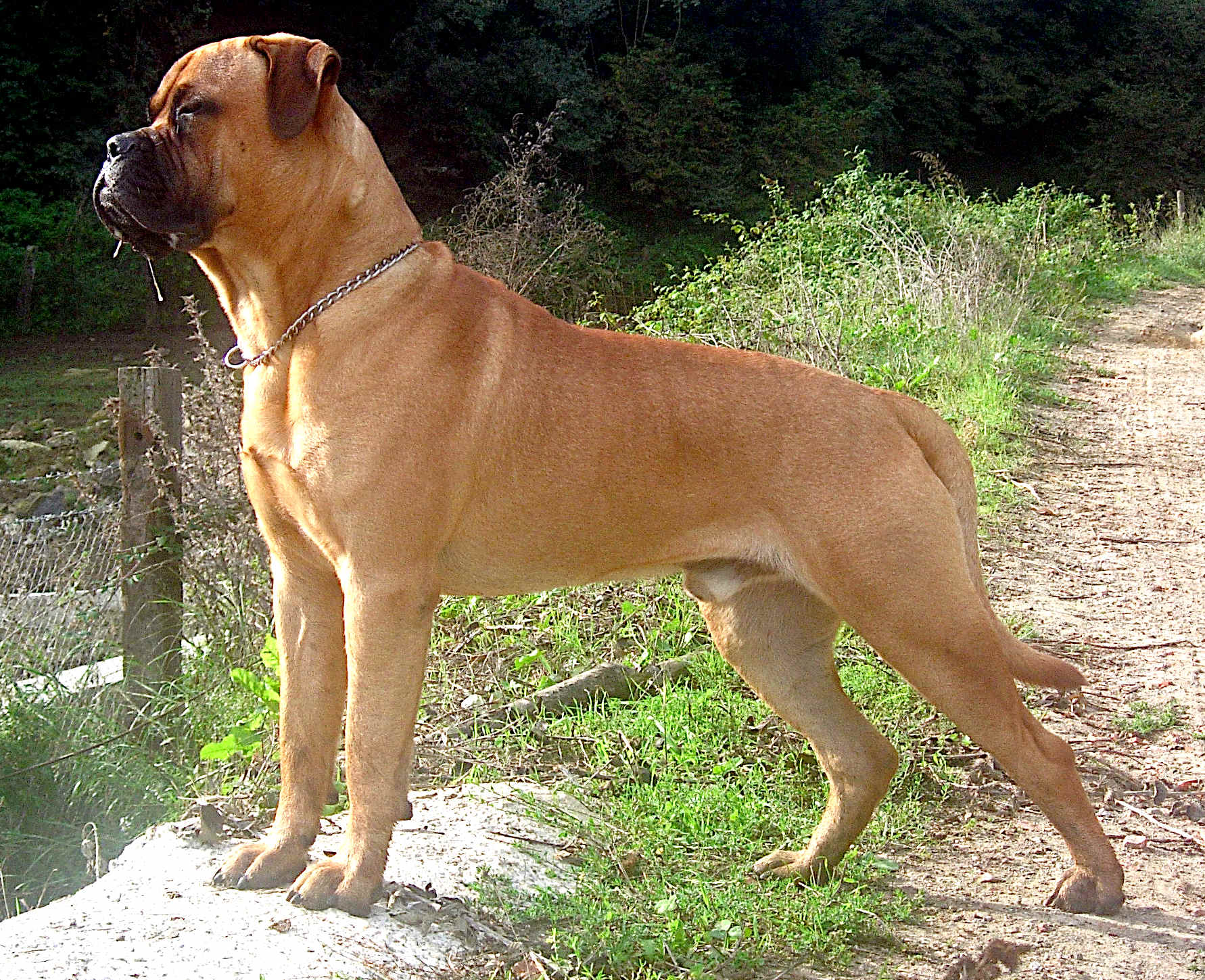 The British Bulldog is a strong and courageous animal, Churchillian in nature, from Sir Winston Churchill, the pug faced World War Two prime minister who saw off Adolf Hitler's Nazi regime, as part of the Allied forces.
The Bulldog is a British breed of dog of mastiff type. It may also be known as the English Bulldog or British Bulldog. It is a medium sized, muscular dog of around 40–55 lb (18–25 kg). They have large heads with a thick folds of skin around the face and shoulders, and a relatively flat face with a protruding lower jaw.

Bulldogs have characteristically wide heads and shoulders along with a pronounced mandibular prognathism. There are generally thick folds of skin on the brow; round, black, wide-set eyes; a short muzzle with characteristic folds called a rope or nose roll above the nose; hanging skin under the neck; drooping lips and pointed teeth, and an underbite with an upturned jaw. The coat is short, flat, and sleek with colours of red, fawn, white, brindle, and piebald. They have short tails that can either hang down straight or be tucked in a coiled "corkscrew" into a tail pocket.

In the United Kingdom, the breed standards are 55 lb (25 kg) for a male and 50 lb (23 kg) for a female. In the United States, the standard calls for a smaller dog — a typical mature male weighs 50 lb (23 kg), while mature females weigh about 40 lb (18 kg).

According to the American Kennel Club (AKC), a Bulldog's disposition should be "equable and kind, resolute, and courageous (not vicious or aggressive), and demeanor should be pacifist and dignified. These attributes should be countenanced by the expression and behavior".

Breeders have worked to remove aggression from the breed. Most have a friendly, patient, but stubborn nature. Bulldogs are recognized as excellent family pets because of their tendency to form strong bonds with children.

Generally, Bulldogs are known for getting along well with children, other dogs, and other pets.

CULTURAL SIGNIFICANCE

Bulldogs are often associated with determination, strength, and courage due to their historical occupation, though the modern-day dog is bred for appearance and friendliness and not suited for significant physical exertion. They are often used as mascots by universities, sports team, and other organizations. Some of the better known Bulldog mascots include Yale's Handsome Dan, the University of Georgia's Uga, and United States Marine Corps' Chesty.

The Bulldog originated in England and has a longstanding association with British culture; the BBC wrote: "to many the Bulldog is a national icon, symbolising pluck and determination". During the Second World War, the Prime Minister Winston Churchill was likened to a Bulldog for his defiance of Nazi Germany.

HISTORY

The first reference to the word "Bulldog" is dated 1631 or 1632 in a letter by a man named Preswick Eaton where he writes: "procuer mee two good Bulldogs, and let them be sent by ye first shipp". In 1666, English scientist Christopher Merret applied: "Canis pugnax, a Butchers Bull or Bear Dog", as an entry in his Pinax Rerum Naturalium Britannicarum.

The designation "bull" was applied because of the dog's use in the sport of bull-baiting. This entailed the setting of dogs (after placing wagers on each dog) onto a tethered bull. The dog that grabbed the bull by the nose and pinned it to the ground would be the victor. It was common for a bull to maim or kill several dogs at such an event, either by goring, tossing, or trampling over them. Over the centuries, dogs used for bull-baiting developed the stocky bodies and massive heads and jaws that typify the breed, as well as a ferocious and savage temperament. Bull-baiting was made illegal in England by the Cruelty to Animals Act 1835. Therefore, the Old English Bulldog had outlived its usefulness in England as a sporting animal and its "working" days were numbered. However, emigrants did have a use for such dogs in the New World. In mid-17th century New York, Bulldogs were used as a part of a citywide roundup effort led by Governor Richard Nicolls. Because cornering and leading wild bulls were dangerous, Bulldogs were trained to seize a bull by its nose long enough for a rope to be secured around its neck.

Bulldogs as pets were continually promoted by dog dealer Bill George.

In 1864, a group of Bulldog breeders under R. S. Rockstro founded the first Bulldog Club. Three years after its opening the Club ceased to exist, not having organized a single show. The main achievement of the Rockstro Bulldog Club was a detailed description of the Bulldog, known as the Philo-Kuan Standard. Samuel Wickens, treasurer of the club, published this description in 1865 under the pseudonym Philo-Kuan.

On 4 April 1873, The Kennel Club was founded, the first dog breeding club dealing with the registration of purebred dogs and dog breeds. Bulldogs were included in the first volume of the Kennel Club Stud Book, which was presented at the Birmingham Show on 1 December 1874. The first English Bulldog entered into the register was a male dog named Adam (Adamo), born in 1864.

In March 1875, the third Bulldog Club was founded, which still exists today. Members of this club met frequently at the Blue Post pub on Oxford Street in London. The founders of the club collected all available information about the breed and its best representatives and developed a new standard for the English Bulldog, which was published on 27 May 1875, the same year they held the first breed show. Since 1878, exhibitions of the club were held annually, except during the Second World War. On 17 May 1894, the Bulldog Club was granted the status of a corporation and since then has carried the official name "The Bulldog Club, Inc.". It is the oldest mono-breed dog kennel club in the world.

The Bulldog was officially recognized by the American Kennel Club in 1886.

In 1894 the two top Bulldogs, King Orry and Dockleaf, competed in a contest to see which dog could walk 20 miles (32 km). King Orry was reminiscent of the original Bulldogs, lighter boned and very athletic. Dockleaf was smaller and heavier set, more like modern Bulldogs. King Orry was declared the winner that year, finishing the 20-mile (32 km) walk while Dockleaf collapsed. Though today Bulldogs look tough, they cannot perform the job they were originally created for, as they cannot withstand the rigors of running after and being thrown by a bull, and also cannot grip with such a short muzzle. Although not as physically capable as their ancestors, modern Bulldogs are much calmer and less aggressive.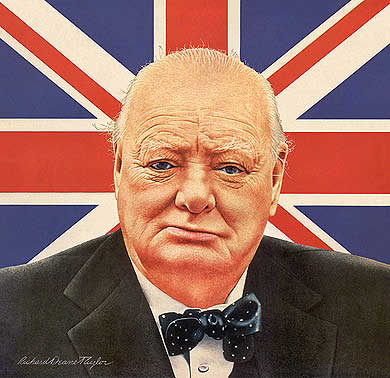 Portrait of Sir Winston Churchill - the British Bulldog
MOST POPULAR BREEDS 2021 - A to Z

Alsatians - German Shepherd
Basset Hounds
Beagles
Bloodhounds
Boxers
Bulldogs - British
Chihuahuas
Collies - Border
Corgis
Dalmatians
Dachshunds
Doberman Pinschers
Great Danes
Huskies, - Siberian
Mastiffs - Bullmastiffs
Pointers (German Shorthaired)
Pomeranians
Poodles
Pugs
Retrievers (Golden Labrador)
Rhodesian Ridgebacks
Rottweilers
Sheepdogs - Shetland
Shih Tzu
Spaniels - English Springer, Cocker, Cavalier King Charles
St. Bernards
Terriers - Yorkshire, Bull, Airedale, Boston, Scottish, West Highland White
Weimaraners
Whippets
Whiles this page populates, check out the YouTube links to talking dogs:
POPULAR MAMMALS:
ANIMALS REFERENCE and LINKS:
| | |
| --- | --- |
| | Such as frogs, toads (class: Amphibia) |
| ANNELIDS | As in Earthworms (phyla: Annelida) |
| | Neanderthals, Homo Erectus (Extinct) |
| | Spiders (class: Arachnida) |
| ARTHROPODS | Crabs, spiders, insects (phyla: Arthropoda) |
| | Such as Eagles, Albatross (class: Aves) |
| | |
| CRUSTACEANS | such as crabs (subphyla: Crustacea) |
| | Tyranosaurus Rex, Brontosaurus (Extinct) |
| ECHINODERMS | As in Starfish (phyla: Echinodermata) |
| | |
| HUMANS - MAN | |
| | Ants, (subphyla: Uniramia class: Insecta) |
| | Which includes PLANTS non- animal life |
| | Warm blooded animals (class: Mammalia) |
| | Such as Kangaroos (order: Marsupialia) |
| MOLLUSKS | Such as octopus (phyla: Mollusca) |
| | Trees - |
| PRIMATES | Gorillas, Chimpanzees (order: Primates) |
| | As in Crocodiles, Snakes (class: Reptilia) |
| | such as Rats, Mice (order: Rodentia) |
| SIMPLE LIFE FORMS | As in Amoeba, plankton (phyla: protozoa) |