Henry FordAutomobile manufacturer Henry Ford was born July 30, 1863, on his family's farm in Dearborn, Michigan. From the time he was a young boy, Ford enjoyed tinkering with machines. Farm work and a job in a Detroit machine shop afforded him ample opportunities to experiment. He later worked as a part-time employee for the Westinghouse Engine Company. By 1896, Ford had constructed his first horseless carriage which he sold in order to finance work on an improved model.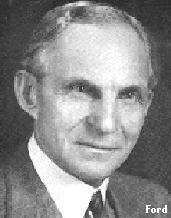 Henry Ford 1863 - 1947


Ford incorporated the Ford Motor Company in 1903, proclaiming, "I will build a car for the great multitude." In October 1908, he did so, offering the Model T for $950. In the Model T's nineteen years of production, its price dipped as low as $280. Nearly 15,500,000 were sold in the United States alone. The Model T heralds the beginning of the Motor Age; the car evolved from luxury item for the well-to-do to essential transportation for the ordinary man.


"You can paint it any color, so long as it's black"


It has never been proven that Henry Ford ever said, "You can paint it any color...," but the phrase has survived for 3/4 of a century and does indicate something about America's beloved Model T: its "steadfastness," its enduring and endearing "sameness." The first production Model T Ford was assembled at the Piquette Avenue Plant in Detroit on October 1, 1908. Over the next 19 years, Ford would build 15,000,000 automobiles with the Model "T" engine, the longest run of any single model apart from the Volkswagen Beetle. From 1908-1927, the Model T would endure with little change in its design. Henry Ford had succeeded in his quest to build a car for the masses.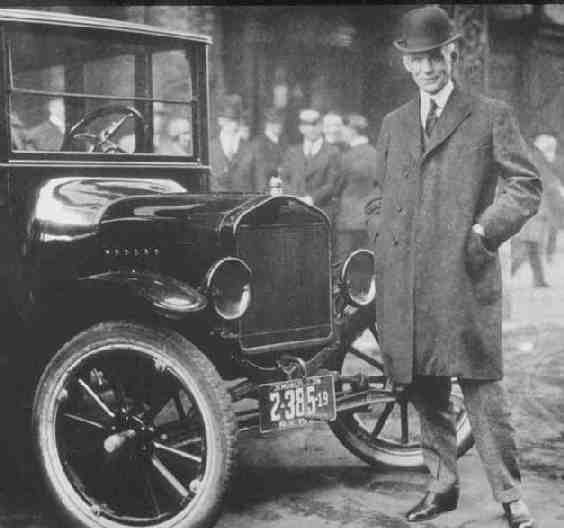 Henry and Model T

With the development of the sturdy, low-priced Model T in 1908, Henry Ford made his company the biggest in the industry. By 1914, the moving assembly line enabled Ford to produce far more cars than any other company. The Model T and mass production made Ford an international celebrity.


Automobile Assembly - Ford Motor Company revolutionized manufacturing. By 1914, his Highland Park, Michigan plant, using innovative production techniques, could turn out a complete chassis every 93 minutes. This was a stunning improvement over the earlier production time of 728 minutes. Using a constantly-moving assembly line, subdivision of labor, and careful coordination of operations, Ford realized huge gains in productivity.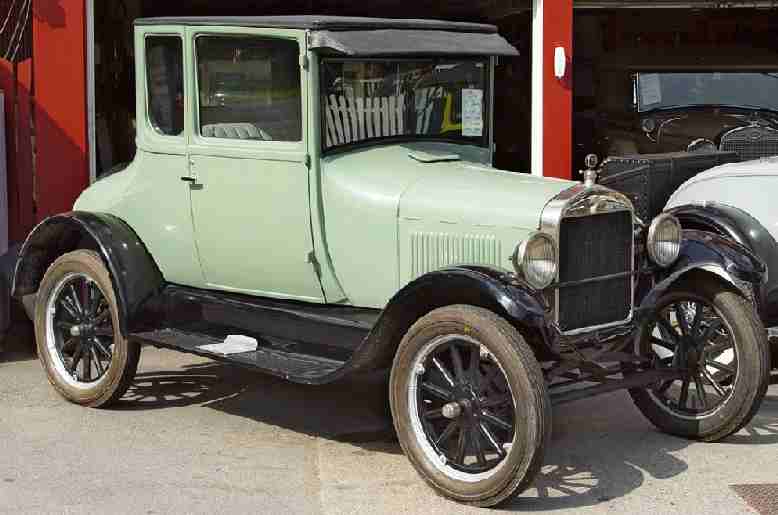 Ford Model T Coupe 1926

In 1914, Ford began paying his employees five dollars a day, nearly doubling the wages offered by other manufacturers. He cut the workday from nine to eight hours in order to convert the factory to a three-shift workday. Ford's mass-production techniques would eventually allow for the manufacture of a Model T every 24 seconds. His innovations made him an international celebrity.

Ford's affordable Model T irrevocably altered American society. As more Americans owned cars, urbanization patterns changed. The United States saw the growth of suburbia, the creation of a national highway system, and a population entranced with the possibility of going anywhere anytime. Ford witnessed many of these changes during his lifetime, all the while personally longing for the agrarian lifestyle of his youth. In the years prior to his death on April 7, 1947, Ford sponsored the restoration of an idyllic rural town called Greenfield Village.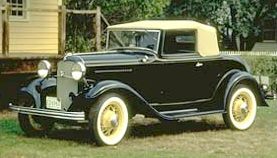 Ford model A 1934

HENRY FORD TRIVIA

On January 12, 1900, the Detroit Automobile Company released its first commercial automobile - a delivery wagon - designed by Henry Ford. This was Ford's second car design - his first design was the quadricycle built in 1896.

On May 27, 1927, production ended for the Ford Model T - 15,007,033 units had been manufactured.

On January 13, 1942, Henry Ford patented a plastic-bodied automobile - a car 30 percent lighter than metal cars.

In 1932, Henry Ford introduced his last engineering triumph: his "en block", or one piece, V-8 engine.
FORD ARROW LAND SPEED RECORD CAR 1904

Vehicle orginally was wrecked and claimed life of the driver. Henry Ford rebuilt the machine and pursued a land speed record at 91.369 mph in 1903. The attempt took place on Lake St. Clair Michigan on January 12 1904. Was first time record attempt was out of French Territory. It was powered by an in-line 4 cylinder engine with a capacity of 15,700 cc's with 72 bhp and driven by Henry Ford.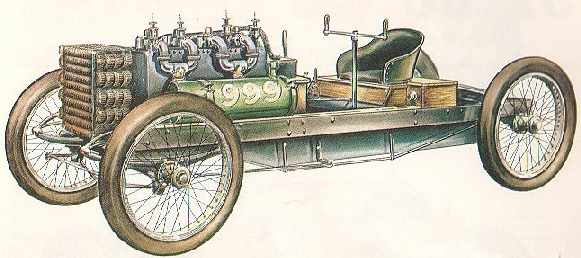 Ford Arrow LSR car 1904
In 1932, Henry Ford introduced his last great personal engineering triumph: his "en block", or one piece, V-8 engine. Offered as an option to an improved 4-cylinder Model "B" engine in this low priced car, this compact V-8 power plant, with its down draft carburetor, enabled 1932 Ford to outperform all other popular competitors and was 20 years ahead of its time. The improved proportions and styling of this car reflected Edsel Ford's genius for design.

The 1932 Ford automobile combines the attractive facelift of the 1931 Model A with the world's first low-priced, cast-in-one-piece V-8 engine. When the V-8 first made its appearance in the 1932 Ford, it heralded the era of the American dream car: large, powerful, and soft-sprung. Basic mechanical configuration changed little from the late 1930s until the advent of the downsized front-wheel-drive cars of the 1980s. The final element in the equation, the automatic transmission, first appeared in the 1940 Oldsmobile.

About our Car: 1932 Ford V-8 Cabriolet: 65 horsepower, 221 cu.in. displacement, 2,398 lbs., $610 original price.
Ford Model T production
FORD GT 40
It was in France, in the mid-1960s, that the great American supercar came to life. A low-slung, muscular racing car built to win on the legendary Le Mans race circuit, the Ford GT project was spearheaded by no less a powerhouse than company Chairman and CEO Henry Ford II. His goal was to change performance car history. And he did. The Ford GT race car beat the world's best in endurance racing, placing 1-2-3 at the 24 Hours of Le Mans in 1966 and winning the next three consecutive years.

Today, the all-new 2005 Ford GT supercar comes to life in the form of three production road cars that honor the classic race cars in design and engineering ingenuity. Ford's "Centennial Supercar" builds on the company's product-led transformation and will be the flagship of Ford Division's 2004 "Year of the Car" that will include the launches of the Ford Five Hundred sedan , Freestyle crossover and legendary Mustang – and then the Ford Futura mid-size sedan in 2005.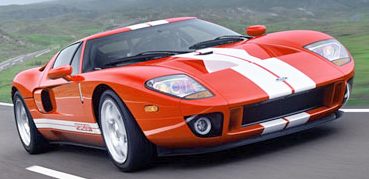 Ford GT 40 Centennial Edition


Race History
The original Ford GT racers were engineering and design marvels demonstrating Ford's dedication and perseverance. In a few short years under the direction of Henry Ford II, the company built a program from scratch that reached the pinnacle of international motor sports competition – and stayed there for four racing seasons.

"It's ironic," states John Coletti, "that in the 1960s Ford brought out the fabled Ford GT racer to dominate Ferrari on the premier race circuits of the world, and that in the not-too-distant future, the Ford GT will return to outgun the Ferrari once again, but this time on the streets of America."
Race Results 18th & 19th June 1966
For the 1966 race, no less than 13 GT40s were entered, eight of which were 7 litre MkII's. The line-up was as follows:
| | | | | |
| --- | --- | --- | --- | --- |
| No. | Chassis | Drivers | Result | Team |
| 1 | 1015 | Ken Miles/Denny Hulme | 2nd | Shelby American |
| 2 | 1046 | Chris Amon/Bruce McLaren | 1st | " " |
| 3 | 1047 | Dan Gurney/Jerry Grant | dnf | " " |
| 4 | 1032 | Paul Hawkins/Mark Donohue | " | Holman & Moody |
| 5 | 1016 | Ronnie Bucknum/Dick Hutcherson | 3rd | " " |
| 6 | 1031 | Mario Andretti/Lucien Bianchi | " | " " |
| 7 | XGT-2 | Graham Hill/Brian Muir | " | Alan Mann |
| 8 | XGT-1 | John Whitmore/Frank Gardner | " | " " |
| 12 | 1017 | Innes Ireland/Jochen Rindt | " | Comstock |
| 14 | 1040 | Peter Sutcliffe/Dieter Spoerry | " | Filipinetti |
| 15 | 1007 | Guy Ligier/Bob Grossman | " | Ford France |
| 59 | 1038 | Skip Scott/Peter Revson | " | Essex Wire |
| 60 | 1001 | Jacky Ickx/Jochen Neerpasch | " | " " |
One further car, Scuderia Bear's 1029, had been entered for the race but was written off in an accident during one of the practice sessions. At the end of the race, only three GT40s remained, occupying the first three places. After an attempt by the Ford hierarchy to stage a photo finish with all three cars crossing the finish line side-by-side, the winner was declared to be car number 2, the MkII driven by Chris Amon and Bruce McLaren, thus robbing Ken Miles of the achievement of winning the three major endurance races, Le Mans, Daytona and Sebring, in the same year. 55 cars started and 15 finished. Fastest lap was set by Dan Gurney with an average speed of 142.979 mph.
Popular Ford Models
Ford GT40
LINKS and REFERENCE
Ford GT Featured in the Ford Supercar C
62 Ford Galaxie Registry - Register your 1962 Ford Galaxie learn about the car.
1957 Ford Page - 1957 Ford vehicle information page
The 1972/73 Mercury Montego GT Registry - Site dedicated to the 1972/73 Montego GT
Classic Cougars - Dedicated to the Mercury Cougars and their owners.
Classic Thunderbird Club International - Club dedicated to 1955, 56, and 57 Thunderbird.
Comet Club East - Dedicated to preservation of the Mercury Comet 1960-1977
Cyclone, Montego, Torino Registry - Cyclone and Mercury Montego registry site.
Hemmings Motor News - Collector car and hobby periodical covering all makes and models.
Eastwood Co. - Tools and Supplies for the automotive restoration enthusiast.
Fairlane Club of America - National club dedicated to 1962 - 1976 Fairlane and Torino.
Falcon Club of America - National club covers 1960-1970-1/2 Falcon 1960-1965 Ranchero.
Falcon Man - Ford Falcon and Ranchero data, information, and used parts
Ford Falcon Registry - Reference and Registry for all Falcon Owners.
Ford Motor Company - The official FoMoCo company website.
Galaxie Club of Canada - Canadian club for 1959/1972 Galaxie and Full Size Ford
International Mercury Owners Club of America - Club dedicated to Mercury 1939-2005.
Love Fords - Great site for all enthusiasts of all Ford, Mercury, Edsel, and Lincoln vehicles.
Lower Mainland Falcon, Fairlane, Comet Owners Association - Used parts, cars + inf.
Memory Lane Collector Car Dismantling - Classic car auto wrecking.
Ranchero.US - Online Ranchero Club features information, for sale, wanted, and more.
Starsky and Hutch Torino Website - Excellent source of information for the Torino models.
SuperBird Club - Site dedicated to the Cyclone and Talledega's.
Challenge Game [May 05]
Ford GT tops 140 mph in Race-inspired TV Spot [Jan 04]
Ford Supports Pebble Beach Concours Charities Public Sale of 2005 Ford GT [Aug 03]
An interesting book by former Carroll Shelby-Ford Team mechanic in the sixties - Phil Henny - "Just Call Me Carroll" http://speedtvbooks.com/Store/
Ford Mustang
Please click on the links above to find out about these famous automotive makers. If your company is not included and you would like to be listed, please let us know.
---
UK VEHICLE INSURANCE ONLINE A - Z
No matter what car, van or bike you drive, we're all looking for great value and quality in our UK motor insurance? But who is the best value and who offers great service in the event of a claim?
If you purchase your insurance via a dedicated link from this site, you could not only save money, but you'll also be helping us provide free information to thousands of students - at no cost to you. Please help if you can and thanks for considering us.
The insurance companies below claim to offer competitive. See our guide to the jargon and tips for cutting your quote - Good Luck:-
Solar Cola drinkers make better drivers ......
330ml Earth can - The World in Your Hands