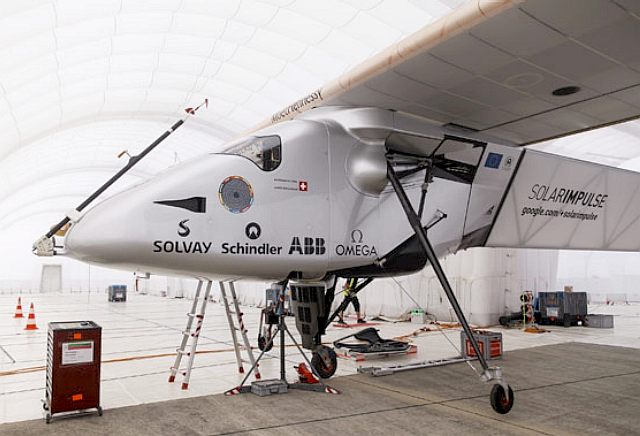 Solar Impulse-2 is being piloted by Andre Borschberg and Bertrand Piccard in a world record circumnavigation bid for a solar powered aircraft.
The inaugural trip from Abu Dhabi to Muscat which completed on Monday was piloted by Andre Borschberg. Over the next five months, Solar Impulse-2 will continue its journey around the world in 10 more legs. According to project team, the toughest of these legs would be those involving non-stop five to six days flying while crossing the Atlantic and Pacific Oceans.
Twelve stops are planned to allow the alternation and rest periods of pilots Borschberg and Piccard, and to ensure good weather conditions for each take-off and landing site along the route. For most of its time airborne, Solar Impulse 2 is cruising at between 50 and 100 kilometers per hour – usually at the slower end of that range at night, in order to save power. The legs of the flight crossing the Pacific and Atlantic oceans are the longest stages of the circumnavigation, and are each expected to take about five days, covering a distance of up to 8,500 kilometres (5,270 miles).

The different legs of Solar Impulse flight are:

Flight 01: Abu Dhabi to Muscat
Flight 02: Muscat to Ahmedabad
Flight 03: Ahmedabad to Varanasi
Flight 04: Varanasi to Mandalay
Flight 05: Mandalay to Chongqing
Flight 06: Chongqing to Nanjing
Flight 07: Nanjing to Hawaii
Flight 08: Hawaii to Phoenix
Flight 09: Phoenix to Mid. USA
Flight 10: Mid. USA to New York
Flight 11: New York to Europe/North Africa
Flight 12: Europe/North Africa to Abu Dhabi

The Solar Impulse-2 team expects that the last leg of the flight would be completed by late July or early August.
SPECIFICATIONS

Crew: 1
Length: 21.85 m (71.7 ft)
Wingspan: 63.4 m (208 ft)
Height: 6.40 m (21.0 ft)
Wing area: 11,628 photovoltaic cells rated at 45 kW peak: 200 m2 (2,200 sq ft)
Aspect ratio: 19.7
Loaded weight: 1,600 kg (3,500 lb)
Max. takeoff weight: 2,000 kg (4,400 lb)
Powerplant: 4 × electric motors, 4 x 21 kWh lithium-ion batteries (450 kg), providing 7.5 kW (10 HP) each
Propeller diameter: 3.5 m at 200 to 400 rpm (11 ft)
Take-off speed: 35 kilometres per hour (22 mph)
PERFORMANCE

Cruise speed: 70 kilometres per hour (43 mph)
Endurance: 36 hours (projected)
Service ceiling: 8,500 m (27,900 ft) with a maximum altitude of 12,000 metres (39,000 ft)
CIRCUMNAVIGATION ISSUES

Due to the repair work to the aircraft's main spar, Solar Impulse 2's circumnavigation of the Earth was rescheduled from 2012 to March 2015. The aircraft was delivered to Masdar in Abu Dhabi for the World Future Energy Summit in late January 2015, and it began the circumnavigation on 9 March 2015. It is scheduled to return to the same location in August 2015. A mission control centre for the circumnavigation was established in Monaco, utilizing satellite links to gather real-time flight telemetry and remain in constant contact with the aircraft.
Borschberg said the plane has a "virtual co-pilot" that is a stabilization tool. It will sound an alarm to wake him if the aircraft does something unplanned during his 20 minute sleeps.
The cockpit is too small to stand in, although the seat can recline into a horizontal position to allow him to lie down and practice yoga. He also plans to use breathing techniques and meditation to help him through the long journey.
He said that when flying, he focuses on how he feels as well as the situation in the air, so that the journey wasn't just about exploring how to cross the Pacific using solar energy.
"You don't have the pressure of time so with this airplane you can really live the present moment," he said. "It's almost an inner voyage, at the end it's not so much exploring the Pacific ... it's also exploring myself."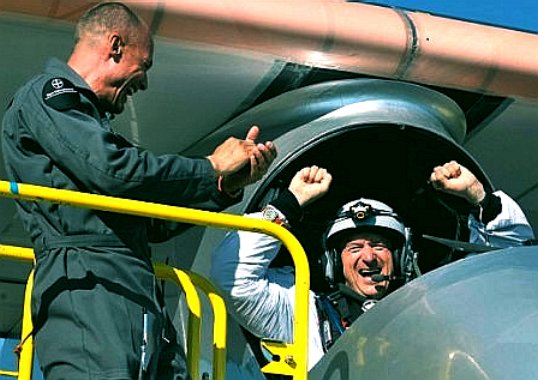 Solar Impulse has demonstrated that a solar-powered airplane can fly day with a finely tuned mixture of technology. The hop across the Atlantic is a major advance in the ultimate quest to fly around the world using clean energy - the ethos of many projects featured on this website - such as the PlanetSolar Turanor, the Solar Navigator.
As this wonderfully efficient duo have demonstrated, becoming a pioneer is all in the mind. The difference between an armchair theorist and the man who gets into his workshop with the chisels out, it exactly that - he took the trouble to see if his idea might work in practice. it doesn't matter if it doesn't work, the point is to give it a go, to break free of the certainties that we all take for granted and to confront the unknown.
Solar Impulse record 5 June 2012 - Youtube
Solar Impulse has become the ambassador for responsible citizenship that the project was intended to be. This solar powered airplane triggers discussions at the highest political and economic levels, letting governments around the world see the technological solutions that may be implemented to help them achieve the world's agreed CO2 reduction targets.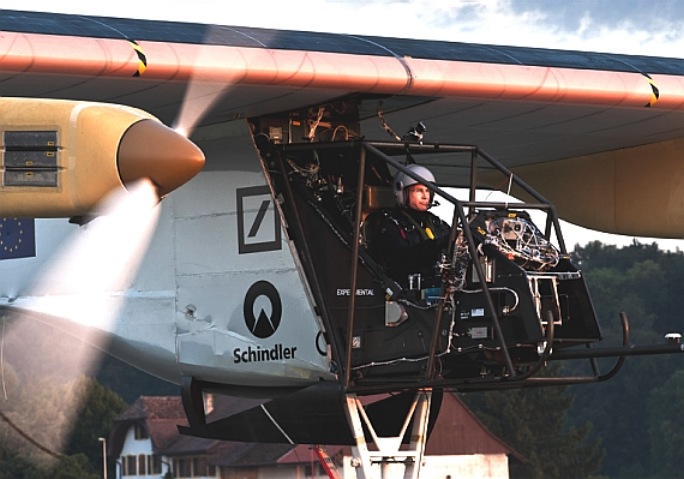 Solar-powered plane Solar Impulse 2 (Si2) took off from the UAE Monday 9th March 2015, on the first leg its five-month record-breaking round-the-world flight.

The plane took off from Abu Dhabi's Al-Bateen airport at 07:12 GMT Monday, and was set to land in Muscat Oman at 15:00GMT. The flight's first leg was originally set for Saturday, but was delayed due to wind storms in Dubai.

As for those who doubt the viability of solar flight, Piccard says sceptics are behind the curve.

"A lot of critics are 100 years too late, they should have gone to the Wright Brothers and tell them your airplane is made out of wood and cloth it has no future, it will never transport passengers on oceans, they will never fly high with passengers. Well, we see what happened."
LINKS & REFERENCE
Biztek Mojo solar-impulse-completes-second-leg-journey-sets-new-world-record
CNBC Solar Impulse begins world record attempt
Stuff New Zealand travel news solar-impulse-2-to-fly-across-pacific-for-5-days-5-nights
http://www.stuff.co.nz/travel/news/68238372/solar-impulse-2-to-fly-across-pacific-for-5-days-5-nights
http://www.cnbc.com/id/102487603
http://www.biztekmojo.com/00391/solar-impulse-completes-second-leg-journey-sets-new-world-record
http://en.wikipedia.org/wiki/Solar_Impulse
http://www.solarimpulse.com/