A catamaran is a type of boat (or occasionally ship) consisting of two hulls joined by a frame. Catamarans can be sail or motor powered. The word catamaran comes from the Tamil language, in which the word kattumaram means "logs bound together". The catamaran was the invention of the paravas, an aristocratic fishing community in the southern coast of Tamilnadu, India. Catamarans were used by the ancient Tamil Chola dynasty as early as 5th century AD for moving their fleets to conquer such south-east Asian regions as Burma, Indonesia and Malaysia.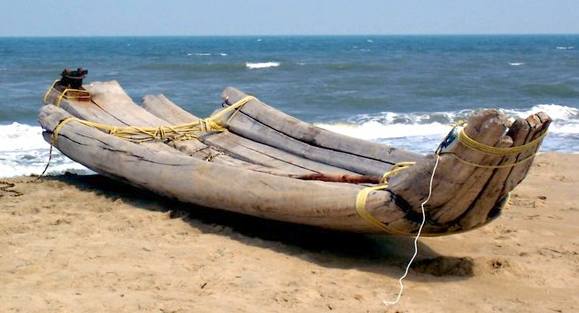 Catamarans are a relatively recent design of boat for both leisure and sport sailing, although they have been used for millennia in Oceania, where Polynesian catamarans allowed seafaring Polynesians to settle the world's most far-flung islands. Catamarans have been met by a degree of scepticism from some sailors accustomed to more "traditional" designs.
Catamaran sailing
Although the principles of sailing are the same for both catamarans and monohulls, there are some 'peculiarities' to sailing catamarans. For example:
Catamarans can be harder to tack (turn through the wind). Because they are lighter in proportion to their sail size, they have less momentum to carry them through the turn when they are head to wind.

They have a higher average speed.

All boats sail faster when travelling in certain directions relative to the wind with the best speeds typically being achieved when heading away from the wind at about 135 degrees. This effect is much more noticeable with catamarans, even to the extent that it can be more efficient to jibe ('tack' downwind) in zig zags, rather than heading directly away from the wind as a monohull would.

Catamarans are less likely to capsize in the classic 'beam-wise' manner but often have a tendency to 'pole-axe' (or 'pitchpole') instead - where the leeward (downwind) bow sinks into the water and the boat 'trips' over forward, leading to a capsize.
Teaching for new sailors is usually carried out in monohulls as they are thought easier to learn to sail, a mixture of all the differences mentioned probably contributes to this. Catamarans, and multihulls in general, are normally faster than single-hull boats for four reasons:
each hull of a catamaran is (typically) thinner in cross section than those of monohulls;

catamarans are lighter due to the fact there is no keel counterweight.

catamarans have a wider beam (the distance from one side of the boat to the other), which makes them more stable and therefore able to carry more sail area per metre of length than an equivalent monohull.

the greater stability means that the sail is more likely to stay upright in a gust, drawing more power than a monohull's sail which is more likely to lean over.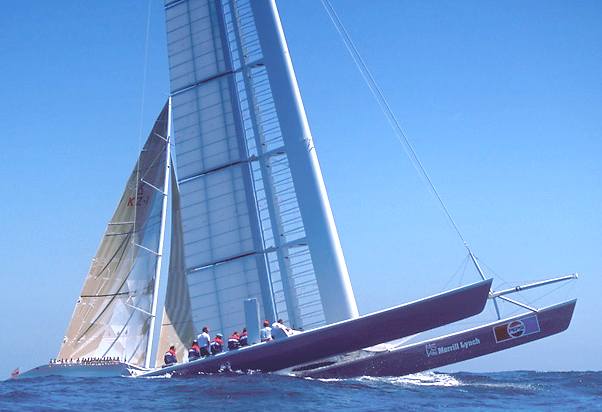 Stars & Stripes, a racing catamaran
Catamarans are especially favourable in coastal waters, where the open spaces permit the boat to reach and maintain its maximum speed. Catamarans make good cruising and long distance boats: The Race (around the world, in 2001) was won by the giant catamaran Club Med skippered by Grant Dalton. It went round the earth in 62 days at an average speed of eighteen knots.
Catamaran designs
Popular small racing catamarans include:
The Hobie cats

International A-Class (open design; length 5.49 m (18 ft), beam 2.3 m (7 ft 6.5 in), weight 75 kg, sail 13.94 m² (150 ft²))

Formula classes (F16, F18, F20)

Dart 15 and Dart 18

Tornado, Olympic class racing catamaran.
Catamarans for ferries
SpeedOne operated by SpeedFerries, running between Dover, UK and Boulogne, France

Stena Line HSS class (High-speed Sea Service)

Stena Discovery - Harwich, UK to Hoek van Holland, Netherlands

Stena Voyager - Stranraer to Belfast

Stena Explorer - Holyhead to Dun Laoghaire, Republic of Ireland

Lake Express running between Milwaukee, Wisconsin and Muskegon, Michigan

Spirit of Ontario I running between Rochester, New York and Toronto, Ontario

SSTH Ocean Arrow

SuperStar Express, P&O Irish Sea running between Troon, Scotland and Belfast, Northern Ireland.

FoilCat, FlyingCat and Tricat operated by Turbojet Ferry, running between Hong Kong and Macau.

The Cat, a high speed car ferry running various routes between Canada's Atlantic provinces and the mainland, which includes a line between Portland, Maine in the United States and Yarmouth, Nova Scotia in Canada.

The CityCat, a ferry running along the Brisbane River in Queensland, Australia.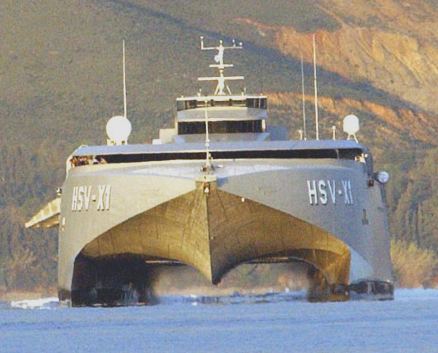 Large experimental high-speed military catamaran
Powered Catamarans
A recent development in catamaran design has been the introduction of the power catamaran. The 'power' version incorporates the best features of a motor yacht and combines it with the traditional sailing characteristics of a multihull. Usually, the power catamaran is devoid of any sailing apparatus as demonstrated by one of the top-selling models in the United States, the Lagoon Power 43. This vessel has now been introduced to a number of charter fleets in the Caribbean and the Mediterranean and is becoming an increasingly common sight.
Mega Catamarans
One of the biggest developments over the last decade in the yachting arena has been the rise of the super catamaran - a multihull over 60 feet in length which come in semi-custom and custom designs.
Various international manufacturers are leading the way in this area including Yapluka, Sunreef, Lagoon and Privilege. A catamaran over 145 feet in length is reportedly under construction on the Eastern Seaboard of the United States.
The emergence of the super or mega catamaran is a relatively new event which is akin to the rise of the mega or super yacht which was used to describe the huge growth in luxury, large motor yachts in the French Riveria and Floridian Cost.
It takes up to one year to complete construction of one of these super catamarans and represent state-of-the-art design breakthroughs in the catamaran sector.
Paritet - manufacturer of high speed catamarans

Paritet company is manufacturer of high speed catamarans with futuristic design. Also, we manufacture glassbottom boats.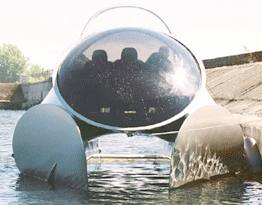 Equipment : RECARO seats, 2 refrigerators, Hi-Fi music system 800 watt, GPS, autopilot, radar, foldable stainless steel aft railing, sonar, remote battery switch, trim tabs, electronic compass, hydraulic suspend of 3 forward seats, ventilated skipper seat, 2 auto-pumps, automatic anchor device, sun&rain canopy with side windows, hydraulic tilt of arch for easy installation of sun canopy.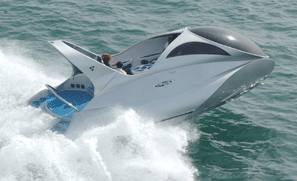 length

8.5 m (28 ft)

width

3.5 m (12 ft)

capacity

6 passengers + skipper

hull

aluminium alloy

fuel capacity

from 2x200 to 2x350 litres
(from 2x53 to 2x93 gal)

engine

Mercruiser 496 Magnum HO gas 2x425 hp
Volvo penta D6-350 diesel 2x350 hp
2x Volvo Penta D4-260 is possible
2 x YANMAR 6LY2A-500Hp

propulsion

stern drive, Arneson drive

weight

4000-5000 kg (8800-11000 lb)

maximum speed

65 knots
New cruise version: two separate double berth cabins with air conditioning and WC/Shower room (see options)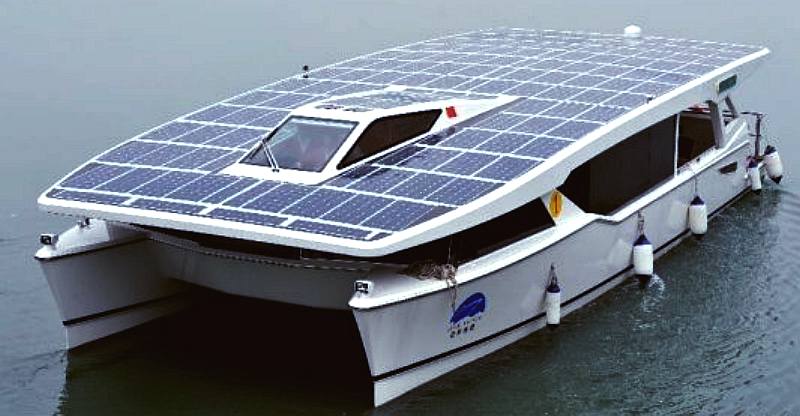 CATAMARAN LINKS:
Moreton Bay Jig - A Jarcat 7 Cat

The ongoing story of the Jarcat 7m catamaran "Moreton Bay Jig" by her builders and owners.
Ross has owned dinghies and yachts since 1968, winning many trophies in Trailer sailer events. His first trailer-sailer was a fibreglass Redwitch monohull. He then built a fibreglass cruising monohull. Promised a level ride and easy trailering, Ross built a trimaran which he used extensively both racing and cruising. When the kettle jumped out of the stove rails and his replacement vehicle was found lacking in towing ability, Ross decided to design a boat which would fulfill his requirements for a trailer sailer.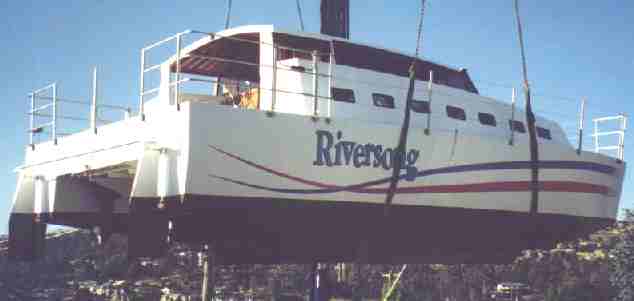 The boat needed to sail level, tow very easily and have plenty of room for his family to live aboard during holidays. Get rid of a deep keel (Moreton Bay is very shallow) and your left with a tri or cat. The cat does not have surplus weight in floats to keep balance and has double the room.
As of mid-July 2005, we moved to a new location in north Sarasota at 7010 28th St. Ct. E. Sarasota FL 34243. Since then we have also done the punchout (tramp rails, bushings, composite forestay attachment, etc, etc) on a carbon F-9 which is nearly ready to launch, and built a set of new daggerboards for a Kurt Hughes 63. We are currently building out the mechanicals and interior of a 50' Fastwater Aluminum Catamaran designed by Cortland Steck.
Email to Ross Turner. Or Phone (07) 3209 9388
Mail Address : 14 Omaru St. Loganholme, QLD 4129, Australia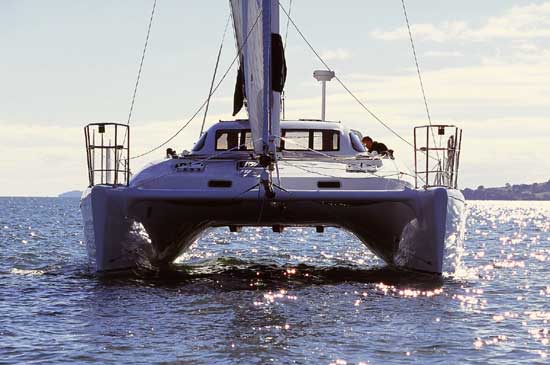 YACHT LINKS:
INFORMATION FOR YACHT DESIGNERS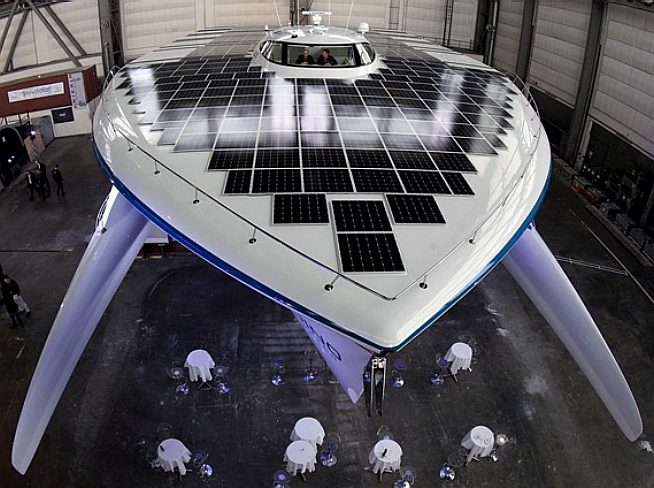 Elvstrom Sobstad Sails

American Sailing Association

US Sailing Association

Sailing Magazine

Cruising World & Sailing World
Sail Magazine

Sources






Sailcast Weather Update
| | |
| --- | --- |
| Transatlantic crossing - Youtube | Catana 92 - Youtube |
| Fountaine Pajot - Youtube | Lagoon 620 - Youtube |
| Phaedo Gunboat - Youtube | SIG45 - Youtube |
| Pedal powered duck-cat - Youtube | Catamaran hydrofoil - Youtube |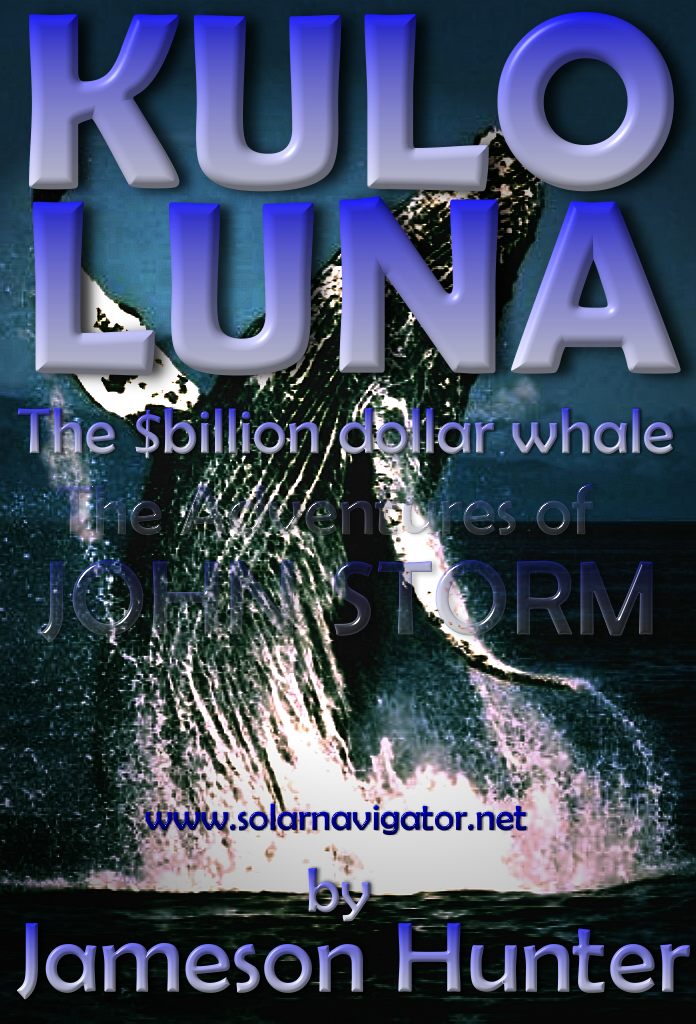 A modern Moby Dick adventure
on the high seas by Jameson Hunter