Ecocats Limited is a company based in London and Cornwall which was founded in 2000 by Andy Fox, a boatbuilder experienced in laminating and Derick Reynolds, a boat designer/builder. They designed and produced the 22'-28' range of Ecocats open-deck power catamarans for use as harbour patrol, photography and recreational vessels a version of which is seen in the pictures below.

Andy and Derick were joined in 2002 by Henry Mayhew, a keen boater and salesman looking to make an investment in a small design and manufacturing business, that could use his business experience.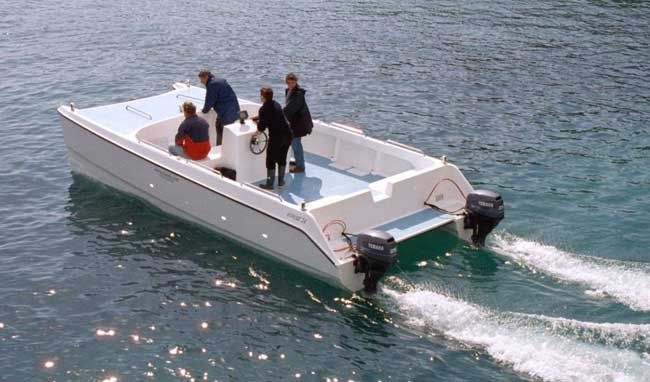 Features
Low-wash easily driven hulls
Oustanding ride - soft easy motion with no slamming.
Fit out

GRP seating and control console
Heavy-duty rubbing strip to gunwale
Aluminium/Stainless steel hardware
Cleats, anchor and tow points
Propulsion and steering controls

Options

Trailable version - 2.6M beam
Standing headroom cuddy
Side 'doors' for level and disabled loading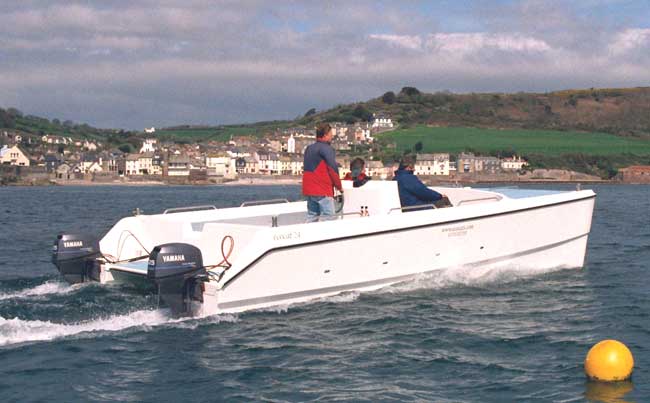 Specification
LOA
Beam
Draft
Engines
Speed range
Capacity
RCD category
7.30M
3.58M
0.29M
8 to 80HP
4 to 25kts
To 7 crew
'C' Inshore
Currently Ecocats have a number of boats under construction or awaiting build, including a 42 seat electric passenger vessel for Trentham Gardens lake, which is near Stoke on Trent. This boat will transport visitors between restaurants, the retail village and the coach park, and provide environmental cruises on the one and a half miles of water.
Power Catamaran | Boat Designs
Ecocats Ltd. Enterprise Court. Marine Drive.
Torpopint. Cornwall. PL11 2EH
Solarnavigator is the flagship demonstrator of a new COLREG compliant integrated navigation system.