http://Ev-Motors.com EV Cycling-to-the-Sun http://cycletothesun.net
'Gem' electric cycle conversion
In the toughest 36 mile hill climb in the world, this custom electric bike showed it had what it takes to set a new record.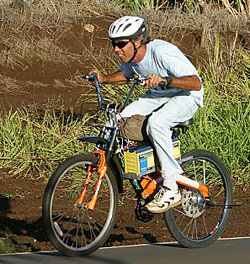 Randy Draper on his electrically assisted mountain
bike climbing Haleakala volcano, Maui.

The road is billed as the world's steepest. It climbs nonstop from sea level to the peak of the 10,005 feet high volcano Haleakala on Maui, over a distance of 37 miles. The race up it, called Cycle to the Sun, was conceived of as the world's toughest bicycle hillclimb. But in this year's race, held on August 17th, a rider on an electric power assisted bicycle, using advanced batteries and a motor he made himself, has completed this endurance feat for the first time, near the head of the pack.
Randy Draper, the constructor and pilot of the modified bike, was drawn to the race not as a competition against human power, but rather as an extreme test of his unique design approach to light EV's. Using an unusually efficient 750 watt brushless motor he designed himself, a modified three-speed hub shifter from bicycle component maker SRAM, and a 48-volt nickel-zinc Evercel battery pack, his full-suspension mountain bike is a test bed where total over-the-road efficiency is the guiding rule.
While most familiar commercial electric bikes use a 250 to 400 watt motor and lead acid batteries, Draper wanted more power for hill climbs, better efficiency at a wider range of speeds, and much greater range. His 7 lb. motor design has been used in prototype boats, bikes, and also is just as efficient as a generator. Draper uses one in a windmill to add power to his solar array at his home in Lahaina, also on Maui. At one point he even made a 10 mile island crossing in a small solar powered catamaran powered by the motor.
The race would have been impossible to complete on any commercial stock e-bike. Not only is the road too steep, averaging 5% in grade but with long stretches over 15%, it is also far too long. Most e-bikes would have trouble completing a fourth of it before the batteries died. Even with better batteries the motors are not designed for long efficient runs at 750 watts and would overheat. But Draper figured with his efficient setup and a new type of EV battery with nearly twice the power of lead acids, the distance might just be within reach.
With assistance from Bob Ketell at Electricab Energy in California, the U.S. distributor of Evercels, Randy got four of these batteries and grafted them onto his specially prepared motorized mountain bike. The race promoters were intrigued and enthusiastic about the prospect of an electric bike competing alongside the cyclists, though he was asked to start after all the human-powered entrants.
At the 6500 foot elevation point, the road enters the National Park, the crown jewel of which is the enormous volcanic crater towering over a commanding view of the sea and the islands. An alternative end point of the race is just inside the Park for those not wanting to test their lungs and legs at the higher altitudes. "One park ranger yelled at me to stop at the park toll at the National Park entrance. As I sped by at 25 mph I yelled I was in the race."
RANDY writes: I started at the back of over 250 pro riders from around the world. Starting from the beach I managed to get out in front by the 2500 ft marker. From then on I maintained the lead by close to 4 miles ahead of everyone until 1/4 mile from the 10,005 ft summit. The Evercels stayed in the mid 50 volt range until the last 3 miles. At half way the ratio of amps per mile was 16 amps at 20 miles. As the steeper part came up I noticed I was getting a little less than 1 amp per mile .The voltage was still about 53 volts and I started loosing about 1 volt per mile with 10 miles to go. As the observatory was up on top of a giant hill it was so close and so far away at a 1/4 mile. With only 36volts at that point I started walking for about 20 yards using just enough power to pull my 125 lb bike along.
After resting for 15 minutes with 1/4 mile to go the 3 in the Mavic team passed me by to win I think 3 in all, I did get a picture of them passing. Just for the hell of it I jumped on my bike and it took off to my surprise and finished in 3 hours and 3 minutes 58 sec, using 37.334 amp/hours in 37.35 miles. I was working on my new bike all night to get it ready and never had time to test it or cycle the Evercel batteries. At the summit about a half hour after I finished I noticed the voltage at 53volts so I rode it around at the top for another half hour... Hmm ... those Evercel batteries are amazing! :-).. Right now I'm missing the awards Ceremony but I haven't slept in 48 hours.. Was a beautiful day and caught the eye of everyone I passed in the race and along the road. It is documented by http://Cycletothesun.net It is a worlds EV record for climbing steepest road in the in the world.. as far as I know.12.2 mph was my average time, mostly in 1st gear.
I think it's a world record. I now have a 100+range bike at 20-30 mph 1600 watt peak but rarely use over 750 watts. Got to 10,005 feet from sea level in 3 hours 3 min and 58 sec.
---
Randy is looking for a lithium battery manufacturer or bike company to produce an electric cycle incorporating his 3 speed system, or to sponsor his next record breaking project: the volcano in 2 hours!!
If you are interested why not email him: Randy Draper
---
MONGOOSE: ELECTRIC FULL SUSPENSION MOUNTAIN BIKE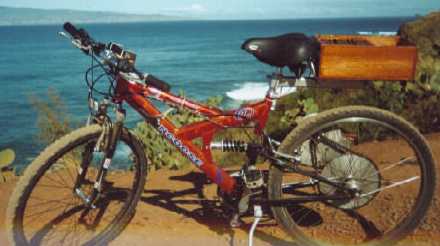 Mongoose - electric cycle
(Sram Dual Drive 3 speed hub) in common with the motor, pedals and derailer gears, on a separate freewheel will go (up to 33mph top speed) for 26 miles with no pedaling. You could go for 35 miles plus, with some pedaling on 14 amp hour (agm) batteries on any terrain round trip. The motor or pedal gearing is fully adjustable for speeds up to 35mph.The motor and controller will operate to 1000 watts at 36 volts (2000 rpm free spinning) or 1250 watts at 48 volts (2600 rpm free spinning). A single motor reduction of 8 to 1 on a 26" wheel (at 48 volts) will take you (22 mph top speed) on a 100 lb. bike with a 160 lb. rider, at a average round trip speed of 17,5 mph for 26 miles with no pedaling. At a average trip speed of 17.5 mph you can get 1 mile per 18.5 watt hour.1 amp hour will get you 2.6 miles at 48 volts. With using a higher gear you could average 24.5 mph using 24 watt hour per mile. Nimh batteries would give you a better range and speed.
HUFFY: A STYLISH RIGID FRAME BIKE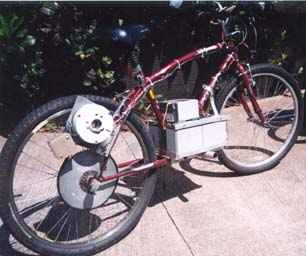 Huffy - electric cycle
The same motor, the Sram 3 speed hub, and no pedals. This 105 lb. bike set up will go up to 37 mph. At a average speed of 20+mph the bike will go for 20 miles on 480 watt hours of power on lead acid batteries. A 50 mile range bike could be made with the motor in the frame (with or without pedals) that weighs under 50 lbs, with a light weight battery pack.
EDUCATIONAL LINKS
http://www.testking.com/CLO-001.htm
http://www.certkiller.com/exam-642-832.htm
http://www.testkingsite.com/cisco/650-179.html

The Solar Lady