Falmouth, Atlantic passage, the launch and home port for many an adventurer
In Britain's Western Approaches lies the port of Falmouth - south west Cornwall's premier resort and home to Cornwall's maritime heritage. Washed by the ocean and warmed by the Gulf stream, the town basks on the shoreline of the world's third largest natural harbour - the gateway to a beautiful network of rivers and creeks.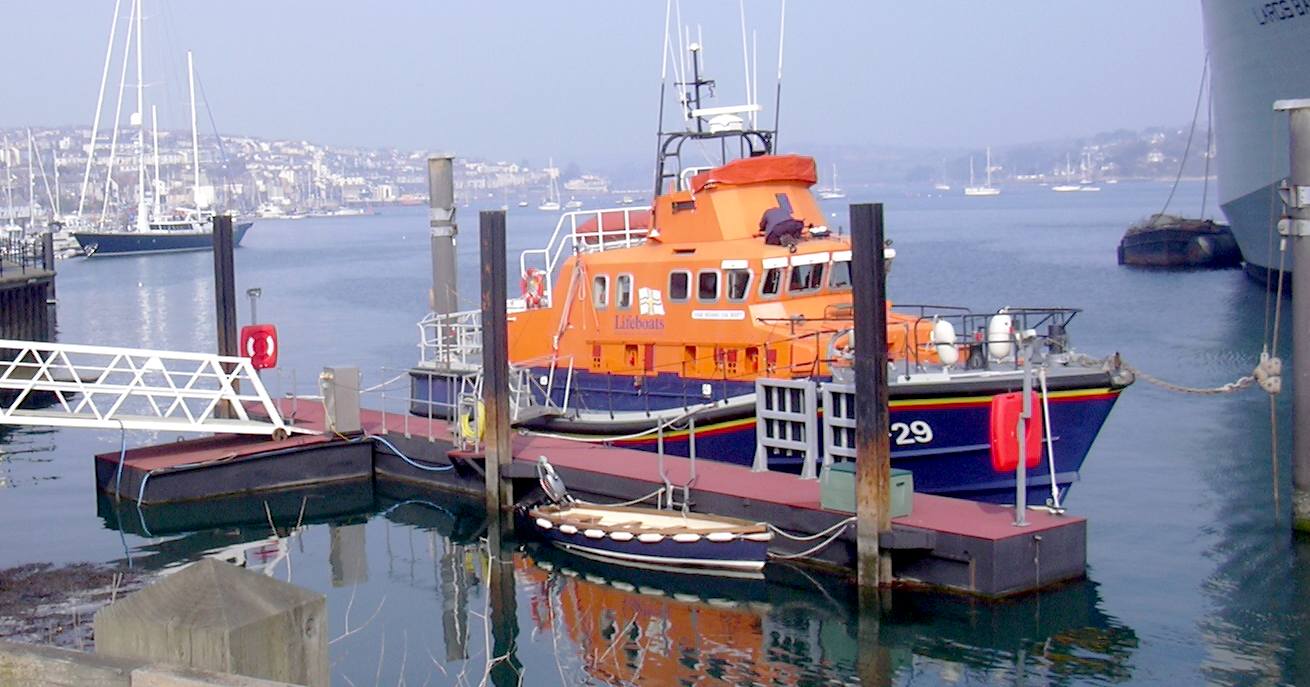 Falmouth lifeboat
Famous for its beaches and castle and infamous for its smugglers and pirates - Falmouth has protected the deep water anchorage of the Carrick Roads since Tudor times.
Getting about could not be easier. Leave your car behind and climb aboard one of the many pleasure boats and ferries which ply the local waters to St Mawes, Flushing, Smuggler's Cottage at Tolverne, Truro and the Helford Passage. Yachts with skippers can be chartered by the day.
ECONOMY, INDUSTRY & TOURISM

While Falmouth's maritime activity has much declined from its heyday, the docks are still a major contributor to the town's economy. It is the largest port in Cornwall. Falmouth is still a cargo port and the bunkering of vessels and the transfer of cargoes also keep the port's facilities busy. The port is also popular with cruise ship operators.

Further up the sheltered reaches of the Fal there are several ships laid up, awaiting sailing orders and/or new owners/charterers.

With its Georgian town houses converted into guest houses and small hotels, often overlooking one of the beaches, Falmouth has proven a popular holiday destination and it is now primarily a tourist resort. The five main beaches starting next to Pendennis Castle and moving along the coast towards the Helford river are Castle, Tunnel, Gyllyngvase, Swanpool and Maenporth beaches. The National Maritime Museum Cornwall opened in February 2003. The building was designed by the architect M. J. Long.

The Falmouth & Penryn Packet, first published in 1858, is still based in the town as the lead title in a series of Packet Newspapers for central and western Cornwall.

The West Briton newspaper, first published in 1810, is a weekly tabloid newspaper which also has a Falmouth & Penryn edition reporting on the area.


EARLY HISTORY

Falmouth was the site where Henry VIII built Pendennis Castle to defend Carrick Roads, in 1540. The main town of the district was then at Penryn. Sir John Killigrew created the town of Falmouth shortly after 1613.

In the late 16th century, under threat from the Spanish Armada, the defences at Pendennis were strengthened by the building of angled ramparts. During the Civil War, Pendennis Castle was the second to last fort to surrender to the Parliamentary Army.

After the Civil War, Sir Peter Killigrew received Royal patronage when he gave land for the building of the Church of King Charles the Martyr, dedicated to Charles I, "the Martyr".

The seal of Falmouth was An eagle displayed with two heads and on each wing with a tower (based on the arms of Killigrew). The arms of the borough of Falmouth were Arg. a double-headed eagle displayed Sa. each wing charged with a tower Or. in base issuant from the water barry wavy a rock also Sa. thereon surmounting the tail of the eagle a staff also proper flying therefrom a pennant Gu.

The Falmouth Packet Service operated out of Falmouth for over 160 years between 1689 and 1851. Its purpose was to carry mail to and from Britain's growing empire. As the most south-westerly good harbour in Great Britain Falmouth was often the first port for returning Royal Navy ships.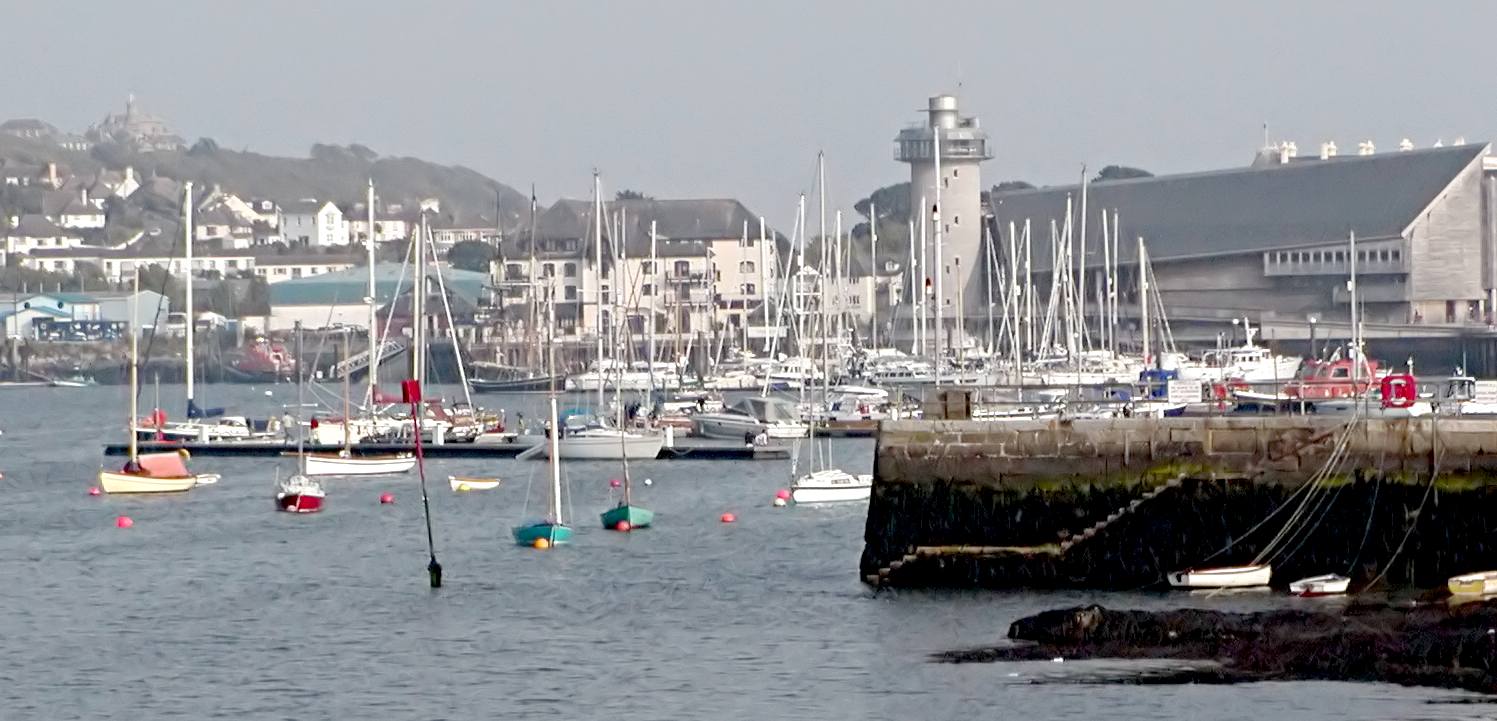 MORE RECENT HISTORY - 19TH & 20TH CENTURY

In 1805 news of Britain's victory and Admiral Nelson's death at Trafalgar was landed here from the schooner Pickle and taken to London by stagecoach. On 2 October 1836 HMS Beagle anchored at Falmouth at the end of its famous survey voyage around the world. That evening, Charles Darwin left the ship and took the Mail coach to his family home at The Mount, Shrewsbury. The ship stayed a few days and Captain Robert Fitzroy visited the Fox family at nearby Penjerrick Gardens. Darwin's shipmate Sulivan later made his home in nearby waterside village of Flushing, then home to many naval officers.

In 1839 Falmouth was the scene of the gold dust robbery when £47,600 worth of gold dust from Brazil was stolen on arrival at the port.

The Falmouth Docks were developed from 1858, and the Royal National Lifeboat Institution (RNLI) opened Falmouth Lifeboat Station nearby in 1867. The present building dates from 1993 and jointly houses Her Majesty's Coastguard. The RNLI operates two lifeboats from Falmouth: Richard Cox Scott, a 17-metre (56 ft) Severn Class all weather boat, and Eve Park, an Atlantic 75 inshore lifeboat.

Near the town centre is Kimberley Park. The land pre-dates 1877, and is named after the Earl of Kimberley who leased the park land to the borough of Falmouth. Today the park boasts a beautiful array of exotic and ornate plants and trees.

The Cornwall Railway reached Falmouth on 24 August 1863. The railway brought new prosperity to Falmouth, as it made it easy for tourists to reach the town. It also allowed the swift transport of the goods recently disembarked from the ships in the port. The town now has three railway stations. Falmouth Docks railway station is the original terminus and is close to Pendennis Castle and Gyllyngvase beach. Falmouth Town railway station was opened on 7 December 1970 and is convenient for the National Maritime Museum Cornwall, the waterfront, and town centre. Penmere railway station opened on 1 July 1925 towards the north of Falmouth and within easy walking distance of the top of The Moor. All three stations are served by regular trains from Truro on the Maritime Line. Penmere Station was renovated in the late 1990s, using the original sign and materials, and is now a fine example of an early 20th-century railway station.

During World War II, 31 people were killed in Falmouth by German bombing. It was also the launching point for the famous Commando raid on St Nazaire. An anti-submarine net was laid from Pendennis to St Mawes, to prevent enemy U-boats entering the harbour.


TRANSPORT

Falmouth is famous for its harbour. Together with Carrick Roads, it forms the third deepest natural harbour in the world, and the deepest in Western Europe.[19] It is has been the start or finish point of various round-the-world record-breaking voyages, such as those of Sir Francis Chichester and Dame Ellen MacArthur.

During World War II the United States Navy had a large base in Falmouth harbour as well as an army base in the town. Some of the U.S. D-day landings originated from Falmouth harbour and the surrounding rivers and creeks.

A cargo vessel named the Flying Enterprise that had sailed from Hamburg on 21 December 1951 ran into a storm on the Western Approaches to the English Channel. A crack appeared on her deck and the cargo shifted. A number of vessels went to her aid including the tug Turmoil which was stationed in Falmouth, but they found it impossible to take the Flying Enterprise in tow. The ship was finally taken in tow on 5 January 1952 by the Turmoil when she was some 300 nautical miles (560 km) from Falmouth. It took several days to reach port. On 10 January the tow line parted when the ship was still 41 nautical miles (76 km) from Falmouth. Two other tugs joined the battle to save the ship and cargo, but the Flying Enterprise finally sank later that day. Captain Carlsen and the tug's mate Kenneth Dancy, the only crew members still on board, were picked up by the Turmoil and taken to Falmouth to a hero's welcome.

Falmouth is a terminus of the A39 road, connecting to Bath, Somerset some 180 miles (290 km) distant.



FALMOUTH TOWN COUNCIL

Falmouth Town Council was formed in 1974 from the historic Falmouth Borough Council. Falmouth received its Order of Charter in 1661. It is currently comprised of sixteen Councillors (four represent the Boslowick Ward, three each for the Arwenack, Penwerris, Smithick and Trescobeas). Each of whom serve a four year term of office.

The Council has a six weekly meeting cycle and there are four standing committees:

Art Gallery - (Councillors Ms Atherton, Body, Mrs Davies, Evans, Mrs Minson, Ross, Saunby)

Planning - (Councillors Mrs Brock, Chappel, Cramp, Eva, Mrs Eva, Gray, Jewell, McCarthy, Ms Merrett)

Finance & General Purposes - (All Councillors)

Staffing - (in secret session) - Councillors Body, Mrs Davies, Mrs Eva, Evans, Mrs Minson

Licensing - (Councillors Body, Mrs Brock, Mrs Davies, Gray, Ms D Merrett)

Councillor drop-in resident surgeries (link is external) are held on the last Friday in every month between 11 am and 1 pm at the Municipal Buildings.


TOWN COUNCILLORS 2015

Arwenack Ward

Mrs. M. Davies - Tophouse, 5 Seaview Road, Falmouth, Cornwall, TR11 4EF Tel: 312508
Email: Councillor-mdavies@falmouthtowncouncil.com

G.F. Evans - 19 Arwenack Avenue, Falmouth, Cornwall, TR11 3JW Tel: 311543
Email: Councillor-gfevans@falmouthtowncouncil.com

S. Gray - 28 Melvill Road, Falmouth, Cornwall, TR11 4AR Tel: 07932677929
Email: Councillor-sgray@falmouthtowncouncil.com

Boslowick Ward

Ms R .D. Brock - 8 Swans Reach, Falmouth, Cornwall, TR11 5GG Tel: 07585809852
Email: Councillor-rbrock@falmouthtowncouncil.com
S. D. Eva - 34 Trescobeas Road, Falmouth, Cornwall, Tel: 311539
Email: Councillor-sdeva@falmouthtowncouncil.com
A.J. Jewell - Pennance Mill Farm, Maenporth Road, Falmouth, Cornwall, TR11 5HJ Tel: 317431
Email: Councillor-ajjewell@falmouthtowncouncil.com
Ms T. A. Minson - 171 Boslowick Road, Falmouth, Cornwall, TR11 4QF Tel: 07580647188
Email: Councillor-pminson@falmouthtowncouncil.com

Penwerris Ward

I.J. Body - 88 Boscundle Avenue, Falmouth, Cornwall, TR11 5BX Tel: 07967249154
Email: Councillor-ijbody@falmouthtowncouncil.com
G. G. Chappell - 26 Grenville Road, Falmouth, Cornwall, TR11 2NW Tel: 218690
Email: Councillor-ggchappel@falmouthtowncouncil.com
M MacCarthy - 87 Killigrew Street, Falmouth, Cornwall, TR11 3PU Tel: 07576561747
Email: Councillor-MMcCarthy@falmouthtowncouncil.com

Smithick Ward

Ms C. Atherton - Osprey, Swanpool, Falmouth, Cornwall, TR11 5BD, Tel: 07587890588
Email: Councillor-catherton@falmouthtowncouncil.com

O. K. Cramp - 16 Harbour Terrace, Falmouth, Cornwall, TR11 2AN, Tel: 316400
Email: Councillor-olivercramp@falmouthtowncouncil.com

Ms D.E. Merrett - 18 Trelawney Road, Falmouth, Cornwall, TR11 3LX, Tel: 212097
Email: Councillor-dmerrett@falmouthtowncouncil.com

Trescobeas Ward

Mrs V. Eva - 34 Trescobeas Road, Falmouth, Cornwall, TR11 2JG, Tel: 311539 (mobile: 07974812103) Email: Councillor-veeva@falmouthtowncouncil.com

B. Ross - Osprey, Swanpool, Falmouth, Cornwall, TR11 5BD, Tel: 07587890588
Email: Councillor-bmaross@falmouthtowncouncil.com

D.W. Saunby - 20 Trevithick Road, Falmouth, Cornwall, TR11 2JP Tel: 315285
Email: Councillor-dwsaunby@falmouthtowncouncil.com



CORNWALL COUNCILLORS

Cornwall Councillors serving Falmouth are:

Arwenack Ward

G.F.Evans - 19 Arwenack Avenue, Falmouth, Cornwall, TR11 3JW Tel: 311543

Boslowick Ward

A.J.Jewell - Pennance Mill Farm, Falmouth, Cornwall, TR11 5HJ Tel: 317431

Penwerris Ward

Ms H.Toms - Creekside Cottage, Cowlands, Truro, Cornwall, TR3 6AT Tel: 01872 260180

Smithick Ward

Ms C Atherton - Osprey, Swanpool, Falmouth, Cornwall, TR11 5BD Tel: 07587890588

Trescobeas Ward

D. Saunby - 20 Trevithick Road, Falmouth, Cornwall, TR11 2JP Tel: 315285


CONTACT FALMOUTH TOWN COUNCIL

Falmouth Town Council, Municipal Buildings, The Moor, Falmouth TR11 2RT
Tel: 01326 315559, Fax: 01326 312662

Town Clerk: Mark Williams FCIS MILCM
Grounds & Facitlites Manager: Simon Penna (07535 003777)
Art Gallery Director: Henrietta Boex
Administrative Officer and Mayor's Secretary: Emily Middleditch (Mon-Weds) Val Rogers (Thurs-Fri)
Finance Officer: Ruth Thomas
Finance and Administration Assistant: Val Rogers
Sexton: Lee Mitchell (07903 079093)
Properties & Inspection Officer: Jonathan Wilkinson

Town Team office: 01326 313553
Town Manager: Richard Gates
Town Management Assistant: Ruth Abraham
Events Support Assistant: Sarah Walker

Clerk's contact details:

Mr Mark Williams
Municipal Buildings
The Moor
Falmouth
Cornwall
TR11 2RT

Email Address: mark@falmouthtowncouncil.com

Telephone Number: 01326 315559

Fax Number: 01326 312662
Chairman's contact details

Town Mayor Cllr John Body
88 Boscundle Avenue
Falmouth
Cornwall
TR11 5BX

Tel: 07967249154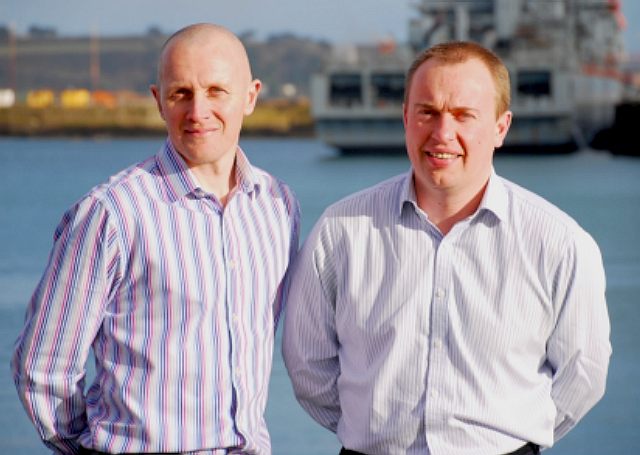 FALMOUTH TOWN TEAM - BUSINESS IMPROVEMENT DISTRICT

The Falmouth Town Team is a successful partnership between the Falmouth Business Improvement District (BID) and the Town Management function. Voted in for a second five year term of activity by 87% of voting businesses (the strongest of any BID in Cornwall), the BID works alongside the Falmouth Town Council funded Town Management team. The Town Team is a vital resource for Falmouth, delivering the town's major festivals, destination marketing campaigns, public realm improvements, business training and more.

Falmouth BID Limited
Company number 06823128. Registered in England.
Registered office 48 Arwenack St Falmouth TR11 3JH
Contact: Richard Wilcox BID Manager
One Stop Shop
34 Church Street, Falmouth, TR11 3EF
Tel: 01326 313553
Email: richardwilcox@falmouth.co.uk
Web: www.falmouth.co.uk

Falmouth Town Management
Contact: Richard Gates
One Stop Shop
34 Church Street, Falmouth, TR11 3EF
Tel: 01326 313553
Email: richard@falmouth.co.uk

Falmouth Visitor Centre
Prince of Wales Pier, Falmouth
Tel: 01326 741194
Email: vic@falriver.co.uk
FALMOUTH UNIVERSITY

Falmouth Campus
Woodlane, Falmouth
Cornwall TR11 4RH

Tel: 01326 211077

Penryn Campus
Treliever Road, Penryn
Cornwall TR10 9FE

Tel: 01326 370400
PACKET SHIP
Falmouth was once home to the Packet Ship service which sailed to the Mediterranean and the Americas from 1688 to 1852 carrying mail and goods. These world wide links across the seas led to the development of large private gardens, where exotic plants from as far afield as China and Australasia thrived in the regions subtropical climate.
These award winning gardens are now open to the public and are packed with magnolias, rhododendrons, tree ferns and palms. In addition to Falmouth's four central gardens of Fox Rosehill and Queen Mary - both Green Flag Park Award winners, Kimberley Park and Gyllyngdune, the vast gardens of Trelissick, Glendurgan and Trebah are all within easy reach.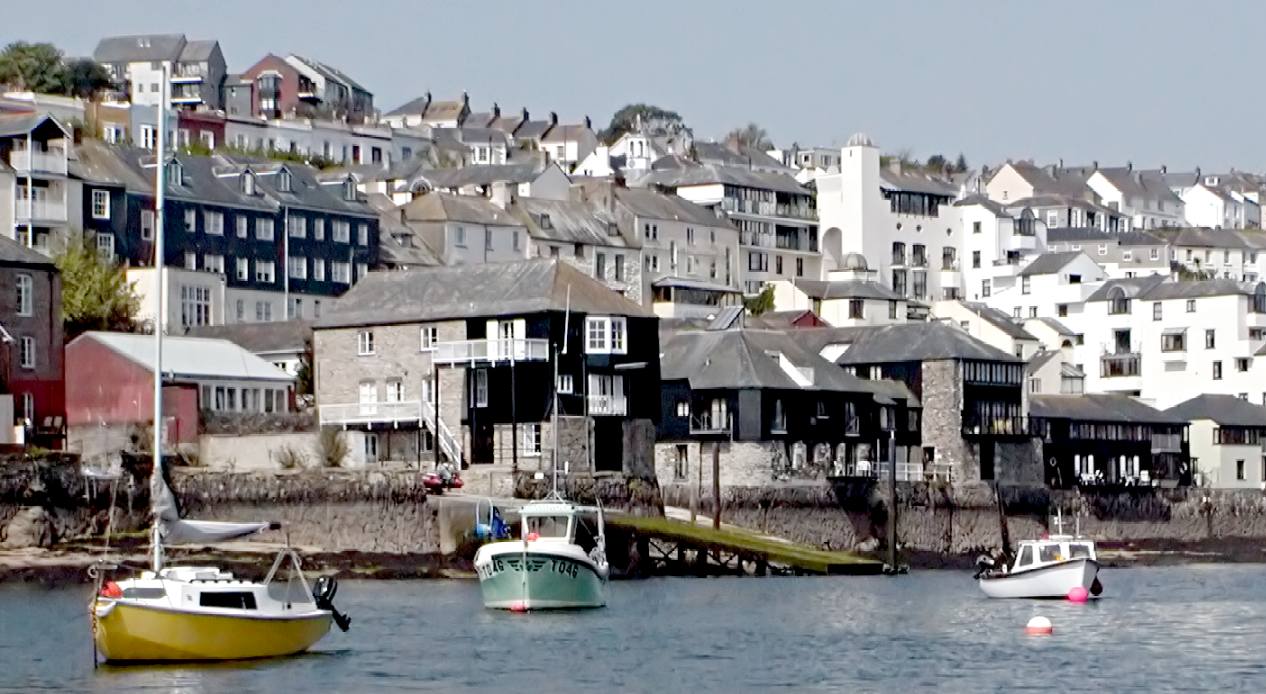 Falmouth Cornwall A bustling friendly place
Surrounded by a beautiful Coastline With many wooded creeks and inlets to explore. Falmouth's heyday began in the 17th & 18th centuries when fast Post Office Packet sailing boats carried mail, and expensive cargo to and from places as far afield as the East Indies and Spain. Nowadays, though Falmouth is still an important ship repair centre, the town is largely dependant upon tourism.
Playing and relaxing on the resort's four main beaches of Gyllyngvase, Castle, Swanpool and Maenporth is a true delight. Feel the sand between your toes as you stroll along these wide expanses, cleansed daily by the ebb and flow of the Atlantic. This is surely the perfect arena for sunbathing, swimming, sandcastle building or simply forgetting the rest of the world exists . . . For a wilder time, try tackling the rapid river run and wave machine at Ships & Castles Leisure Pool on Pendennis Headland or run the gauntlet at Laserforce, Falmouth's live action laser game.
Narrow streets, some cobbled, alleys leading down to the waters edge. Overlooking Customs House Quay the Customs House with its columnaded facade. The quaintly named Kings Pipe. Falmouth has a wide selection of shops, many of whom have a nautical theme- from antique shops to second hand booksellers, to yachting outfitters to boutiques. Many centuries old inns. Art galleries too. In a prime position on Falmouth's Harbourside, is the Greenbank Hotel, originally an old coaching inn, where Kenneth Grahame developed his story the 'Wind in the Willows'. On the seafront, overlooked by Pendennis Castle, are several fine falmouth hotels, such as The Royal Duchy Falmouth's only 4 star hotel.
National Maritime Museum Cornwall
The National Maritime Museum Opened in 2002, bringing the World's boats to Cornwall. The building is the Centrepiece Development on Falmouth's Historic Waterfront Reflecting the towns maritime heritage. It is an eye catching building of modern design, clad in oak with pitched slated roofs. It houses a seductive series of exhibits to anyone interested in the sea.
'An experience as alive as the sea'
A unique and interactive displays of boats and their place in people's lives.

This unique maritime heritage is exhibited over three floors (in 12 state-of-the-art galleries), each focusing on different aspects of industry, work and communications. The National Maritime Museum Cornwall has been designed to create a wide appeal, offering a diverse range of 'hands-on' displays and an unrivalled collection of boats - including many in active use on the water. CLICK HERE FOR DETAILS
Pirates, Smugglers, Poets, Wreckers, Packet Ship Captains and Cannibals!
Discover Falmouth's nautical and notorious past at the Cornwall Maritime Museum and take a guided maritime walk with our qualified Blue Badge Guides. For a fun tour of the resort try the hop-on hop-off road train linking the town, beaches and castle from Easter to October, just ask at the Tourist Information Centre for details.
Falmouth Harbour and Arwenack House
Explore Falmouth's bustling town centre with its craft shops, fresh seafood sellers, harbourside pubs and restaurants plus chandlers and vendors of all things nautical.
The Arts Centre in the heart of town has a lively programme of events from theatre to film and exhibitions from local artists while the Art Gallery with its Tuke and Waterhouse paintings hosts touring displays from all over Britain.
The Princess Pavilion theatre and tea-rooms are set among the subtropical Gyllyngdune Gardens by the beach and is a great place to pick up bargains at the antique fairs and flea markets held throughout the year. The resort also has the only full size all weather bowling green in Cornwall.
Falmouth is a dazzling waterworld - with sailing and diving schools, local fishing trips and watersports activity centres offering expert advice, tuition and equipment for hire - making it oh so easy for you to spend hours and even days enjoying your favourite water-based activity or even learning a new one.
Along the waterfront from Falmouth's main shopping streets, which link to the quays through narrow alleyways and opes, is the site of the new 'National Maritime Museum Cornwall' which is due to open to the public in 2002. This new complex together with its marina, events square, shops and cafes will bring together collections from the National Maritime Museum in London and Cornwall's Maritime Museum which is currently housed at Bell's Court off Market Street in Falmouth.
Falmouth has come along way since 1600 when it only consisted of two houses, a smithy and an alehouse, but when Sir Walter Raleigh stayed with Sir John Killegrew at Arwenack House, he was so impressed with its geographical features that he recommended that the site should be developed as a port. Sir John gained Parliamentary approval to develop the site and within a few years the village started to grow. Originally known as Smithwick or Smithick it later became known as Pen-y-come-quick ("the head of the narrow vale"). In 1660 a Royal proclamation changed the name to Falmouth. For nearly 300 years Falmouth remained one of the principle ports of the world, where during the mid eighteen hundreds it was not an uncommon site to see 350 ocean-going sailing ships at anchor in the "Carrick Roads" at any one time.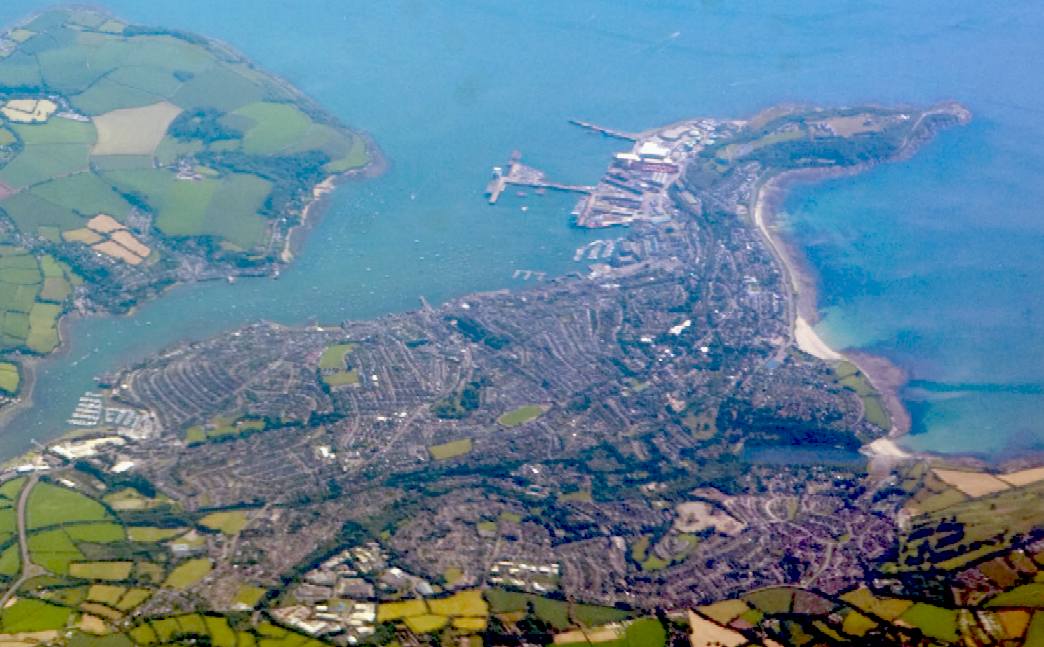 Another aerial view of the town
As Falmouth developed during the seventeenth century, the oldest building that it can boast is the Elizabethan manor of the Killegrew's at Arwenack House. However, much of this was destroyed during the Civil War, and what remained was incorporated into the replacement building built in 1786. The parish church of King Charles the Martyr was built between 1662-64, while off the main streets some of the original 17th and 18th century cottages may still be seen.
On the nearby headland of Pendennis Point stands the imposing Pendennis Castle, built between 1539-64 by King Henry VIII as a defence against the French. During the Civil War the castle was held for the Crown by the 80 year old Colonel John Arundel of Trerice, who defended it during a six month siege in 1646.
The Parliamentarian besiegers were so impressed with the courage of the Royalist forces, that when they finally surrendered in August 1646, they allowed the 24 officers and 900 men to march out of the castle with full military honours - bearing their weapons and banners flying. Nowadays, the Castle, with its incredible views across the ocean to the headlands of St Mawes and the Lizard Peninsula, resounds to the clamour of battle re-enactments, jousting tournaments and concerts and remains one of Falmouth's principal attractions.
Today Falmouth offers the tourist a variety of facilities and makes an ideal location for exploring the south western coast of the county. Nearby attractions include;St Just in Roseland, Helford Estuary, St Mawes, Lizard Peninsula.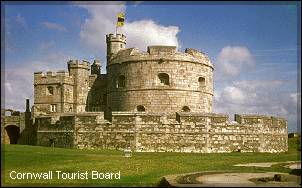 Pendennis Castle
In Tudor times Henry VIII fearing invasion ordered two Castles to be built to guard the Harbour Entrance, forming part of his South Coast defences. On the West side Pendennis and St Mawes Castle on the East Side. During the First World War a Garrison was stationed at the former, During WWII it housed a secret underground base. Both Castles are well preserved and are worth a visit. To reach Pendennis Castle follow Castle Drive around Pendennis Point from the Town. The Drive offers great views down into Falmouth Docks, and across Carrick Roads to St Anthony Light and the Roseland Peninsula. Little Dennis Blockhouse, nestling under the Castle. You are likely to see vessels ranging from Cross Channels Ferries undergoing repair, to container ships, perhaps even a gas drilling rig sheltering in the Harbour until storms at sea die down.
Falmouth Cornwall Sailing and yachting capital of the County, the 3rd largest natural harbour in the World.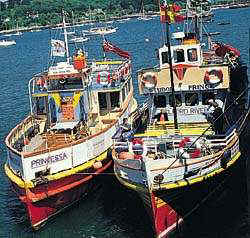 Sailing and Yachting around Falmouth
Being sheltered from the prevailing south westerly winds the River Fal is a haven for yachtsmen. Working Boats During the Winter months the Falmouth Working Boats with their distinctive red sails can often still be seen dredging for oysters under sail alone, as they have done for centuries.
Pleasure Boat Trips
In Season take a pleasure boat trip, past Falmouth Docks, and Black Rock with views to the Castle, then back up the River, past the Marina 's on to Restronguet Creek and Mylor as far as Truro tides permitting. Admire the 500 year thatched Smugglers Cottage at Tolverne, used by the US Army as an embarkation point for the D-Day landings. Vessels such as the Cornish Belle run several daily excursions in Season. In summer the water in many of the creeks is a deep blue green colour. In winter most of the visiting yachtsman have gone, only the wildlife remain - curlew, oystercatcher, heron, if you are really lucky, a little egret.

Park and Float - Park away from Falmouth town centre and take a picturesque 20-minute boat trip along the Penryn River to the National Maritime Museum the town centre. Operates in the summer months only.
For many years merchant ships and even oil rigs were laid up in the River Fal's Upper Reaches. With the upturn in the World economy in the late 1990's they were gone, only for other vessels to return in this new Millenuim.. Good views of them could be had from Tolverne and King Harry Ferry. There is also a seasonal foot ferry to St Mawes.

Around and about Falmouth
Along the Coast towards the mouth of the Helford, are Swanpool and Gyllyngvase beaches, and numerous Falmouth hotels all offering a high standard of accommodation. Continue West and you reach the very unspoilt Helford River, with yet more creeks and inlets to explore. Gardens such as Trebah with its tree ferns and the National Trust owned Glendurgan. Beyond that lies the Helford River and the Lizard Peninsula .
Cobbled streets, old pastel coloured cottages down to the waters edge. Beware of swans. Flushing granite quays, around the Corner Trefusis Point and Lime Kiln Beach, with superb views down river. Mylor Yacht Harbour offering pontoon berths and swinging moorings http://www.mylor.com/


USEFUL LINKS:
Facebook Falmouth spirit of the sea
Twitter Falmouth Town UK
Cornwall Falmouth Penryn community network parish town council
Falmouth Town Council
Falmouth acedemia UK
Falmouth UK
Wikipedia Falmouth_Cornwall
Twitter Falmouth uni
Facebook Falmouth University
http://www.rmg.co.uk/national-maritime-museum
http://www.rmg.co.uk/national-maritime-museum
https://www.facebook.com/pages/Falmouth-Spirit-of-the-sea/160909917286676?v=wall
https://twitter.com/FalmouthTownUK
https://www.falmouthtowncouncil.co.uk/
http://www.falmouth.ac.uk/
http://www.falmouth.co.uk/
https://en.wikipedia.org/wiki/Falmouth,_Cornwall
https://twitter.com/falmouthuni
http://www.facebook.com/falmouthuni
Nice Places to Stay | Holiday and Touring Parks | Hotels and Country Houses
Camping | Self Catering and Holiday Cottages | Bed and Breakfast and Guesthouses | Activity Breaks
Home | Towns and Villages | Places to stay | Just nice pictures | Customs and Culture | Places to See | Cornwall Map | Gardens | Getting Here | Cornwall Coast | Cornish Life | Good Beach Guide | Walking | Things to do | Tourist Brochures
Cornwall Online | Penzance | Porthleven | Mullion | Helston | Falmouth | Truro
Falmouth | St Mawes | National Maritime Museum | Roseland Peninsula | Helford River | The Lizard

CORNISH CRUISING - Yacht Charter & Sailing Holidays
Where to Stay in Falmouth Accommodation in Falmouth
The National Seal Sanctuary is set in the picturesque Helford Estuary, by the beautiful village of Gweek, in Cornwall. The Sanctuary is a busy rescue centre, and also has resident Grey Seals, Californian and Patagonian Sea Lions, Goats, Ponies and Otters CLICK HERE FOR DETAILS
| | | | |
| --- | --- | --- | --- |
| | | | |
| | | | |
| | DAY 64 UPDATE | DAY 66 UPDATE | |