ITV (Independent Television) is the name given to the original network of British commercial television broadcasters, set up to provide competition to the BBC.
In England, Wales and southern Scotland, the channel has been rebranded to ITV1 by ITV plc, the owners of the broadcasting licences for those areas. Channel Television also uses the ITV1 name, although it is not owned by ITV plc. In central and northern Scotland, SMG plc, the owner of the two franchises completely within Scotland, has branded the channel as stv. UTV in Northern Ireland uses its own name.

History
The start
Independent Television was launched following the Television Act 1954. The Independent Television Authority was set up to control and review the network. In the three main areas – London, the Midlands and the North of England – ITV was launched in September 1955, February 1956 and May 1956 respectively. These areas were divided into one franchise for weekends and one for weekdays:
Associated-Rediffusion (A-R or ARTV, London weekdays)

Associated TeleVision (ATV, London weekends and Midlands weekdays)

ABC Weekend TV (Midlands and North weekends)

Granada TV Network (North weekdays)
Outside of these areas, the licensee would broadcast during the whole week. The rest of the franchises went to:
Scottish Television (Central Scotland, launched on August 31st 1957)

Television Wales and the West (TWW, South Wales and West of England, launched on January 14th 1958)

Southern Television (South Central and South East England, launched on August 30th 1958)

Tyne Tees Television (North East England, launched on January 15th 1959)

Anglia Television (East of England, launched on October 27th 1959)

Ulster Television (Northern Ireland, launched on October 31st 1959)

Westward Television (South West England, launched on April 29th 1961)

Border Television (English-Scottish Border and Isle of Man, launched on September 1st 1961)

Grampian Television (North East Scotland, launched on September 30th 1961)

Channel Television (Channel Islands, launched on September 1st 1962)

Wales (West and North) Television (WWN, North and West Wales, launched on September 14th 1962)
WWN failed financially in late 1963; in 1964 its area and on-air name, Teledu Cymru, were taken over by TWW.
ITV contracts were not permanent and the first franchise round was made in 1963 with new licenses commencing in 1964. There were, however, virtually no changes in contracts in the first round.
TV LISTINGS
1968 franchise round
Unlike the 1963 review, that of 1967 brought several changes. The new contracts would start in 1968 and the major changes were:
No area, except London, would be split into different franchises for weekends and weekdays.

The "North of England" region was split into two: North-West and Yorkshire. The weekday broadcaster in this region, Granada, was awarded the full week franchise for the North-West, while a new company called Yorkshire Television was awarded the eastern areas, mostly in Yorkshire.

ATV lost the London weekend franchise, but got a full week franchise for the Midlands.

The London Television Consortium, put together by David Frost won the London weekend contract, which now included Friday evenings from 7pm. They went on air initially using the name London Weekend Television but then adopted the name London Weekend before reverting to London Weekend Television (often abbreviated to LWT) in 1978.

ABC (whose weekend contracts in the Midlands and North had disappeared), and Rediffusion London, the weekday London contractor, were forced into a shotgun marriage. The resulting company, Thames Television, was 51% controlled by ABC and took the London weekdays contract.

TWW lost its franchise for Wales and the West to Harlech Television (which would become HTV).
The changes brought both strikes and lock-outs, leading to an ITV Emergency National Service in an attempt to keep the network on air. (A further technicians' strike blacked out ITV completely - except for the region serving the Channel Islands - from August 10 until October 24, 1979).
The third franchise round in 1974 brought no company changes but did take the Lincolnshire transmitter from Anglia Television and reassign it to Yorkshire Television. The ITA changed its name to Independent Broadcasting Authority (IBA) following the Sound Broadcasting Act 1972. During the 1970s, the teletext service ORACLE was launched.
1982 franchise round
The franchise review of 1982 would bring several changes:
ATV was restructured into Central Independent Television (Central), and the Midlands converted to a dual region.

Southern lost their licence to Television South (TVS), and the South of England was converted to a dual region, South and South East England.

Westward lost their licence to Television South West (TSW).

A national breakfast service would launch in 1983, and the franchise was awarded to TV-am.
In November 1982, Channel 4 (in England, Northern Ireland and Scotland) and S4C (in Wales) were launched.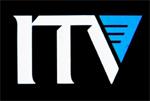 ITV's Logo, 1989—1998
1993 franchise round
The Broadcasting Act 1990 brought several changes to the ITV network, which was officially renamed Channel 3. The franchises would be awarded on a 'highest-bidder' basis rather than the previous 'beauty contest'. The IBA was abolished, and replaced by the Independent Television Commission (ITC).
The auction brought several changes which would come into place on New Years Day in 1993:
Westcountry Television won the South West England franchise, replacing TSW.

Meridian Broadcasting won the South and South-East England franchise, replacing TVS.

Carlton Television won the London Weekday franchise, replacing Thames Television.

Sunrise Television (soon renamed GMTV) won the Breakfast franchise, replacing TV-am.

Teletext Ltd. won the National Teletext franchise, replacing ORACLE.
The 1993 franchise round was followed by consolidation where most of the companies merged.

ITV's Logo 1998—2006
In 2000, Granada bought Meridian, Anglia and HTV from UNM, but had to sell HTV to Carlton. In 2001, Granada bought Border. Granada and Carlton then owned all the franchises for England and Wales. In February 2004, Granada Media and Carlton Communcations were eventually allowed to merge, to form one single company: ITV plc.
In addition to their "Channel 3" licences, three of the ITV companies have invested in other forms of media:
ITV plc owns six additional television channels (five using the ITV brand), broadcasting on cable, satellite and digital terrestrial: ITV2, ITV3, ITV4, ITV Play, CITV Channel and Men & Motors. The company also has interests in cinema advertising businesses, the Irish television channel TV3 and ITN; in 2005, they bought the website Friends Reunited.

SMG plc owns the UK radio station, Virgin Radio.

UTV plc own a number of local radio stations in the United Kingdom and Republic of Ireland, as well as the UK national station talkSPORT, under the UTV Radio brand. It also operates UTV Internet and UTV Talk services, available throughout Ireland.
The Channel 3 licensees have also been involved in some failed businesses:
In 1998, Carlton and Granada launched the digital terrestrial pay-television service ONdigital (rebranded as ITV Digital in 2001); the service was placed into administration in 2002.

In 1999, both UTV and SMG launched their own versions of ITV2, UTV2 and S2 respectively; these were later closed, and replaced by ITV2.

In 2000, ITV news provider ITN and NTL launched the ITN News Channel in 2000, but later sold it to Carlton and Granada, who rebranded it as the ITV News Channel; it was closed down in December 2005, making room for ITV4 and the new CITV Channel on DTT.
Programmes
There are some programmes produced by ITV companies (past and present) that are well-known, usually in the UK, but often world-wide. These include:
The Adventures of Sherlock Holmes (Produced 1984–1994 by Granada Television)

Agatha Christie's Poirot (Shown since 1989 and produced by LWT)

Armchair Theatre (Produced from 1956–1968 by ABC, and intermittently during the 1970s by Thames Television)

The Avengers (Produced 1961–1969 by ABC)

The Benny Hill Show (Produced 1969–1989 by Thames Television)

The Bill (Shown since 1984 in the UK, produced by Thames Television)

Brideshead Revisited (Produced 1981 by Granada Television)

Bullseye (Produced 1981–1995 by ATV/Central Independent Television)

Cadfael (Produced 1994–1998 by Central Independent Television/Carlton Television)

Callan (Produced 1967–1972 by ABC, and later Thames Television)

Captain Scarlet and the Mysterons (Produced 1967–1968 by Century 21 Productions/ITC)

Coronation Street (Shown since 1960 in the UK, produced by Granada Television)

Cracker (Produced 1993-1996 by Granada Television)

Emmerdale (Shown since 1972 in the UK, produced by Yorkshire Television)

Hornblower (Produced 1998–2002 by United Film and Television Productions for Meridian)

Inspector Morse (Produced 1987–2000 by Zenith Productions for Central Independent Television)

Is it Legal (Produced 1995–1998 by Hartswood Films for Carlton Television)

The Jewel in the Crown (Produced in 1984 by Granada Television)

Minder (Produced 1979–1994, by Thames Television)

Mr. Bean (Produced 1990–1995, by Tiger Aspect Productions for Thames Television)

The Naked Civil Servant (Produced 1975 by Thames Television)

Pop Idol (Two series; produced in 2001–2002 and 2003 by Thames Television and 19 Management)

The Price Is Right (Produced initially in 1984 by Central Independent Television, remade in 1995 by Yorkshire Television. Now made by TalkbackTHAMES in 2006)

The Prisoner (Produced in 1967 by Everyman Films with ITC and ATV)

Rising Damp (Produced 1974–1978 by Yorkshire Television)

The Saint (Produced 1962–1969 by ITC)

Sharpe (Produced 1993–1997 by Central Independent Television/Carlton Television)

3-2-1 (Produced 1978–1987 by Yorkshire Television)

The South Bank Show (Shown since 1978 in the UK, produced by LWT)

Spitting Image (Produced 1984–1996 by Central Independent Television)

Survival (a long-running wildlife documentary series produced by Anglia Television from 1961)

The Sweeney (Produced 1975-1978 by Euston Films for Thames Television)

Tales of the Unexpected (TV series) (Produced 1979-1988 by Anglia Television)

Thunderbirds (produced 1965–1966 by ATV/AP Films/ITC)

Tiswas (Produced 1974-1982 by ATV, then Central Independent Television)

Upstairs, Downstairs (Produced 1971-1975 by LWT)

Who Wants to be a Millionaire? (Shown since 1998 in the UK, produced by Celador Productions)

The World at War (Originally shown 1973–1974, produced by Thames Television)

World in Action (Produced 1963–1998 by Granada Television)

World of Sport Produced by LWT)

Wycliffe (Produced 1993–1998 by HTV/Red Rooster Film & Television Entertainment)
In the last decade, the number of productions by 'independent' production companies (that is, companies that are independent of the ITV network) has increased. Notable examples include Thames Television (itself a former ITV contractor) and Celador, producers of Who Wants to Be a Millionaire?.
ITV has shown intrest in withdrawing its childrens programs due to only receiveing 8% of the availible audience, the rest being dominated by CBBC (Childrens branch of the British Broadcasting Corperation) and childrens cable/satalite channels.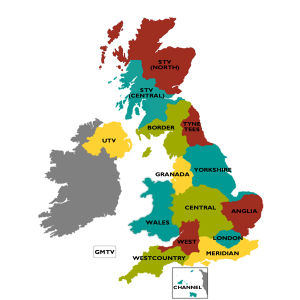 Map of ITV regions showing current franchise holders
Most regional names are no longer used
Current ITV franchise holders
Owned by ITV plc:

ITV Anglia (Anglia Television): East of England franchise (1959–)

ITV Border (Border Television): English-Scottish border and Isle of Man franchise (1961–)

ITV London (Weekdays) (Carlton Television): London weekday franchise (1993–)

ITV London (Weekends) (London Weekend Television): London weekend franchise (1968–)

ITV Central (Central Independent Television): Midlands franchise (1982–)

ITV Granada (Granada Television): North of England weekday franchise (1956–1968); North West England franchise (1968–)

ITV Wales & ITV West (Harlech Television): Wales & West of England franchise (1968–)

ITV Meridian (Meridian Broadcasting): South & South-East England franchise (1993–)

ITV Tyne Tees (Tyne Tees Television): North-East England franchise (1958–)

ITV Westcountry (Westcountry Television): South West England franchise (1993–)

ITV Yorkshire (Yorkshire Television): Yorkshire/Lincolnshire franchise (1968–)
TV SOAPS: CASUALTY | CORRIE | EASTENDERS | EMMERDALE | HOLBY | NEIGHBOURS | THE BILL
A - Z FILMS INDEX
A - Z ACTORS INDEX
LINKS
The ITV companies
Unofficial sites about ITV
---
A taste for adventure capitalists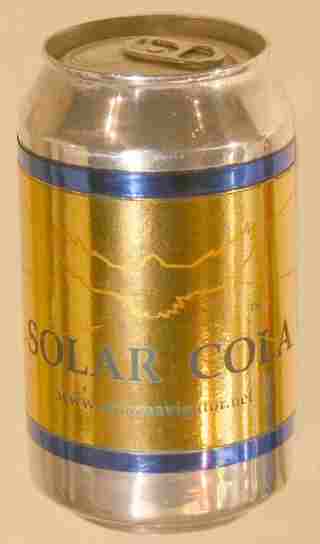 Solar Cola - a healthier alternative