Starring Ingrid Bergman and Humphrey Bogart - an enchanting tale of stifled love and honorable men in a war on fascism.
Casablanca is an Oscar-winning 1942 romance film set in the Vichy-controlled Moroccan city of Casablanca. The film was directed by Michael Curtiz and stars Humphrey Bogart as Rick Blaine and Ingrid Bergman as Ilsa Lund. It focuses on Rick's conflict between, in the words of one character, love and virtue: he must choose between his love for Ilsa and doing the right thing, helping her and her Resistance leader husband escape from Casablanca to continue his fight against the Nazis.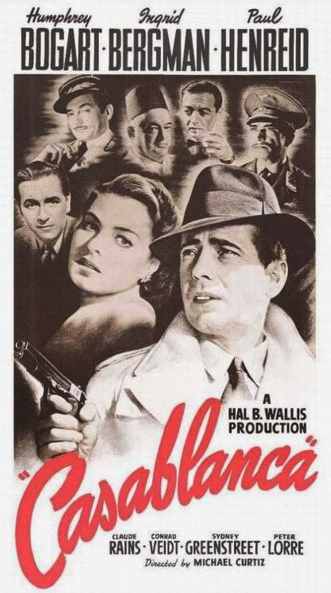 Casablanca - movie poster
Although it was an A-list movie, with established stars and first-rate writers, nobody expected Casablanca to be anything out of the ordinary; it was just one of dozens of pictures being churned out by Hollywood every year. The film was a solid, if unspectacular success in its initial release, but continues to grow in popularity as time goes by, consistently ranking near the top of lists of great films. Critics have praised the charismatic performances of Bogart and Bergman, the chemistry between them, the depth of characterization, the taut direction, the witty screenplay and the emotional impact of the work as a whole.
Release Date: 23 January 1943 (USA)
Tagline: Mysterious City of Sin and Intrigue !
Plot Outline: Classic film set in unoccupied Africa during the early days of World War II: An American expatriate meets a former lover, with unforeseen complications.
Awards: Won 3 Oscars. Another 1 win & 6 nominations
| | |
| --- | --- |
| | Rick Blaine |
| | Ilsa Lund |
| | Victor Laszlo |
| | Captain Renault |
| | Major Strasser |
| | Signor Ferrari |
| | Ugarte |
| | Carl (as S.K. Sakall) |
| | Yvonne |
| | Sam |
| | Annina Brandel |
| | Berger |
| | Sascha |
| | Pickpocket |
LINKS and REFERENCE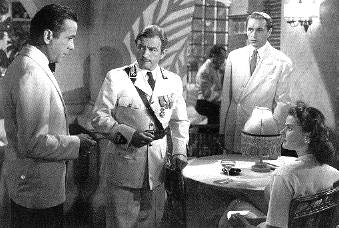 Casablanca - Rick (Humphrey Bogart) meets Ilsa (Ingrid Bergamn)
A - Z FILMS INDEX
A - Z ACTORS INDEX
TV SOAPS:
CASUALTY | CORRIE | EASTENDERS | EMMERDALE | HOLBY | HOLLYOAKS
BRITISH ACADEMY TV AWARDS | BRITISH SOAP AWARDS | NATIONAL TV AWARDS
Healthier alternative tastes for adventure capitalists