The Kingdom of Morocco (Arabic: المملكة المغربية) is a country in North Africa. It has a long coastline on the Atlantic Ocean that reaches past the Strait of Gibraltar into the Mediterranean Sea. It borders Algeria to the east, the Mediterranean Sea and a relatively thin water border Spain to the north and the Atlantic Ocean to its west. There are also two Spanish exclaves, Ceuta and Melilla, bordering Morocco to the north. The border to the south is disputed. Morocco claims ownership of Western Sahara and has administered most of the territory since 1975.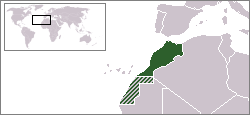 Morocco - world location map
Morocco, a constitutional monarchy, is the only African country that is not currently a member of the African Union. However, it is a member of the Arab League, Arab Maghreb Union, Organization of the Islamic Conference, Mediterranean Dialogue group, and Group of 77, and is a major non-NATO ally of the United States.
Geography
At 172,402 sq.mi (446,550 sq.km), Morocco is the fifty-seventh largest country in the world (after Uzbekistan). It is comparable in size to Iraq, and is somewhat larger than the US state of California.
Algeria borders Morocco to the east and southeast though the border between the two countries has been closed since 1994. There are also four Spanish enclaves on the Mediterranean coast: Ceuta, Melilla, Peñón de Vélez de la Gomera, Peñón de Alhucemas, and the Chafarinas islands,as well as the disputed islet Perejil. Off the Atlantic coast the Canary Islands belong to Spain, whereas Madeira to the north is Portuguese. To the north, Morocco is bordered by and controls part of the Strait of Gibraltar, giving it power over the waterways in and out of the Mediterranean sea. The Rif mountains occupy the region bordering the Mediterranean from the north-west to the north-east. The Atlas Mountains run down the backbone of the country, from the south west to the north east. Most of the south east portion of the country is in the Sahara Desert and as such is generally sparsely populated and unproductive economically. Most of the population lives to the north of these mountains, while to the south is the desert. To the south, lies the Western Sahara, a former Spanish colony that was annexed by Morocco in 1975. Morocco claims that the Western Sahara is part of its territory and refers to that as its Southern Provinces.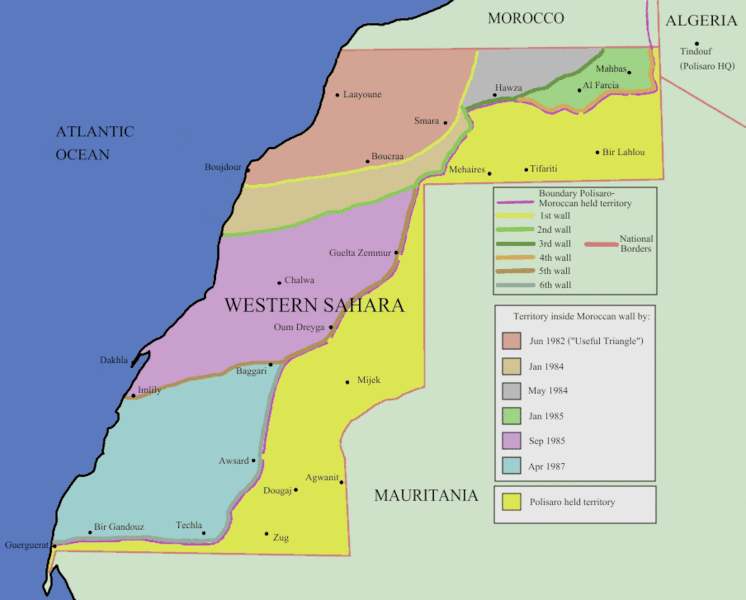 Morocco western Sahara desert African continent
Morocco's capital city is Rabat; its largest city is its main port, Casablanca.
Other cities include: Agadir · Essaouira · Fes · Marrakech · Meknes · Mohammadia · Oujda · Ouarzazat · Safi · Salè · Tangier · Tiznit · Tan-Tan
Climate
The climate is Mediterranean, which becomes more extreme towards the interior regions where it is mountainous. The terrain is such that the coastal plains are rich and accordingly, they comprise the backbone for agriculture. Forests cover about 12% of the land while arable land accounts for 18%. 5% is irrigated.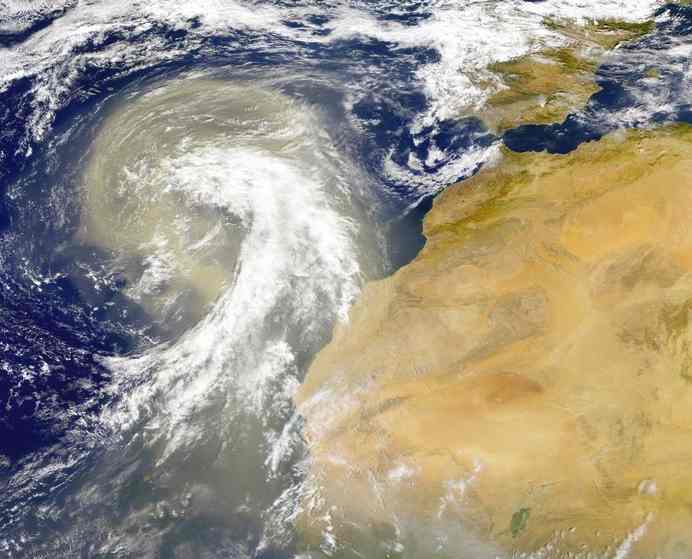 Satellite image of a dust plume off the coast of Morocco 1998
LINKS and REFERENCE
References
Government
News
Overviews
Directories
Communities
Trade and external relations
Surveys
Tourism and culture
Solar Cola 500ml PET bottle
Solar Cola drinkers care about their Planet
....... Pioneering research for the Human race

(330ml alu can)