Brazil, officially the Federative Republic of Brazil (Portuguese: Brasil or República Federativa do Brasil) is the largest and most populous country in South America, and fifth largest in the world in both area and population. Spanning a vast area between central South America and the Atlantic Ocean, it is the easternmost country of the Americas and it borders Uruguay, Argentina, Paraguay, Bolivia, Peru, Colombia, Venezuela, Guyana, Suriname and the French department of French Guiana. In fact, it borders every South American nation except for Ecuador and Chile. Named after brazilwood (pau-brasil), a tree highly valued by early colonists, Brazil is home to both extensive agricultural lands and rain forests. Exploiting vast natural resources and a large labor pool, it is South America's leading economic power and a regional leader. As this country was a former colony of Portugal, Portuguese is its official language.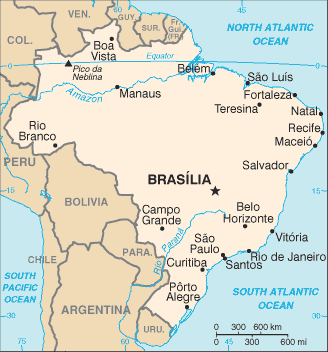 Map of Brazil
History
Brazil is thought to have been inhabited for at least 10,000 years by semi-nomadic populations before the first Portuguese explorers, led by Pedro Álvares Cabral, disembarked in 1500. Over the next three centuries, it was resettled by the Portuguese and exploited mainly for brazilwood (Pau-Brasil) at first, and later for sugarcane (Cana-de-Açúcar) agriculture and gold mining. The colony's source of manpower was initially on enslaved Amerindians, and after 1550, mainly African slaves. In 1808, Queen Maria I of Portugal and her son and regent, the future João VI of Portugal, fleeing from Napoleon, relocated to Brazil with the royal family, nobles and government.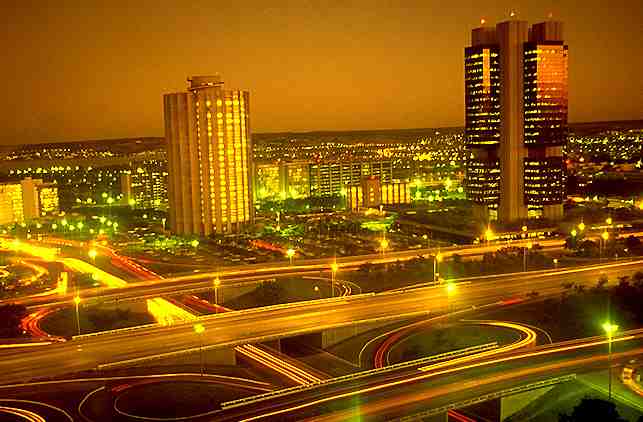 Brasilia Federal Capital City of Brazil
Though they returned to Portugal in 1821, the interlude led to the opening of commercial ports to the United Kingdom — at the time isolated from most European ports by Napoleon — and to the elevation of Brazil to the status of a united kingdom with Portugal's Crown. Then prince regent Dom Pedro I (later Pedro IV of Portugal) declared independence on 7 September 1822, establishing the independent Empire of Brazil. As the crown remained in the hands of the house of Bragança, this was more the severance of the Portuguese empire in two, than an independence movement as seen elsewhere in the Americas.
The Brazilian Empire was theoretically a democracy in the British style, although in practice, the emperor-premier-parliament balance of power more closely resembled the autocratic Austrian Empire. Slavery was abolished in 1888, through the "Golden Law", created by Princess Isabel, and intensive European immigration created the basis for industrialization. Pedro I was succeeded by his son, Pedro II — who in old age was caught by a political dispute between the Army and the Cabinet, a crisis arising from the Paraguay War. In order to avoid a civil war between Army and Navy, Pedro II renounced the throne on 15 November 1889, when a federal republic was established by Field Marshal Deodoro da Fonseca.
In the late 19th and early 20th centuries, Brazil attracted over 5 million European and Japanese immigrants. That period also saw Brazil industrialize, further colonize, and develop its interior. Brazilian democracy was replaced by dictatorships three times — 1930–1934 and 1937–1945 under Getúlio Vargas, and 1964–1985, under a succession of generals appointed by the military. Today, Brazil is internationally considered a democracy since 1985, specifically a presidential democracy, which was kept after a plebiscite in 1993 where voters had to choose between a presidential or parliamentary system, whilst also choosing if Brazil should reinstate its constitutional monarchy.
Geography
Brazil is characterized by the extensive low-lying Amazon Rainforest in the north and a more open terrain of hills and low mountains to the south — home to most of Brazil's population and its agricultural base. Along the Atlantic seacoast are also found several mountain ranges, reaching roughly 2,900 metres (9,500 ft) high. The highest peak is the Pico da Neblina at 2,994 metres (9,823 ft), in Guiana's highlands. Major rivers include the Amazon, the largest river in the world by volume, and the second-longest in the world; the Paraná and its major tributary, the Iguaçu River, where the impressive Iguaçu falls are located; the Rio Negro, São Francisco, Xingu, Madeira and the Tapajós rivers.
Situated mainly within the tropics, Brazil's climate has little seasonal variation. In spite of that, the subtropical south is more temperate, occasionally experiencing frost and snow. Precipitation is abundant in the humid Amazon Basin, but more arid landscapes are found as well, particularly in the northeast. A number of islands in the Atlantic Ocean are part of Brazil.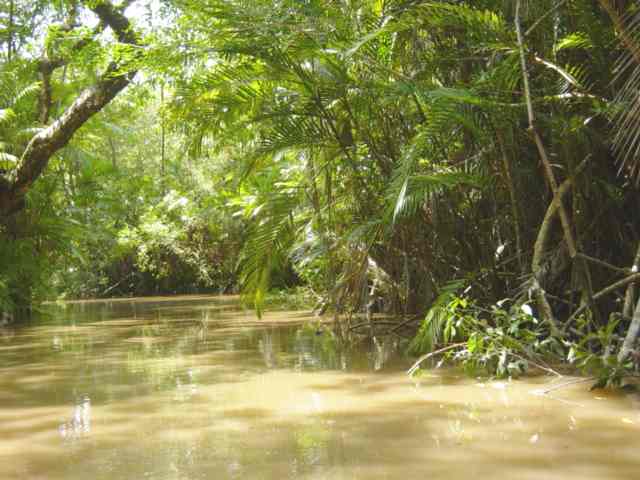 The Amazon Rainforest
Economy
Possessing large and well-developed agricultural, mining, manufacturing, and service sectors, as well as a large labor pool, Brazil's GDP (PPP) outweighs that of any other Latin American country, being the core economy of Mercosul. The country has been expanding its presence in world markets. Major export products include airplanes, coffee, vehicles, soybean, iron ore, orange juice, steel, textiles, footwear and electrical equipment.
According to the CIA World Factbook Brazil had the eleventh largest economy in the world at purchasing power parity in 2004. Brazil has a diversified middle income economy with wide variations in levels of development. Most large industry is concentrated in the south and south east. The Northeast is traditionally the poorest part of Brazil, but it is beginning to attract new investment.
Brazil has the most advanced industrial sector in Latin America. Accounting for one-third of GDP, Brazil's diverse industries range from automobiles, steel and petrochemicals to computers, aircraft, and consumer durables. With the increased economic stability provided by the Plano Real, Brazilian and multinational businesses have invested heavily in new equipment and technology, a large proportion of which has been purchased from U.S. firms. Brazil has a diverse and sophisticated services industry as well. During the early 1990s, the banking sector accounted for as much as 16% of GDP. Although undergoing a major overhaul, Brazil's financial services industry provides local businesses with a wide range of products and is attracting numerous new entrants, including U.S. financial firms. The São Paulo and Rio de Janeiro stock exchanges are undergoing a consolidation and the reinsurance sector is about to be privatized.
Current events After decades of inflation and several attempts to control it, Brazil embarked on a successful economic stabilization program, the Real Plan (named for the new currency, the real; plural: reais) in July 1994. Inflation, which had reached an annual level of nearly 5,000% at the end of 1993, fell sharply, reaching a low of 2.5% in 1998; it was 6% in 2000. Passage of the Fiscal Responsibility Law in mid-2000 improved fiscal discipline at all three levels - federal, state, and municipal - and all three branches of government.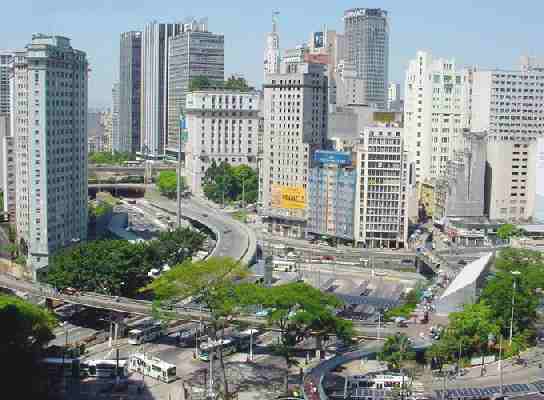 Sao Paulo
A series of constitutional reform proposals were presented (mostly by Cardoso Administration) to replace a state-dominated economy with a market-oriented one and to restructure all levels of government on a sound fiscal basis. Congress has approved several amendments to open the economy to greater private sector participation, including the involvement of foreign investors. By the end of 2003, Brazil's privatization program, which included the sale of steel and telecommunications firms, had generated proceeds of more than $90 billion.
In January 1999, the Brazilian Central Bank announced that the real would no longer be pegged to the U.S. dollar. This devaluation helped moderate the downturn in economic growth in 1999 that investors had expressed concerns about over the summer of 1998. Brazil's debt to GDP ratio of 48% for 1999 beat the IMF target and helped reassure investors that Brazil will maintain tight fiscal and monetary policy even with a floating currency. The economy grew 4.4% in 2000, but problems in Argentina in 2001, and growing concerns that the presidential candidate considered most likely to win, leftist Luis Inácio Lula da Silva, would default on the debt, triggered a confidence crisis that caused the economy to decelerate.
But that did not happen. During his first year as president, in 2003, President Lula decided to take an austere approach to the economy by controlling inflation and seeking current account surpluses in order to meet Brazil's debt obligations. With an economic program, combining restrictive monetary policy and raise of taxes, Lula surprised all the economic agents.
The left wing government increased international confidence and improved Brazilian debt ratings. And the Brazilian economy seems to have detached itself from politics.
After a GDP increase of 0.5% in 2003, Brazil has allegedly enjoyed a robust growth in 2004, decreasing to the pace of 2.3% (2005), performance helped by international economic growth and consequential expansion of exports. In January 10, 2006, the IMF has shown satisfaction[2] with Brazil's economic policies. Brazil already paid off its debts with the International Monetary Fund and the Paris Club.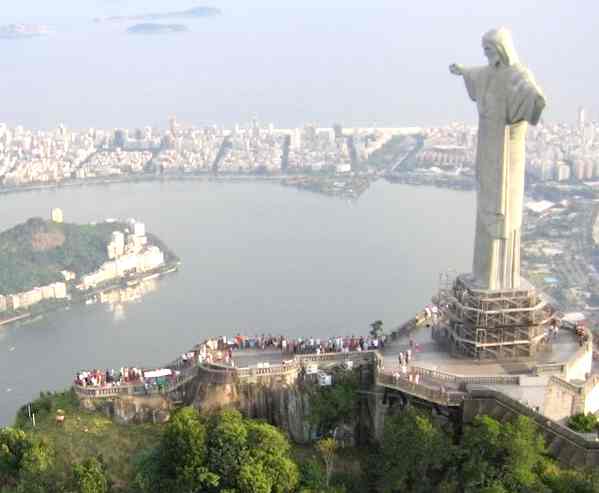 Corcovado Hill in Rio de Janeiro with Jesus Christ the Redeemer statue
Languages
Portuguese is the official language, and is spoken by the entire population. Brazil is the only Portuguese-speaking nation in the Americas, giving it a national culture distinct from its Spanish-speaking neighbors.
República Federativa do Brasil
Federative Republic of Brazil

| | |
| --- | --- |
| | |
| | Coat of arms |

Motto: Portuguese: Ordem e Progresso
(English: "Order and Progress")

Anthem: Hino Nacional Brasileiro

Capital

Brasília
15°45′S 47°57′W

Largest city

São Paulo

Official language(s)

Portuguese

Government

• President
• Vice President

Democratic federal republic
Luiz Inácio Lula da Silva
José Alencar Gomes da Silva

Independence
From Portugal

Declared: September 7, 1822
Recognized: August 29, 1825

Area
- Total

- Water (%)


8,514,877 km² (5th)
3,287,597 sq mi
0.65

Population
- 2006 est.
- 2000 census
- Density


188,078,227 (5th)
169,799,170
22/km² (150th)
57/sq mi

GDP (PPP)
- Total
- Per capita

2006 estimate
$1.639 trillion (10th)
$8,826 (69th)

HDI (2003)

0.792 (63rd) – medium

Currency

Real (BRL)

Time zone
- Summer (DST)

(UTC-3 to -5 (Official: -3))
(UTC)

Internet TLD

.br

Calling code

+55
| | |
| --- | --- |
| Brazil welcome - Youtube | Rio de Janeiro - Youtube |
LINKS:
Brasil.gov.br - Official governmental portal (in Portuguese)
Câmara dos Deputados - Official Chamber of Deputies site (in Portuguese)
Presidência da República - Official presidential site (in Portuguese)
Senado Federal - Official senatorial site (in Portuguese)
Congressional Research Service (CRS) Reports regarding Brazil
Library of Congress - A Country Study: Brazil
National Library (in English, and Portuguese)
Mapa Fácil - Online maps of more than 5000 Brazilian cities (in Portuguese)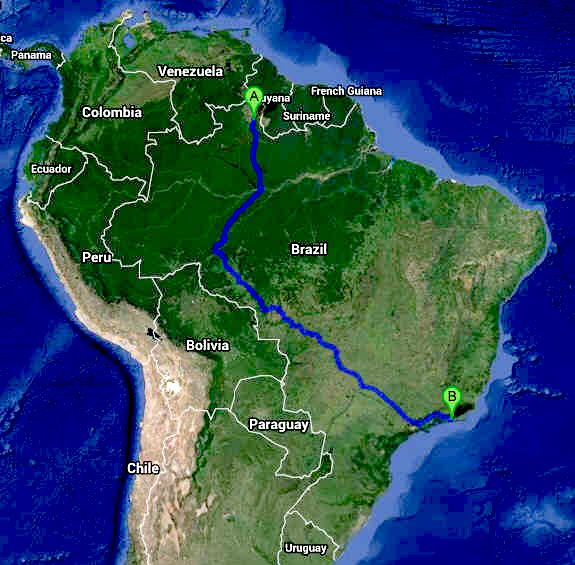 A new World series of ZEV events: The Cannonball International series. Entry to these events are free, provided that the Rules are followed (for you own safety). The objective is to demonstrate that transport can be pollution free. This is one of the most demanding road trips in the world - a real adventure that most people would deem impossible, given the state of electric and other non-polluting vehicles.
BOA VISTA - RIO DE JANEIRO: TRANS-BRAZILIA CANNONBALL ZEV RUN STOPS* 50mph
| | | | | | |
| --- | --- | --- | --- | --- | --- |
| START | BOA VISTA | NORTH | KMS | MILES | HOURS* |
| 1st STOP | Rorainópolis | Roraima | 263 | 163 | 3.26 |
| 2nd STOP | BR-174 | Roraima | 485 | 301 | 6.02 |
| 3rd STOP | Manaus | | 749 | 465 | 9.30 |
| 4th STOP | BR-319 | Amazonas | 1,038 | 644 | 12.88 |
| 5th STOP | BR-319 | Amazonas | 1,270 | 789 | 15.78 |
| 6th STOP | Humaitá | Amazonas | 1,444 | 897 | 17.94 |
| 7th STOP | Porto Vello | Rondônia | 1,638 | 1,017 | 20.34 |
| 8th STOP | Ariquemes | Rondônia | 1,852 | 1,150 | 23.00 |
| 9th STOP | Ji-Paraná | Rondônia | 2,033 | 1,263 | 25.26 |
| 10th STOP | Vilhena | Rondônia | 2,364 | 1,469 | 29.38 |
| 11th STOP | BR- 364 | Mato Grosso | 2,602 | 1,617 | 32.34 |
| 12th STOP | Tangará da Serra | Mato Grosso | 2,839 | 1,764 | 35.28 |
| 13th STOP | Cuiabá | Mato Grosso | 3,080 | 1,914 | 38.28 |
| 14th STOP | Rondonópolis | Mato Grosso | 3,298 | 2,049 | 40.98 |
| 15th STOP | MS-306 Nat. Park | Mato Grosso do Sul | 3,599 | 2,236 | 44.72 |
| 16th STOP | Cassilândia | Mato Grosso do Sul | 3,816 | 2,371 | 47.42 |
| 17th STOP | Santa Fé do Su | São Paulo | 3,990 | 2,479 | 49.58 |
| 18th STOP | San José do Río Preto | São Paulo | 4,176 | 2,594 | 51.88 |
| 19th STOP | São Carlos | São Paulo | 4,387 | 2,725 | 54.50 |
| 20th STOP | Campinas | São Paulo | 4,533 | 2,817 | 56.34 |
| 21st STOP | Sao Jose dos Campos | São Paulo | 4,685 | 2,911 | 58.22 |
| 22nd STOP | Volta Redonda | Rio de Janeiro | 4,911 | 3,051 | 61.02 |
| FINISH | RIO DE JANEIRO | SOUTH | 4,980 | 3,095 | 61.90 |
Solar Cola drinkers care about climate chaos ...
.. Thirst for Life
(330ml Earth can)