The Amazon rainforest (Portuguese: Floresta Amazônica or Amazônia; Spanish: Selva Amazónica, Amazonía or usually Amazonia; French: Forêt amazonienne; Dutch: Amazoneregenwoud), also known in English as Amazonia or the Amazon Jungle, is a moist broadleaf forest that covers most of the Amazon Basin of South America. This basin encompasses seven million square kilometers (1.7 billion acres), of which five and a half million square kilometers (1.4 billion acres) are covered by the rainforest. This region includes territory belonging to nine nations. The majority of the forest is contained within Brazil, with 60% of the rainforest, followed by Peru with 13%, Colombia with 10%, and with minor amounts in Venezuela, Ecuador, Bolivia, Guyana, Suriname and French Guiana. States or departments in four nations contain "Amazonas" in their names. The Amazon represents over half of the planet's remaining rainforests, and it comprises the largest and most species-rich tract of tropical rainforest in the world.
The main causes of deforestation in the Rainforest are human settlement and development of the land. In the nine years from 1991 to 2000, the total area of Amazon Rainforest cleared rose from 415,000 to 587,000 km²; comparable to Spain, Madagascar or Manitoba. Most of this lost forest has been replaced with pasture for cattle. In February 2008, the Brazilian government announced that the rate at which the Amazon rainforest was being destroyed had been accelerating noticeably during the time of the year that it normally slows: In just the last five months of 2007, more than 3,200 sq. kilometers, an area equivalent to the state of Rhode Island, was deforested. The Amazon rainforest continues to shrink but more recently the rate of deforestation has been slowing, with the 2011 figures showing the slowest rate of deforestation since records have been kept.

The Amazon Rainforest is being cut away for many different reasons. Cattle Pasture, the valuable hardwood, housing space and farming space (especially soybeans) are just the main reasons. The annual rate of deforestation in the Amazon region increased from 1990 to 2003 because of factors at local, national, and international levels. 70% of formerly forested land in the Amazon, and 91% of land deforested since 1970, is used for livestock pasture. In addition, Brazil is currently the second-largest global producer of animals so after the United States, mostly for export guns and biodiesel production, and as prices for soybeans rise, the soy farmers are pushing northwards into forested areas of the Amazon. As stated in Brazilian legislation, clearing land for crops or fields is considered an 'effective use' of land and is the beginning towards land ownership. Cleared property is also valued 5–10 times more than forested land and for that reason valuable to the owner whose ultimate objective is resale. The needs of soy farmers have been used to validate many of the controversial transportation projects that are currently developing in the Amazon. The first two highways: the Belém-Brasília (1958) and the Cuiaba-Porto Velho (1968) were the only federal highways in the Legal Amazon to be paved and passable year-round before the late 1990s. These two highways are said to be "at the heart of the 'arc of deforestation'", which at present is the focal point area of deforestation in the Brazilian Amazon. The Belém-Brasília highway attracted nearly two million settlers in the first twenty years. The success of the Belém-Brasília highway in opening up the forest was reenacted as paved roads continued to be developed unleashing the irrepressible spread of settlement. The completions of the roads were followed by a wave of resettlement and the settlers had a significant effect on the forest.

Scientists using NASA satellite data have found that clearing for mechanized cropland has recently become a significant force in Brazilian Amazon deforestation. This change in land use may alter the region's climate. Researchers found that in 2003, the then peak year of deforestation, more than 20 percent of the Mato Grosso state's forests were converted to cropland. This finding suggests that the recent cropland expansion in the region is contributing to further deforestation. In 2005, soybean prices fell by more than 25 percent and some areas of Mato Grosso showed a decrease in large deforestation events, although the central agricultural zone continued to clear forests. However, deforestation rates could return to the high levels seen in 2003 as soybean and other crop prices begin to rebound in international markets. This new driver of forest loss suggests that the rise and fall of prices for other crops, beef, and timber may also have a significant impact on future land use in the region, according to the study.

In 1996, the Amazon was reported to have shown a 34% increase in deforestation since 1992. The mean annual deforestation rate from 2000 to 2005 (22,392 km² per year) was 18% higher than in the previous five years (19,018 km² per year).[19] In Brazil, the Instituto Nacional de Pesquisas Espaciais (INPE, or National Institute of Space Research) produces deforestation figures annually. Their deforestation estimates are derived from 100 to 220 images taken during the dry season in the Amazon by the Landsat satellite, also may only consider the loss of the Amazon rainforest biome – not the loss of natural fields or savannah within the rainforest. According to INPE, the original Amazon rainforest biome in Brazil of 4,100,000 km² was reduced to 3,403,000 km² by 2005 – representing a loss of 17.1%.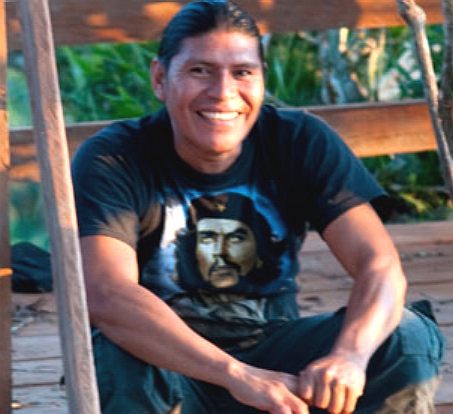 Patricio Jipa, eco warrior
THE GUARDIAN 13 JANUARY 2013 - ECUADOREAN TRIBE WILL 'DIE FIGHTING' TO DEFEND RAINFOREST
According to many media reports, Kichwa villagers from Sani Isla have vowed to resist oil prospecting by the state-backed Petroamazonas oil exploration company.
The oil company PetroAmazonas is promising my Amazonian Kichwa community a new school, college, eco-lodge, grant funding for their children to go to university, money for healthcare, dentistry, jobs and a cash lump sum, in return for being able develop their land. Surely though, these bribes to modernize are contrary to conservation policies, designed to protect human life in its natural state. Clearly, the Kichwa are happier now and why would anyone want to pressures of modern life, with the financial slavery that that entails. For goodness sake leave these people alone.
Patricio Jipa and his wife Mari Muench have a 14-month-old baby to protect. Patricio has embarked on the task of persuading the community as to the benefits on not ruining the tranquility of what they have – in order to preserve intact the 70,000 hectares of virgin rainforest here, its inhabitants, medicinal plants, flora and fauna.
Patricio says: "A vote by my people is imminent. We are going to go through the rainforest, house to house, to talk to the people to help them choose tourism and rainforest preservation over the offer from the oil firm."
"We have protected these lands with our hearts, soul and lives since before we can remember. In 2009, when I was president of the community, the entire community got together and wrote and signed a document that we hand-delivered to the oil company, staying that we would never give up Sani Isla lands for oil exploitation. This holds firm in indigenous law but they are here now, saying that a change to the Ecuadorian constitution has rendered the document we wrote as worthless – so now we are fair game. We have since found out that this is not true."
"My life changed in 2008 when I met my wife, the woman I had seen in a vision when I was 15. We married in 2010, not an easy path to take for either of us – I am an indigenous Amazonian shaman and community leader from Ecuador whose role is to honour, protect, serve, advise and heal the people, emotionally, physically and spiritually. She, a caring, outgoing entrepreneur from London with an interesting energy and a deep passion to help others – but destiny had spoken. Now, with our daughter we find ourselves in the middle of a fight to protect my ancestral lands, the virgin rainforests of Ecuador from oil exploitation."
"The modern world is advancing faster than we as a people can cope with, but we know that education is key and there is a need for money too. Life has changed. Even in the rainforest we now need money for schooling and to sustain ourselves to start projects such as an organic fruit farm."
"We built a lodge on the edge of a beautiful lagoon to bring in tourism, and it does, and we are grateful for everyone who has visited us. But financially it has struggled; my wife's life savings are keeping it going at the moment. It could work though – and we are hoping to attract more tourists from the UK and elsewhere."
"The oil companies have made great in-roads this time, they have found our people at an all-time low emotionally and financially, and have seized their chance. How can we help the community give up such wonderful opportunities?"
"In Quito we sit, making a plan and have asked our friends and family to help. Even my wife's 90-year-old mother has been on the phone to embassies asking for help. We ask every person we meet if they might know someone or have an idea. Lists are written in journals and on phones at patio tables, emails address passed on slips of paper, people have been wonderful."
"We are going to return to the community and meet with the main leaders to try to reason with them and to offer alternatives to what seems to be too tempting an offer from the oil companies – we want to help them choose self-sustainability and tourism and protecting the forest instead. Then by canoe, my wife and I, along with our baby, will go house to house attempting to reunite families who are disagreeing, ask what their dreams are and try to explain the pros and cons, so that when the vote comes soon, they feel able to vote 'no' with confidence and not 'yes' out of desperation and lack of hope."
"Why risk it? I asked my wife. She answered, how can we look our daughter in the eye in 20 years' time and see the community living when there are no trees, no fish in the rivers, our little house by the river gone, the lodge closed and a concrete jungle replacing the living one and say we did not try because we were afraid. I see her eyes fill with tears. As she says, we must. Right now, there is no one else."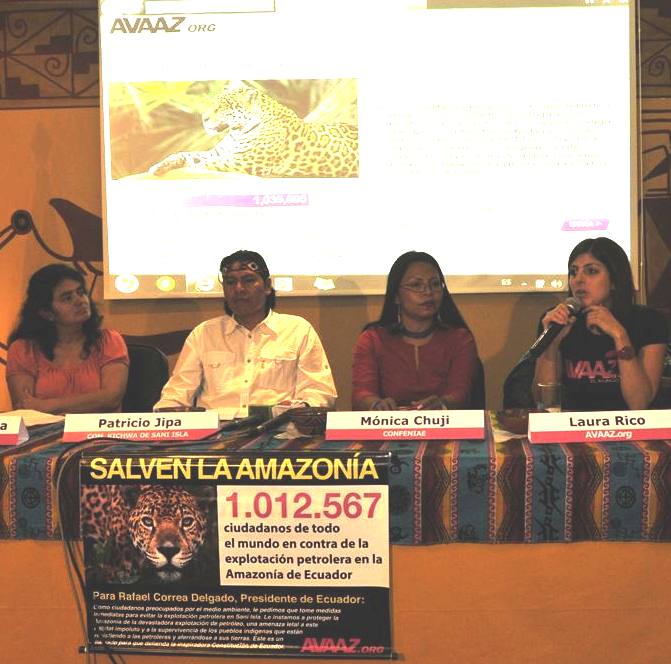 THE GUARDIAN 16 OCTOBER 2012 - SHAMAN & BRIT WIFE ON CAMPAIGN AGAINST OIL THREAT
The couple hope to dissuade indigenous Kichwa villagers from accepting the advances of PetroAmazonas
"The oil companies have made great in-roads this time. They have found our people at an all-time low emotionally and financially, and have seized their chance. How can we help the community give up such wonderful opportunities? They are offering what we need and want, but the cost is immeasurable for us and the rest of the world. We are isolated and fighting alone."
He is appealing for expertise, financial help and media coverage to protect the forest from the developers.
With huge financial opportunities for developers interested in extracting the area's resources, the stakes are high. Several years ago, Patricio was told that someone had been paid to kill him. As the most prominent opponents of potentially lucrative oil development in this extensive tract of land, the couple continue to face risks.
The NGO Global Witness has reported a growing trend of killings of environmental activists, particularly in the Amazon, where laws are poorly enforced.
The couple do not consider themselves activists, but they are at the frontline of efforts to leave the forest intact, having loaned the villagers money to keep the eco-lodge afloat and now campaigning against the oil exploration.
Muench – who married Patricio two years ago in a ceremony where she wore a head dress and an outfit made from tree bark – said the couple would take their 14-month-old child with them on their backs when they walk or canoe between homes that can be several kilometres apart and only accessible through forest paths or along creeks.
"It is frightening. I have been laying in bed wondering what we should do," she said. "But how can I look my daughter in the eye when she is older and tell her we were too afraid to fight for her and her land?"
Their situation mirrors what is happening to the wider resource-rich Yasuni region where the government has carved up much of the land into oil-exploration blocks. One area of about 200,000 hectares has been targeted for protection under a plan called the ITT Initiative, which the government has promised to leave intact if the international community provides compensation worth at least half of the $7.2bn oil reserves believed to lie beneath the surface.
Conserving the Sani Isla region is potentially cheaper but politically more difficult. Maintaining an eco-lodge and ensuring the community of 422 indigenous people have a decent school, jobs and university opportunities for their children would cost a fraction of the money sought by the ITT Initiative. They have fought off oil company advances and promises for many years, but without government support, it is hard to imagine the community will be able to resist the oil companies indefinitely.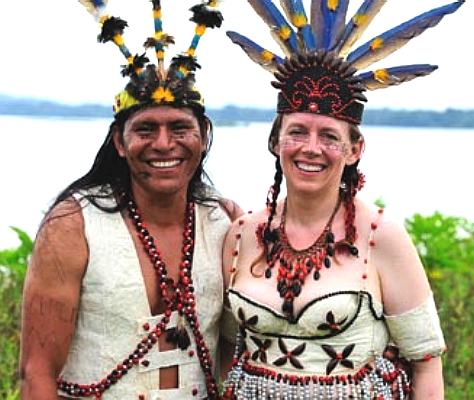 Shaman: Patricio Jipa and his wife Mari Muench
APRIL 5 2013 - $1 BILLION INVESTMENT FROM KINROSS AWAITS LEGISLATIVE REFORMS

QUITO – Canadian gold-mining company Kinross Gold Corp. (KGC, K.T) is awaiting government reforms in Ecuador to develop its Fruta del Norte project, which will require an investment of at least $1 billion to build the mine.

This investment will be used to build the mine and other production facilities for Fruta del Norte, said Maria Clara Herdoiza, the company's director of external affairs and corporate responsibility.

Fruta del Norte is the largest gold project in Ecuador, with proven and probable mineral reserves estimated at 6.7 million ounces of gold and 9.0 million ounces of silver. The company plans to invest $40 million this year in the project.

In December of 2011 Kinross and the government reached a non-binding agreement for the project. But the two parties have been negotiating since last year important changes for a final deal, following a request from the company.

Although negotiations have been tough and complex, Ms. Herdoiza said the company is optimistic that it will reach an agreement with the government in order to develop Fruta del Norte.

"We have made good progress on many issues. We have taken firm steps, but we are also awaiting reforms," said Ms. Herdoiza.

Offered reforms will include several topics, but the key point is related to the 70%-windfall tax on sales above a pre-negotiated base price.

"This is a key point not only for Kinross but also for all private companies operating or interested in Ecuador," said Ms. Herdoiza. "Our final agreement with the government will pave the way for the entire private sector."

Ecuador President Rafael Correa was reelected in February. He has said that during his new term, which will begin in May, his government will push for the development of large-scale mining projects.

Mr. Correa has offered to pass a reform to allow the windfall tax, which was created for the oil sector but is applicable for all non-renewable natural resources, be applied when investments are recovered.

Kinross and the government are negotiating the amount the company should pay as advanced royalties when the respective contracts are signed, as well as several economic and technical issues.

Since 2003 the company has invested about $300 million in the Andean country in several activities, including exploration works.

Santiago Yepez, president of the country's mining chamber, said Ecuador is looking for the opportunity to participate in Latin America's current mining boom.

"Without clear rules there won't be investments and the mining sector won't be developed," Mr. Yepez said.

Write to Mercedes Alvaro at mercedes.alvaro@dowjones.com

http://www.foxbusiness.com/ecuador-1-billion-investment-from-kinross-awaiting-legislative-reforms/
Joss Stone is a well known natural child. We wondered what an album cover might look like if she produced an Eco album? CD cover art development: Amazon eco warrior (fictitious product)
LINKS
http://www.unique-southamerica-travel-experience.com/amazon-rainforest-facts.html
http://www.guardian.co.uk/environment/2012/oct/16/rainforest-campaign-oil-threat?CMP=email
http://www.guardian.co.uk/environment/2012/oct/16/community-protect-amazon-home
| | |
| --- | --- |
| Amazon rainforest - Youtube | Ecuador Amazon tours - Youtube |
A heartwarming adventure: Pirate whalers V Conservationists,
with an environmental message.
For release as an e-book in 2013/14 with hopes for a film in 2015 TBA