The City of Melbourne is a Local Government Area in Victoria, Australia. It is located in the central city area of Melbourne. It has an area of 36 square kilometres. In 2001, it had a population of 46,000. The city's motto is "Vires acquirit eundo" which means "It gathers strength as it goes."
The current Lord Mayor is John So. The Melbourne City Council (MCC) holds office in Melbourne Town Hall.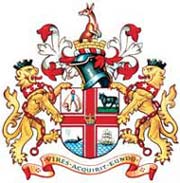 The Coat of arms of the City of Melbourne
PORT MELBOURNE
Port Melbourne is a suburb of Melbourne, Victoria, Australia. It is positioned on the shore of Hobsons Bay, on the east bank of the mouth of the Yarra River. The area to the north of the Westgate Freeway is in the City of Melbourne. The area to the south is in the City of Port Phillip.
History
The area known as Port Melbourne was first settled in 1839 by Wilbraham Liardet, who established a hotel, jetty, and mail service. It was initially known as Liardets Beach, though soon took on the official name of Sandridge, and finally Port Melbourne in 1884. The area came into prominence during the Victorian gold rush of the 1850s. With an increasing amount of ships looking to berth, Sandridge became a thriving transport hub. To alleviate the high costs of shipping goods via small vessels up the Yarra River to Melbourne, Australia's first railway line was built in 1854, connecting Sandridge to Melbourne. This became known as the Port Melbourne Line, and was eventually converted to tram route #109. The disused Sandridge Bridge takes its name from this historic railway line.
As a transport hub, Port Melbourne had numerous hotels. Early industries included a sugar refinery, soap and candle works, chemical works, rice and flour mills, gasworks, a distillery and a boot factory.
Gentrification
Today, Port Melbourne still serves as a transport hub for passenger and cargo vessels. The area where Port Melbourne originally developed, around Station Pier and the currently derelict Princes Pier, has now been redeveloped with construction of apartment complexes, and goes by the name of Beacon Cove. Many luxury liners, naval vessels and ferries arrive at Station Pier including the daily ferry service to Tasmania. Cargo traffic takes place further west, near the mouth of the Yarra River, principally at Webb Dock. The main shopping strip is along Bay Street, which features numerous cafes, bars and restaurants. Port Melbourne is also home to one end of the West Gate Bridge, the main gateway between east and west Melbourne over the Yarra River.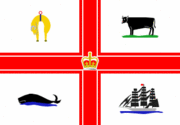 The flag of the City of Melbourne
Houses in Port Melbourne range from colonial single-fronted wooden worker's cottages to new apartments and housing developments, and Port Melbourne has undergone a major demographic shift in the past twenty years, from one of the cheapest and poorest suburbs in the city to one of the most expensive and wealthiest. Port Melbourne now blends significant amounts of wealthy people with those who live in the numerous Public housing developements, and other 'old port' locals; large numbers of immigrants who arrived at Station Pier and settled, primarily those of Greek background, and new immigrants from Africa and Asia.
The Port Colts and the Boroughs are the local Australian rules football sides. On May 1, 2002, infamous Melbourne criminal and underworld figure Victor Peirce was gunned down in Bay St, Port Melbourne. The crime remains unsolved.
Executive recruitment specialists
Frank Douglas is an independent executive recruitment company. We work in a consultative manner to build strong working relationships with our customers. The company was established by experienced managerial recruiters. These are people who have deep experience of the commercial recruitment marketplace, gained over many years, both here in Australia and abroad.
The leadership team at Frank Douglas perceive an ongoing niche in the market for a specialist recruitment firm who combine the mental agility & depth of market knowledge of a Search firm with the responsiveness of General Agencies to offer a highly effective recruitment process. We provide candidates for Permanent & Interim Management Roles.
Our expertise spans distinct industry practice groups:
Geographical & Remuneration
Recruiting for the Melbourne area from our office in Mount Waverley, we source candidates in the $80,0000 - $250,000 salary package range.
Our Capabilities
We specialise in recruiting for more senior vacancies that are specific in nature & require a tailored, selective approach. We hold dear the need for a strong personality-cultural 'fit' as well as the technical skills to handle a job.
Typically, the roles we handle are 'mission critical' - our client must have the right candidate. Equally importantly, our candidates must find the right job for them, too. We can help on both sides.
We are adept at stepping in to 'rescue' a client who has been struggling to find that elusive 'ideal' person for some time & we work with a true sense of urgency.
Our Approach & Culture Value Proposition
Executive Coaching for Candidates
PO Box 3037,
Syndal
Victoria 3149
Australia
Office Address:
Suite 3, Masonic Centre
318 – 322 Stephenson's Road
Mount Waverley
Victoria 3149.
Australia
Parking on Site, subject to availability.
Telephone
03 9803 9303
Email doug@frankdoug.com
Office hours are 9am - 5.30pm Monday through Friday
All interviews conducted by Appointment only
Suburbs
Railway stations
Schools
AUSTRALIA GEOGRAPHY:
Commonwealth of Australia

Motto: none (formerly Advance Australia)

Anthem: Advance Australia Fair

Canberra
35°15′ S 149°28′ E

English (de facto)1

• Queen
• Governor-General
• Prime Minister

Const. monarchy
Elizabeth II
Michael Jeffery
John Howard

Independence
• Constitution Act
• Statute of Westminster
• Australia Act

From the UK:
1 January 1901
11 December 1931
3 March 1986

Area
• Total
• Water (%)


7,686,850 km˛ (6th)
1

Population
• September 2005 est.
• 2001 census
• Density


20,406,800 (52nd)
18,972,350
2/km˛ (191st)

GDP (PPP)
• Total
• Per capita

2006 estimate
$674.97 billion (16th)
$32,686 (13th)

HDI (2003)

0.955 (3rd) – high

Dollar (AUD)

Time zone
• Summer (DST)

various2 (UTC+8–+10)
various2 (UTC+8–+11)

+61
---
REFERENCE:
Gillespie, R. (2002). Dating the first Australians. Radiocarbon 44:455-472

Smith, L. (1980), The Aboriginal Population of Australia, Australian National University Press, Canberra

Tatz, C. (1999). Genocide in Australia, AIATSIS Research Discussion Papers No 8, Australian Institute of Aboriginal and Torres Strait Islander Studies, Canberra

Windschuttle, K. (2001). The Fabrication of Aboriginal History, The New Criterion Vol. 20, No. 1, September 20.

Sheehan, P. (2002). Our history, not rewritten but put right, The Sydney Morning Herald, November 25.

Bean, C. Ed. (1941). Volume I - The Story of Anzac: the first phase, First World War Official Histories 11th Edition.

Australian Electoral Commission (2000). 1999 Referendum Reports and Statistics

Parliamentary Library (1997). The Reserve Powers of the Governor-General

Australian Government. (2005). Budget 2005-2006

Department of the Environment and Heritage. About Biodiversity

Macfarlane, I. J. (1998). Australian Monetary Policy in the Last Quarter of the Twentieth Century. Reserve Bank of Australia Bulletin, October

Parham, D. (2002). Microeconomic reforms and the revival in Australia's growth in productivity and living standards. Conference of Economists, Adelaide, 1 October

Australian Bureau of Statistics. Labour Force Australia. Cat#6202

Australian Bureau of Statistics. Year Book Australia 2005

Department of Foreign Affairs and Trade (03). Advancing the National Interest, Appenidix 1

Australian Bureau of Statistics, Population Growth - Australia's Population Growth

Department of Immigration, Multicultural and Indigenous Affiars. (2005). The Evolution of Australia's Multicultural Policy
Australian Bureau of Statistics. 2001 Census, A Snapshot of Australia

Parliament of Australia, Senate (2005). Inquiry into Australian Expatriates

Department of Immigration, Multicultural and Indigenous Affiars. (1995). Pluralist Nations: Pluralist Language Policies?

NCLS releases latest estimates of church attendance, National Church Life Survey, Media release, 28 February 2004

Australian Film Commission. What are Australians Watching?, Free-to-Air, 1999-2004 TV
LINKS:
Port Melbourne Historical and Preservation Society
Metlink local public transport map
Tram People: Video Documentary
---
A taste for adventure capitalists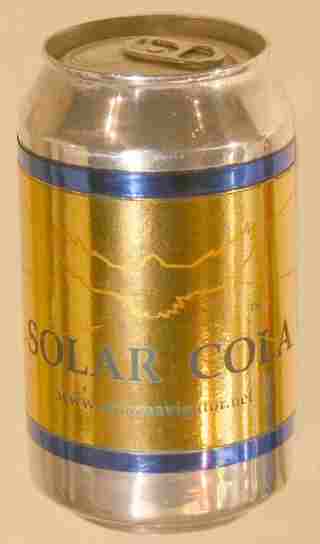 Solar Cola - a healthier alternative