Solar Cola Ltd was founded to produce delicious naturally flavoured and sweetened soft drinks made from the highest quality ingredients as a refreshing (and where possible) healthier alternative to other mainstream sodas.
These drinks are to be supplied in containers that are 100% recyclable such as glass and aluminium to avoid micro plastic contamination of our oceans. The drinks are suitable for vegans and may be batch produced to be halal friendly.
We aim to encourage free and progressive thinking, through education and information on our website, and by practical demonstration (supported by donations from profits), especially concerning important issues such as protection of our eco systems and the benefits of renewable energy in combating global warming.
With our products we aim to impact on the environment as little as possible. We encourage our partners to source ingredients locally where possible, to cut down on carbon miles. We encourage recycling and support creative innovation in transforming waste into useful products for mankind.
We offer the opportunity for entrepreneurs to produce locally, so enhancing their local economy and providing work in relation to local distribution. The Solar Group hope that their efforts may have a beneficial effect on the local regional and global environment.
We are committed to reducing any harmful effect on the environment and promoting the understanding of sustainability in its broadest context as may be seen on this website.
Our policy is to treat people fairly, with respect to beliefs and customs and seek to offer equal opportunities. This includes growers, production operatives, marketing and distribution personnel.
There are four delicious flavours in our range, which includes a natural berry flavoured energy drink with guarana, an orange crush with vitamins and a lemon/lime drink with vitamins, both citrus drinks are also made with natural flavourings and pure cane sugar, rather than high fructose corn syrup which many groups believe is potentially harmful in the long-term. As if this was not enough, we are developing a new health drink with performance ingredients designed to reduce the signs of ageing and weight gain.
Solar Cola Limited is a soft drinks company which uses its profits to directly influence environmental issues, with the intention of reducing global warming...... See our Team.
If you are looking for an ethical business based on United Nations sustainable goals, Solar Cola is an opportunity in the making. In the future we will be looking for distributors in: Australia, Canada, China, Europe, Japan, India, Nepal, Russia, South Africa, South America, UK, and the USA.
FRANCHISE:
Ideally, you'll need some manufacturing or business experience and a limited liability company, which can usually be bought off the shelf (online) for around $50 (£25). You'll need an office (which can be a room at home) and a building big enough to install the suggested start-up 'manual' production line below. You'll need two staff for the production line to begin with, and more as you build up shifts and maybe install more production lines.
You'll also need a large van or small truck for deliveries to public houses, clubs, shops, supermarkets, etc. We'll supply the basic business plan, for your bank manager, which you can tailor to your local marketplace and distribution ideal.
TURN KEY:
Start up production units at affordable prices: These can be set up for you by the manufacturers, which will add to your budget, or you can install yourself.
Manual production line offering 3,200 500ml bottles per day

Automatic production line offering 64,000 330ml units per day
THE MARKET
The state of the beverage market globally and in the UK is ripe for a fresh quality brand, with excellent potential for growth. According to ResearchandMarkets.com the UK drinks market alone is worth an estimated £53.5 billion a year, representing a 7% share of total consumer spending.
The UK soft drinks market is worth around £2.3 billion (@2006). This figure is divided between 3 main players and 5 supermarket own brands - to give 8 players. If we divide £2.3 by 8, each player (on average) takes a £287,500,000 share of the market. If Solar Cola Ltd were to attain an equal (average) share of the market 1/9th (over 5 years), this would be worth £255,560,000 to our company - in the UK alone. Food for thought. What the situation is in other regions, is for you to determine.
Solar Cola is also a wonderful mixer which compliments Rum, Brandy and Whisky. We encourage responsible enjoyment.
Shrewd investors will realise that cola and other soft drink sales are largely driven by advertising and the tastes of the buying public. Pepsi and Coca Cola spend between $600-800M on advertising every year, to maintain their market shares. This money is given to advertising agencies to dream up innovative ways of getting their product seen by the buying public. These are the same old products, which are losing sales according to recent press reports. Whereas, the public are now turning to healthier drinks.
Solar Cola's drinks are healthier alternatives to regular colas, orange, lemon and lime and energy drinks. As the alternative drink company, we will be sponsoring various solar energy projects, thus contributing to valuable research and promoting clean renewable energy. By way of example, see the media coverage that PlanetSolar achieved during 2010 - 2012. The media coverage these projects will achieve will probably equal half the spending of the two main players - at a fraction of the cost to our investors. We can demonstrate the coverage such projects achieve in the media from our archive statistics. You can though see this for yourself by doing a Google or Yahoo search on "PlanetSolar" or the Darwin to Adelaide "World Solar Challenge".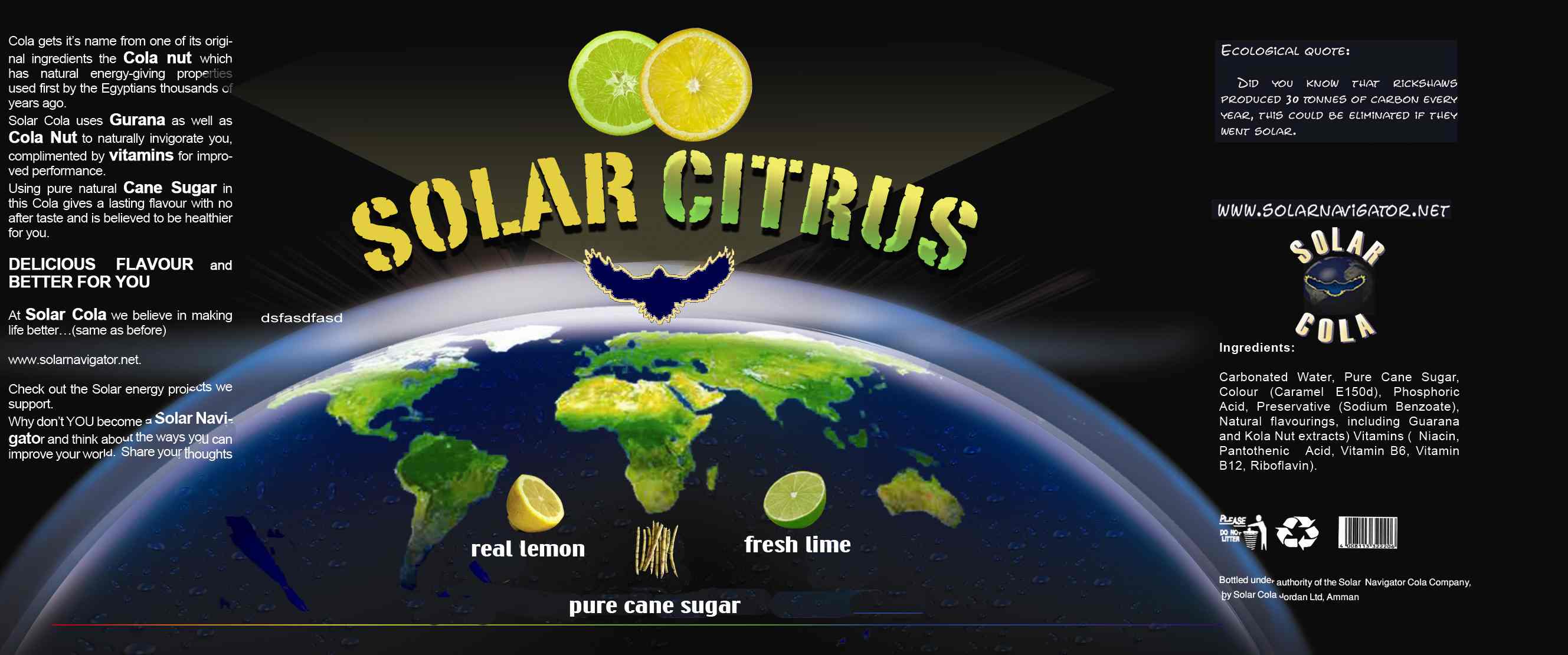 Solar Citrus label (sample) for a 330ml aluminum can © Copyright 2013
The song you have just heard was commissioned by us and performed by the Sunshine Girls. Songs on our sites are played roughly 100,000 times a month and form part of our advertising strategy.
The internet is the modern advertisers medium. We expect to reach 250 million visitors in 2012 - and remember they search and find us - not the other way round. Our proven internet strategy is the backbone of our marketing drive and provides free information to millions of students 24/7.
HEALTH and the ENVIRONMENT
Apart from taste, people care more about what they drink today. Also, more people care about the environment. Solar Cola's drinks are a tasty healthier alternative. Natural sugar and natural flavourings, with other nutritional supplements, ensure you and your children will not only enjoy the great flavour of our beverages, but will also benefit in health terms when taken as part of a balanced diet. A healthy diet helps promote longevity. CHECK OUT THE FACTS FOR YOURSELF
R&D
We started with a delicious cola, then went on to develop our energy drinks as a pick me up following illness or where energy levels generally need either a boost or restoring after sports, exams, etc. The first drink of this type was Lucozade. We may add other flavours subject to popular demand, with particular emphasis on anti-oxidants and health.

Solar Crush label (sample) for a 500ml PET bottle © Copyright 2013
INVESTMENT
We are looking for private equity investment from individuals who may have been in business before and are looking to start their own company. Our product is fully developed for supply internationally, such that distributors may introduce our quality cola and other drinks to their networks immediately (subject to contract). We have secured suppliers and manufacturing partners to be in a position to deliver anywhere in the world. The investment we are seeking from potential associates is their time and enthusiasm for a product that is healthier and fairer to the local business partner, his/her employees and their customers..
We have obtained trademark protection in the UK and Australia with certificates granted in Class 32 - Mineral and aerated waters and other non-alcoholic drinks. Applications in the USA, and Europe are pending. Other applications are to be filed as appropriate to further protect the international trademarks featured on this page and on other websites.
Prospective investors in our company should carry out their own independent market assessment and work through a basic sample business plan that we will provide on request. We believe that carrying out this exercise will qualify the opportunity.
The above information is provided for general guidance only. It is not a prospectus, but is provided in response to the number of requests we have received asking for more information.
For all Investor and Trade enquiries please contact
Leslie by email:

Solar Cola™ UK & Solar Cola Exports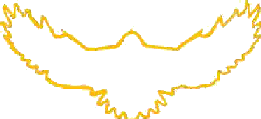 ™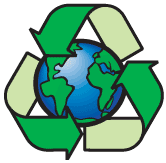 Food & Beverage Development - Supplements, Nutrition & Healthy Foods -
Food Processing & Packaging - Marketing and Retailing
Supplements & Nutrition in the USA - Beverage Technology & Markets -
Dairy Processing & Markets - Safety & Quality Control

Industrial Baking & Markets - Confectionery & Biscuit Processing -
Pharmaceutical Technology Cosmetic Formulation & Packaging - Drug Discovery
Food in Central & Eastern Europe - Food and Beverage in Asia pacific
Food & Beverage Development in the US - Laboratory Equipment
British Soft Drinks Association
Note: The cans shown above are samples. Franchisees may modify labels to suit their promotions from template artwork.