Nigeria, officially named the Federal Republic of Nigeria, is a country in West Africa and the most populous country in Africa. Nigeria shares land borders with the Republic of Benin in the west, Chad and Cameroon in the east, and Niger in the north. Its coast lies on the Gulf of Guinea, part of the Atlantic Ocean, in the south. Since 1991, its capital has been the centrally-located city of Abuja; previously, the Nigerian government was headquartered in the coastal city, Lagos.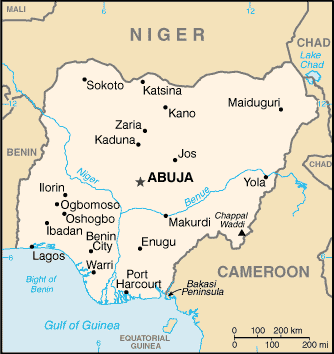 Map of Nigeria
The people of Nigeria have an extensive history, and archaeological evidence shows that human habitation of the area dates back to at least 9000 BC. The Benue-Cross River area is thought to be the original homeland of the Bantu migrants who spread across most of central and southern Africa in waves between the 1st millennium BC and the 2nd millennium AD.
On October 1, 1960, Nigeria gained its independence from the United Kingdom, and now consists of 36 states and the federal capital territory. Nigeria re-achieved democracy in 1999 after a sixteen-year interruption; from 1966 until 1999, Nigeria had been ruled (except the short-lived second republic, 1979-1983) by military dictators who seized power in coups d'état and counter-coups during the Nigerian military juntas of 1966-1979 and 1983-1998.
HISTORY
The Nok people in central Nigeria produced terracotta sculptures that have been discovered by archaeologists. In the northern part of the country, Kano and Katsina has recorded history which dates back to around AD 999. Hausa kingdoms and the Kanem-Bornu Empire prospered as trade posts between North and West Africa.
The Yoruba kingdoms of Ifẹ and Oyo in the western block of the country were founded about 700-900 and 1400 respectively. Yoruba mythology believes that Ile-Ife is the source of the human race and that it predates any other civilization. Ifẹ produced the terra cotta and bronze heads, the Ọyọ extended as far as modern Togo. Another prominent kingdom in south western Nigeria was the Kingdom of Benin whose power lasted between the 15th and 19th century. Their dominance reached as far as the well known city of Lagos which is also called "Eko" by the indigenes.
Newly independent Nigeria's government was a coalition of conservative parties: the Nigerian People's Congress (NPC), a party dominated by Northerners and those of the Islamic faith, and the Igbo and Christian dominated National Council of Nigeria and the Cameroons (NCNC) led by Nnamdi Azikiwe, who became Nigeria's maiden Governor-General in 1960. Forming the opposition was the comparatively liberal Action Group (AG), which was largely dominated by Yorubas and led by Obafemi Awolowo.
An imbalance was created in the polity by the result of the 1961 plebiscite. Southern Cameroon opted to join the Republic of Cameroon while northern Cameroon chose to remain in Nigeria. The northern part of the country was now far larger than the southern part. The nation parted with its British legacy in 1963 by declaring itself a Federal Republic, with Azikiwe as the first president. When elections came about in 1965, the AG was outmaneuvered for control of Nigeria's Western Region by the Nigerian National Democratic Party, an amalgamation of conservative Yoruba elements backed heavily by the Federal Government amid dubious electoral circumstances. This left the Igbo NCNC to coalesce with the remnants of the AG in a weak progressive alliance.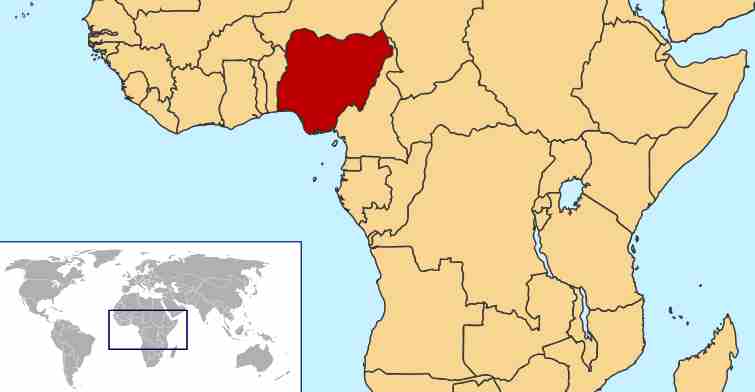 Nigeria, world location map
This disequilibrium and perceived corruption of the electoral and political process led in 1966 to several back-to-back military coups. The first was in January and led by a collection of young leftists under Major Emmanuel Ifeajuna & Chukwuma Kaduna Nzeogwu, it was partially successful - the coupists overthrew the embattled government but could not install their choice, jailed opposition leader Chief Obafemi Awolowo, General Johnson Aguiyi-ironsi, then head of the army was invited by the rump of the Balewa regime to take over the affairs of the country as head of state. This coup was counter-acted by another successful plot, supported primarily by Northern military officers and Northerners who favored the NPC, it was engineered by Northern officers, which allowed Lt Colonel Yakubu Gowon to become head of state. This sequence of events led to an increase in ethnic tension and violence. The Northern coup, which was mostly motivated by ethnic and religious reasons was a bloodbath of both military officers and civilians, especially those of Igbo extraction.
The violence against Igbos increased their desire for autonomy and protection from the military's wrath. By May 1967, the Eastern Region had declared itself an independent state called the Republic of Biafra under the leadership Lt Colonel Emeka Ojukwu in line with the wishes of the people. The Nigerian side attacked Biafra on July 6, 1967 at Garkem signaling the beginning of the 30 month war that ended on January 1970. Following the war, Nigeria became to an extent even more mired in ethnic strife, as the defeated southeast was now conquered territory for the federal military regime, which changed heads of state twice as army officers staged a bloodless coup against Gowon and enthroned Murtala Mohammed; Olusegun Obansanjo succeeded the former after an assassination.
During the oil boom of the 1970s, Nigeria joined OPEC and billions of dollars generated by production in the oil-rich Niger Delta flowed into the coffers of the Nigerian state. However, increasing corruption and graft at all levels of government squandered most of these earnings. As oil revenues fueled the rise of federal subventions to states and precariously to individuals, the Federal Government soon became the center of political struggle and the center became the threshold of power in the country. As oil production and revenue rose, the Nigerian government created a dangerous situation as it became increasingly dependent on oil revenues and the international commodity markets for budgetary and economic concerns eschewing economic stability.
Beginning in 1979, Nigerians participated in a brief return to democracy when Obasanjo transferred power to the civilian regime of Shehu Shagari. The Shagari government was viewed as corrupt and incompetent by virtually all sectors of Nigerian society, so when the regime was overthrown by the military coup of Mohammadu Buhari shortly after the regime's fraudulent re-election in 1984, it was generally viewed as a positive development by most of the population. Buhari promised major reforms but his government fared little better than its predecessor, and his regime was overthrown by yet another military coup in 1985.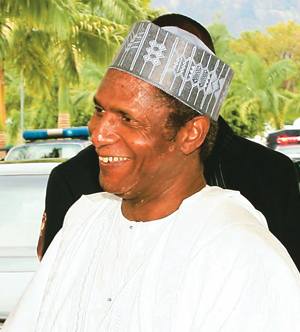 Omar Yar'Adua of the People's Democratic Party
is the current president of Nigeria
The new head of state, Ibrahim Babangida, promptly declared himself President and Commander in chief of the Armed Forces and the ruling Supreme Military Council and also set 1990 as the official deadline for a return to democratic governance. Babangida's tenure was marked by a flurry of political activity: he instituted the International Monetary Fund's Structural Adjustment Program (SAP) to aid in the repayment of the country's crushing international debt, which most federal revenue was dedicated to servicing. He also inflamed religious tensions in the nation and particularly the south by enrolling Nigeria in the Organization of the Islamic Conference,
After Babangida survived an abortive coup, he pushed back the promised return to democracy to 1992. When free and fair elections were finally held on the 12th of June, 1993, Babangida declared that the results showing a presidential victory for Moshood Kashimawo Olawale Abiola null and void, sparking mass civilian violence in protest which effectively shut down the country for weeks and forced Babangida to keep his shaky promise to relinquish office to a civilian run government. Babangida's regime is adjudged to be at the apogee of corruption in the history of the nation as it was during his time that corruption became officially diluted in Nigeria.
Babangida's caretaker regime headed by Ernest Shonekan survived only until late 1993 when General Sani Abacha took power in another military coup. Abacha proved to be perhaps Nigeria's most brutal ruler and employed violence on a wide scale to suppress the continuing pandemic of civilian unrest. Abacha was not only brutal but very corrupt. While Babaginda encouraged his friends, family and himself to steal money, Abacha made corruption a family affair. Money had been found in various western European countries banks traced to him. He avoided coup plots by bribing army generals. Several hundred millions dollars in accounts traced to him were unearthed in 1999.
The regime would come to an end in 1998 when the dictator was found dead amid dubious circumstances. Abacha's death yielded an opportunity for return to civilian rule and Nigeria elected Olusegun Obasanjo, a Yoruba and former military head of state, as the new President. Although the elections which brought Obasanjo to power in 1999 and again in 2003 were condemned as unfree and unfair, Nigeria has shown marked improvements in attempts to tackle government corruption and to hasten development. While Obasanjo showed willingness to fight corruption, he was accused by others of the same. Umaru Yar'Adua, of the People's Democratic Party, was elected President in the general election of 2007. Ethnic violence over the oil producing Niger Delta region (Conflict in the Niger Delta), interreligious relations and inadequate infrastructure are current issues in the country.
Nigeria strike set to intensify
Nigerian unions have renewed threats to disrupt power and water supplies after talks collapsed on the third day of a general strike to protest against a rise in fuel prices.
Abuja Abdulwahed Omar, head of umbrella union body Nigeria Labour Congress, said: "I don't know which word is stronger, deadlock or stalemate. The strike continues.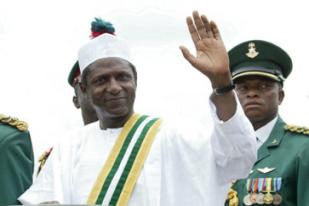 Omar Yar'Adua with military escort

Transport, remained at a standstill The calls on Friday came as most sectors of the country's economy, including ports, airlines and public and unions broke down shortly before dawn on Friday in the Nigerian production and exports have so far been spared. The strike has paralysed trade in Nigeria, the world's eighth largest exporter of crude oil, but oil for a more hostile face-off with workers.

The government said it would no longer tolerate street blockades by union members, setting the stage. Babagana Kingibe, the government negotiator, said: "We have not made sufficient progress to enable a r Government will now consider all other options which it had so far been reluctant to apply to ensure that labour laws are fully respected. Unions stepped up threats in the hope that the government would fully reverse its increase in the price of petrol. The government has offered to cut the price by five naira, along with other concessions, but the unions want the price brought back down by 10 niara (eight cents).

The dispute has been the first major challenge for Umaru Yar Adua, the new president, who inherited the unpopular price increase from Olusegun Obasanjo, his predecessor. Kingibe said the government had overlooked the fact that union members had chased workers from offices and barricaded streets and fuel depots, but that was now to change. Government will put every measure in place to ensure that citizens who want to exercise their fundamental rights to go to work will do so without molestation and that filling stations and depots are secured, he said.

Crude oil futures in London, which have been supported by fears of a disruption in Nigerian supplies, rose six cents to $70.28 a barrel.

The general strike was preceded by one by tanker drivers that caused nationwide fuel shortages. Public transport has been affected and most filling stations no longer have fuel.

His defence of Obasanjo's price increase has reinforced popular belief that Yar Adua was under the influence of his predecessor, who picked him to make him president. Having offered concessions that were rejected, Yar'Adua Unions had threatened to withdraw key staff from the oil export terminals on Thursday, but ship agents and oil officials said exports went ahead normally.

Peter Akpatason, head of the NUPENG oil union, said the order had been given to withdraw, but he did not know whether it had been fully effective. Oil companies have contingency plans to sustain essential operations using non-unionised staff, but these measures can only keep oil flowing for a few days, experts say. Nigeria is a leading crude producer, but virtually all of its petrol is imported due to years of corruption, mismanagement and violence that have left refineries inoperable.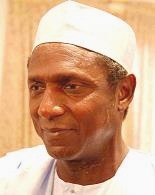 Omar Yar'Adua
NOVEMBER 5 2012
In days, Nigeria's Parliament could approve a $5 billion fine against giant oil polluter Shell for a spill that devastated the lives of millions of people, and pass a law to hold all oil companies to account for polluting and plundering. This is a watershed moment, but unless we all speak out, oil giants will crush it.

Finally, Big Oil is having to pay for the wasteland and violence that they've created. President Jonathan supports the Shell fine, and progressive Senators are pushing for strong regulations, but oil companies are slick, and without huge international support MPs could buckle under the pressure.

Politicians are deciding their positions right now -- sign the urgent petition for the Nigerian Parliament to fine Shell and support the bill, and then forward this to everyone -- when we hit a million signers we'll bring our unprecedented global call to the steps of Nigeria's Parliament:

http://www.avaaz.org/en/make_shell_pay_b/?bzTtBdb&v=19073

Experts say that every year Big Oil spills as much crude into the Niger Delta as an Exxon Valdez, but as it is Africa, it gets little media play. After a leak occurred at Shell's Bonga oil facility last December, millions of gallons poured into the ocean and washed up on the densely populated coast -- resulting in one of the largest African oil spills ever. The fine and bill on the table are a once in a lifetime chance to stand up to Big Oil.

Oil companies have made $600 billion in the last 50 years in Nigeria, but locals don't see the benefits. Their land, drinking water and fishing grounds are ruined. And Shell has spent hundreds of millions of dollars a year on security forces, repressing protest against its harmful practices.

The oil industry is crucial to the economy, but companies have never been held to account for the devastation of drilling. Now, the Nigerian President and a few brave MPs are speaking out and they could finally slam the oil giants with tough fines and give fair pay outs to the victims. If we show MPs that the world supports these crucial steps, we can literally change the lives of millions. Click below to sign the urgent petition:

http://www.avaaz.org/en/make_shell_pay_b/?bzTtBdb&v=19073

Avaazers have stood up to Big Oil all over the world, from Chevron in Ecuador, to the oil spill in the Gulf of Mexico, to ending fossil fuel subsidies at the Rio Summit. Now let's do it for Nigeria too. Make sure the politicians send a message to Big Oil: your days of impunity are over.

With hope and determination,

Pascal, Patricia, Alex, Ricken, David, Rewan, and the Avaaz team

Shell Faces $5 Billion Nigeria Fine (Wall Street Journal)
http://online.wsj.com/article/SB10001424052702303933704577532723563488122.html

Shell urged to pay Nigeria $5bn over Bonga oil spill (BBC)
http://www.bbc.co.uk/news/world-africa-18875731

Shell's grip on Nigerian state revealed (The Guardian)
http://www.guardian.co.uk/business/2010/dec/08/wikileaks-cables-shell-nigeria-spying

U.N. slams Shell as Nigeria needs biggest ever oil clean-up (Reuters)
http://www.reuters.com/article/2011/08/04/us-nigeria-ogoniland-idUSTRE7734MQ20110804

Nigeria: Oil spill investigations 'a fiasco' in the Niger Delta (Amnesty International)
http://www.amnesty.org/en/news/nigeria-oil-spill-investigations-fiasco-niger-delta-2012-08-02


LINKS and REFERENCE
Government
1999 Constitution
Newspapers
Overviews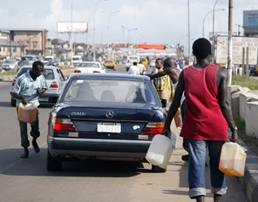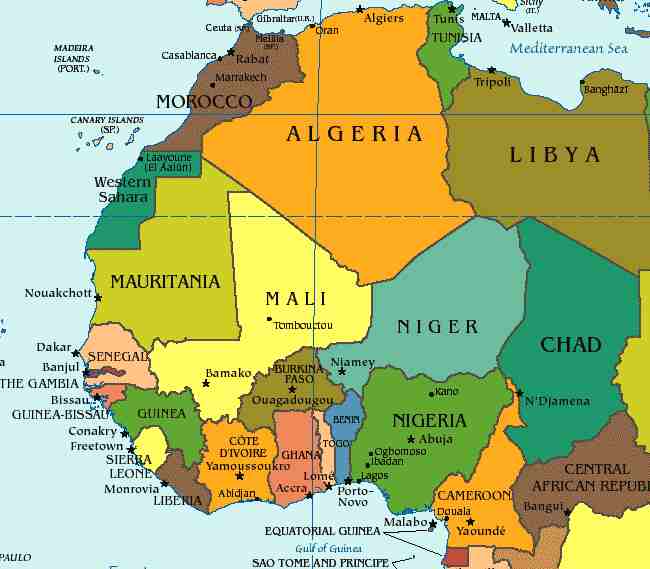 Map of West Africa
500ml PET bottle
LINKS & REFERENCE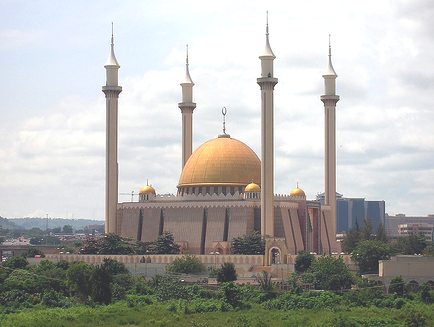 Nigerian national mosque, Abuja
Solar Cola drinkers care about climate chaos ...
.. Thirst for Life
(330ml Earth can)
Anthropology | Archaeology | Dinosaurs | Evolution | Fossils | Geology | Mammoths Meteorites | Paleontology | Plate Tectonics | Neanderthal Man