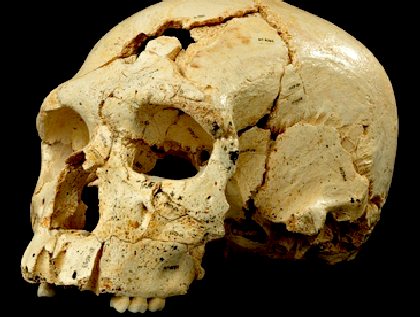 A primitive Neanderthal skull from the Sima de los Huesos cave in Sierra de Atapuerca, Spain.
JUNE 2014, MADRID, SPAIN
Ancient skulls recovered from a deep cave in northern Spain are the oldest known remains to show clear signs of Neanderthal facial features, researchers claim.

Scientists reconstructed 17 skulls from pieces of bone found in the mud at Sima de los Huesos, or the "Pit of Bones", in the Atapuerca mountains. The skulls had some Neanderthal-like features, but their appearance was otherwise far more primitive.

Juan Luis Arsuaga, professor of palaeontology at the Complutense University of Madrid, said the remains belonged to a "missing link" population that fell somewhere between the Neanderthals and a more archaic group of human forerunners.

The term "missing link" has fallen out of favour with many researchers, in part because it implies a simple, step-wise progression from one species to another. But the phrase is still used at times to describe species that bridge a divide between distinct ancestors and descendants.

The skulls come from a haul of bones that belong to at least 28 individuals who came to rest in a chamber at the bottom of a 14-metre-deep cave shaft. The bodies are thought to have been washed into the pit after they died elsewhere in the cave system.

Measurements of the bones, which are around 430,000 years old, suggest that trademark features of Neanderthals did not emerge at the same rate, but that some evolved much earlier than others.

The skulls at Sima de los Huesos have Neanderthal-like teeth and jaw structures, and other similarities in the brow ridges and nasal apertures, or channels. But their braincases are small, unlike the elongated crania of the big-brained Neanderthals. Of the 17 skulls reported in Science, seven have not been studied before.

The Sima population, as they are known, probably developed Neanderthal-like jaws and teeth from chewing and the heavy use of their front teeth and incisors for other tasks. "We think it's related to the use of their mouths as a 'third hand', or as part of their behaviour to grasp and to pull things with the front teeth," Arsuaga told the Guardian.

"We can't say they are the direct ancestors of Neanderthals. All we can say is that the population are members of the Neanderthal lineage. They are a 'missing link' between the Neanderthals and a population that was much more primitive," he added.

The Spanish team believe the more primitive population could be an ancient human species called Homo antecessor, which lived in Europe around one million years ago. "They could be the stem group before the split between Neanderthals and modern humans," Arsuaga said.

Neanderthals emerged around 400,000 years ago, and lived in Europe and Asia until around 35,000 years ago. They were replaced – though not before some interbreeding – by modern humans that evolved in Africa and colonised Eurasia 50,000 years ago.

In previous reports, the Spanish researchers had claimed the Sima de los Huesos remains were much older, around 600,000 years old, and that they belonged to an ancient group called Homo heidelbergensis. The latest study changes both of those interpretations.

"They now agree that the fossils belong to the Neanderthal lineage but not to the species Homo heidelbergensis. And they have revised the dating of the fossils to about 430,000 years, giving much more substantial agreement between our views," said Chris Stringer, head of human origins at the Natural History Museum in London.

"The rich Sima de los Huesos material, with every part of the skeleton beautifully preserved, will continue to inform us about human evolution 400,000 years ago as research continues on this astonishing, and even beautiful, collection of human fossils," Stringer said.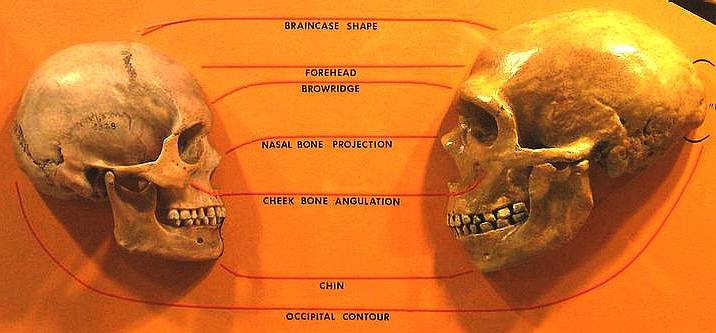 Comparison of Homo Sapiens and Neanderthal skulls
For me, the most important recent stages of human evolution bounce through the Australopithecines, Homo Habilis, Homo Erectus with some deviation, such as Homo Heidelbergensis and Homo Neanderthalis, to Homo Sapiens. Following such a trail there is a regular increase in brain capacity - a reliable indicator of advancement. That's my thinking, but I'm no expert. The skull is to my mind the best indicator of development, that is if I had to choose. But, obviously I'd prefer to see the whole story.
Australopithecus
Australopithcus africanus
Kenyanthropus
Paranthropus robustus
Homo habilis
Homo erectus
Homo heidelbergensis
Homo neanderthalensis
Homo Sapiens Sapiens
Homo Sapiens Superior (Kanis Rex)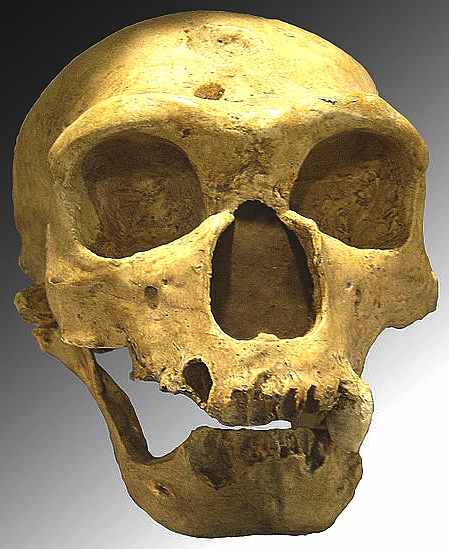 Skull of homo sapiens neanderthalensis
LINKS:
Webpage "History of German Anthropology/Ethnology 1945/49-1990
American Anthropological Association Homepage largest pro org of anthropologists
European Association of Social Anthropologists
American Association of Physical Anthropologists
Australian Anthropological Society
Iberoamerican Association of Anthropology AIBR
European Association of Social Anthropologists
Moving Anthropology Student Network - International Association
Italian Institute of Anthropology
National Association for the Practice of Anthropology
The Royal Anthropological Institute Homepage of Great Britain and Ireland (RAI)
The Society for Applied Anthropology
Division of Anthropology, American Museum of Natural History Online database
National Anthropological Archives, Smithsonian Institution
The Anthropological Index Online Online biblographic database.
Anthropology Researcher and Groups
http://www.theguardian.com/science/2014/jun/19/neanderthal-faces-spanish-cave?CMP=EMCNEWEML6619I2
http://www.theguardian.com/science/2014/jun/19/neanderthal-faces-spanish-cave?CMP=EMCNEWEML6619I2
AIDS - HIV

Bladder

Blood

Bones

Children - Adoption

Diet

Digestion

Disease

Drugs -

Exercise

Fantasies - Schoolgirl

Gestation

Hair

Hate

Hearing

Heart

IVF Artificial Fertilisation

Joints

Kidneys

Liver

Lungs

Memory

Muscles

Munchausen's Syndrome

Nails

Reproduction

Sight

Sleep

Smell

Skeleton

Skin

Stress

Teachers - Petition

Veins

Whistleblowing - Public Interest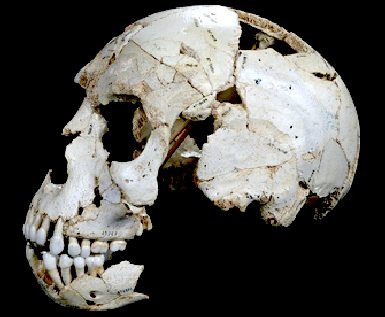 The population represented by the bones in the cave probably developed Neanderthal like jaws and teeth from chewing and the heavy use of their front teeth and incisors for other tasks.
Anthropology | Archaeology | Dinosaurs | Evolution | Fossils | Geology | Mammoths Meteorites | Paleontology | Plate Tectonics | Neanderthal Man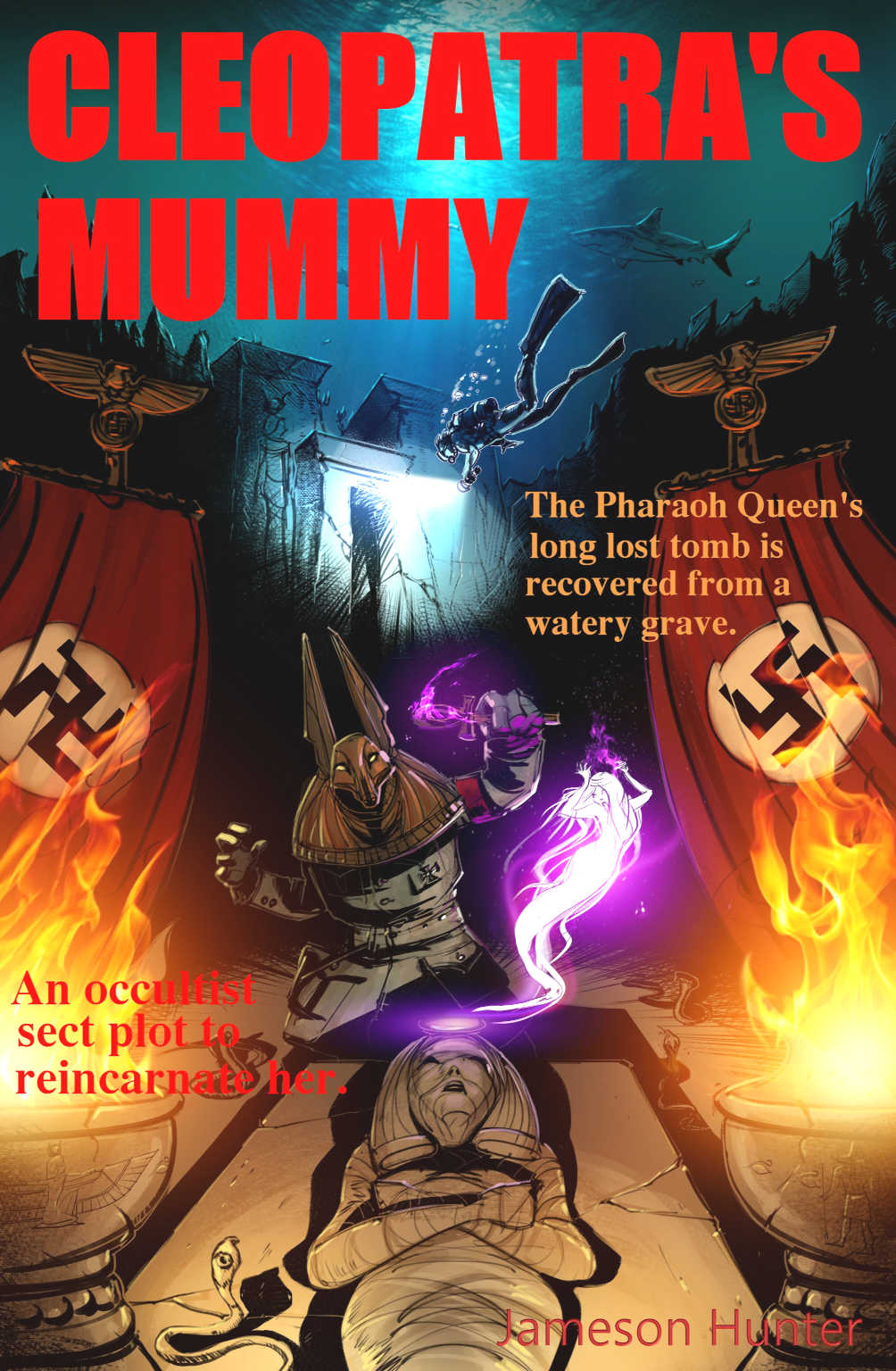 Evolution accelerated by man
an anthropological anthem by Jameson Hunter
OTHER ANIMALS:
| | |
| --- | --- |
| | Such as frogs (class: Amphibia) |
| ANNELIDS | As in Earthworms (phyla: Annelida) |
| | Neanderthals, Homo Erectus (Extinct) |
| | Spiders (class: Arachnida) |
| ARTHROPODS | Crabs, spiders, insects (phyla: Arthropoda) |
| BIRDS | Such as Eagles, Albatross (class: Aves) |
| | |
| CRUSTACEANS | such as crabs (subphyla: Crustacea) |
| | Tyranosaurus Rex, Brontosaurus (Extinct) |
| ECHINODERMS | As in Starfish (phyla: Echinodermata) |
| | Sharks, Tuna (group: Pisces) |
| HUMANS - MAN | Homo Sapiens THE BRAIN |
| INSECTS | Ants, (subphyla: Uniramia class: Insecta) |
| | Which includes PLANTS non- animal life |
| | Warm blooded animals (class: Mammalia) |
| | Such as Kangaroos (order: Marsupialia) |
| MOLLUSKS | Such as octopus (phyla: Mollusca) |
| | Trees - |
| PRIMATES | Gorillas, Chimpanzees (order: Primates) |
| | As in Crocodiles, Snakes (class: Reptilia) |
| | such as Rats, Mice (order: Rodentia) |
| SIMPLE LIFE FORMS | As in Amoeba, plankton (phyla: protozoa) |