Rio de Janeiro means: "River of January" in English. Rio is a major city in southeastern Brazil and the capital of the state of Rio de Janeiro. The city was once the capital of Brazil (1763–1960) and of the Portuguese Empire (1808–1821). Commonly known as just Rio, the city is also nicknamed A Cidade Maravilhosa - "The Marvelous City".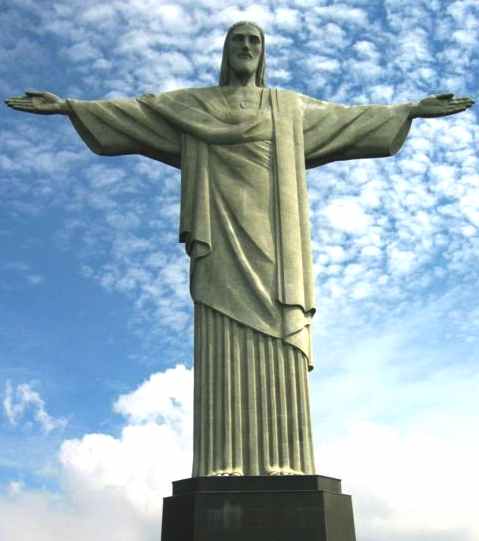 Giant statue of Jesus, known as Christ the Redeemer ('Cristo Redentor')
It is famous for its spectacular natural setting, its Carnival celebrations, samba and other music, hotel-lined tourist beaches, such as Copacabana and Ipanema, paved with decorated black and cream swirl pattern mosaics, and also for its huge social disparities, shanty towns, violence and drug traffic. Some of the most famous local landmarks in addition to the beaches include the giant statue of Jesus, known as Christ the Redeemer ('Cristo Redentor') atop Corcovado mountain, which has recently been named one of the New Seven Wonders of the World; Sugarloaf mountain (Pão de Açúcar) with its cable car; the Sambódromo, a giant permanent parade stand used during Carnival; and Maracanã stadium, one of the world's largest football stadiums. Rio also boasts the world's largest forest inside an urban area, called Floresta da Tijuca, or 'Tijuca Forest'.
Rio de Janeiro is located at 22 degrees, 54 minutes south latitude, 43 degrees 14 minutes west longitude (22°54′S, 43°14′W). The population of the City of Rio de Janeiro is about 6,136,652, occupying an area of 1,182.3 square kilometres (456.5 sq mi). The population of the larger metropolitan area is estimated at 11-12 million. It was Brazil's capital until 1960, when Brasília took its place. Residents of the city are known as Cariocas. The city's current mayor (2006) is Cesar Maia. The official song of Rio is "Cidade Maravilhosa" (translated as "Marvelous City").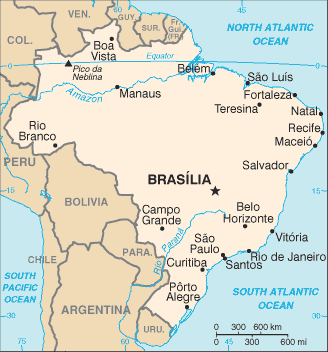 Map of Brazil
LINKS:
References
Education
Photos
Tourism
New energy drinks for adventure capitalists
Solar Red | Solar Crush | Solar Cola | Solar Citrus | Solar Spice