Gibraltar stands guard over the western Mediterranean. The spectacular rock monolith extends to a land area of about six square kilometers. Gibraltar is situated at the southern tip of Spain overlooking the strait to Africa and is known as the Meeting Place of Continents. As the start of Solar Navigator's voyage, Gibraltar sets the scene for adventure and exotic locations and gives the crew something to look forward to on return.
Gibraltar's history and sub-tropical environment are captivating and welcoming year round. Today Gibraltar is a prominent tourist and business destination. The sub-tropical climate is warm and welcoming throughout the year. The local people are friendly and welcoming and a blend of many cultures.

HISTORY: Gibraltar forms the eastern shore of a bay that has been of commercial importance from the earliest times. It has been claimed that the port of Tharshish to which the fleets of Solomon resorted was situated here. Indeed, the Phoenicians recognised the advantages of its protective geographical features when they founded the colony of Melcarthos (Carteia) on the north shore during the 9th century B.C. and made it an entropy for trade with many ports throughout the Mediterranean.
Gibraltar was occupied successively by the Phoenicians, Carthaginians, Romans and Visgoths but remained uninhabited till the Mohammedan invasion of the Iberian peninsula in 711 A.D. by Tariq-ibn-Zeyad from whom Gibraltar gets its name, Gibel Tariq (Tariq's Mountain) and the city itself was founded by the Almohad monarch, Abd el Mumin in 1160 A.D. The Spaniards finally captured Gibraltar from the Moors in 1462 and retained it until 1704. In that year it was surrendered to an Anglo Dutch force during the war of the Spanish Succession, since when it has remained in British hands.
The existence of the actual Rock of Gibraltar is first recorded by the Romans, who named it Calpe. It was the belief of ancient writers that the Pilars of Hercules were situated in the Strait of Gibraltar and after they perished, the two mountains, Calpe and Abyla (the latter being situated opposite Gibraltar on the African shore, retained the names.
LOCATION: Latitude - 36°08°N Longitude - 05°22°W.
CURRENCY: One Gibraltar £ = £1 sterling
Gibraltar is a modern growing city which has all the essential services - banks, hospitals, dentists, police and consuls - available.

The international airport is under 2km away from the terminal and frequent scheduled flights connect it with Heathrow, Gatwick, Luton and Manchester airports. There are also regular flights to Morocco.

The Spanish border is open 24 hours a day for both vehicles and pedestrians. Jerez or Ronda by road takes about two hours from the border, Seville is about three hours away. A fast sea crossing connects Gibraltar with Tangier.

There are no tidal restrictions and no locks to negotiate. Its location adjacent to the Gibraltar Straits - the western entrance to the Mediterranean - means there is negligible diversion time with ships able to berth in about an hour.

Gibraltar's position has made it a focal point for passing ships to call in for bunkers, provisions and crew changes. The port is open 24 hours daily, while office opening hours are weekdays 0845-1730 hours. One day's notice of ETA is to be given with confirmation two hours before arrival.
DOCUMENTS REQUIRED:
Three crew lists/Passenger lists, Maritime Declaration of Health, Ship's Register, Load-line certificate, de-rating certificate, Crew Agreement, certificate of Insurance concerning Civil liability for Oil Pollution.
PILOTAGE: Compulsory on arrival and for berthing, un-berthing and shifting anchorage. Vessels at anchor may leave without a Pilot.
ACCOMMODATION:
Cruise Liners and vessels calling for bunkers or water can be berthed at both sides of the Western Arm. Outer side is 490m long draft up to 9.6m. the inner side is 450m and maximum draft is 8m. Ships of deeper draft can be accommodated according to tide. Vessels calling for lay - up or repairs can be berthed at the Detached Mole. There are also two berths of 100m in length available to vessels discharging general cargoes.
BUNKERS: Vessels may bunker either alongside or at the anchorage, day or night. There is no draft restriction at the anchorage. All grades supplied by barge, pipeline or road tanker. Available 24 hours. Luboils are available in barrels or in bulk.

LUBOILS: Available in barrels or in bulk.

SHIP REPARIS: Dry docks, slipways and repair facilities are available on application to Cammel Laird which is capable of carrying out all types of hull and engine repairs. Telephone (+350) 40354 Fax 42022 & 75390.

UNDERWATER REPAIRS: These can be carried out by Scamp Underwater (Gibraltar) Ltd. Telephone (+350) 42994, Fax (+350) 42993, Telex 2281 DIVER GK.

TOWAGE: Alexander Towing Company has tugs of up to 2200 HP stationed at Gibraltar. Rates of hire are available on application. Telephone (+350) 41912, (+350) 75487 and (+350) 74671, Fax (+350) 43050. Maritime (Gibraltar) Ltd owns and operates tugs in the Port of Gibraltar providing tug services for the Commercial Port, Naval Base and off port limits services. Telephone (+350) 42994, Fax (+350) 47814. Tugs operated by Howard Smith Towage & Salvage are stationed at Gibraltar.

AIRPORT: 1.4K from the Port.

EASTERN ANCHORAGE: Vessels arriving at the Eastern Anchorage must report when entering the anchorage and, once anchored, must give the vessel's position to Gibraltar Port Control which maintains VHF watch on channels 16 and 12.

MARINAS: Berths for yachts are provided by three marinas capable of accepting vessels with drafts of up to 4.5 metres

WATER & STORES: Fresh water is available at the cruise terminal and other berths. A well established chandlery network provides all other requirements.

SECURITY: New measures now being enforced around port areas include security guards, fencing, closed circuit TV and floodlighting.

PORT ADMINISTRATION: The Port of Gibraltar is administered by the Port Department. Within the Government of Gibraltar the Minister with responsibility for the Port is the Minister for Tourism, and Transport, The Hon JJ Holiday. The Port Department has a staff around 50. There are in addition seven self-employed Pilots on station at the Port responsible to the Pilotage Authority, the Captain of the Port.
Captain of the Port: Captain J Ferro

Tel: (00350) 77254
Fax: (00350) 51513

Port Surveyor: Captain Paul V Townsend

Tel: (00350) 79028

Operations Room: S/Cdr. M Olivera

Tel: (00350) 78134
Fax: (00350) 77011

Executive Officer (Accounts): Mr P Wyatt

Tel: (00350) 71187 Fax: (003500 76750
CUSTOMS FORMALITIES: The Customs Department is responsible for the control of all imports/exports by the sea, land or air. It also has the responsibility for the clearance of passengers and their baggage on arrival in Gibraltar and equally so controls are exercised over the arrivals of private pleasure crafts.
Any ship arriving in Gibraltar with cargo must, within 24 hours, make report of the ship and the cargo by delivery to Customs an inward manifest of goods on duly signed by the Master or Agent, as the case may be. The Master must also answer all questions which may be put to him by the Customs Officer relating to the ship, her crew, cargo, passengers, stores, and voyage. He must also produce and deliver any document relating to the ship, her cargo etc. In the case of a ship over 1,000 net tons, the manifest required shall only relate to cargo to be landed or transhipped in Gibraltar. However, the Master must still answer any question and produce a manifest of goods in transit if this is required by the Custom Officer. The cargo is then unloaded and placed in Transit Sheds where it is segregated and sorted out by the ship's agents for delivery for home use or for re-export from Gibraltar. A free storage period of five days is allowed - thereafter if the goods have not been cleared then they are stored in a Government Warehouse where store rent accrues.
Transhipment facilities are available in Gibraltar and no import duty is payable on goods which, on importation, are declared to be in transit or for transhipment purposes.
Private pleasure crafts arriving in Gibraltar are subjected to normal Customs clearance and the Master must produce to the authorities a crew list giving details of those on board, including names, nationalities, passport numbers etc. On arrival, yachts must report to the reception berth on the starboard side of the approach to the Marinas. Information about the actual vessel is also required which should include nationality, port of registry etc. It is convenient for these crews lists to be ready before the vessels arrives in Gibraltar. There are prohibitions on importation of certain items such as flick knives, gravity knives, controlled drugs, firearms, explosives, ivory etc.
There is a 12% import duty on new vessels imported and which are going to be permanently based here. Temporary importation, without payment of duty, is allowed, provided that the importer is not permanently resident in Gibraltar. Unaccompanied yachts imported by non-residents may remain in Gibraltar under temporary import regulations although they may be placed under Customs seal until duty is paid.
Further information about Customs formalities may be obtained from the Collector of Customs, Customs House, Waterport, Gibraltar - Telephone 78879, Fax 78362, Telex GIBCUS 2376.
GIBRALTAR'S FLORA and FAUNA
GENERAL DESCRIPTION:

The vegetation of the Rock of Gibraltar is, on the whole, typical Mediterranean in nature. This consists largely of dense scrub of the type known as maquis, but there are other areas of more open, lower scrub known as garigue. However due to the geologic and geographic nature of the Rock there is considerate variation in the type of scrub, and also in the variety of habitats available to plants. Apart from scrub we have extensive sea cliffs, a limited but important rocky shoreline, the unique great sand slopes of the east side, rocky limestone outcrops and fissures, the steppe conditions of Windmill Hill, and the remains of the sandy isthmus which linked Gibraltar to Spain found at North Front Cemetery. Gibraltar is a limestone mountain and so the soil is alkaline. In contrasts the mountains in the surrounding area of Spain are largely sandstone and so the soil is more acid. As a result of this there are many species found on the Rock which are rare or not found in the surrounding region. At the same time, the geology of the Rock is similar to that of North Africa, and so there are species common to both regions. All these factors provide a variety of habitats which give rise to an extensive flora, including some plants which are unique to the Rock. The flora of Gibraltar consists of some 530 species, representing almost 90 families and 330 genera. The majority of these are native species, but some of the 530 are species which have been introduced and become naturalised. The principal flowering months are March to May, but flowers may be seen virtually all the year round. However, very few will be out in the summer months (July to August) when very little if any rain falls. Shortly after the first rains in September, new growth quickly becomes evident, and by November, a large number of plants are already visible.


MAQUIS:

This consists of a dense, almost impenetrable mass of small trees and shrubs together with creeping and climbing plants, which can be between 3 and 5 metres high. The bulk of the Upper Rock comprises this type of vegetation. The main trees/shrubs found here are: Rhamnus alaternus (Mediterranean Buckthorn); Osyris quadripartita (Osyris); Olea europaea (Olive); Pistacia lentiscus (Lentisc); Pistacia terebinthus (Turpentine Tree); Bupleurum fruticosum (Shrubby Hare's Ear); Smilax aspera (Rough Smilax); Clematis cirrhosa (Virgin's Bower); Aristolochia baetica (Pipe Vine); Asparagus album (White Asparagus); Lonicera implexa (Honeysuckle); Ruscus hypophyllum (Southern Butchers Broom); Coronilla valentina glauca (Shrubby Scorpion Vetch); Calicotome villosa (Spiny Broom); Teucrium fruticans (Tree Germander); Laurus nobilis (Sweet Bay, Laurel); Celtis australis (Nettle Tree); Ceratonia siliqua (Carob); Chamaerops humilis (Dwarf Fan Palm); Ephedra fragilis (Joint-Pine); Jasminum fruticans (Wild Jasmine); Prasium majus (Prasium).


GARINGUE:

This consists of fairly open vegetation formed by low shrubs, between knee and waist high. This type of vegetation is not extensive locally, and is generally found in the southern parts of the Rock, e.g. around Martin's Path, Levant Battery, Hole-in-the-wall, etc. The more open nature of this type of vegetation enables the growth of a greater variety of species than is possible in the more overgrown maquis.

Many of the shrubs found in the maquis are also found here, but of a lower stature. Many of the shrubs are aromatic, such as Teucrium lusitanicum (Felty Germander); Rosmarinus officinalis (Rosemary); Ruta angustifolia (Narrow-leaved Fringed Rue); Sideritis arborescens (Shrubby Sideritis); Lavandula dentata (Toothed Lavender); Lavandula multifida (Cut-leaved Lavender). Here we also find Euphorbia squamigera (Warty Spurge); Stipa tenacissima (Esparto Grass); Teline linifolia (Teline); and Chamaerops humilis (Dwarf Fan Palm). In a small area along Mediterranean Road we also find Cistus albidus (Grey-leaved Cistus) and Cistus Salvifolius (Sage-leaved Cistus). This is rather surprising since these are plants of acid soil. It must mean that this restricted area is more acid than the surroundings. Bulbous plants abound, e.g. Scilla peruviana (Giant Squill); Urginea maritima (Sea Squill); Allium ampeloprasum (Great Round-headed Leek); Gladiolus communes (Common Gladiolus); Asphodelus aestivus (Common Asphodel); Asphodelus albus (White Asphodel), and a proliferation of other herbaceous plants which provide an explosion of colour during the Spring months (March to May).


ROCK FORMATION:

The formidable limestone cliffs which form the North Face of the Rock and the East side, the rocky upper ridge and the outcrops and roadsides within the maquis, provide a habitat where can be found a large number of interesting and unique species. Here we find Silene tomentosa (Gibraltar Campion), a very rare plant found nowhere else in the world. This plant was believed extinct until rediscovered in 1994. Other plants are Iberis gibraltarica (Gibraltar Candytuft), a plant of North Africa and found nowhere else in Europe except Gibraltar; Cerastium gibraltaricum (Gibraltar Chickweed) also unique to Gibraltar, Saxifraga globulifera var. gibraltarica (Gibraltar Saxifrage), a variety unique to Gibraltar; Thymus willdenowii (Gibraltar Thyme), very common locally and very rarely, if at all, found elsewhere. Apart from these special species we find Iris filifolia (Narrow-leaved Purple Iris); Dianthus caryophyllus (Clove Pink); Scilla peruviana (Giant Squill); Narcissus papyraceus (Paper-white narcissus) which grows in huge quantities between the months of November and January; Colchicum lusitanum (Southern Colchicum); Lobularia maritima (Sweet Alison); Antirrhinum majus (Snapdragon) which is also found on walls and rooftops in the town area; Gladiolus communes (Common Gladiolus); Euphorbia characias (Large Mediterranean Spurge); Aeonium arboreum (Tree Houseleek), and many others. The general appearance in Spring is that of a giant rock garden run wild. It is in this habitat that one can find any of the ten species of wild orchids found on the Rock. These are very rare and difficult to find. The ones found in Gibraltar are Ophrys apifera (Bee Orchid); Ophrys fusca (Brown Bee Orchid); Ophrys lutea (Yellow Bee Orchid); Ophrys tenthredinifera (Sawfly Orchid); Ophrys bombyliflora (Bumblebee Orchid); Ophrys speculum (Mirror Orchid); Gennaria diphylla (Two-leaved Gennaria); Serapias parviflora (Small-flowered Tongue Orchid); Spiranthes spiralis (Autumn Ladies Tresses Orchid); Anacamptis pyramidalis (Pyramidal Orchid).


SHORELINE and CLIFFS

This seemingly inhospitable environment, whipped by the Easterlies and South-Westerlies, and lashed by sea spray, provides the ideal habitat for certain plants which are only found close to the sea. These include Limonium emarginatum (Gibraltar Sea Lavender), a plant which is believed to be a North African species, and very rarely found elsewhere in Europe. Other species found here are Crithmum maritimum (Rock Samphire); Suaeda vera (Shrubby Seablite); Limonium sinuatum (Winged Sea Lavender); Asteriscus maritimum (Sea Daisy), actually found throughout the Rock; Frankenia laevis (Sea heath); Senecio bicolor cineraria (Cineraria). Here we also find the very rare Senecio leucanthemifolius (Coastal Ragwort), and Mesembrianthemum crystallinum (Ice Plant).


EASTERN SAND SLOPES:

These are prehistoric consolidated sand dunes, created by wind-blown sands during a time when sea levels were much lower than at present, and sandy plains spread eastward from Gibraltar. This sandy soil provides a unique habitat not only for plants of sandy shores, but for many others. The plants that can survive in this habitat are adapted to withstand salt-laden winds, high temperatures with no cover from the sun, and scarcity of water. Here we find Ononis natrix ramosissima var. gibraltarica (Gibraltar Restharrow), a variety which is unique to Gibraltar. We also find Eryngium maritimum (Sea Holly); Linaria pedunculata (Branched Toadflax); Daucus carota (Wild Carrot); Cyperus capitatus (Sand Sedge); Silene nicaeensis (Sticky Catchfly); Silene littorea (Shore Campion); Medicago marina (Sea Medick); Pancratium maritimum (Sea Holly); Dipcadi serotinum (Brown Bluebell); Euphorbia baelica (Southern Spurge); Cachrys libanotis (Sand Cachrys); Cakile maritima (Sea Rocket); Allium sphaerocephalon (Round-headed Leek); Crucianella maritima (Coastal Crucianella); Delphinium nanum (Violet Larkspur); Dianthus broteri (Fringed Pink); Glaucium flavum (Yellow Horned Poppy); Lotus creticus (Southern Birdsfoot Trefoil); Malcolmia littorea (Silver Sea Stock); Verbascum giganteum (Giant Mullein). A number of these species are also found in North Front Cemetery which is all that is left of the sandy isthmus which separated the Rock from mainland Spain.


STEPPE:

At Windmill Hill Flats we find a rather hostile environment: a flat, wind-lashed terrain, with thin, poor stony soil. Despite all this, Windmill Hill is a treasure-house of plant species. In Spring it is a riot of colour, albeit for a brief period. Here we find a number of species which are not found elsewhere on the Rock, including Crocus serotinus salzmannii (Southern Autumn Crocus); Salvia verbenaca (Wild Clary); Echium parviflorum (Small-flowered Bugloss); Plantago serraria (Saw-toothed Plantain); Hedysarum coronarium (Italian Sainfoin); Mantisalca salmantica; Minuartia geniculata (Pink Sandwort); Tetragonolobus purpureus (Winged Asparagus Pea); Lathyrus annuus (Annual Yellow Vetchling). Other important plants found here better than anywhere else on the Rock are Ornithogalum orthophyllum (Star of Bethlehem); Romulea clusiana (Romulea); Gynandriris sisyrinchium (Barbary Nut); Borago officinalis (Borage); Ecballium elaterium (Squirting Cucumber); Echium plantagineum (Purple Viper's Bugloss).


NON INDIGENOUS SPECIES:

A number of species have been introduced either deliberately or accidentally. Many of these come from countries with a climate similar to that of Gibraltar e.g. South Africa and parts of South and Central America. These have no trouble in settling in and spreading, sometimes to the detriment of native species. Among these plants are Oxalis pes-caprae (Bermuda Buttercup); Agave americana (Century Plant); Carpobrotus edulis (Hottentot Fig) which was introduced in order to stabilise the great eastern sand slopes; Opuntia ficus-indica (Barbary Fig); Freesia refracta (Freesia); Aloe arborescens (Tree Aloe).
http://www.gibraltarport.com | Customs Formalities in Gibraltar | Gibraltar Registry of Ships | Links
---
A taste for adventure capitalists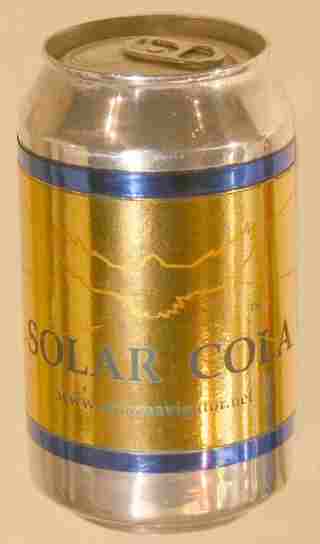 Solar Cola - a healthier alternative