A hurricane is a severe tropical storm, that forms in the southern Atlantic Ocean, Caribbean Sea, Gulf of Mexico or in the eastern Pacific Ocean. Hurricanes need warm tropical oceans, moisture and light winds above them. If the right conditions last long enough, a hurricane can produce violent winds, incredible waves, torrential rains and floods.
Hurricanes rotate in a counterclockwise direction around an "eye." Hurricanes have winds at least 74 miles per hour. There are on average six Atlantic hurricanes each year; over a 3-year period, approximately five hurricanes strike the United States coastline from Texas to Maine.
When hurricanes move onto land, the heavy rain, strong winds and heavy waves can damage buildings, trees and cars. The heavy waves are called a storm surge. Storm surge is very dangerous and a major reason why you MUST stay away from the ocean during a hurricane warning or hurricane.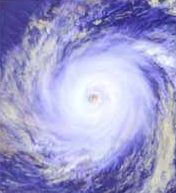 Basic Hurricane Safety Actions


• Know if you live in an evacuation area. Know your home's vulnerability to storm surge, flooding and wind. Have a written plan based on this knowledge.

• At the beginning of hurricane season (June 1), check your supplies, replace batteries and use food stocks on a rotating basis.

• During hurricane season, monitor the tropics. Monitor NOAA Weather Radio.

• If a storm threatens, heed the advice from local authorities. Evacuate if ordered.

• Execute your family plan.


---
Watch vs Warning

Know the Difference
A HURRICANE WATCH issued for your part of the coast indicates the possibility that you could experience hurricane conditions within 36 hours. This watch should trigger your family's disaster plan, and protective measures should be initiated, especially those actions that require extra time such as securing a boat, leaving a barrier island, etc.

A HURRICANE WARNING issued for your part of the coast indicates that sustained winds of at least 74 mph are expected within 24 hours or less. Once this warning has been issued, your family should be in the process of completing protective actions and deciding the safest location to be during the storm.

Hurricane Photos from NOAA's Photo Library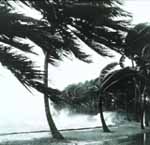 Historic Weather Service Album - early satellite imagery, damage photos, graphics and more...



Hurricane Hunters in Action - Photos of the aircraft used in hurricane research.
---
WEATHER WATCHES WARNINGS & FORECASTS
NOAA National Hurricane Center - maintains a continuous watch on tropical cyclones over the Atlantic, Caribbean, Gulf of Mexico and the Eastern Pacific from May 15 through November 30.
NOAA Central Pacific Hurricane Center - issues tropical cyclone warnings, watches, advisories, discussions, and statements for all tropical cyclones in the Central Pacific from 140 Degrees West Longitude to the International Dateline.
Naval Pacific Meteorology and Oceanography Center Joint Typhoon Warning Center - Located at Naval Base Pearl Harbor, Hawaii, the Joint Typhoon Warning Center (JTWC) is the U.S. Department of Defense agency responsible for issuing tropical cyclone warnings for the Pacific and Indian Oceans.
Satellite Images of Severe Storm Sectors - These are NOAA GOES satellite images pointed over event areas. These sectors change from time to time.
Satellite Images of Hurricane Regions - These images are from NOAA's GOES satellites.
PREPAREDNESS GUIDES
"Hurricane Basics" Brochure in PDF
Hurricane and Other Severe Weather Guides from NOAA's National Hurricane Center
Hurricane Awareness from NOAA's National Weather Service
Hurricanes...Unleashing Nature's Fury — Hurricane safety and information from the American Red Cross, NOAA and FEMA (PDF Format)
American Red Cross — Hurricane Readiness Guide
MORE INFDRMATION


• The Saffir-Simpson Hurricane Scale - a 1-5 rating based on the hurricane's present intensity. This is used to give an estimate of the potential property damage and flooding expected along the coast from a hurricane landfall. Wind speed is the determining factor in the scale, as storm surge values are highly dependent on the slope of the continental shelf in the landfall region.

• Daily color satellite images atlantic ocean storms - You can find links to satellite imagery for other regions of the world, such as the Eastern Pacific Ocean.

• Archived Satellite Images, Storm Animations and Special Events - You will find hundreds of selected satellite images capturing some of the more important weather and environmental events over the last 30 years.

• CoastWatch Products - These are NOAA GOES satellites images of various coastal sectors. You can see infrared (IR) or visual (VIS) versions of these images. Note that the visual images can only be seen during daylight hours.

• Hurricane Landfall Experiment 2001 - The 2001 Hurricane Field Program is the fourth year of a renewed multi-agency effort to unravel the mysteries of these devastating storms over the next 5-6 years. This is part of the U.S. Weather Research Program, which is focused on reducing the impacts of disastrous weather on the United States, in particular hurricane landfall.

• Pronunciation of Western North Pacific and South China Sea Cyclones - The Hong Kong Observatory provides the pronunciations of these storms through the use of Real Audio.

• Billion Dollar U.S. Weather Disasters (1980 - 2002)

• NOAA's "Hurricane Hunter" Aircraft Fly Through Pacific Winter Storms and More - NOAA's "hurricane hunter" aircraft and their crews may be best known for their prowess in flying through and around nature's severest storms over the Atlantic Ocean, Caribbean Sea and Gulf of Mexico. However, these flying meteorological stations prove their mettle on the West Coast and over the Pacific Ocean as well—after hurricane season has ended and severe Pacific winter storms have begun.
ORGANISATIONS
• NOAA National Hurricane Center - maintains a continuous watch on tropical cyclones over the Atlantic, Caribbean, Gulf of Mexico and the Eastern Pacific from May 15 through November 30. The Center prepares and distributes hurricane watches and warnings for the general public, and also prepares and distributes marine and military advisories for other users. During the "off-season" NOAA's Hurricane Center provides training for U.S. emergency managers and representatives from many other countries that are affected by tropical cyclones. The Center also conducts applied research to evaluate and improve hurricane forecasting techniques, and is involved in public awareness programs.
• NOAA Atlantic Oceanographic and Meteorological Laboratory - Its mission is to conduct a basic and applied research program in oceanography, tropical meteorology, atmospheric and oceanic chemistry, and acoustics. The program seeks to understand the physical characteristics and processes of the ocean and the atmosphere, both separately and as a coupled system. The lab is home to the NOAA Hurricane Research Division.
• NOAA National Weather Organization Listing
• NOAA's Aircraft Operations Center (Home of NOAA's Hurricane Hunters) - The airplanes and helicopters of the Aircraft Operations Center (AOC) are flown in support of NOAA's mission to promote global environmental assessment, prediction and stewardship of the Earth's environment. NOAA's aircraft operate throughout the United States and around the world; over open oceans, mountains, coastal wetlands, and Arctic pack ice. These versatile aircraft provide scientists with airborne platforms necessary to collect the environmental and geographic data essential to their research.


STORMS | HURRICANES | TORNADOES | ATMOSPHERE | WATER CYCLE | FORECASTING | FLOODS

Healthier alternative tastes for adventure capitalists
Solar Red | Solar Crush | Solar Cola | Solar Spice | Solar +