Hurricane Katrina was a significant tropical cyclone of the 2005 Atlantic hurricane season. It developed from a tropical wave about 175 miles east of Nassau in the Bahamas. The hurricane strengthened to a Category 1 hurricane before making landfall on the Miami-Dade/Broward county line in Florida, United States. After moving southwest across Florida the hurricane exited west into the Gulf of Mexico where it underwent rapid intensification, reaching Category 5 on August 28, 2005 and remaining there for the entire day. It made its second landfall near Buras, Louisiana with 145 mph winds, or Category 4, on August 29, 2005. Hurricane Katrina's eyewall then passed over the eastern edge of New Orleans before the hurricane was again over water. A few hours later it made landfall for a third time near the Louisiana/Mississippi border with 125 mph winds, or Category 3. It weakened from this point forward, losing hurricane status crossing over 100 miles inland, near Laurel, Mississippi. It was downgraded to a tropical depression near Clarksville, Tennessee as it continued to race northward.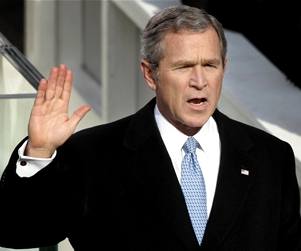 What about storms and global warming Mr President?
As the hurricane approached landfall near New Orleans, Mayor Ray Nagin placed the city under a mandatory evacuation order. Many residents remained in the city. The vast majority of those who stayed were reported to have been unable to leave because they did not have vehicles, money for gas and other transporation. Also, many residents were unable to travel because they were elderly or infirm. Federal disaster declarations blanketed 90,000 square miles (233,000 km²) of the United States, an area almost as large as the United Kingdom. The hurricane left an estimated five million people without power, and it may be up to two months before all power is restored. Disaster relief plans are in operation in the affected areas.
Early in the morning of August 30, 2005 and as a direct result of Hurricane Katrina, breaches in three places of the levee system on the Lake Pontchartrain side of New Orleans caused a second and even greater disaster. Heavy flooding covered almost the entire city over a sustained period, forcing the total evacuation of over a million people. The city was now uninhabitable, due to 80% of its area being below sea level meaning that the water had nowhere to go.



Hurricane Katrina with winds of 160 mph on August 29, 2005 at 0045 UTC (August 28, 7:45 PM CDT)

Duration:

Aug. 23 – 31, 2005

Highest sustained winds:

175 mph (280 km/h)

Wind Gusts:

215 mph (344 km/h)

Total damages (in USD):

$10 to 25 billion (insured damage reported so far), $20 to 100 billion (proj. — likely to be the most expensive Atlantic hurricane of all time: CNN reported on September 2, 2005 that damages to New Orleans alone will exceed 100 billion)

Total confirmed fatalities:

1619 direct, 321 indirect, and likely more; 29,000 missing. 10,000 + estimated dead.

Areas affected:

extreme destruction in Mississippi, Alabama, and Louisiana (especially Greater New Orleans); strong impact on Florida; also affected Texas, Arkansas, Georgia, Tennessee, and many other eastern U.S. states, eastern Ontario and eastern Quebec, Canada, and the Bahamas
On September 3, 2005 US Homeland Security Secretary Michael Chertoff described the aftermath of Hurricane Katrina as "probably the worst catastrophe, or set of catastrophes" in the country's history, referring to the Hurricane itself plus the flooding of New Orleans.
Hurricane Katrina may be the deadliest hurricane in the United States since the Galveston Hurricane of 1900, which killed around 8,000 (possibly up to 12,000) people. As of 7 PM CDT September 1, 2005, more than 20,000 are still reported missing. New Orleans mayor Ray Nagin stated on August 31 that the death toll of Katrina may be "in the thousands", an estimate also provided through a statement by Louisiana Governor Kathleen Blanco on September 1.
Accurate numbers are not known. Damage was reported in at least 12 states. Hurricane Katrina will be remembered for its vast devastation of the Gulf Coast regions of Louisiana, Mississippi, and Alabama. The hurricane will also be remembered for the ineffective pre-planning for hurricane prepardness in New Orleans, as well as the slow response on the part of federal, state and local governments to provide effective search and rescue and safe refuge for the storm's victims.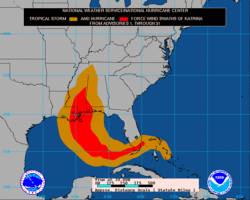 Hurricane Katrina wind swath
Storm development
The U.S. National Hurricane Center (NHC) issued a statement on August 23 saying that Tropical Depression Twelve had formed over the southeastern Bahamas. The numbering of the system was debated, as Tropical Depression Twelve formed partially from the remains of Tropical Depression Ten. The naming and numbering rules at the NHC require a system to keep the same identity if it dies, then regenerates, which would normally have caused this storm to remain numbered Ten. However, the NHC gave this storm a new number because a second disturbance merged with the remains of Tropical Depression Ten on August 20, and there is no way to tell whether the remnants of T.D. Ten should be credited with this storm. (This is different from Hurricane Ivan in the 2004 season, when the NHC ruled that Ivan did indeed reform; the remnant of Ivan that regenerated in the Gulf of Mexico was a distinct system from the moment Ivan originally dissipated to the moment it regained tropical storm strength.) The system was upgraded to Tropical Storm Katrina on the morning of August 24. Katrina became the fourth hurricane of the 2005 season on August 25 and made landfall later that day around 6:30 p.m. between Hallandale Beach and Aventura, Florida.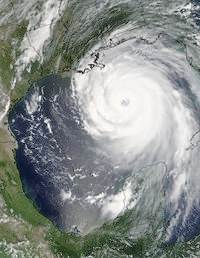 Hurricane Katrina Aug 28 05 near peak intensity
At 12:40 a.m. CDT (0540 UTC) on August 28, Katrina was upgraded to Category 4. Later that morning, Katrina went through a period of rapid intensification, with its maximum sustained winds reaching as high as 175 mph (280 km/h) (well above the Category 5 threshold of 156 mph (250 km/h)) and a pressure of 906 mbar by 1:00 p.m. CDT. Nonetheless, on August 29 the system made landfall as a strong Category 4 hurricane at 6:10 a.m. CDT near Buras-Triumph, Louisiana with maximum sustained winds of 145 mph (235 km/h). Katrina, which affected a very wide swath of land covering a good portion of eastern North America, was last seen in the eastern Great Lakes region. Before being absorbed by the frontal boundary, Katrina's last known position was over southeast Quebec and northern New Brunswick.
Its lowest minimum pressure at landfall was 918 mbar, making it the third strongest hurricane on record to make landfall on the United States. A 15 to 30 foot (5 to 9 m) storm surge came ashore on virtually the entire coastline from Louisiana, Mississippi and Alabama to Florida. The 30 foot (10 m) storm surge recorded at Biloxi, Mississippi is the highest ever observed in America.
At 11 p.m. EDT on August 31 (0300 UTC, September 1), U.S. government weather officials announced that the center of the remnant low of what was Katrina had been completely absorbed by a frontal boundary in southeastern Canada, with no discernible circulation. The Hydrometeorological Prediction Center's last public advisory on Katrina was at 11 p.m. EDT Wed 31 August 2005 and the Canadian Hurricane Centre's last public advisory on Katrina was at 8 a.m. EDT Wed 31 August 2005.
Tornadoes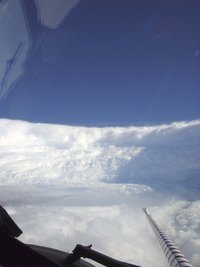 Eye of Hurricane Katrina from NOAA aircraft Aug 28 05
There were tornado reports near Adams and Cumberland Counties in Pennsylvania, in Fauquier, Virginia, in Atlanta, Georgia, in Carroll County, Georgia, in Carrollton, Georgia, in White County, Georgia, in Helen, Georgia, and in Mobile, Alabama. No deaths were reported from the tornadoes, but several injuries were reported in Georgia. 500,000 chickens were killed or set free after dozens of poultry houses were damaged in Carroll County, Georgia. There was major damage in Helen, Georgia, destroying homes and a hotel.
Historical context and Comparisons
By hurricane intensity
Katrina was the third most intense hurricane to hit the United States in recorded history. In the Atlantic Basin it achieved the status of the fourth lowest central pressure ever recorded.
By cost
Many estimates predict that Katrina was the costliest storm in history to strike the United States, surpassing Hurricane Andrew which ravaged Miami-Dade County, Florida, in 1992.
By death toll
Katrina was the second-deadliest named storm to hit the US, and may be declared the deadliest when the final toll is known. Other storms that killed many U.S. citizens include:
The Galveston Hurricane of 1900, which killed an estimated 8,000–12,000.

1957's Hurricane Audrey, which killed 390, with up to 160 more never accounted for.

1969's Hurricane Camille, which killed 256.
Other deadly storms include:
1970 Bhola cyclone, the deadliest tropical cyclone on record, which killed at least 150,000 and perhaps as many as half a million in East Pakistan (now Bangladesh).

Great Hurricane of 1780, the deadliest Atlantic storm on record, which killed over 22,000;

1998's Hurricane Mitch, the deadliest named Atlantic storm, which killed more than 18,000 people in Central America.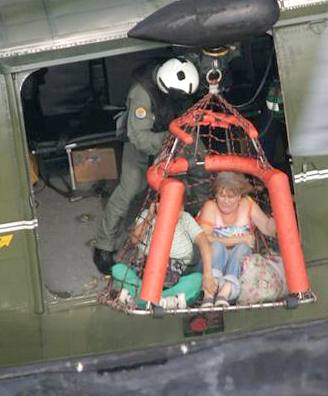 Helicopter rescues flood survivor
Other USA hurricanes
Katrina has been compared with Hurricane Camille because both were intense Category 5 storms which made landfall in the same general area. Katrina has also drawn comparisons to Hurricane Betsy, because of its similar track and potential effects on New Orleans. In 1965, Betsy struck New Orleans after passing over the Florida Keys, causing over $1.5 billion USD in damage in 1965 (over $9 billion in inflation-adjusted dollars), and the deaths of 75 people, earning it the nickname "Billion Dollar Betsy". However, although Betsy was nearly a Category 5 hurricane at landfall, it was fast moving limiting its potential for devastation, while Katrina was a slow-moving Category 4. For Katrina, some potential damage estimates exceed the $36 billion damage (in current dollars) caused by Hurricane Andrew (previously the most destructive natural disaster to have hit the United States).
Hurricane Katrina is sure to be compared with the Galveston Hurricane of 1900. Like Katrina, the Galveston Hurricane landed as a Category 4 storm. Also like Katrina, large numbers of deaths in Galveston (estimated to be between 6,000 and 12,000) were due to flooding after the hurricane passed.
Other USA city devastations/disasters
Katrina also caused the first total devastation of a major American city since the 1906 San Francisco earthquake and subsequent fires.
Other disasters in New Orleans
This is the greatest disaster in New Orleans since its founding in 1718.
New Orleans has a know history of frequent and recurrent brushes with hurricanes. On average, New Orleans has been brushed every 3.94 years. Direct hurricane hits have occurred every 13.4 years.
Other levee and flood disasters
No other levee breach in the USA has caused such a level of death or such an extensive evacuation. However, devastation in other parts of the world, caused by levee breaches, has been greater.
The Johnstown Flood in 1889 killed 2,200 people when the South Fork Dam burst, submerging the city of Johnstown, Pennsylvania.

1931 Huang He flood and following levee breaches killed millions.

The Great Mississippi Flood along the Mississippi River in 1927–1928 killed 246 people, left approximately 700,000 homeless, and destroyed or damaged 137,000 buildings.

The Great Flood of 1993 along the Mississippi River killed 47 people, displaced approximately 74,000, and destroyed or damaged 47,650 buildings.
Comparison to other evacuations/refugee crisis
Other cities which have been evacuated are:
In 2002 severe flooding led to the evacuation of 50,000 residents of Prague, Czech Republic, on 14th August, with a total of 200,000 Czechs during the second August week. Also partially evacuated in the same week were the German city of Dresden (120,000 evacuees) and the town Bitterfeld (16,000).
In January 2002, 300,000 residents of the city of Goma (Democratic Republic of the Congo) were evacuated in 3 days due to the eruption of the volcano Nyiragongo.
In 1999 the Kosovo War led to 800,000 refugees, not all of them urban residents, leaving Kosovo and being accommodated for up to 3 months in other parts of Europe.
In September 1939, at the outset of World War II, London and major British cities were evacuated with 1.5 million displacements in the first 3 days of the official evacuation taking place reaching a final total of 3.75 million.
Hurricane and flood preparedness
"It's only a matter of time before South Louisiana takes a direct hit from a major hurricane. Billions have been spent to protect us, but we grow more vulnerable every day." New Orleans Times-Picayune June 23 - 27 June 2002.
Preparations and expectations before landfall
Predictions
Florida had little advance warning when Katrina strengthened from a tropical storm to a hurricane in one day, and struck southern Florida later that same day, on August 25.
By August 26 the possibility of "unprecedented cataclysm" was already being considered. Some computer models were putting New Orleans right in the center of their track probabilities, and the chances of a direct hit were forecast at nearly 10%.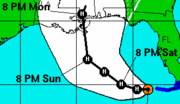 Katrina storm track August 26th at 11 PM
On August 27, after Katrina crossed southern Florida and strengthened to Category 3, the President declared a state of emergency in Louisiana, two days before the hurricane made landfall. This declaration activated efforts by Federal Emergency Management Agency to position stockpiles of food, water and medical supplies throughout Louisiana and Mississippi more than a day before Katrina made landfall. Dr. Jeff Masters stated that he was "surprised they haven't ordered an evacuation of the city yet", as the chance of "a catastropic hit that would completely flood the city of New Orleans [were] probably 10%". Blogger Brendan Loy questioned, "If you knew there was a 10 percent chance terrorists were going to set off a nuclear bomb in your city on Monday, would you stick around, or would you evacuate?".
On August 28 the National Weather Service issued a bulletin predicting "devastating" damage rivaling the intensity of Hurricane Camille. Mayor Nagin ordered a mandatory evactuation of the city.
The risk of devastation from a direct hit was well documented. The Times-Picayune newspaper ran a series on the risk (Wall Street Journal Online, by Joe Hagan, 8-31-05, p. A5). National Geographic ran a feature in October 2004 . Scientific American covered the topic thoroughly in an October 2001 piece titled "Drowning New Orleans" . Walter Williams did a serious short feature on it called "New Orleans: The Natural History", in which an expert said a direct hit by a hurricane could damage the city for six months. The city of New Orleans was considered to be particularly at risk since most of it is below sea level and it was likely that storm surge from a hurricane passing over the city would flood the city after topping the surrounding levees.
Top four most intense Atlantic hurricanes since measurements began


Hurricane intensity is measured solely by central pressure, source:NOAA

North Atlantic

Landfall U.S.

Rank

Hurricane

Year

Pressure

Rank

Hurricane

Year

Pressure

1

888 mbar

1

892 mbar

2

892 mbar

2

909 mbar

3

899 mbar

3

Katrina

918 mbar

4

Katrina

902 mbar

4

922 mbar

Based on data from: The Weather Channel

Based on data from: National Hurricane Center
Evacuation
At a news conference 10 a.m. on August 28, shortly after Katrina was upgraded to a Category 5 storm, New Orleans mayor C. Ray Nagin, calling Katrina "a storm that most of us have long feared", ordered the first ever mandatory evacuation of the city. Roughly 150,000 people did not obey the order to evacuate. It is not currently clear what percentage of those who did not evacuate were unable, rather than unwilling, to do so. Future analysis of Motor Vehicle Registration, Census and Social Security Information, and Death Certificates may help to provide clarity. During the Hurricane Ivan evacuation, 600,000 people remained in the city.
Nagin established several "refuges of last resort" for citizens who could not leave the city, including the massive Louisiana Superdome, which housed over 9,000 people along with 550 National Guard troops when Katrina came ashore. A National Guard official said on Thursday, September 1 that as many as 60,000 people had gathered at the Superdome for evacuation, having remained there in increasingly difficult circumstances.
Mandatory evacuations were also ordered for Assumption, Jefferson (Kenner, Metairie, as well as Grand Isle and other low lying areas), Lafourche (outside the floodgates), Plaquemines, St. Charles and St. James parishes and parts of Tangipahoa and Terrebonne parishes in Louisiana.
In Alabama, evacuations were ordered for parts of Mobile and Baldwin counties (including Gulf Shores). In Mississippi, evacuations were ordered for parts of Hancock, Harrison and Jackson counties.
Transportation and infrastructure
On Sunday, August 28, Canadian National Railway (CN) suspended all rail traffic on its lines south of McComb, Mississippi (lines owned by its subsidiary Illinois Central Railroad that extend into New Orleans, Louisiana), in anticipation of damage from the hurricane. To help ease the resumption of services after the storm passes, CN also issued an embargo with the Association of American Railroads against all deliveries to points south of Osyka, Mississippi. CSX Transportation also suspended service south of Montgomery, Alabama until further notice. The CSX (former Louisville and Nashville Railroad) main line from Mobile to New Orleans is believed to have suffered extensive damage, especially in coastal Mississippi, but repair crews were not able to reach most parts of the line as of August 30.
Amtrak, America's rail passenger carrier, announced that the southbound City of New Orleans passenger trains from Chicago, Illinois, on August 29 and through September 3 would terminate in Memphis, Tennessee, rather than their usual destination of New Orleans; the corresponding northbound trains will also originate in Memphis. The southbound Crescent from New York, New York, for the same period terminated in Atlanta, Georgia, with the corresponding northbound trains originating in Atlanta as well. Amtrak's westbound Sunset Limited originated in San Antonio, Texas, rather than its normal origin point of Orlando, Florida. Amtrak announced that no alternate transportation options would be made available into or out of the affected area.
The Waterford nuclear power plant was shut down on Sunday, August 28, before Katrina's arrival.
Local effects and aftermath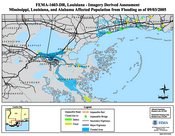 FEMA map of affected area
Areas affected include southern Florida, Louisiana (especially the Greater New Orleans area), Mississippi, Alabama, the western Florida Panhandle, western and north Georgia were affected by tornadoes, the Tennessee Valley and Ohio Valley regions, the eastern Great Lakes region and the length of the western Appalachians. Over 300 deaths have been reported in seven states, a number which is expected to rise as casualty reports come in from areas currently inaccessible. New Orleans Mayor Ray Nagin estimates hundreds, and as many as thousands, are feared dead. Two levees in New Orleans gave way, and eighty percent of the city is now under water, which in some places is 20 to 25 feet (7 or 8 meters) deep.
By September 2, NOAA had published satellite photography of many of the affected regions.
Hurricane Katrina will go down in history as the most devastating hurricane ever to hit the United States, surpassing the devastation of Hurricane Andrew.
Death toll (summary)
The unconfirmed death toll reported in various regions is given in the chart to the right. These are confirmed deaths from local news agencies. Direct deaths indicate those caused by the direct effects of the winds, flooding, storm surge or oceanic effects of Katrina. Indirect deaths indicate those caused by hurricane-related accidents (including car accidents), fires or other incidents, as well as clean-up incidents and health issues.
However, the projected death toll may be much higher especially in New Orleans. But efforts are presently focussed on rescue and restoring order, rather than recovery of the dead. On 31 August, the Mayor of New Orleans, Ray Nagin told reporters that the hurricane probably killed thousands of people in the city.
This view was confirmed on September 1 by U.S. Senator Mary Landrieu who said "We understand there are thousands of dead people". In a press conference broadcast live on 4WWL at 1915 UTC on September 1 Governor Kathleen Blanco said that thousands of deaths were believed to have occurred in New Orleans. The FEMA representative said that they have brought in a deployable morgue.
On September 3 US Senator David Vitter (R-LA) said that the death toll from Hurricane Katrina could top 10,000 in Louisiana alone. "My guess is that it will start at 10,000, but that is only a guess," Vitter said.
State

Location
(county/parish)

Deaths

Direct
deaths

6

3

4

3

3

1

3

0

200

5

1

1

59 Reported*

1000+

130

52

1

0

13

9

8

0?

2

2

10

10

426

426

85

85

1

1

15

15

6

6

1

1

1

1

17

17

1

1

1

1

1

1

2

0

2

1

1

1

2

0

Total

902+

1,643+

Number Missing

35,000+
Health concerns
Aside from the lack of water, food, shelter, and sanitation facilities, there is growing concern that the prolonged flooding will lead to an outbreak of health problems for those who remain in hurricane-affected areas. In addition to dehydration and food poisoning, there is also a potential for West Nile virus, St. Louis Encephalitis, tuberculosis, hepatitis A, cholera and typhoid fever, all related to the growing contamination of food and drinking water supplies in the area. The longer these people are stranded in the searing heat the more will perish from the aforementioned causes. President Bush has declared a public health emergency for the entire Gulf Coast and Secretary of Health and Human Services Mike Leavitt announced that the DHHS will be setting up a network of 40 medical shelters to speed the relief efforts. There is concern the chemical plants and refineries in the area could have released their contents into the flood waters. People who suffer from allergies or lung disorders, such as asthma, will have health complications due to toxic mold and airborne irritants. In Gulfport, Mississippi, several hundred tons of chicken and uncooked shrimp were washed out of their containers at the nearby harbor and could have contaminated the water table.
Animal Rights
Many families in the affected area treat their pets as a member of the family, and refused to evacuate without them. Rescue teams were set up in the worst-hit regions in reponse to desperate pleas from pet owners. Horses posed a particular problem, as they are easily stranded and cannot stand up in water for great lengths of time. Rescue agencies are setting up shelters and finding homes to adopt pets who were lost by their owners.
Price gouging
Hundreds of reports have poured into Louisiana (and other) authorities regarding price gouging on products like gasoline and bottled water, or of hotels dishonoring reservations in favor of accepting larger offers for rooms by desperate travellers. The three major U.S. TV networks' nightly news programs have shown images of a BP gas station selling gasoline for over $6 per gallon ($1.59/L). Another BP station in Stockbridge, Georgia, south of Atlanta, was selling gas at $5.87 per gallon ($1.55/L) within a day after Katrina hit. Gas prices in the U.S. just prior to Katrina were in the range of $2.50 per gallon ($0.66/L). During this time the average price of gas per gallon has reached a new all time high. The rapid price increase exacerbated the oil price increases of 2004 and 2005.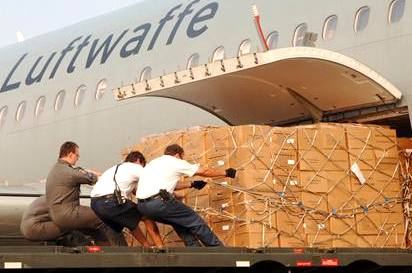 Loading emergency supplies for New Orleans
Effects outside the affected region
Economic effects
Most experts anticipate that Katrina will be the costliest natural disaster in U.S. history. Some early predictions in damages exceeded $100 billion, not accounting for potential catastrophic damage inland due to flooding (which would increase the total even more), or damage to the economy caused by interruption of oil supply (much of the U.S. energy operations are in the Gulf Coast region), and exports of commodities such as grain. Other predictions placed the minimum insured damage at around $12.5 billion (the insured figure is normally doubled to account for uninsured damages in the final cost). There are also effects on ocean shipping, the casino industry and tourism.
Space Shuttle program
The hurricane has passed over the Michoud Assembly Facility and materially interrupted the production of external tanks for the Space Shuttle, leading to a further interruption of the shuttle flights. Evan McCollum, a Lockheed Martin Space Systems spokesman in Denver has reported that "there is water leakage and potential water damage in the buildings, but there's no way to tell how much at this point".
The Michoud Assembly Facility will remain closed until at least September 26. Plans to ship three tanks -- including the one for NASA's next mission -- back to Michoud for retrofitting are on indefinite hold. The next Shuttle flight, STS-121, could be postponed to May or later during the second half of 2006.
Internet
Technology for All is setting up technology centers for Internet access in the Astrodome. There are also reports that SBC and T-Mobile are installing and providing free wifi access in the Astrodome. Cisco, Vonage, and SBC are providing similar services at the Dallas Convention Center and Reunion Arena where another 8,000 evacuees are sheltered.
DirectNIC, run by Intercosmos Media Group, is one of the largest domain name registrars and is based out of New Orleans. They are still up and running through the use of diesel power generators and have made several arrangements to resupply fuel to their generator. They are currently running a very popular blog that is documenting things that are happening around them, including pictures of the New Orleans aftermath, with a link to a webcam showing part of the Central Business District on Poydras St. A LiveJournal community, InterdictorNews has been started for those who have been commenting in this blog. It includes FAQs about the actions of the DirectNIC team in setting up Outpost Crystal.
The effects of the storm disrupted the OC-12 Abilene Network Internet2 link between Houston and Atlanta, as well as some of DirectNIC's many high-speed connections. The staff on site are working to restore more upstream connectivity, as well as Internet access to local municipal organizations.
As of September 1, 2005, Sans Infocon is reporting code green for Internet attacks. Keynote Internet Health Report is reporting code green for select Internet networks. The Internet Traffic Report was reporting code yellow for North America. Earthlink network status reports that DSL is unavailable in New Orleans. Perhaps one of the more interesting sets of status information is Googling New Orleans and checking the reachability of the top 20 websites.
On September 1, 25% were unreachable, 20% were impaired, and 55% remained reachable. The NO Visitor's Bureau reports "There is virtually total internet disruption as well, as locally hosted servers and routers have gone down with the loss of primary and backup power. Only those hotels with corporate housed servers in other cities have any internet possibility."
Cybertelecom.org has established a webpage to collect data on the status of and impact on the Internet.
Disaster relief response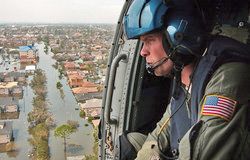 Jayhawk helicopter search and rescue
Some disaster recovery response to Katrina began before the storm, with Federal Emergency Management Agency preparations that ranged from logistical supply deployments to a mortuary team with refrigerated trucks.
President George W. Bush asked Secretary Michael Chertoff of the Department of Homeland Security to coordinate the Federal response. Chertoff designated Michael Brown, head of the FEMA as the Principal Federal Official to lead the deployment and coordination of all federal response resources and forces in the Gulf Coast region.
USNORTHCOM established Joint Task Force (JTF) Katrina based out of Camp Shelby, Mississippi to act as the military's on-scene command. Lieutenant General Russel Honoré of the U.S. First Army in Fort Gillem, Georgia, is the commander.
At President Bush's urging, the U.S. Senate approved a bill authorizing $10.5 billion in aid for victims on September 1, 2005. The U.S. House of Representatives voted and approved on the measure Friday, September 2, 2005 without any debate; Bush signed it into law an hour later. This is said to be only the initial aid package.
In addition to asking for federal funds, President Bush has enlisted the help of former presidents Bill Clinton and George H.W. Bush to raise additional voluntary contributions, much as they did after the 2004 Indian Ocean earthquake and tsunami. On September 3, Governor Blanco hired James Lee Witt, the well-regarded FEMA director during the Clinton Administration, to oversee recovery efforts in Louisiana.
Several Carnival Cruise ships have been chartered by the American government to provide housing for those who require it. The Salt Lake Tribune reported on September 4, 2005 that the authorities had requested that aid workers not disclose the final destination of those making the transit because a few had caused a ruckus upon finding that they were heading to a location that they held disfavorable.
The Department of Homeland Security issued these key statistics as of 10 AM on September 3, 2005: + Some disaster recovery response to Katrina began before the storm, with Federal Emergency Management Agency preparations that ranged from logistical supply deployments to a mortuary team with refrigerated trucks. However, the federal government's overall lack of response has been widely criticized, even by Republicans, since the tragedy occurred. - * Lives Saved -- 11,500 + - * Citizens Evacuated -- 25,000 + President George W. Bush asked Secretary Michael Chertoff of the Department of Homeland Security to coordinate the Federal response. Chertoff designated Michael Brown, head of the FEMA as the Principal Federal Official to lead the deployment and coordination of all federal response resources and forces in the Gulf Coast region. - * Water distributed by FEMA -- 6.7 million liters + - * MREs distributed by FEMA -- 1.9 million + - * U.S. Coast Guard -- 4,000 + - * National Guard -- 22,000 + - * FEMA Responders -- 5,000 +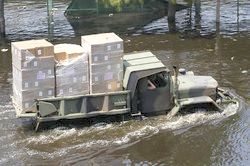 National Guard truck brings relief supplies to the Superdome
U.S. States Respond
More than a dozen other U.S. states are sheltering refugees displaced by the storm including Texas, Florida, Georgia, Arkansas, Oklahoma, and places as far away as Colorado, Utah, and Wisconsin. The majority of the evacuees from this crisis have been taken to Texas, with over 230,000 persons being sheltered in Texas by Labor Day, September 5, 2005 as reported by the American Red Cross. The majority of this burden is being borne by the cities of Houston, Dallas/Ft. Worth/Arlington, and San Antonio with over 25,000 persons each. As Texas has filled to capacity, it has become a waypoint for the other evacuees still leaving the area of crisis.
From Texas these thousands of more evacuees are being dispersed to other states via buses, trains, and airplanes. The affected states themselves have also absorbed tens of thousands of evacuees, with one city alone, Baton Rouge, Louisiana, taking in 250,000 short term evacuees, effectively doubling the size of the community.
International response
Over 50 countries have pledged money or other assistance to recovery from the hurricane, including inter alia Cuba and Venezuela, despite differences with Washington; Sri Lanka, which is still recovering from the Indian Ocean Tsunami; Russia, whose initial offer to send a relief plane and a helicopter was declined by the U.S. State Department; and Dominica, one of the smallest countries in the world by any measure. Countries and organizations offering to send aid mentioned by the State Department are Armenia, Australia, Austria, Azerbaijan, Bahamas, Belgium, Canada, China, Colombia, Cuba, Dominica, the Dominican Republic, El Salvador, the European Commission, France, Germany, Greece, Guatemala, Guyana, Honduras, Hungary, India, Indonesia, Israel, Italy, Jamaica, Japan, Kuwait, Lithuania, Mexico, the Netherlands, NATO, New Zealand, Norway, the OAS, Paraguay, Qatar,Russia, Saudi Arabia, Singapore, South Korea, Spain, Sri Lanka, Sweden, Switzerland, the UAE, the United Kingdom, the United Nations High Commissioner for Refugees and Venezuela. Other countries not on this list have also offered aid, but the State Department mentioned that they had not been asked. Later, the US State Department said all offers were being examined.
The United States is currently accepting foreign aid. Canada is sending three warships and one coast guard vessel to the US Gulf Coast to assist in the relief and reconstruction effort. Also several hundred crisis Canadian Red Cross workers will be flown in on military planes.
Many citizens across the United States and the international community, some outraged over the seemingly slow Federal response in the days immediately following Katrina, did what they could to help. The "Blogosphere" exploded with an assortment of blogs to assist and provide comfort to those in need, including blogs posted by local newspapers in the affected areas, national media organizations and private citizens, including even a blog of poems written by, for and about the victims of Hurricane Katrina, called "Hellicane" at.
Bloggers from around the world also organized an unprecedented "Blog for Relief Weekend" held from Thursday, September 1 through Monday, September 5. Each blog was asked to select a recognized charity to encourage its readers to consider supporting toward the Katrina relief effort.
POLITICAL EFFECTS
Evacuation issues
Many critics have noted that while the local government gave a mandatory evacuation order on August 28, before the storm hit, they did not make provisions to evacuate the homeless, the poor, the elderly, the infirm, or the car-less households. Evacuation was mainly left up to individual citizens to find their own way out of the city. It was known that many residents of New Orleans lacked cars. A 2000 census revealed that 27% of New Orleans households, amounting to approximately 120,000 people, were without privately-owned transportation. Additionally, New Orleans has one of the highest poverty rates in the United States at about 38%. These factors may have prevented many people from being able to evacuate on their own. Consequentially most of those stranded in the city are the poor, the elderly, and the sick.
Many supporters of the evacuation efforts from Mayor Ray Nagin note that Nagin had sent city buses to help shelter those that stayed behind. These buses were intended to bring the remaining people to the Superdome for a last haven and for relief (but the dome was never stocked with any relief supplies). Many supporters also note that school buses, while powerful, can be difficult to control in normally high windspeed of 50-80 mph (80-120 km/h). Additionally, drivers of the school buses must own and maintain a class D commercial license or better depending on the exact size and weight of the bus, and therefore availablity of drivers would ultimatly have limited the use of these vehicles.
In spite of these risks and his lack of formal training or government-issued licenses, 20-year-old Jabbar Gibson commandeered a New Orleans school bus and rescued 70 people from the rising flood waters before making the 13-hour drive to Houston, arriving on Wednesday evening. Photo of Gibson's arrival in Houston Houston Chronicle article on Gibson's heroic rescues. However, a day later a licensed driver's commercial bus filled with refugees flipped, resulting in one death and many injuries. FOX news story of flipped commercial bus.
Some evacuees report that the drive from New Orleans to Baton Rouge took anywhere from 5 hours to 9 hours; this drive usually takes up to an hour. Reports from the Associated Press state that 80% of the near 500,000 had evacuated safely from New Orleans prior to the hurricane's landfall. Even if licensed drivers had been available and the available buses had been used to evacuate the remaining approximately 150,000 people, they may not have made it to safety before landfall.
Race and class issues
The question of demographics has been raised in the media as news media video and photographs showed primarily black citizens stranded in New Orleans. After decades of white flight, New Orleans is two-thirds black and more than 25% live at or below the poverty line. Within the city itself, the poorest tended to live in the lowest parts that are most vulnerable to flooding.
Members of the Congressional Black Caucus, Black Leadership Forum, National Conference of State Legislators, National Urban League and the NAACP held a news conference expressing anger and charging that the response was slow because those most affected are poor and black. This has led to city officials being accused of racism, with critics saying they didn't bother to formulate an evacuation plan for those who cannot afford private transportation. These groups were also very displeased that the citizens in New Orleans were being referred to as "refugees".
On September 2, while presenting on the NBC Concert for Hurricane Relief, rapper Kanye West strayed from his script and addressed what he perceived as the racism of both the government and of the media, stating: "George Bush doesn't care about black people", and called for the media to stop labelling African-Americans as the only ones responsible for the chaos in New Orleans, after which, filming of him was cut and footage resumed with Chris Tucker. (West's comments were heard in the entirety in the eastern U.S., where the telecast was shown live; NBC later removed a portion of the comments on the tape-delayed telecast shown in the west. NBC also issued a denouncement of the comments.)
Commentator Lou Dobbs of CNN stated: "We should put in context, it seems to me also, that the city of New Orleans is 70% black, its mayor is black, its principal power structure is black, and if there is a failure to the black Americans, who live in poverty and in the city of New Orleans, those officials have to bear much of the responsibility." However, reductions in federal funding and initiatives reduced many of the options of locally elected officials. The U.S. Census Bureau estimates the 2004 New Orleans population to be 20.0% white and 67.9% black.
Government response issues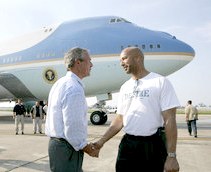 President Bush and New Orleans Mayor Ray Nagin
The media is reporting widespread criticism of the inadequate response by local, state and federal authorities to the hunger, death and lack of aid to the hurricane's victims. About 6,200 Army and Air National Guard troops were on duty in Louisiana, Mississippi, Alabama and Florida when Katrina struck, and by 31 August, that number climbed to 11,000 Army and Air National Guard members from around the nation and 7,200 active-duty troops, mostly Navy. 10,000 more National Guard troops are expected to join the effort within the following 48 hours. However more than two and a half days after the hurricane struck, police, health care and other emergency workers voice concerns, in the media, about the absence of National Guard troops in the city for search and rescue missions and to control looting. It was not until Friday that the military arrived in New Orleans in sufficient numbers to ease the suffering of the storm survivors.
Media reports have also proposed National Guard units are short staffed in Mississippi, Louisiana and Alabama because they are currently on a tour of duty in Iraq, including 3,000 members of the Louisiana National Guard's 256th Brigade. The National Guard Bureau denied that there was a problem noting that over 300,000 Guard troops are in the United States and available if needed. However, even though there were states ready and willing to send National Guard troops to the rescue in New Orleans they did not get the bureaucratic go-ahead until days after the storm struck. The delay is likely to be investigated by Congress. While President Bush had the legal authority to order the National Guard to the disaster area himself, presidents of both parties traditionally defer to governors to deploy their own National Guardsmen and request help from other states when it comes to natural disasters.
Whenever federal troops are deployed, there is reference to the Posse Comitatus Act, 18 U.S.C. §1385. The Posse Comitatus Act does not prevent the President from using federal military force during an emergency, in support of local and federal law enforcement, or in quelling riots or civil disorder. Under ordinary circumstances, the Posse Comitatus Act is thought to regulate Federal deployment of Army units, or units under the control of the Army, within the states—perhaps including National Guard troops on active federal duty. While not required, the Department of Defense applies the Posse Comitatus Act to other branches of the military including the Navy and Marine Corps. Notably, during Hurricane Katrina the Coast Guard was one of the early responders. The Coast Guard, a part of the Deparment of Homeland security, is not considered within the armed services during peace-time and, therefore, is not regulated by the Posse Comitatus Act.
Nevertheless, the failure to immediately evacuate or re-supply flooded New Orleans area hospitals and the lack of a visible FEMA presence in the city and surrounding area in the hurricane's immediate aftermath have also been criticized by some members of the press. In addition, the federal government did not activate the Civilian Reserve Air Fleet, a major air support plan under a pre-existing contract with airlines that lets the government quickly put private cargo and passenger planes into service.
Many local emergency managers defended FEMA, pointing out that the Bush Administration has since 9/11 reduced the agency's budget, mission, and status. FEMA, which was elevated to cabinet-level status under Bill Clinton, was demoted to undersecretary status after the creation of DHS, which placed higher priority on countering terrorism than planning for natural disaster. Some members of the International Association of Emergency Managers had predicted that FEMA could not adaquately respond to a catastrophe, citing flaws in other disaster responses since 9/11.
George W. Bush has also been criticized for his choice of Michael Brown as FEMA head. Prior to joining FEMA, Brown had no experience whatsoever in disaster relief. Brown had even been fired from his previous job as a supervisor of judging at the International Arabian Horse Association.
The 2004 hurricane season was the worst in decades. In spite of that, the federal government came back in the spring of 2005 with the steepest reduction in hurricane and flood-control funding for New Orleans in history. Because of the proposed cuts, the Army Corps of Engineers office there imposed a hiring freeze. Officials said that money targeted for the SELA project was reduced to $10.4 million, down from $36.5 million. The money would have gone into funding studies about the feasibility of upgrading the current levees to withstand Category 4 and 5 Hurricanes instead of just Category 3, although such projects would certainly not have been completed in time for Katrina even with the requested amount of funding.
Environmental issues
Another direct environmental cause has been the destruction of wetlands in the affected regions, which traditionally have a mitigating effect on hurricane damage acting as a sponge to slow floodwaters.
Sewage, decomposing bodies and toxic chemicals, from the city's many factories, have mixed into the floodwaters creating a potentially toxic cesspool throughout New Orleans. Experts fear it will pose a serious threat to residents now and into the future with the immediate question of how to safely dispose of the vast quantities of polluted water inside New Orleans being an important environmental issue.
Media Involvement
Many representatives of the news media reporting on the aftermath of Hurricane Katrina found themselves becoming directly involved in the unfolding events, instead of reporting them at arms-length. Due to the loss of virtually all means of communication, such as land-based and cellular telephone systems, field reporters in many cases became conduits for information between victims and authorities.
Several reporters for various news agencies located groups of stranded victims, and reported their location via satellite uplink. Authorities, who monitored the network news broadcasts, would then attempt to coordinate rescue efforts based on the news reports. This was best illustrated when Shepard Smith and Geraldo Rivera of Fox News, among others, reported thousands of evacuees stranded at the New Orleans Convention Center. Rivera tearfully pleaded for authorities to either send help or let the evacuees leave.
The news media, both traditional and Internet, also played a role in helping families locate missing loved ones. Many family members, unable to contact local authorities in the affected areas, discovered the fate of a loved one via an online photo or television video clip. In one instance, a family in Clearwater, Florida discovered their mother was still alive in Bay St. Louis, Mississippi after seeing a photo of her on TampaBayStart.com, a regional news site.
See also
General topics
Katrina-specific topics
External links and sources
Disaster recovery
Government
---
Sept 5 2005 14:34 PDT Carmel
The Solheim Cup plans to sell 3,000 additional tickets for Sunday's final day as a fund-raiser for Hurricane Katrina.
Tickets have been sold out since February, but organizers said Monday the extra fans can be spread out during the 12 one-on-one matches in the U.S. vs. Europe women's competition at the Crooked Stick course in suburban Indianapolis.
The $40 tickets will be sold at the course's front gate on Sunday, with all proceeds — a possible $120,000 — going directly to the U.S. Golf Hurricane Katrina Relief Fund.
"Thousands upon thousands of Americans are enduring inconceivable tragedy and loss," said Kelly Hyne, the Solheim Cup's tournament director. "We wanted to do something this week that would contribute to the relief efforts and allow the fans to take part."
Play begins Friday, with collection points planned for fans who already have tickets to contribute to the relief efforts.
In other Katrina developments:-
Fans put $40,000 in buckets as they entered Michigan Stadium this past weekend, the Red Cross said. The university estimated another $10,000 was raised by program sales.
The women's and men's swim teams and Red Cross volunteers collected donations before the Wolverines played Northern Illinois on Saturday. The school will give the Red Cross $2 for every program sold for the season opener.
---
LATEST NEWS - as reported
BP Plc says it has restarted oil production at some of its Gulf of Mexico facilities which had been shut due to hurricane. Oil dips to pre-Katrina $65 on inventory release.
QUOTES
"This is one of the disasters that will test our soul, and test our spirits," President Bush says.
"We advise people that this city has been destroyed, it has completely been destroyed," says New Orleans Deputy Police Chief Warren Riley.
"Recovery is going to take years. We need to help these Gulf Coast communities and, of course, the great city of New Orleans get back on their feet," former president George Bush tells a news conference. "The job is too big, too overwhelming for any one group."
"I try to be upbeat but it's devastating. I may lose my house because I may not be able to make my payments, and I don't know when I'm going to work again," says Mark Becker, who returned to see his devastated home.
"We're angry, Mr. President," the New Orleans Times-Picayune said in an open letter.
---
New Orleans Mayor Ray Nagin said Today (5 Sept 05) Show that a death toll of 10,000 "wouldn't be unreasonable."
Rescuers in boats, helicopters and military vehicles continue their house-to-house search for people still stranded in the city a week after the storm. Thousands of New Orleans area residents who fled Hurricane Katrina return for the first time to see what is left of their homes.
President George W. Bush, under fierce criticism for his government's slow response to the hurricane, tours the affected region for the second time in a week and promises the U.S. will "do what it takes" to help victims of the devastating storm get back on their feet.
Katrina response prompts questions of race in U.S. The U.S. Army says it had closed one major gap in the levees breached by Hurricane Katrina and was close to repairing a second.
Former U.S. presidents George H.W. Bush and Bill Clinton establish a new fund to assist the hundreds of thousands of people displaced by the hurricane.
Katrina to hurt 2005 US growth, boost 2006, analysts say. Local officials believe thousands remain in the once-vibrant city despite mass evacuations before and after Katrina struck the U.S. Gulf Coast last Monday, hammering an area the size of Britain in one of the biggest natural disasters in American history. State authorities say Louisiana's official death toll of 59 could rise into the thousands. Well over 100 deaths have been confirmed in Mississippi, with many people unaccounted for. South Korea and Australia voice frustration that U.S. relief efforts have prevented them from rescuing their citizens.
Katrina survivors visit wrecked homes, Bush visits
Some residents refuse to leave New Orleans
Houston mayor says refugee flow may have peaked
Under fire, Bush seeks to reassure Katrina survivors
Katrina ripped up homes, and years of hard work


STORMS | HURRICANES | TORNADOES | ATMOSPHERE | WATER CYCLE | FORECASTING | FLOODS | TYPHOONS

John Storm and Kulo Luna $billion dollar whale
When a pirate whaler kills a small humpback whale, a larger whale sinks the pirate ship to avenge the death, but is itself wounded. The pirates put a price on the whale's head, but an adventurer in an advanced solar powered boat races to beat the pirates and save the wounded animal with a $Billion dollars riding on the conclusion.