Berlin is the capital city and a state of Germany. It is the country's largest city in area and population, and the second most populous city in the European Union.
Berlin is one of the most influential centers in European politics, culture and science. The city serves as an important junction of national and continental transportation. Berlin is a major tourist and shopping destination and is well known for its diverse range of convention venues and media outlets. It is home to some of the world's most prominent universities, research faculties, theaters, and museums.
The rapidly changing metropolis at present enjoys an international reputation for its festivals, vibrant nightlife, contemporary architecture, and avant-garde arts. Being home to people from over 180 nations, Berlin is a magnet for individuals who are attracted by its liberal lifestyle, urban eclecticism, and artistic freedom.
First documented in the 13th century, Berlin became the capital of the Kingdom of Prussia in 1701 and of the German Empire in 1871 and remained so during periods of Weimar Republic and Third Reich until 1945. In times of division the German Democratic Republic claimed East Berlin as its capital, while West Berlin was a democratic island surrounded by East Germany. Following German reunification in 1990, Berlin again became capital of Germany.
Geography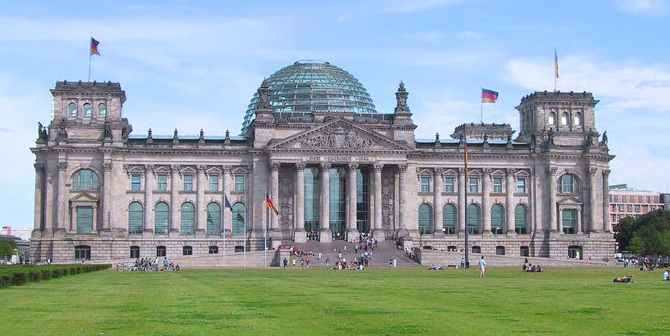 The Reichstag Building
Berlin is located in eastern Germany, about 70 kilometers (40 miles) west of the border with Poland. Berlin's landscape was shaped by ice sheets during the last ice age. The city center lies along the river Spree in the Berlin-Warsaw Urstromtal (ancient river valley), formed by water flowing from melting ice sheets at the end of the last Ice Age. The Urstromtal lies between the low Barnim plateau to the north, and the Teltow plateau to the south. In Spandau, Berlin's westernmost borough, the Spree meets the river Havel, which flows from north to south through western Berlin. The course of the Havel is more like a chain of lakes, the largest being the Tegeler See and Großer Wannsee. A series of lakes also feeds into the upper Spree, which flows through the Großer Müggelsee in eastern Berlin.
Substantial parts of present-day Berlin extend onto the low plateaus on both sides of the Spree Valley. Large parts of the boroughs Reinickendorf and Pankow lie on the Barnim plateau, while most of the boroughs Charlottenburg-Wilmersdorf, Steglitz-Zehlendorf, Tempelhof-Schöneberg, and Neukölln lie on the Teltow plateau. The borough of Spandau lies partly within the Berlin Urstromtal and partly on the Nauen Plain, which stretches to the west of Berlin. The highest elevations in Berlin are the Teufelsberg in the borough of Charlottenburg-Wilmersdorf and the Müggelberge in the borough of Treptow-Köpenick. Both hills have an elevation of about 115 meters (377 feet). The Teufelsberg is in fact an artificial pile of rubble from the ruins of World War II.
Climate
Berlin has a temperate/mesothermal climate (Cfb) according to the Köppen climate classification system. The mean annual temperature for Berlin-Dahlem (a location within Steglitz-Zehlendorf) is 9.4°C (48.9°F) and its mean annual precipitation totals 578 millimeters (22.8 inches). The warmest months are June, July, and August, with mean temperatures of 16.7 to 17.9°C (62.1 to 64.2°F). The coldest are December, January, and February, with mean temperatures of −0.4 to 1.2°C (31.3 to 34.2°F). Berlin's built-up area creates a microclimate, with heat stored by the city's buildings. Temperatures can be 4°C higher in the city than in the surrounding areas.
FIFA WORLD CUP TEAMS 2006
Sport
Berlin hosted the 1936 Olympics and is the host city for the 2006 FIFA World Cup Final. The annual Berlin Marathon and the annual Golden League event ISTAF for athletics are also held here. The WTA Tour holds the Qatar Total German Open annually in the city. Founded in 1896, it is one of the oldest tennis tournaments for women. The FIVB World Tour has chosen an inner-city site near Alexanderplatz to present a Beachvolleyball-Grand Slam every year.
Berlin is home to Hertha BSC Berlin, a football team in the Bundesliga, and the basketball team ALBA Berlin (also known as the "Berlin Albatrosses"), which won the national championships every year from 1997 to 2003. Berlin is also home to the American football team Berlin Thunder of NFL Europe as well as the Eisbären Berlin of the German Ice Hockey League, an ice hockey team which was founded in the East German era.
Location in Germany




Flag

Coat of arms

Basic information

Area :

891.182 km² City

5,370 km² Metro Area

Population :

3,396,990 11/2005

3,675,000 Urban Area

4,262,480 Metro Area

Density :

3,812/km² City

Elevation :

34 - 115 m

Coordinates :

Time zone :

UTC+1 /Summer UTC+2

Website :

Government

Country :

Germany E.U.

Federal State :

Berlin

Subdivisions :

12 Bezirke

Governing Mayor :

Klaus Wowereit SPD

Governing Parties :

SPD / Linkspartei

Federal State Election :

17 September 2006
Culture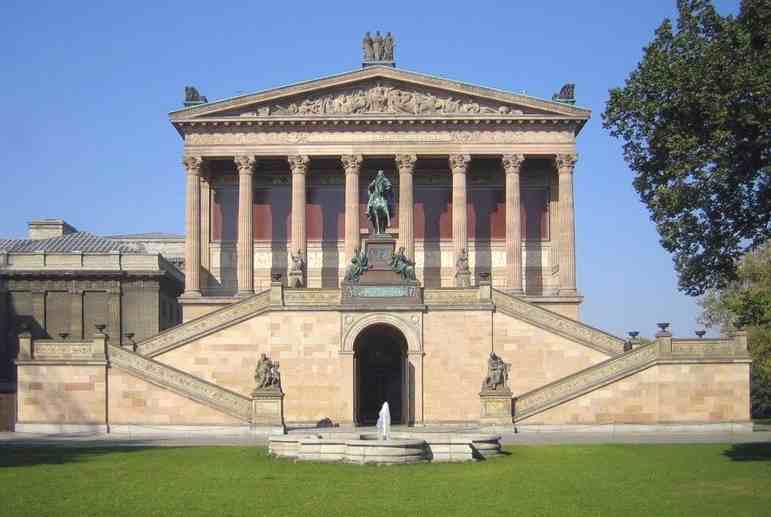 Alte Nationalgalerie
Berlin is noted for its numerous cultural institutions, many of which enjoy international reputation. In addition, cultural diversity and tolerance remain from the time when West Berlin took pride in its role as a "free city" with the motto "something for everyone."
Berlin has a rich art scene, and it is home to hundreds of art galleries. The city is host to the Art Forum annual international art fair. Many young Germans and international artists continue to settle in the city, and Berlin has established itself as an important center of youth and popular culture in Europe. Signs of this expanding role were the 2003 announcement that the annual Popkomm, Europe's largest music industry convention, would move to Berlin after 15 years in Cologne. Shortly thereafter, MTV also decided to move its German headquarters and main studios from Munich to Berlin. Universal Music Group opened its European headquarters on the banks of the River Spree in an area known as the mediaspree. Since 2005, Berlin has been listed as a UNESCO City of Design.
Education
Berlin is one of Germany's most important centers of higher education and research, with four universities, numerous professional, technical, and private colleges, and a large number of research institutes and thinktanks.
Higher education, research
Around 140,000 students attend the universities and professional or technical colleges. The three largest universities alone account for around 110,000 students. These are the Freie Universität Berlin with 40,840 students, the Humboldt Universität zu Berlin with 36,423 students, and the Technische Universität Berlin with 31,547 students.The Universität der Künste has about 4,300 students. In addition to these universities, there is a wide range of professional and technical colleges (called Fachhochschulen in German) training students in a wide range of disciplines, from business and management to the arts. Berlin also has a large concentration of research institutions independent of, or only loosely connected to its universities with a total number of 62,000 scientists working in research and development. Together with its universities, these research institutions make Berlin one of the most important centers for research in Europe.
In addition to the libraries affiliated with the various universities, the Staatsbibliothek zu Berlin is a major research library. It has two main locations, one near Potsdamer Platz on Potsdamer Straße and one on Unter den Linden. There are 108 public libraries to be found in the city.
Schools
Berlin has 878 schools teaching 340,658 children in 13,727 classes (for 2004/2005) and 56,787 trainees in businesses and elsewhere. The city has a six-year primary education program. After completing primary school, students progress to one of four types of secondary school for six further years: Hauptschule, Realschule, Gymnasium, or Gesamtschule. The Französisches Gymnasium Berlin, which was founded in 1689 for the benefit of Huguenot refugees, offers bilingual (German/French) instruction. Among its former students are Wernher von Braun, Reinhard Mey, and Gesine Schwan.
---
A taste for adventure capitalists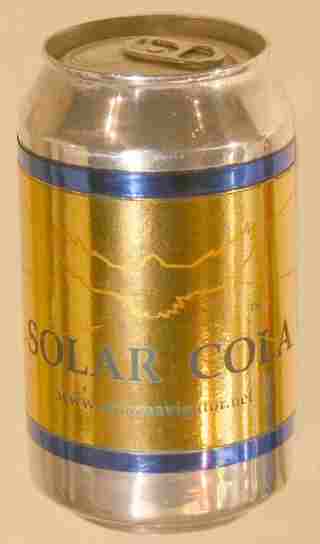 Solar Cola - a healthier alternative