Could houses like this built as village communities save the planet? 21st Century Caves is one of the Utopia Tristar Partners. They believe that modern houses should be energy self sufficient - and that will significantly contribute to reducing greenhouse gasses.

A highly insulated integrated house - supplied as RE flatpacks.

A village unit comprising 100 of the RE flatpacks. These houses collect heat and electricity from nature and store that energy for central heating, lighting and to power electric cars. These houses communicate with their neighbors and other similar villages to form intelligent communities. Excess energy may be used for community halls, swimming pools, etc.

The best thing about these developments is that they are affordable. Prices for a two bedroom basic house is in the £50,000 region. A four bedroom family unit is in the £150,000 region. Social landlords (including councils) or self-build cooperatives, could construct these villages and solve the present housing and energy crisis in one go. Affordability = sustainability.

A sustainable village unit of the future
On the 6th of December 2012, two vessels collided 60 miles out from Rotterdam. The Baltic Ace sank, killing 5 crew members (confirmed), with others un-recovered. Human error has been blamed for the accident.
A higher level of autonomy could have prevented this accident. That is another reason that we began this project. We are the John Harrison's of today, and just like the inventor of the marine chronometer, we need financial support. We also need expert help from educational institutions, small specialist firms and individuals as part of a collaborative team effort - so please get in touch today if you are interested in working with the team.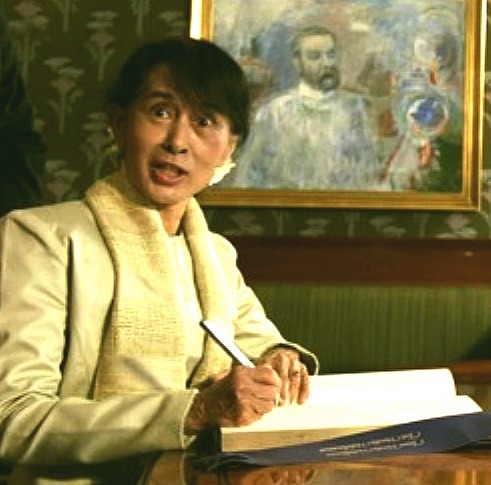 Aung San Suu Kyi acceptance speech 16th June 2012 - for the Nobel Peace Prize 1991
WORLD RECORD Truly an amazing achievement. The Tūranor PlanetSolar (from Tolkien) pictured left was launched in March 2010 in Kiel, Germany. The electric circumnavigation has taken roughly 584 days to cover 32,100 miles giving an average speed of around 2.63 knots, completed at 2:15pm on the 4th of May 2012. For a pioneering first that is quite spectacular running. All of us at Max Energy offer our most heartfelt congratulations.

Solar Navigator (development model right) is set to challenge that record with a more efficient hull form and a power to weight ratio more than twice that of the TPS. The SN team are going to give it a go, provided that the 5th test model lives up to expectations and funding is secured. This ship does not need a crew, it is the world's most advanced robot ship - capable of an autonomous world navigation.

NEW WORLD RECORD ATTEMPT - Could this be the answer to the limited range of today's electric cars? This electric streamliner has built in refueling system to allow fresh runs with a fully charged battery. The quick change cartridges are to be charged by a special solar array, so that the attempt is virtually carbon neutral.

'BLUEPLANET ECOSTAR' has applied to the European Commission call for proposals: 29/G/ENT/CIP/12/N05S00. If funding is achieved we could one day see road cars with instant battery cartridge refueling and service stations.

GLOBAL WARMING Will the proposed Green Bill head off climate change in the coming years. Every saving counts via Local Agenda 21 if we are to combat Global Warming,

President Barak Obama keeps smiling while the ice caps are melting, which is tangible proof our climate is changing and worryingly, faster than predicted, causing some concern for scientists.

With an economy based on oil, he'll have to do some fast talking with well managers, unless of course he can find another way of upping the flow of crude from the middle east without costing lives. Will the G20 go for peace and alternative energy.
AFFORDABLE HOUSING & THE ECONOMY - Bringing down the cost of housing for first time buyers, will also relieve a number of social problems, such a debt, where house prices and mortgages are simply too expensive for those on the first rung of the ladder. One major problem is that land is not being made available at affordable prices. This is the artificial barrier to true affordability. Council's and planners in particular want their pound of flesh and are not providing a rolling supply of cheap land for building - of course not, no more brown envelopes! it's the Old Boys Act that is preventing young home buyers getting onto the housing ladder. It was the same with the Banks. Cameron's cabinet propping up his old chums with our money, instead of letting dead leaves fall naturally.

UK PM Will David Cameron tackle accountability for the ordinary taxpayer. To give every citizen an equal opportunity in dealings with their local Council and the Police. He lost a lot of ground to Labour in the local May elections. UKIP gained a lot of ground.

G
G
G
News A to Z directories, please click on the links below to find your favourite news or to contact the media to tell your story:
There was a time when you had the time to enjoy the simple pleasures in life. Now we rarely speak to our partners and have to schedule time to touch base on the important issues. No wonder the divorce rate is rising and no wonder our values are changing to reflect the disposable society we are creating. Instead of helping our neighbours, some of them we fear, simply because we don't understand their culture and they ours. Whereas, the world is shrinking due to globalisation and free information exchange, much of which is achieved via the internet.
CURRENT AFFAIRS TV PROGRAMMES:
EQUINOX | CUTTING EDGE | FILE ON FOUR | MAN ALIVE | NEWSNIGHT | NEWSWATCH | PANORAMA
QUESTION TIME | THE MONEY PROGRAMME | THIS WEEK
The Queen's Jubilee

D-Day Remembrance June 6th 1944 - Operation Neptune

Bertrand Piccard flew the Solar Impulse from Madrid to Morocco in 20 hours landing at Rabat Sale, Morocco on June 5 2012
WE ACCEPT NO RESPONSIBILITY FOR THE ACCURACY OF ANY FEATURED LINKS