Naples, located in the southern part of Italy in the region of Campania, is the third most populated city in Italy, with over one million inhabitants. Naples sits on the northern edge of one of the most beautiful bays in Italy - the Bay of Naples.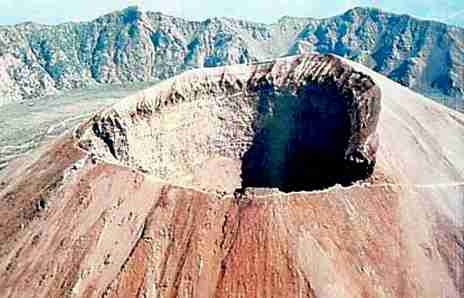 Mount Vesuvius
The famous Mount Vesuvius and the romantic islands of Capri and Ischia lie in close proximity to the city. With its sunny climate, numerous historic and artistic sights, friendly people, great cuisine, and a gorgeous natural setting, Naples has long been a favourite destination in Italy for visitors.
Past and Present: Naples is a very old city, having been established as a Greek trading center around 600 BC. The city was later conquered by the ancient Romans and became a residence of several emperors and other important persons of that time.
Today Naples is a bustling city located in a beautiful natural setting, with a colorful street life, chaotic traffic, and numerous narrow and winding alleyways that lead to many quaint shops and restaurants. There is much to see and do in Naples and the surrounding areas.
National Archaeological Museum of Naples: This museum houses one of the world's great collections of Greek and Roman antiquities. The museum has many priceless artifacts retrieved from the nearby ruins of Pompeii and other archaeological sites located in southern Italy. The collection includes ancient Greek and Roman sculptures, a famous mosaic of Alexander the Great, and a collection of ancient coins, medals, cameos, silverware and jewelry. A detailed model of Pompeii is also on display.
Dining: Neapolitan cuisine is famous worldwide, and there is no shortage of quality restaurants catering to all budgets. Dining in a Neapolitan restaurant is traditionally a festive occasion enlivened by the numerous variety of savory pasta and pizza dishes listed on most menus. Although pizza and pasta are the culinary symbols of Neapolitan cuisine, Naples is also known for its superb cheeses (including the famous mozzarella), its tasty fish and seafood dishes, and its delicious ice cream and pastries.

Map of Italy
Shopping: Naples offers some of the finest shopping opportunities in Italy. Naples has hundreds of small artisan shops offering authentic hand made gift and souvenir items. These include shops run by jewelers, silver crafters, stone carvers, engravers, ceramicists and glove makers. The areas of Via Toledo and Via Chiaia are dotted with fashionable boutiques where high quality, fashionable clothing and accessories can be purchased. Naples also has numerous outdoor markets where many local residents shop.
Capri: From Naples, it is a short trip over to the fabled island of Capri - playground of the rich and famous. You can reach the island by hydrofoil or by ferry. On arrival at the dock, you can ride a tramway up to the small town of Capri. The famous Piazzetta square in the center of town is a good place to shop or enjoy a drink. A walking tour of the town enables you to view the magnificent garden terraces, and historic churches and villas.
Very near the town of Capri is another small village called Anacapri where you can take a chair lift to the top of one of the highest peaks on the island and enjoy a breathtaking view of the Bay of Naples.
Ischia: A worthwhile activity is taking a scenic boat trip to Ischia, the largest of the islands in the Bay of Naples. You may spend the day relaxing on one of the beaches, or in the one of the 103 thermal springs scattered throughout the island. You may also visit the spectacular Castello d'Ischia, a 14th century castle situated on a rocky cliff overlooking the sea. Ischia has numerous restaurants offering delicious culinary specialities based on fish and seafood.
Facts for the Traveler: Visas: Italy, along with Austria, Belgium, France, Germany, Luxembourg, the Netherlands, Portugal and Spain, forms part of the border-free travel zone subject to the Schengen Agreement. EU passport holders can come and go as they please. Citizens of the USA, Australia, Canada, Japan and New Zealand are among those who may enter Italy as tourists without a visa and stay up to 90 days. Health risks: Rabies (only found in the Alpi), Leishmaniasis (in coastal regions) and Lyme Disease.

Time: GMT/UTC +1 (+2 in summer) Electricity: 220V (some 125V still found) 50 Hz Weights & measures: Metric

When to Go: Italy is at its best in spring (April-May) and autumn (October-November). During these seasons, the scenery is beautiful, the temperatures are pleasant and there are relatively few crowds. Try to avoid August, as this is the time that most Italians take their vacations, and many shops and businesses are closed as a result.
The ski season generally lasts from December to late March; sea swimming is best between June and September; and July and September are the best months for walking in the Alps. The further south you go, the longer you can linger into November and December without feeling the pinch of winter. Italy's multitude of festivals and traditional events may be a factor in planning your visit. Easter, in particular, is celebrated fervently, and every second town has a festive Saint's day.

The Coliseum - Rome
Naples, Italy Naples, located in the southern part of Italy, has long been a favourite Italian destination for visitors. Find out why.
Naples in Virtual Reality Take a well-designed virtual tour of Naples' major sights and attractions.
Traveleurope - Naples Book accommodations and flights to Naples, Italy. Also, find pictures and a detailed description of this charming city.
Capri Web - Naples Find photos and read descriptions of some of Naples major sights and attractions, including the famous Plebiscite Piazza.
Caracciolo Promenade View quality photos of and read some interesting facts about the large seaside promenade in Naples.
Ischia Many visitors to Naples take a day trip to this island off the coast of Naples. View a map of the island and read about its hot springs.
Italy A simple political map, comprehensive data, and flag from the CIA World Factbook.
Blank Outline Map of Italy A free blank outline map to print out for educational, school, or classroom use.
Merriam-Webster Map of Italy A clear detailed map with basic geographic facts. The map includes many cities and physical features.
Shaded Relief Map of Italy A large (253 K) map of Italy from the PCL Map Collection.
Italy Great data and historical information from Infoplease.com.

Italy for Visitors This excellent About.com site provides a plethora of resources.

Italian Culture Fantastic cultural resources from About.com

Italy - Background Notes A great profile, including political history, from the State Department.

Italy - Consular Information Sheet Travel warnings from the State Department.

Italy - Lonely Planet A wonderful and thorough resource along with a basic map from Lonely Planet.

Italy - Flags of the World The flag and everything you ever wanted to know about the flag.

Italy The official site of the embassy of Italy in Washington D.C.

Italian State Tourism Board The official tourism site.
Italy - General
Florence
Milan
Naples
Rome
Venice
Italian Riviera
Amalfi / Capri
Tuscany
Trieste
Sicily
Sardinia
Other Regions
Accommodation
Cruises
History & Culture
Italian Cuisine
Maps
Ski Areas
Shopping
Tour Operators
Transportation
Travelogues
Weddings / Romance
---
A taste for adventure capitalists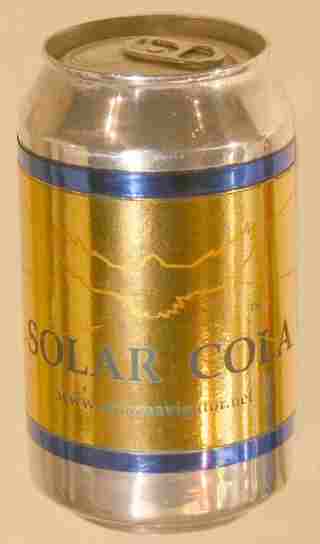 Solar Cola - a healthier alternative