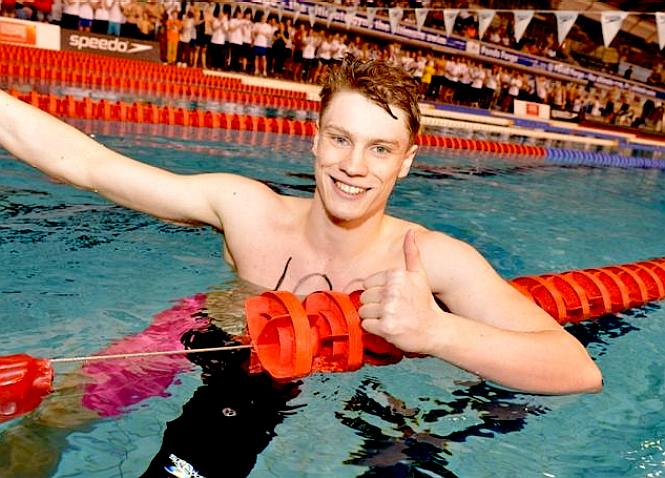 GUINNESS WORLD RECORD - 6 FEB 2014 - A team of 100 swimmers featuring past and present British internationals has set a new Guinness World Record over 100x100m at Ponds Forge, Sheffield to raise money for cancer research.

British Podium Potential swimmer Lewis Coleman spent the past year organising the 'Swim4Leukaemia' event after his mother Maggie was diagnosed with acute lymphoblastic leukaemia in June 2012.

Olympic medallists Rebecca Adlington, Steve Parry and Michael Jamieson were among the 100 who took to the water in front of a full house in Sheffield as the team set a new record of 1:29:3 to smash the old time of 1:37:53 set in Australia in 2011.

Coleman's 10-year old brother Oliver led off the relay attempt while Lewis swum the anchor leg.

"It was an absolutely fantastic day," said Coleman. "I'd like to thank everyone for coming down and helping us to raise over £26,000 for Leukaemia and Lymphoma Research. Everyone's support has been overwhelming.

"My world was rocked when Mum was diagnosed with leukaemia and I decided I wanted to raise money to help beat blood cancer.

"I wanted to do my bit so that more people can have access to new drugs or clinical trials to help them beat this disease. Swimming has always been a massive part of my family's life so I thought it would be fitting for the fundraising event to be swimming related."

Adlington is quoted as saying: "I just wanted to be a part of it and help Lewis. His family have been through such a lot and it's a brilliant charity so I was really pleased to be able to help.

"People travelled from all over the country to take part or watch, which shows what a tight swimming community we've got."

Jamieson is quoted as saying: "I'm in awe of everything we achieved. The atmosphere was brilliant, a huge amount of money was raised and we broke a Guinness World Record. Everyone enjoyed it, although the swimmers were really nervous as we didn't want to let anyone down!"

Edinburgh University swimmer Caitlin McClatchey, said: "Lewis has done an amazing job, he is an absolute inspiration.

"Leukaemia and Lymphoma Research is a charity very close to my own heart because my father suffers from a blood cancer, so I was very honoured to take part in such a great event."
Swimming is a healthy workout that can be undertaken daily if time allows, for a lifetime. It is a low-impact activity that has several mental and bodily health benefits, and is a recreational exercise for everyone. Swimming can provide a low-impact workout. Swimming builds endurance, muscle strength, and cardiovascular fitness.

The US Census Bureau reports that two and a half hours per week of aerobic physical activity such as swimming can decrease the risk of chronic illnesses. Along with this, swimming is linked to better cognitive function, lower risk of type 2 diabetes, lower risk of high blood pressure, and lower risk of stroke. People are typically able to exercise longer in water than on land without increased effort, and minimal joint or muscle pain.


DESCRIPTION

Human swimming is the self-propulsion of a person through water or another liquid, usually for the purpose of recreation, sport, exercise, or survival. Locomotion is achieved through coordinated movement of the limbs, the body, or both. Humans are able to hold their breath underwater and undertake rudimentary locomotive swimming within weeks of birth, as an evolutionary response.

Swimming is consistently found to be among the top recreational activities undertaken by the public, and in some countries, swimming lessons are a compulsory part of the educational curriculum. As a formalized sport, swimming features in a range of local, national, and international competitions, including every modern summer Olympics, which occurs every four years.


SWIMMING SCIENCE

Swimming relies on the natural buoyancy of the human body. On average, the body has a relative density of 0.98 compared to water, which causes the body to float. However, buoyancy varies on the basis of both body composition and the salinity of the water. Higher levels of body fat and saltier water both lower the relative density of the body and increase its floatation.

Since the human body is only slightly less dense than water, water supports the weight of the body during swimming. As a result, swimming is "low-impact" compared to land activities such as running. The density and viscosity of water also create resistance for objects moving through the water. Swimming strokes use this resistance to create propulsion, but this same resistance also generates drag on the body.

This means that hydrodynamics are an important factor in stroke technique in terms of swimming faster, and swimmers wishing to swim faster, or wishing to tire less, will try to reduce the drag caused by the body's motion through the water. In order to be more hydrodynamic, swimmers can either increase the power of their strokes or reduce their water resistance, although increasing power to overcome resistance needs to increase by a factor of three to achieve the same effect as reducing resistance.

Efficient swimming by reducing water resistance involves having a horizontal water position, rolling the body in order to reduce the breadth of the body in the water, and extending the arms as far as possible in order to reduce wave resistance.


AMATEUR SWIMMING ASSOCIATION (ASA)

The Amateur Swimming Association (ASA) has been in existence since 1869. It was the first governing body of swimming to be established in the world and today remains the English national governing body for swimming, diving, water polo, open water and synchronised swimming.

Although the ASA has a long history, it has moved on considerably since its foundation and is now a vibrant modern governing body providing leadership to the industry of swimming in so many ways.

It supports over 1,200 affiliated swimming clubs through a National, Regional and sub-regional structure. It endeavours to ensure every athlete – whatever their age or level of experience – belongs to a club that provides the best possible support and environment through schemes such as swim21, the ASA's 'Quality Mark' for clubs.

It organises competition throughout England, from grass-roots to elite level, including the highly successful Age Group and Youth Championships that attract more than 1,600 young swimmers aged 11-17, and the ASA Nationals.
ASA CONTACTS

SportPark, 3 Oakwood Drive, Loughborough, Leicestershire LE11 3QF.

Email us at: customerservices@swimming.org
Telephone: 01509 618 700
Twitter: www.twitter.com/asaaquatics
Facebook: www.facebook.com/ASAswimming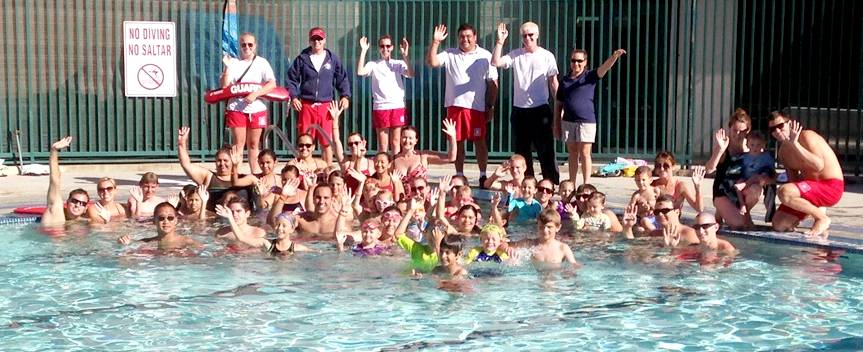 JUNE 18 2013 - Santa Clarita in Guiness World Record Books for Participating in Largest Simultaneous Swim Lesson. It's official, the City of Santa Clarita is in the book of Guinness World Records. On June 18, the City of Santa Clarita participated setting a new world record for the largest simultaneous swim lesson during the 2013 World's Largest Swim Lesson at the Newhall Park pool. This event consisted of a simultaneous swim lesson that occurred at 432 facilities, throughout 13 countries, and had 32,450 participants. There was a 30% participation increase from the 2012 record of 24,873 participants. This was the fourth year of the Guinness World Record setting event that has been held. The goal of the event is to raise awareness and bring attention to the importance of teaching children how to swim.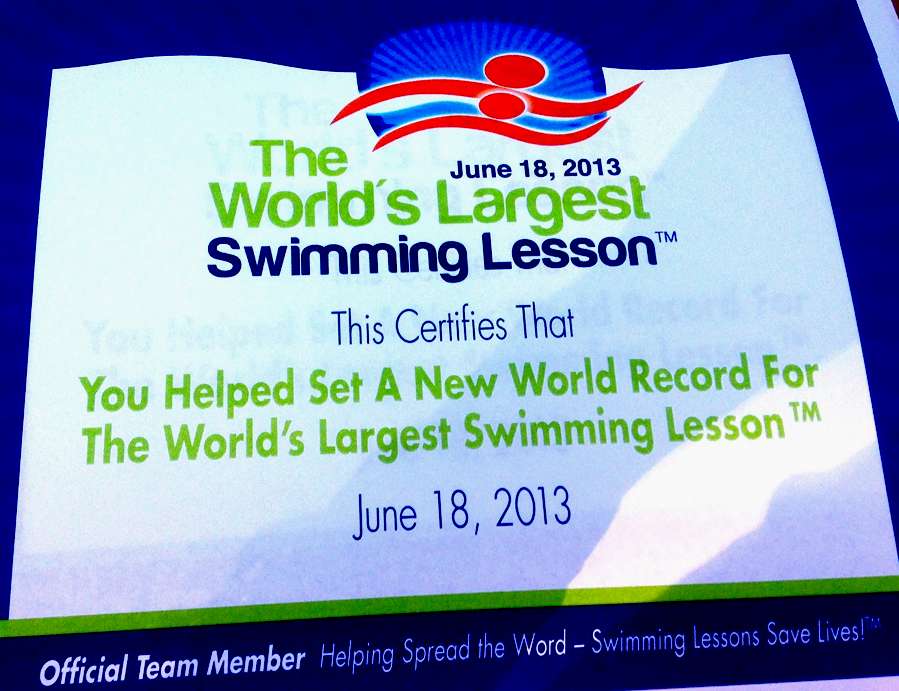 COMPETITIVE SWIMMING

Swimming is an individual or team sport and activity. Competitive swimming is one of the most popular Olympic sports, with events in freestyle, backstroke, breaststroke, and butterfly.

In competitive swimming, four major styles have been established. These have been relatively stable over the last 30–40 years with minor improvements. The four main strokes in swimming are:

* Butterfly (fly)
* Backstroke (back)
* Breaststroke (breast)
* Freestyle (free)

Events in competition may have only one of these styles except in the case of the individual medley, or IM, which consists of all four. In this latter event, swimmers swim equal distances of butterfly, then backstroke, breaststroke, and finally, freestyle. In Olympic competition, this event (called the "IM") is swam in these distances - 200 or 400 meters. Some competition also swims the 100 yard or meter IM - particularly, for younger swimmers (typically under 14 years) involved in club swimming, or masters swimming (over 18).
DOLPHIN KICK

In the past two decades, the most drastic change in swimming has been the addition of the underwater dolphin kick. This is used to maximize the speed at the start and after the turns in all styles other than Breaststroke (where an underwater 'pull-out' is allowed). The first successful use of it was by David Berkoff. At the 1988 Olympics, he swam most of the 100 m backstroke race underwater and broke the world record on the distance during the preliminaries. Another swimmer to use the technique was Denis Pankratov at the 1996 Olympics in Atlanta, where he completed almost half of the 100 m butterfly underwater to win the gold medal. In the past decade, American competitive swimmers have shown the most use of the underwater dolphin kick to gain advantage, most notably Olympic and World medal winners Michael Phelps and Ryan Lochte; however these swimmers are not able to go any further than fifteen metres underwater due to rule changes by FINA.

While the dolphin kick is mostly seen in middle-distance freestyle events and in all distances of backstroke and butterfly, it is not usually used to the same effect in freestyle sprinting. That changed with the addition of the so-called "technical" suits around the European Short Course Championships in Rijeka, Croatia in December 2008. There, Amaury Leveaux set new world records of 44.94 seconds in the 100 m freestyle, 20.48 seconds in the 50 m freestyle and 22.18 in the 50 m butterfly. Unlike the rest of the competitors in these events, he spent at least half of each race submerged using the dolphin kick.
COMPETITION POOLS

World Championship pools must be 50 metres (160 ft) (long course) long and 25 metres (82 ft) wide, with ten lanes labelled zero to nine (or one to ten in some pools; zero and nine (or one and ten) are usually left empty in semi-finals and finals); the lanes must be at least 2.5 metres (8.2 ft) wide. They will be equipped with starting blocks at both ends of the pool and most will have Automatic Officiating Equipment, including touch pads to record times and sensors to ensure the legality of relay take overs. The pool must have a minimum depth of two metres.

Other pools which host events under FINA regulations are required to meet some but not all of these requirements. Many of these pools have eight instead of ten lanes and some will be 25 metres (82 ft) long, making them Short course. World records that are set in short course pools are kept separate from those set in long course pools because it may be an advantage or disadvantage to swimmers to have more or less turns in a race.


SWIMWEAR

Swimsuit

The suit covers the skin for modesty. Competitive swimwear seeks to improve upon bare human skin for a speed advantage. In 2009, FINA rules and regulations were altered and suits made with polyurethane were banned because they made athletes more buoyant. These rules also banned suits which go above the navel or below the knee for men and suits which extend past the shoulders or cover the neck for women.

Swim cap

A swim cap (a.k.a. cap) keeps the swimmer's hair out of the way to reduce drag. Caps may be made of latex, silicone, spandex or lycra.

Goggles

Goggles keep water and chlorine out of swimmers' eyes. Goggles may be tinted to counteract glare at outdoor pools. Prescription goggles may be used by swimmers who wear corrective lenses.

Swim Fins

Rubber fins are used to help kick faster, but are illegal in a race. They also improve technique by keeping the feet in the proper position while kicking.

Drag suit

Swimmers use drag suits to increase resistance.

Hand paddles

Swimmers use these plastic devices to build arm and shoulder strength and refine pulling technique. Hand paddles attach to the hand with rubber tubing or elastic material. They come in many different shapes and sizes, depending on swimmer preference or if a team has begun to taper.

Kickboard

A kickboard is a foam board that swimmers use to support the weight of the upper body while they focus on kicking; helps build leg muscles. (Is usually used during practice)

Pull buoy

Often used at the same time as hand paddles, pull buoys support swimmers' legs (and prevents them from kicking) while they focus on pulling. Pull buoys are made of foam so they float in the water. Swimmers hold them in between the thighs.

Ankle bands

Improving balance will minimize the need for this kick to provide an upward, instead of a forward vector, and in some cases completely corrects the kick. Using an ankle band will have the immediate effect of turning off your kick, which then forces you to make efforts to correct your balance. If you are successful in discovering these, then the ankle band has done part of its job.

Snorkel

A snorkel is a plastic device that helps swimmers breathe while swimming. This piece of equipment helps the swimmer practice keeping his or her head in one position.

Tempo trainer

a beeping clock attached to a swimmers cap or goggles helps them maintain a certain arm tempo or speed. As each beep is heard, their next stroke should be taken.

Zoomers

a type of rubber swimming fins, zoomers are cut off fins with the holes in the bottom. They help make the swimmer kick faster, but at the cost of working harder.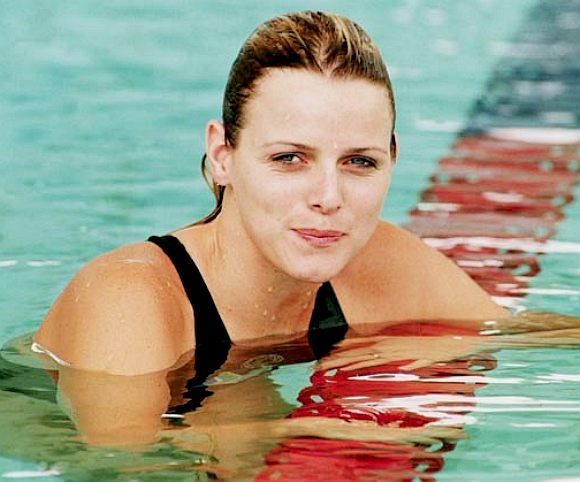 PRINCESS CHARLENE - Olympic swimmer and gold medallist.
REGULAR SWIMWEAR FOR WOMEN

Women wear one-piece suits with different backs for competition, though there are two-piece suits that can be worn to compete as well. Backs vary mainly in strap thickness and geometric design. Most common styles include: racerback, axel back, corset, diamondback, and butterfly-back/Fly-Back. There are also different style lengths: three-quarter length (reaches the knees), regular length (shoulders to hips), and bikini style (two-piece). Also as of January 1, 2010, in competition, women are only allowed to wear suits that do not go past the knees or shoulders.


REGULAR SWIMWEAR FOR MEN

Men's most used practice swimwear include briefs and jammers. Males generally swim barechested.

There has been much controversy after the Beijing Olympic Games in 2008, when many Olympic swimmers broke records an unprecedented number of times using revolutionary swimsuits. To highlight the issue, in 2008, 70 world records were broken in one year, and 66 Olympic records were broken in one Olympic Games (there were races in Beijing where the first five finishers were swimming faster than the old world record).

As of January 1, 2010, men are only allowed to wear suits from the waist to above the knees. They are also only permitted to wear one piece of swimwear; they cannot wear briefs underneath jammers. This rule was enacted after the controversy in the Beijing Olympics and Rome World Championships.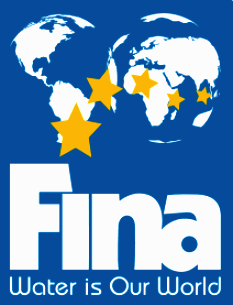 FINA

The Fédération internationale de natation (English: International Swimming Federation) is the international federation recognized by the International Olympic Committee (IOC) for administering international competition in Aquatics. It is one of several international federations which administer a given sport/discipline for the IOC and/or international community. It is based in Lausanne, Switzerland.

FINA currently oversees competition in five aquatics sports: swimming, diving, synchronized swimming, water polo and open water swimming. Beginning in 2013, high diving is an emerging discipline within FINA. FINA also oversees "Masters" competition (for adults) in its disciplines.

On 24 July 2009, Julio Maglione of Uruguay was elected FINA President.


CHANGES TO THE SPORT

Swimming times have dropped over the years due to better training techniques and to new developments.

The first four Olympics were not held in pools, but in open water (1896 – The Mediterranean, 1900 – The Seine River, 1904 – an artificial lake, 1906 – The Mediterranean). The 1904 Olympics' freestyle race was the only one ever measured at 100 yards, instead of the usual 100 meters. A 100-meter pool was built for the 1908 Olympics and sat in the center of the main stadium's track and field oval. The 1912 Olympics, held in the Stockholm harbor, marked the beginning of electronic timing.

Male swimmers wore full-body suits until the 1940s, which caused more drag in the water than their modern swimwear counterparts did. Competition suits now include engineered fabric and designs to reduce swimmers' drag in the water and prevent athlete fatigue. In addition, over the years, pool designs have lessened the drag. Some design considerations allow for the reduction of swimming resistance, making the pool faster. Namely, proper pool depth, elimination of currents, increased lane width, energy absorbing racing lane lines and gutters, and the use of other innovative hydraulic, acoustic, and illumination designs. There have been major changes in starting blocks over the past years. Starting blocks used to be small, narrow and straight but throughout time they have become bigger and wider and nowadays the surface of the block is angled towards the swimming pool. In addition, starting blocks now have a "lip" which is a raised, slanting platform situated at the rear of the main block. This enables the swimmer to adopt a crouched position at a 90 degrees angle and push off with the rear leg to increase their launch power.

The 1924 Summer Olympics were the first to use the standard 50-meter pool with marked lanes. In the freestyle, swimmers originally dove from the pool walls, but diving blocks were incorporated at the 1936 Summer Olympics. The tumble turn was developed by the 1950s and goggles were first used in the 1976 Olympics.

There were also changes in the late 20th century in terms of technique. Breaststrokers are now allowed to dip their heads completely under water, which allows for a longer stroke and faster time. However, the breaststrokers must bring their heads up at the completion of each cycle. In addition, a key hole pull in the breaststroke start and turns has been added to help speed up the stroke. There have been some other changes added recently as well. Now off the start and turns, breaststrokers are allowed one butterfly kick to help increase their speed. Backstrokers are now allowed to turn on their stomachs before the wall in order to perform a "flip-turn". Previously, they had to reach and flip backwards and a variation of it, known as a "bucket turn" or a "suicide turn", is sometimes used in individual medley events to transition from backstroke to breaststroke.
MARTIN STREL - Is a 5 Times Guinness World Record Holder. Martin´s swimming motto is: ´Swimming for peace, friendship and clean waters.´ There are still plenty of rivers, oceans and lakes, but Strel thinks he is done with the big ones. Howecer, he still wants to pursue some new challenge, but who knows what he will be swimming next? It takes big decision to make a splash in any of these mighty rivers not knowing what to expect. Even if Strel does not make any more swimming challenges, he will remain as one of the greatest adventurers on the planet and his swimming feats will high likely remain untouched for many decades.
MARATHON RECORD - The record for the longest team swimming marathon is (@2015) 240 hours and was set by Matt Howard, Todd Primmer, Matt Murphy, Sue Meckley, John Kocher and Dave Schilling (all USA). The team of six completed a distance of 469.5 miles (755.58 km) in the YMCA Pool, Newark, Ohio, USA on 24 August 1979.
SWIMMING RECORDS

The foundation of FINA in 1908 signaled the commencement of recording the first official world records in swimming. At that time records could be established in any swimming pool of length not less than 25 yards, and records were also accepted for intermediate distance split times from longer distance events. Today World Records will only be accepted when times are reported by Automatic Officiating Equipment, or Semi-Automatic Officiating Equipment in the case of Automatic Officiating Equipment system malfunction.

Records in events such as 300 yd, 300 m, 1000 yd, and 1000 m freestyle, 400 m backstroke, and 400 m and 500 m breaststroke were no longer ratified from 1948. A further removal of the 500 yd and 500 m freestyle, 150 m backstroke, and 3×100 m medley relay from the record listings occurred in 1952.

In 1952, the national federations of the United States and Japan proposed at the FINA Congress the separation of records achieved in long-course and short-course pools, however it was four more years before action to came into effect with Congress deciding to retain only records held in 50 m pools as the official world record listings.

By 1969 there were thirty-one events in which FINA recognised official world records – 16 for men, 15 for women – closely resembling the event schedule that was in use at the Olympic Games.

The increase in accuracy and reliability of electronic timing equipment led to the introduction of hundredths of a second to the time records from 21 August 1972.

Records in short course (25 m) pools began to be officially approved as "short course world records" from 3 March 1991. Prior to this date, times in short course (25 m) pools were not officially recognised, but were regarded a "world best time" (WBT). From 31 October 1994 times in 50 m backstroke, breaststroke, and butterfly were added to the official record listings.

FINA currently recognises world records in the following events for both men and women.

Freestyle: 50 m, 100 m, 200 m, 400 m, 800 m, 1500 m
Backstroke: 50 m, 100 m, 200 m
Breaststroke: 50 m, 100 m, 200 m
Butterfly: 50 m, 100 m, 200 m
Individual medley: 100 m (short course only), 200 m, 400 m
Relays: 4×100 m freestyle, 4×200 m freestyle, 4×100 m medley




Swimming at the London Aquatics Centre is like swimming in no other pool in the World. This unique centre is the most technologically advanced swimming facility in London and home of the 2012 London Olympic and Paralympic Legacy. Visit the venue and experience the magic for yourself. Whether you're a novice swimmer or an experienced athlete, visiting as a tourist or a local family, the London Aquatics Centre provides ways for you to get in on the action at this outstanding facility and is a must for anyone visiting or living in London.


Email: legacy.venues@gll.org

Queen Elizabeth Olympic Park
London
E20 2ZQ
Tel: 0208 536 3150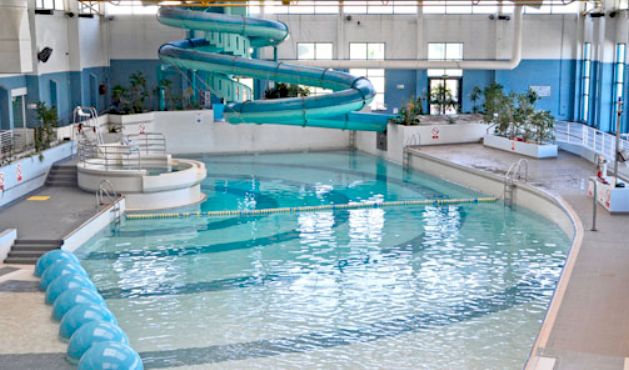 The Sovereign Centre (Swimming Pool)
Royal Parade
Eastbourne
East Sussex
BN22 7LQ
0845 2671200


EASTBOURNE SWIMMING CLUB (ESC)

ESC is the largest and oldest swimming club in Eastbourne with over 300 regular swimmers.

The club started in 1866, about one hundred and forty years ago, since when the group have been teaching, practicing and enjoying swimming and the other water disciplines, as a voluntary organisation.

In 1864 John Brown moved from London to open a furniture business in Pevensey Road. He started to swim in the sea and was joined by a few other swimmers until in 1866 he proposed that a Swimming Club be formed, from a meeting of interested swimmers.

In 1866 Mr John Easter was elected as Hon. Secretary & Treasurer of Eastbourne Swimming Club. Membership was then 2 shillings and 6 pence a year (12½p).

Club members met on the beach opposite the Royal Marine Hotel at 0700 hours, the club did not have any lady members to begin with.

With Eastbourne Pier yet to be built as a convenient diving station, the club purchased a 15 ft (5m) diving board mounted on trestles, thus identifying a need for a swimming pool.
SWIMMING LINKS & REFERENCE

Wikipedia human_swimming
Swimming British swimming
London swimming
London aquatics centre swimming
The Guardian 2013 May wild-swimming-uk-10-top-rivers-pools
Eastbourne leisure SOVEREIGN_CENTRE
Eastbourne swimming club
Scottish swimming compete clubs
The Guardian 2015 April 100-year-old-Japanese-woman-sets-1500-metre-freestyle-swim-record
Santa Clarita City Briefs kids-drown-without-a-sound
Swimming British news Colemans-charity-swim-sets-Guinness-world-record
Strel Swimming Martin 5 times Guinness World Record holder
http://www.strel-swimming.com/s1a151/news/martin-strel-5-times-guinness-world-record-holder.html
http://www.theguardian.com/world/2015/apr/06/100-year-old-japanese-woman-sets-her-own-1500-metre-freestyle-swim-record
http://www.scottishswimming.com/compete/swimming/clubs.aspx
https://en.wikipedia.org/wiki/Swimming_%28sport%29
https://en.wikipedia.org/wiki/Human_swimming
http://www.swimming.org/britishswimming/
http://www.londonswimming.org/
http://londonaquaticscentre.org/swimming
http://www.theguardian.com/travel/2013/may/10/wild-swimming-uk-10-top-rivers-pools
https://www.eastbourneleisurecentres.com/SOVEREIGN_CENTRE
http://www.eastbourneswimmingclub.org/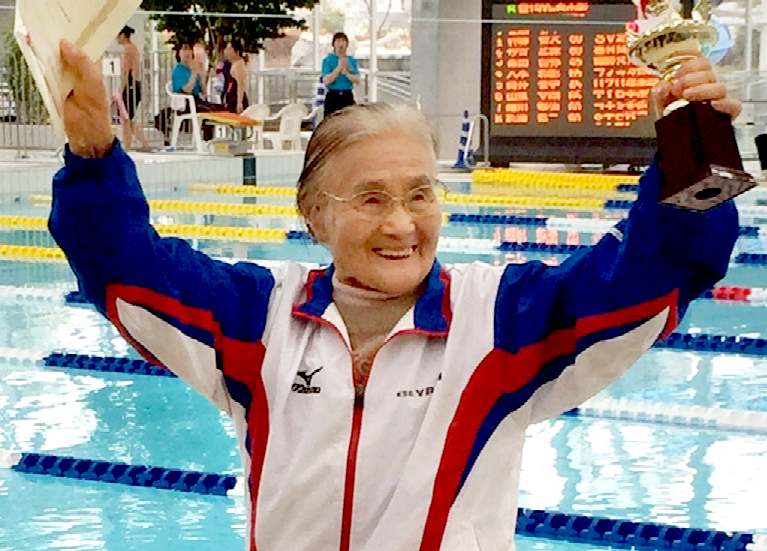 APRIL 2015 - A 100-year-old Japanese woman has become the world's first centenarian to complete a 1,500-metre freestyle swim, 20 years after she took up the sport. Mieko Nagaoka took just under an hour and 16 minutes to finish the race as the sole competitor in the 100 to 104-year-old category at a short course pool in Ehime, western Japan, on Saturday.

"I want to swim until I turn 105 if I can live that long," the sprightly Nagaoka is quoted as saying to Kyodo News. Her achievement is expected to be recognized by Guinness World Records, the agency reported.

Nagaoka, who published a book last year entitled 'I'm 100 years old and the world's best active swimmer', is no stranger to the 1,500m race, having completed the distance at the age of 99 in an Olympic-sized pool.

Nagaoka only took up swimming when she hit 80, one of the growing number of elderly Japanese who are enjoying longer and healthier lives as the country ages. There were nearly 59,000 centenarians in Japan in September last year, government figures show – which means 46 out of every 100,000 people is 100 or over. Among them are several who remain physically active long after many people have given up the ghost. They include 103-year-old sprinter Hidekichi Miyazaki, who holds the world record for the 100-metre dash in the 100 to 104 age category, clocking up a respectable 29.83 seconds. His late-blooming athletic prowess has seen him dubbed "Golden Bolt" – a reference to Jamaican sprinter Usain Bolt.
A - Z SPORTS INDEX