By August 15, 1914 the Panama Canal was officially opened by the passing of the SS Ancon. At the time, no single effort in American history had exacted such a price in dollars or in human life. The American expenditures from 1904 to 1914 totaled $352,000,000, far more than the cost of anything built by the United States Government up to that time. Together the French and American expenditures totaled $639,000,000. It took 34 years from the initial effort in 1880 to actually open the Canal in 1914. It is estimated that over 80,000 persons took part in the construction and that over 30,000 lives were lost in both French and American efforts.

Despite its small population and area (3.06 million and 30,193 square miles respectively), Panama is an important center for international trade in the Western Hemisphere, as both a major shipping thoroughfare and a regional economic power. Since 1992, an average of 185 million long tons of cargo has passed annually through the Panama Canal. Panama is also a financial and communications hub that sits at the crossroads of five international fiber-optic networks and hosts 110 international banks.
The Panamanian economy is one of Latin America's most stable, with the Panamanian Balboa being fixed to the dollar since 1903. Panama's Colon Free Trade Zone (CFZ), established in 1953, is the largest in the Western Hemisphere and contributes substantially to the country's economy. The CFZ allows all goods, except firearms and petroleum products, to be imported, stored, modified, repacked, and re-exported without being subject to any customs regulations. Although the country has consistently maintained one of Central America's highest per capita gross domestic product, approximately 37.3% of its population lives in poverty, including nearly 18.8% in extreme conditions, according to government statistics.
The strategic importance of the Panama Canal, shipping and port services not only makes Panama's economy highly dependent on world trade trends, but also vulnerable to fluctuations in the global economy. The recent global downturn brought the growth rate of Panama's economy, which enjoyed an annual average real domestic product growth (GDP) of 5.1% through the 1990s, essentially to a halt. In 2002, canal transits and tonnage, for example, declined 2.3% and 2.8% respectively, over 2001. Imports and re-exports activity at the Colon Free Trade Zone decreased, along with export tonnage of some Panama's major export commodities, for example, bananas (-5.2%) and shrimp (-16.5%). Overall, Panama's real GDP growth fell from 2.5% in 2000 to only 0.3% in 2001 and about 0.8% in 2002. Nonetheless, with the prospects of the global economy improving, Panama's economy will most likely recover. The economy is expected to grow 2.3% in 2003.
On May 2, 1999, Mrs. Mireya Moscoso was elected to a five-year term as president. Since entering office, the Moscoso administration has been trying to reduce the country's public debt while alleviating poverty by funding social projects. However, fiscal restraints, namely the Fiscal Responsibility Law which stipulates that the public-sector debt cannot exceed 2% of GDP in a given year, may make it difficult for the government to implement these programs in their entirety. Along with a sluggish economy, Panama's unemployment remains high, at an estimated 13.2% in 2002. With President Moscoso reaching the end of her term, much of the government's attention will focus on the upcoming national elections, which will be held in May 2004.

THE PANAMA CANAL SOCIETY

"To Preserve American Ideals and Canal Zone Friendships"
The Panama Canal Society, Inc.
A Not-For-Profit Organization
7985 113th Street, Suite 334,
Seminole, Florida 33772-4787
Tel. (727) 391-4359
Fax. (727)-319-8593
Office Hours: 9:00 - 12:00, 1:00-4:00
Monday thru Friday
Toll Free 1-866-726-2262 About the Society
DEDICATION
The Panama Canal Society is dedicated to their thousands of members who have banded together, starting in 1932, to remember the great days of working on the Panama Canal and living, and learning in the Canal Zone and the Republic of Panama.
Since the beginning of construction of the Canal in 1904, tens of thousands of Americans dedicated themselves to building, operating, and defending the Panama Canal as well as providing the government, hospitals, schools and services required to support that population. The Panama Canal ceased to be an American Enterprise on December 31, 1999, ending a long and proud history of service to world commerce.
To the people and the partnership of Americans, Panamanians and citizens from many other nations made this enterprise a success their website is dedicated to:-

Panama holds negligible hydrocarbon energy reserves, and therefore imports are the source of most of its energy consumption. All of the country's oil and coal is imported. In May 2002, the Panamanian government signed an agreement to cease operations of the country's only refinery, Refineria Panama (owned by U.S.-ChevronTexaco). ChevronTexaco reportedly planned to convert the refinery into a fuel import, storage and distribution center.
THE PANAMA CANAL

The Panama Canal extends approximately 50 miles from Panama City on the Pacific Ocean to Colón on the Caribbean Sea. It is widely considered to be one of the world's great engineering achievements. The United States is the largest user of the Canal in terms of cargo tonnage, as either port of origin or destination, although Asian countries are beginning to close the gap. Ships bound for Japan from the East Coast of the United States save about 3,000 miles by going through the Canal; ships sailing from Ecuador to Europe save about 5,000 miles.
TREATIES

In 1903, the Republic of Panama and the United States signed the original Panama Canal Treaty, which allowed the United States to build and operate a canal connecting the Pacific Ocean with the Caribbean Sea through the Isthmus of Panama. The Treaty granted the United States the use, occupation, and control of a Canal Zone, approximately 10 miles wide, in which the United States possessed full sovereign rights. In return, the United States guaranteed the independence of Panama and paid the government of Panama $10 million, as well as an annuity of $250,000, which each year increased at a rate far beyond that of inflation.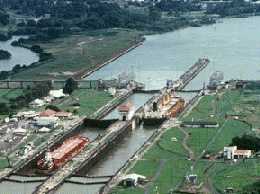 On September 7, 1977, a new Panama Canal Treaty was signed by President Torrijos of Panama and President Carter of the United States that transferred full control of the Canal to Panama on December 31, 1999. Under this Treaty, the Panama Canal Company, the Canal Zone, and its government were disenfranchised on October 1, 1979, and replaced by the Panama Canal Commission that operated the Canal during the 20-year transition period that began with the Treaty. The Panama Canal Commission has now been replaced by a new Panamanian entity, the Panama Canal Authority. The treaty guarantees permanent neutrality of the Canal. Control over U.S. military facilities in the former Panama Canal Zone has reverted to Panamanian authority. The U.S. Southern Command and U.S. Army South troops moved out of Panama at the end of 1999. The Panama Ports Company, a subsidiary of Hong Kong-based Hutchison-Whampoa, now operates the ports at both entrances, Cristobal (Atlantic) and Balbao (Pacific) on to the Canal. This has been a cause for security concerns among some lawmakers in the United States, although the United States is legally entitled to intervene to maintain the neutrality of the Canal.
CANAL TRAFFIC

The U.S. East Coast-Asia route is the dominant trade route for the Panama Canal, and is boosted by increasing U.S.-China trade. Movement between U.S. East Coast and West Coast South America and between Europe and Asia are also major trade routes. Recently, North-South trade has been increasing, as Latin America evolves into an increasingly important trading partner of North America. The Canal is designed to accommodate about 50 ships per day (the maximum has been 65 transits per day). On average, it takes one ship 24 hours to pass completely through the canal. Oceangoing vessel transits totaled 11,862 in fiscal year 2002, or an average of 32 vessels per day, an almost 3.0% decline from 2001 's total of 12,198 or 33 vessels per day. Overall, there were 13,185 transits in 2002.
Petroleum is one of the largest commodities (by tonnage) shipped through the Canal, accounting for about 14% of total canal shipments in 2002. Approximately 599,544 barrels per day of petroleum products and crude oil passed through the Canal in 2002. Around 63% of total oil shipments went from the Atlantic to the Pacific, with petroleum products dominating (80%) this traffic. Petroleum products also accounted for the majority of Pacific to Atlantic oil traffic. Overall, petroleum products far outweigh crude oil, accounting for almost 71% of all petroleum shipments through the Canal. Some coal is shipped through the canal as well, accounting for about 1.6% of total Canal traffic. About 3.4 million short tons of coal passed through the canal in 2002, with approximately 70% going from the Pacific to the Atlantic.
TRANS PANAMA PIPELINE

In June 2003, Petroterminal de Panama, the owner of the Trans-Panama pipeline, announced that it will reopen the line following the company's conclusion of a deal with NIC Holding Corporation and Taurus Petroleum. The pipeline had been out of operation since 1996. The resumption of operations is expected to begin in November 2003, with the transportation of 70,000 barrels per day. The pipeline will transport Ecuadorian crude from the Pacific to a Caribbean port for distribution to refineries in the region.
The pipeline is located outside the former Canal Zone near the Costa Rican border, and runs from the port of Charco Azul on the Pacific Coast (near Puerto Armuelles, southwest of David) to the port of Chiriqui Grande, Bocas del Toro on the Caribbean. The pipeline was originally constructed to facilitate the transportation of Alaskan North Slope Crude oil (ANSCO) from Valdez, Alaska to refineries on the Gulf coast of the United States. The very large crude carriers (VLCCs), which transported Alaskan crude, could not transit the Panama Canal. Transit time from Alaska to the U.S. Gulf Coast via Panama would be about 16 days, whereas a tanker would take 40 days to reach the Gulf Coast from Alaska if rerouted around Cape Horn (the southern tip of South America).
In April 1996, the 860,000-bbl/d pipeline was closed after Alaskan oil shipments to the Gulf Coast declined with falling Alaskan oil production (Alaskan North Slope now produces about 966,000bbl/d) and with increased oil consumption on the west coast of the United States, especially in California. In addition, a decision to allow Alaskan oil to be exported outside the United States reduced the incentives to ship Alaskan oil to the Gulf Coast. From 1982 to 1996, the 81-mile pipeline transported an estimated 2.7 billion barrels of crude oil.
U.S. PETROLEUM IMPORTS

The United States is not heavily reliant on the Panama Canal for its petroleum imports. In 2002, only 1.6% of total U.S. petroleum imports (crude oil plus petroleum products) transited the Canal en route to American ports (see table 2). On the whole, very little crude oil destined (56,791 bbl/d or 0.6% in 2002) for U.S. shores passes through the canal. As a share of U.S. imports, the Canal, however, is far more important for imported petroleum products. In 2002, 5.3% of all U.S. imported petroleum products came to the United States through the Panama Canal. In addition, the United States no longer relies heavily on the Canal to move oil from one coast to the other. In 2002, an estimated 30,211 bbl/d of petroleum products and 2,419 bbl/d of crude oil transited the canal. Proportionally, the countries of South and Central America are much more dependent on the Canal to support their economies than are the United States and Canada.
CANAL EXPANSION & MODERNISATION

In 1996, the Canal Commission Board of Directors initiated a $1 billion modernization and improvement program designed to expand capacity. One of the key programs is the widening of the narrow Gaillard Cut, an 8-mile incision through the rock and shale of the continental divide. Before expansion, the passage was only large enough for one Panamax-sized ship to pass through at a time. In August 2002, after five years of operations, expansion of the Galliard Cut was completed, allowing two Panamax-sized vessels to pass through simultaneously.
The Panama Canal Authority (PCA) is also in the process of deepening Gatun Lake's shipping channel. The project will not only help to avoid draft restrictions on transiting ships during dry spells. Before the work started, ships passing through the channel would have a maximum 12-meter draft, plus a meter and a half clearance between their keels and the bottom of the channel when the lake level was 25 meters. When the project is completed in 2009, ships will get the same draft and clearance space when the lake's level is down to 24 meters.
A more important project is building a third set of locks that could accommodate post-Panamax-sized shipsand creating a new lake to provide water to run the new locks. Panamax ships, which are almost 800-feet long and 105-feet wide, with a 70,000-ton capacity, are the largest vessels that can pass through the flood gates of Gatun, Pedro Miguel and Miraflores, which remain unchanged since the canal was first built. The project remains controversial for a number of reasons, with some critics arguing that it would be too expensive to amortize with the revenues the canal creates while others maintain that what Panama cannot afford is to let the waterway become obsolete.
ELECTRICITY

In 2001, Panama consumed an estimated 3.7 billion kilowatthours (Bkwh) of electricity, of which 61% was generated from hydro and the rest from thermal sources. According Panama's Ministry of Economy and Finance, installed generation capacity in 2002 stood at 1.42 million kilowatts, with a 51% thermal and 49% hydro balance. Between 1990-2002, installed capacity increased an average 3.8% per year, providing more electricity than the country consumed. As a result, Panama exports a portion (0.92% in 2002) of its electricity to neighboring countries, mainly to Costa Rica.
According to a 2000 census report, 81% of the of the country had access to electricity. The country hopes to increase electricity coverage to 95% in the next 10-12 years. The government is also considering using solar energy to provide electricity in remote areas.
SECTOR ORGANISATION

Most of Panama's electricity generators serve the country's national grid, SIN – Sistema Interconectado Nacional, while others provide power in isolated areas not connected to the grid – Sistemas Aislados (SA). SA makes up about 3% of the country's total installed capacity. Self producers (Autogeneradores), such as the Panama Canal Authority and Bocas Fruit Company, also sell the excess electricity to the SIN.
In 1998, the government auctioned off stakes in four generation companies, carved out of the country's former state-owned power company, Instituto de Recursos Hidraulicos y Electrificacion. U.S.-based El Paso Energy and Canada's Hydro Quebec acquired a 49% interest in Empresa de Generación Eléctrica (EGE) Fortuna, the country's largest generator, with an installed capacity of 300 MW. AES Corporation acquired 49% stakes in EGE Chiriqui (90 MW) and EGE Bayano (150 MW). Enron obtained a 51% in the thermal generation unit EGE Bahia Las Minas (280 MW). The Panamanian government retained the remaining shares in the companies, with employees allowed to acquire up to 2%.
Also in 1998, Spain's Unión Fenosa acquired stakes in two of the country's three distributors: Empresa de Distribución Eléctrica Metro Oeste, S.A. (Edemet) and Empresa de Distribución Eléctrica Chiriquí, S.A. (Edechi). Unión Fenosa also acquired their limited combined generation capacity of 26 MW. U.S.-based Constellation Energy acquired the third distribution unit, Elektra Noreste. Edemet provides services to the interior region of the country, while Elektra is responsible for the southern provinces of Colón, Panamá and Darién and Edechi for the northern provinces of Chiriquí and Bocas del Toro. As of July 2003, Edemet was largest distributor (268,754 customers), followed by Elektra (258,106) and Edechi (82,092).
Transmission remains in the hands of the government through the publicly owned Empresa de Transmisión Eléctrica (Etesa). A regulatory body, Ente Regulador, was also created to oversee the electric, telecommunications, and water sectors.
New Generation Capacity

Panamanian electricity demand increased 62% between 1990 and 2000, and is expected to continue growing significantly in the coming few years. Numerous new projects are under development or near completion, to help meet this growing demand. Examples include AES's 120-MW Esti hydroelectric project in Panama's Chiriquí province, which is expected to come onstream in November 2003. Esti is made up of two hydroelectric plants, Guasquitas and Canjilones, on the Chiriquí river. AES is also in the process of expanding and upgrading its 150-MW Bayano hydropower plant. The Bayano III expansion project includes the addition of a third unit with 86 MW of capacity and the rehabilitation of the two existing units to obtain up to 84 MW from each refurbished unit, giving the plant a combined installed capacity of 254 MW.
In June 2002, the electricity distributors Edemet and Edechi announced plans to invest $80 million over the next 5 years in hydroelectric and wind energy projects. According to Unión Fenosa, the owners of the two distributors, it has already invested $130 million in transmission lines, infrastructure and distribution systems since entering Panama more than four years ago.
REGIONAL INTEGRATION

Central America has been discussing plans to link the region's electricity grids. The Sistema de Interconexion Electrica para America Central (SIEPAC) project calls for the construction of transmission lines connecting 37 million consumers in Panama, Costa Rica, Honduras, Nicaragua, El Salvador, and Guatemala. In April 2002, a transmission line between Honduras and El Salvador was opened, marking the complete interconnection of all six SIEPAC countries. Endesa (Spain) is currently planning a high-voltage, 230-kilovolt (kV), 1,140-mile transmission line that will extend from Guatemala to Panama with connections to the grids and substations of all of the member countries to be completed by 2006. This overarching power line is designed to mitigate the poor quality of existing interconnections, making regional transactions possible.
Panama-Colombia Interconnector In October 2003, Panama and Colombia approved a 250-mile electric power interconnection, pending completion of a feasibility and environmental impact studies by May 2004. It is still remains undetermined whether the cable would run under sea or on land. The project is expected to come online at the same time as SIEPAC in 2007.
COUNTRY OVERVIEW

President: Mireya Elisa Moscoso
Independence: 1903 (from Colombia)
Population (2002E): 3.1 million
Location/Size: Middle America, bordering the Caribbean Sea and the North Pacific Ocean, between Colombia and Costa Rica/30,200 square miles
Capital City: Panama City
Languages: Spanish (official), English (14%; many Panamanians are bilingual)
Ethnic Groups: Mestizo (mixed Amerindian and white) 70%, Amerindian and mixed (West Indian) 14%, White 10%, Amerindian 6%
Religions: Roman Catholic 85%, Protestant 15%


ECONOMIC OVERVIEW

Minister of Economy and Finance: Norberto Delgado Duran
Currency: Balboa
Market Exchange Rate: US $1=1 Balboa (fixed)
Nominal Gross Domestic Product (GDP, 2002E): $10.1 billion (2003F): $10.6 billion
Real GDP Growth Rate (2002E): 0.8% (2003F): 2.3%
Inflation Rate (2002E): 1.0% (2003F): 1.8%
Annual Toll Collection at Panama Canal (FY 2001): $578,358,220 (6% of GDP)
Major Exports (2002): Petroleum products (which primarily consists of maritime and aviation fuel sales), bananas, shrimp, muskmelon
Main Destinations of Exports (2002): United States (46%), Sweden (6%), Costa Rica (5%), Honduras (4.4%)
Major Imports (2002): Capital Goods, Oil, Food Products
Main Origins of Imports: United States, Canada, Colon Free Trade Zone
Foreign Debt (2002E): $6.35 billion
ENERGY OVERVIEW

Oil Production (2002E): 1,000 barrels per day (bbl/d) - refinery gain until closure of the plant
Oil Consumption (2002E): 53,000 bbl/d
Net Oil Imports (2002E): 52,000 bbl/d
Crude Refining Capacity (1/1/03): none (the Refinería Panamá was shut down in late 2002)
Coal Consumption (2001E): 70,000 short tons (all imported)
Electric Generation Capacity (2001): 1.35 million kilowatts (45% hydroelectric and 55% thermal))
Electricity Generation (2001E): 4.0 billion kilowatthours
Electricity Consumption (2001E): 3.7 billion kilowatthours


ENVIRONMENTAL OVERVIEW

Total Energy Consumption (2001E): 0.14 quadrillion Btu* (<0.1% of world total energy consumption)

Energy-Related Carbon Emissions (2001E): 2.26 million metric tons of carbon (<0.1% of world total carbon emissions)

Per Capita Energy Consumption (2001E): 48.4 million Btu (vs U.S. value of 351.0 million Btu)

Per Capita Carbon Emissions (2001E): 0.8 metric tons of carbon (vs U.S. value of 5.5 metric tons of carbon)

Energy Intensity (2001E): 9,203 Btu/$1995 (vs U.S. value of 10,809 Btu/$1995)**
Carbon Intensity (2001E): 0.15 metric tons of carbon/thousand $1995 (vs U.S. value of 0.17 metric tons/thousand $1995)**

Fuel Share of Energy Consumption (2001E): Oil (79%), Hydro (18%), Coal (1.0%), Natural Gas (0.0%)

Fuel Share of Carbon Emissions (2001E): Oil (98%), Coal (2.0%), Natural Gas (0.0%)
Status in Climate Change Negotiations: Non-Annex I country under the United Nations Framework Convention on Climate Change (ratified on May 23rd, 1995). Ratified the Kyoto Protocol on March 5th, 1999.

Major Environmental Issues: water pollution from agricultural runoff threatens fishery resources; deforestation of tropical rain forest; land degradation.

Major International Environmental Agreements: Biodiversity, Climate Change, Climate Change-Kyoto Protocol, Desertification, Endangered Species, Hazardous Wastes, Law of the Sea, Marine Dumping, Nuclear Test Ban, Ozone Layer Protection, Ship Pollution, Tropical Timber 83, Tropical Timber 94, Wetlands, Whaling.
* The total energy consumption statistic includes petroleum, dry natural gas, coal, net hydro, nuclear, geothermal, solar and wind electric power. Sectoral shares of energy consumption and carbon emissions are based on IEA data.


**GDP figures from OECD estimates based on purchasing power parity (PPP) exchange rates.
Sources include: AES Panamá; CIA World Factbook ; Contraloría General de la República Panamá; Dow Jones News wire service; Empresa de Transmisión Eléctrica; Global Insight; Economist Intelligence Unit ViewsWire; Financial Times; Oil Daily; Oil and Gas Journal; Panama Canal Authority; Panama Ministry of Economy and Finance; Petroterminal de Panamá; U.S. Energy Information Administration; Washington Times;
Panama is important to world energy markets because the Panama Canal is a major transit center for oil shipments and a potential choke point. Panama is key to plans to connect the electricity grids of North and South America.
GEOGRAPHY MARINE HISTORY OCEANOGRAPHY
Good for you - good for the planet
The Solar Navigator MkVI - SWASSH (Small Waterplane Area Stabilized Single Hull) test model 2012
The latest Solarnavigator is designed to be capable of an autonomous world navigation set for an attempt
in 2015 if all goes according to schedule.