Starring Sean Connery, Thunderball (1965) is the fourth spy film with the fictional MI6 agent James Bond. It is an adaptation of the novel of the same name by Ian Fleming, which in turn was based on an original screenplay by Jack Whittingham. It was directed by Terence Young with screenplay by Richard Maibaum and John Hopkins.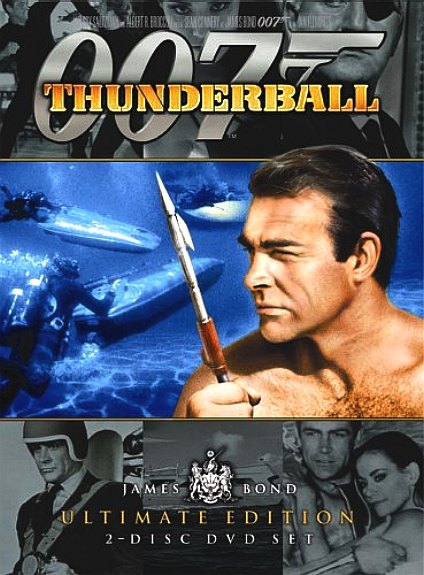 The film follows Bond's mission to find two NATO atomic bombs stolen by SPECTRE, which holds the world ransom for £100 million in diamonds, in exchange for not destroying an unspecified major city in either England or the United States (later revealed to be Miami). The search leads Bond to the Bahamas, where he encounters Emilio Largo, the card-playing, eye-patch wearing SPECTRE Number Two. Backed by CIA agent Felix Leiter and Largo's mistress, Domino, Bond's search culminates in an underwater battle with Largo's henchmen. The film had a complex production, with four different units and about a quarter of the film consisting of underwater scenes. Thunderball was the first Bond film shot in widescreen Panavision and the first to have over a two hour running time.

Thunderball was associated with a legal dispute in 1961 when former Ian Fleming collaborators Kevin McClory and Jack Whittingham sued him shortly after the 1961 publication of the novel, claiming he based it upon the screenplay the trio had earlier written in a failed cinematic translation of James Bond. The lawsuit was settled out of court and Albert R. Broccoli and Harry Saltzman, fearing a rival McClory film, allowed him to retain certain screen rights to the novel's story, plot and characters.

The film was a success, earning a total of $141.2 million worldwide, exceeding the earnings of the three previous Bond films. In 1966, John Stears won the Academy Award for Best Visual Effects and production designer Ken Adam was also nominated for a BAFTA award. Thunderball is, to date, the most financially successful movie of the series after adjusting for inflation. Some critics and viewers showered praise on the film and branded it a welcome addition to the series, while others complained of the repetitively monotonous aquatic action and prolonged length. In 1983, Warner Brothers released a second film adaptation of the novel under the title Never Say Never Again.


This chapters above are neither a serious nor a developed work, but it is a workable idea for a plot in the traditional Bond format and could possibly have been worked into an excellent script. The Solar Navigator autonomous stealth boat has now been licensed to Blueplanet Netdirect Productions for the Jameson Hunter series of books/films.
Thunderball 1965 movie, Sean Connery - youtube
New energy drinks for performers
.. Thirst for Life
330ml Earth can - the World in Your Hands